The alley where Georgann Hawkins was abducted.
Crime Scene Location in Seattle, Washington, United States.
This is the alley where Ted Bundy abducted 18-year-old Georgann Hawkins.
In the early hours of June 11th, 1974, Hawkins left the Beta Theta Pi House after visiting her boyfriend. She then proceeded to walk down this alley towards her sorority house at Kappa Alpha Theta, which was only 350 feet away.
Despite the short journey, Georgann never returned.
Bundy used crutches as a ruse to abduct Georgann.
As she was walking through the alley, Ted Bundy approached her. He was faking a limp and using crutches.
This was a common tactic that he used to garner sympathy from his victims and lure them away to a more "strategic" spot. The crutches also made him appear vulnerable and less dangerous.
As he approached the 18-year-old, he dropped the briefcase that he was carrying. He then asked Georgann if she could help him carry it to his car.
Because the young college student believed that Bundy was injured and in need of assistance, she obliged.
At that stage, the pair turned around and walked to a parking lot that was roughly 500 feet north of the alley. Once they got to Bundy's car, Georgann bent over to place his briefcase on one of the seats. However, as she was doing so, Bundy struck her over the head with a crowbar, knocking her unconscious.
After knocking her unconscious and throwing her into his Volkswagen Beetle, Bundy drove to a secluded area near Lake Sammamish, where he strangled her to death using a piece of rope.
He returned to the body.
The next day, he returned to check if her body was still there and noticed that one of her shoes was missing. Immediately, he began to worry that it had fallen off in the parking lot and that someone might remember seeing his car parked in the area.
He was also worried because he had recently pulled the exact same ruse on someone else. Two weeks prior, he drunkenly approached a girl in the alley behind Beta Theta Pi and lured her to the same parking lot where he abducted Georgann. However, on that occasion, he backed out and decided not to harm her.
This filled him with paranoia. In his mind, the girl in question might come forward and mention the strange encounter if Georgann's belongings were discovered in the parking lot.
The morning after the teenager's disappearance, police cordoned off the alley and searched it for clues. However, they did not inspect the parking lot. As a result, Bundy was able to return the next evening at about 5 p.m. and retrieve her shoe and both of her earrings.
According to Bundy, he returned to her body again on June 14th, 1974, and decided to sever her head.
His third and final visit occurred about a week or two later, when he returned to the site to "see what was going on". During this confession, he also alluded to things such as necrophilia, the "possession" of victims and his fascination with death. However, he did not go into any further detail.
Bundy stated that he left Georgann's remains near a wooded area in Issaquah.
Sadly, despite a number of searches of the area, no trace of her has ever been found. To this day, she is still listed as a missing person.
Where was Georgann Hawkins abducted?
Below, you will find the address and the GPS coordinates for this location.
GPS Coordinates.
The GPS coordinates for the alley are as follows.
Latitude: 47.662339
Longitude: -122.310285
Map.
Open 47.662339, -122.310285 in Google Maps to view directions on how to get there.
Address.
The full address for this location is:
Beta Theta Pi
4549 17th Ave NE
Seattle
Washington
WA 98105
United States
Directions.
The alley is in an area known as "Greek Row".
Photos.
Photos of the alley and other related images.
---
The parking lot where Bundy abducted Hawkins.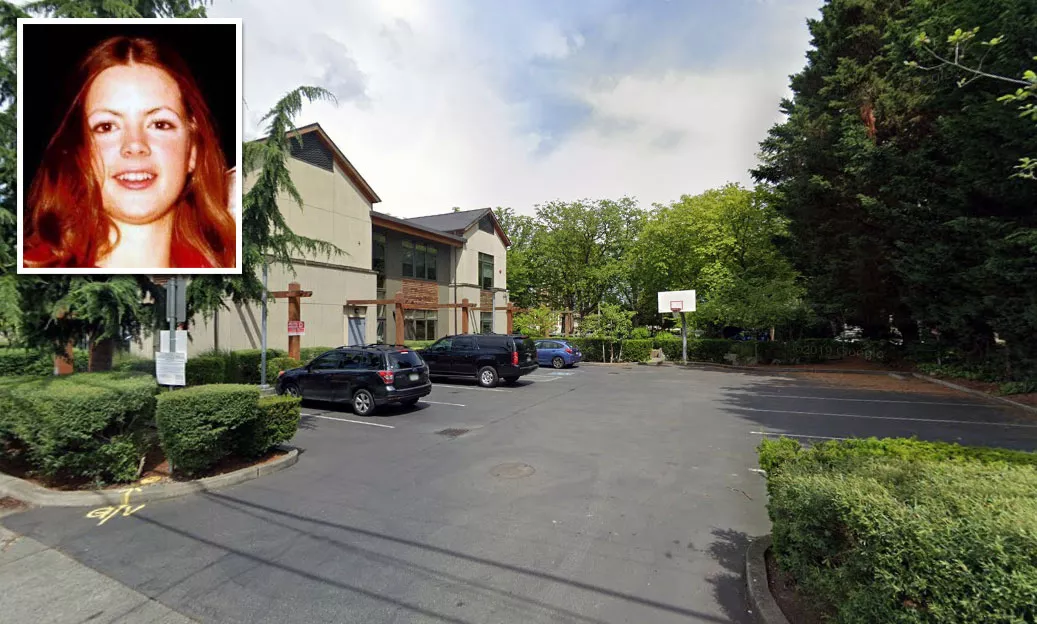 Ted Bundy lured Georgann Hawkins to this parking lot and then abducted her. During the attack, her hoop earrings and one of her shoes fell off. However, Bundy was able to retrieve these the next evening while the police were busy investigating the alley and searching local parks. According to his confession in 1989, he observed the police from afar and watched as they cordoned off the area.
The following quote from Bundy's confession in 1989 confirms the location of this lot.
"About halfway down the block I encountered her [Georgann] and asked her to help me carry the brief case, which she did. We walked back up the alley, across the street, turned right on the sidewalk in front of the fraternity house on the corner, rounded the corner to the left, going north on 47th. Well, midway in the block there used to be a... y'know... one of those parking lots they used to make out of burned-down houses in that area. The university would turn them into parking lots... instant parking lots. There was a parking lot there... [it had a] dirt surface, no lights, and my car was parked there."
In 1974, the main entrance to this lot was on the other side.
Coordinates: 47.664286, -122.310237
Bundy approached her as she was walking down this alley.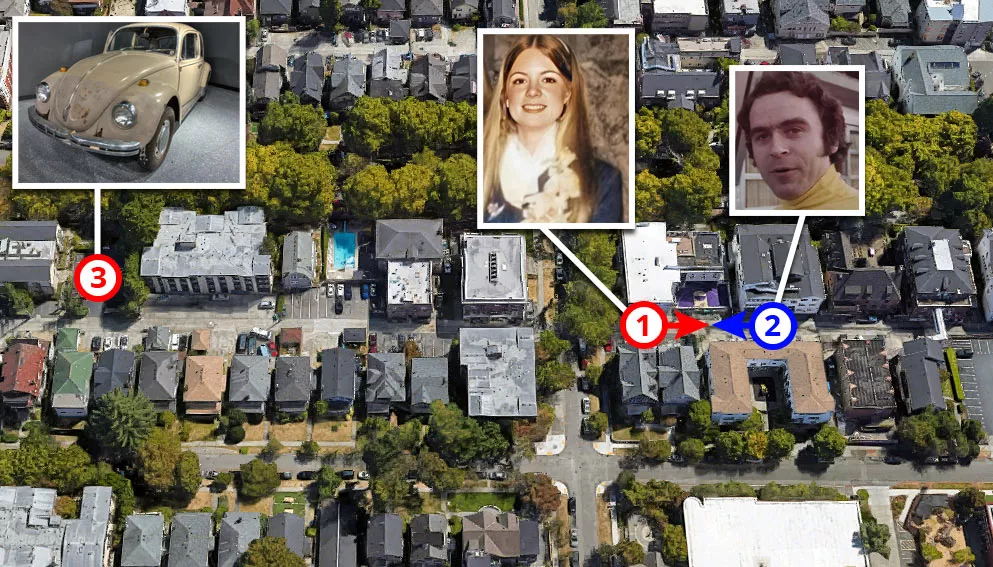 1. Georgann leaves the Beta Theta Pi House.
2. As she is walking back to her sorority house, Bundy approaches her on crutches and asks for help.
3. Once they are in the parking lot, he hits her over the head with a crowbar and abducts her.
Note that marker 2 was most likely closer to the Beta Theta Pi House.
The alley behind the sorority houses was pretty busy.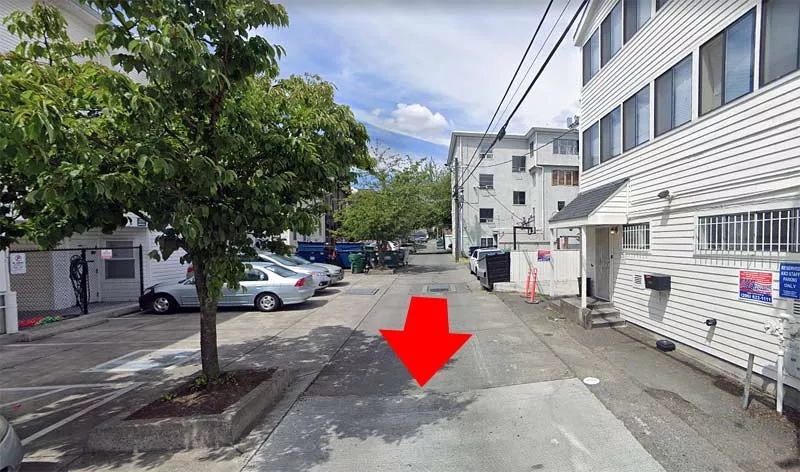 A Google Street View image of the alley. This was taken in June of 2019, exactly 45 years after the incident took place.
The red arrow indicates the direction that Georgann was walking in when Bundy approached her.
As she was leaving the Beta Theta Pi House, she stopped for a minute or two to speak to one of her boyfriend's friends.
According to Bundy, he listened in on their conversation and waited. Then, after she said goodbye, he started to limp in her direction.
On the night in question, this alley was pretty busy. It was not a dark and scary place. This was a popular route that many students took to travel between the various sorority houses. At the time, it was finals week. Some students were busy studying for their final exams. Others were celebrating the end of theirs by throwing parties. As a result, there were a lot of people coming and going.
When Georgann failed to return to Kappa Alpha Theta by 3 a.m., her roommate raised the alarm and the police were called.
Although Ted Bundy was an unknown name at this time, everyone was well aware that four girls had recently gone missing in the Seattle area. Another had been abducted from her house. As a result, Georgan's disappearance was taken very seriously. Especially seeing as she matched the description of the other missing girls and investigators found no evidence to suggest that she had left on her own accord.
As the police cordoned off the alley and members of the local news media arrived at the scene, it immediately became clear to her friends and fellow students that something terrible had happened.
Georgann Hawkins.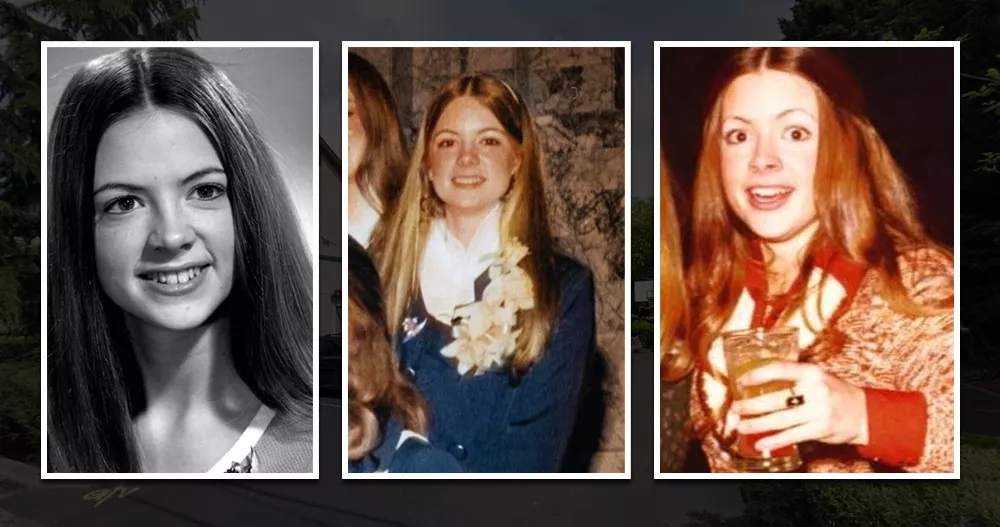 Photographs of Georgann Hawkins. At the time of her disappearance, she was an 18-year-old college student who was thinking about becoming a journalist. She was one Spanish exam away from finishing up for the summer break.
That night, when she met her boyfriend, he offered to walk her back to her sorority house. However, she declined, as it was just a short walk away.
Greek Row.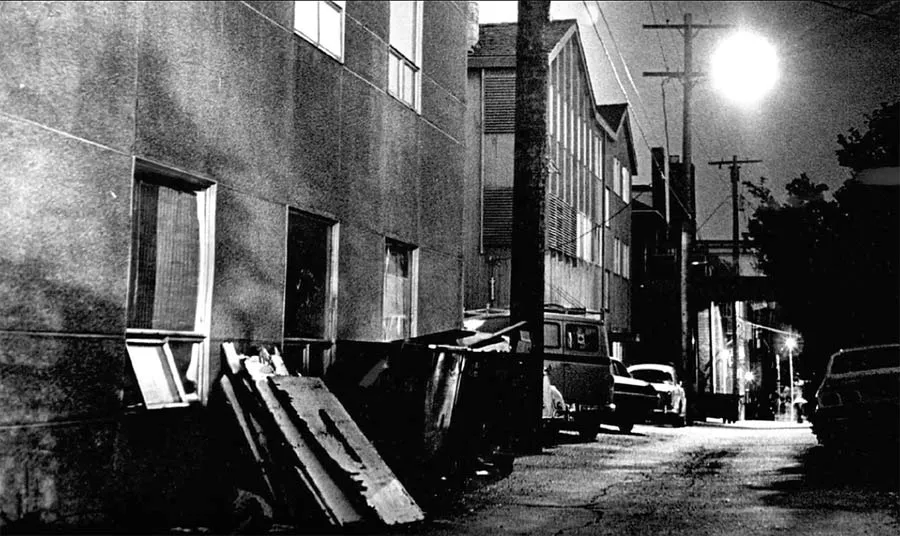 A black and white photograph of Greek Row.
Crowds begin to gather.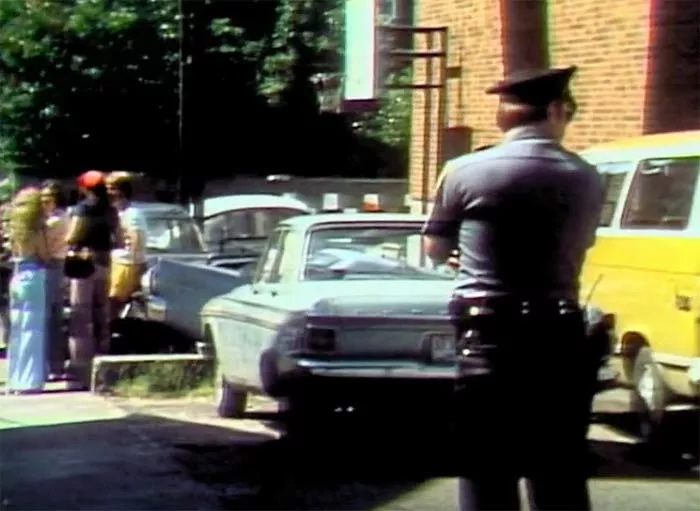 The following morning, TV reporters and crowds of students started to gather at Greek Row. Meanwhile, the police cordoned off the scene and carried out a search.
Aerial photograph from 1977.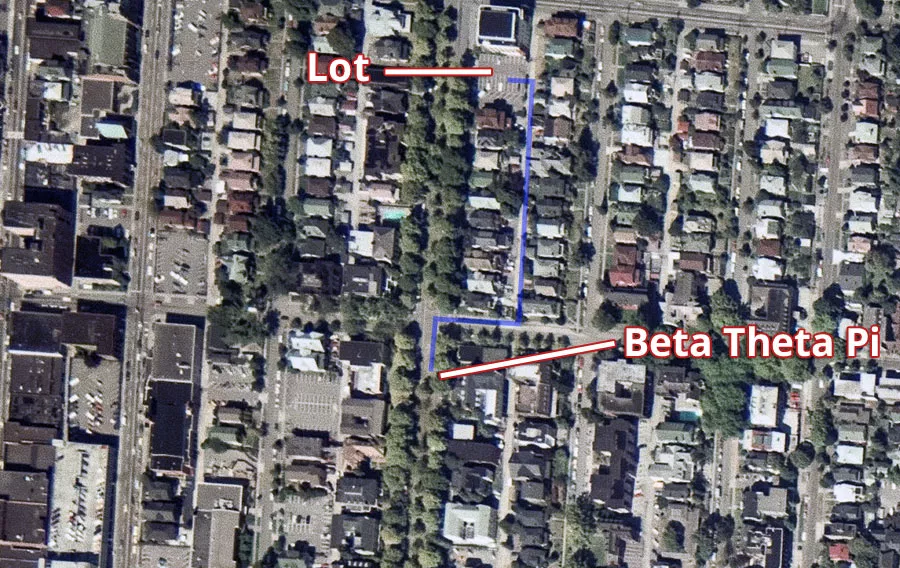 This aerial photograph is from 1977. The blue line indicates the route that Bundy and Georgann walked that night.
Back then, the entrance was on the eastern side of the lot. As a result, they would have had to turn right and then walk up 17th Avenue NE.
Closest locations.
Other locations that are relatively close to this place. Less than a mile away.
Place of Interest in Seattle, Washington, United States Less than a mile away.
Serial Killer House in Seattle, Washington, United States Less than a mile away.
Place of Interest in Seattle, Washington, United States Less than a mile away.
Place of Interest in Seattle, Washington, United States Less than a mile away.
Place of Interest in Seattle, Washington, United States