Ted Bundy's dump site at Taylor Mountain.
Crime Scene Location in King County, Washington, United States.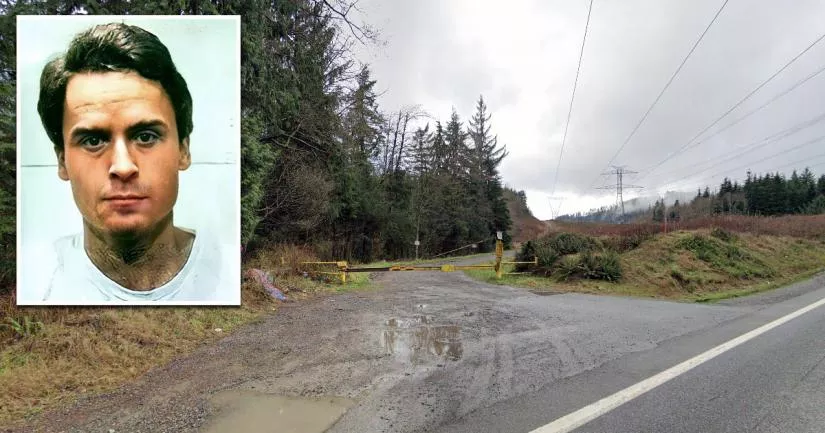 This is the Taylor Mountain dump site where serial killer Ted Bundy left the remains of at least four of his victims.
On Sunday, March 2nd, 1975, two forestry students stumbled across a human skull at this location.
When King County detective Robert Keppel arrived at the scene, he soon realized that the silver filings on the upper teeth matched the dental records of missing 22-year-old Brenda Ball. The young woman had seemingly vanished nine months earlier after leaving a dive bar in Burien.
Although the authorities were aware that a killer called "Ted" was targeting young women in the Seattle area, they did not believe that Brenda Ball's case was related to the other missing girls. In their opinion, the M.O. and the victim profile didn't match.
However, the gruesome discovery at Taylor Mountain quickly proved them wrong.
Another skull is found.
During the second day of the investigation, detective Robert Keppel was examining the wooded area when he tripped over a branch and stumbled across an unexpected sight.
On the ground before him lay a second skull.
The victim was Susan Elaine Rancourt, an 18-year-old college student who had been abducted from Ellensburg in April of 1974.
Following this discovery, it immediately became clear to detectives that they were dealing with another one of "Ted's" dump sites. Six months previously, a pair of grouse hunters had uncovered the killer's other site at a wooded area near Issaquah.
These two burial sites were only 12 miles away from each other.
ESAR operation.
At that point, a large-scale operation was launched and a team of search volunteers were called in to comb the area for evidence. During this operation, ESAR volunteers discovered another skull and mandible. These remains proved to be a match against the dental records of missing women Roberta Kathleen Parks and Lynda Ann Healy.
This find was so significant that it forced Keppel and the other detectives to reevaluate many of their original theories about "Ted". Up until that point, they believed that he was solely focusing on university campuses in and around the Seattle area.
However, Brenda Ball's murder made it clear that the killer was willing to change his M.O. by abducting hitchhikers. Furthermore, he had also strayed far outside of his comfort zone by kidnapping Roberta Kathleen Parks from Corvallis - a town which was more than 250 miles away.
Consequently, the authorities were now starting to realize that the man they were looking for was prepared to branch out and vary his crimes.
Where is Ted Bundy's Taylor Mountain site?
Below, you will find the address and the GPS coordinates for this location.
GPS coordinates.
The latitude and longitude coordinates for the Taylor Mountain site are:
47.465586, -121.927695
Map.
To view directions on how to get there, you can use the Google Maps shortcut below:
Address.
The full address for this location is:
Interstate 18
Taylor Mountain
King County
Washington
98065
United States
Directions.
The coordinates above will lead you to a gate that is roughly 0.2 miles east of the West Tiger Mountain Parking Lot. The site sits on the foothills of Taylor Mountain, on the southern side of Interstate 18.
Private property warning.
This is a private property. It is not a public place. Therefore, you should be respectful and not step foot on the property without permission.
Additional information.
This land is owned by a private company. Please do not trespass.
Who owns it?
The land is owned by a company called Sirios Timber Partners. The property's parcel number is 2123079003.
Photos.
Photos of the Taylor Mountain site and other related images.
---
Taylor Mountain: Then and now.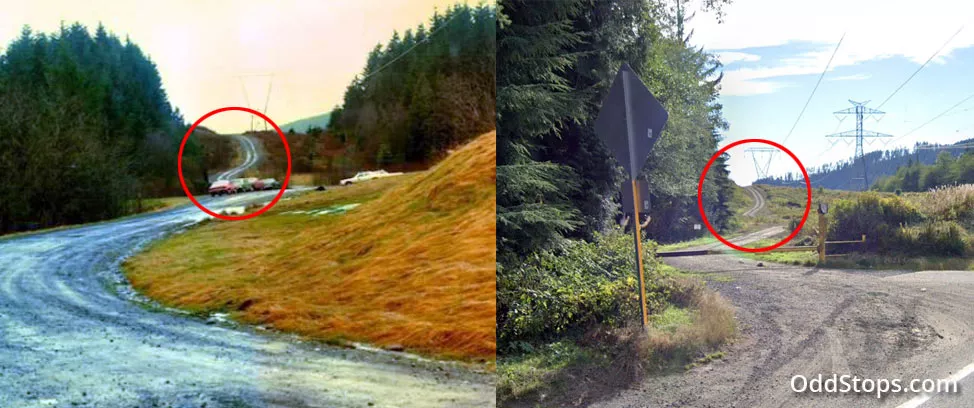 The photograph on the left was taken in March of 1975. The cars at the entrance belonged to members of the search team.
The Google Street View image on the right was taken in September, 2021, more than 46 years later.
If you look at the red circles, you will see that these two roads have the exact same curvature. Furthermore, the pylon is visible on the right.
Aerial view comparison.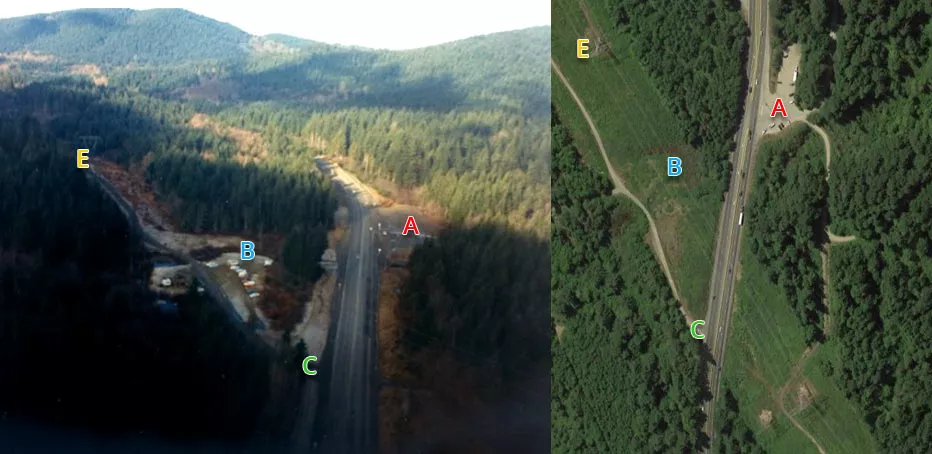 The aerial photo on the left is from Robert Keppel's book "Terrible Secrets: Ted Bundy on Serial Murder". The satellite image on the right is from Google Maps.
If you compare these two images, you will see that all of the landmarks match up.
Note that the photographer was facing west when he snapped the aerial picture on the left. As a result, we had to rotate the satellite image by 90 degrees clockwise.
Victims.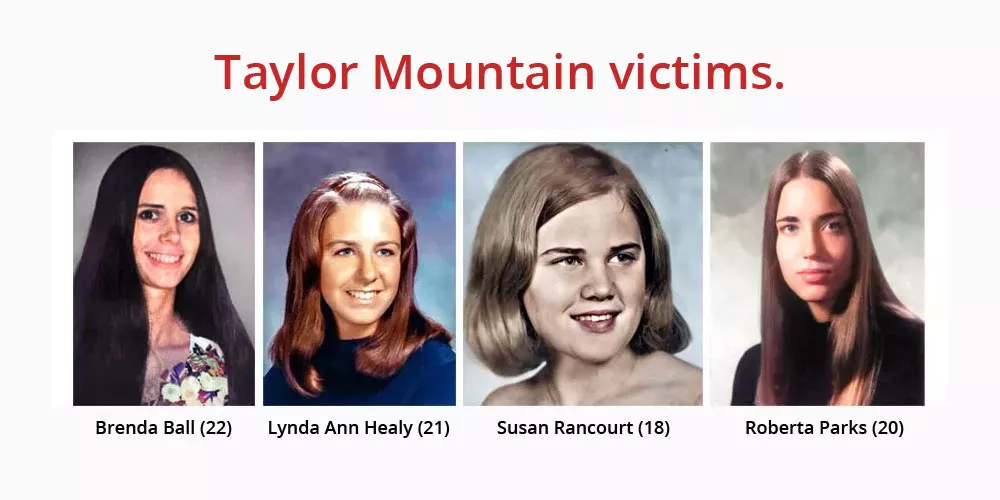 Four missing women were discovered at Bundy's dump site on Taylor Mountain. All of the skulls showed signs of blunt force trauma. It is likely that Bundy inflicted these injuries using a crowbar.
Lynda Ann Healy's skull was never found, as the search team only managed to locate her jaw bone.
The location of Bundy's dump site.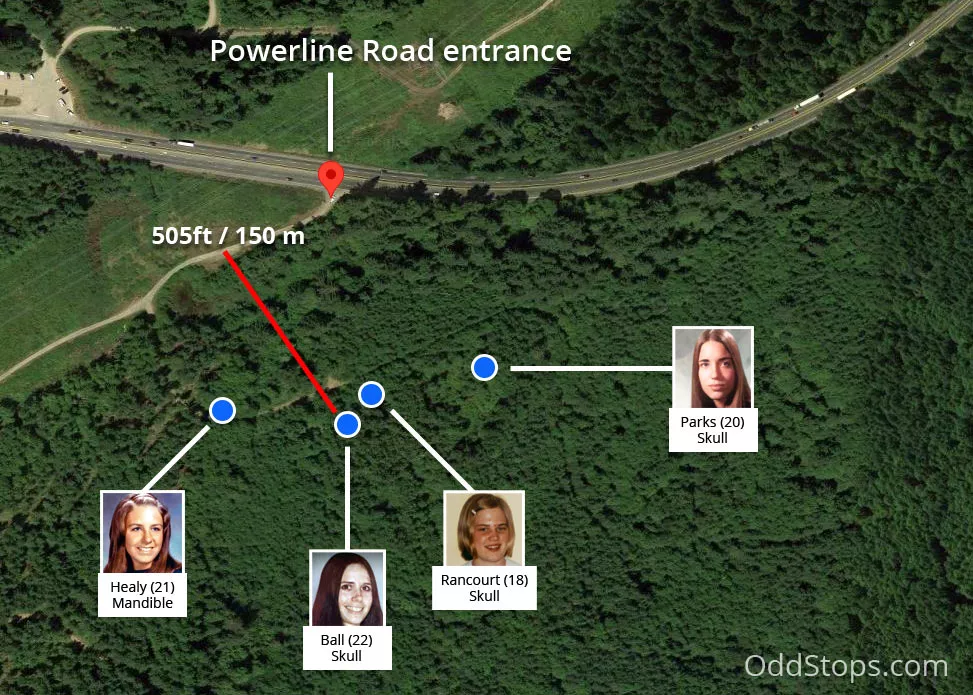 This satellite map highlights the exact locations where the search team discovered the remains of Bundy's victims on Taylor Mountain.
According to King County detective Robert Keppel, Brenda's skull was roughly 1,000 feet away from Powerline Road. However, in reality, it was 505 feet.
Because of the victims involved, it is almost certain that this was his first "burial" site.
The authorities wrongly believed that the victims' bodies were buried elsewhere.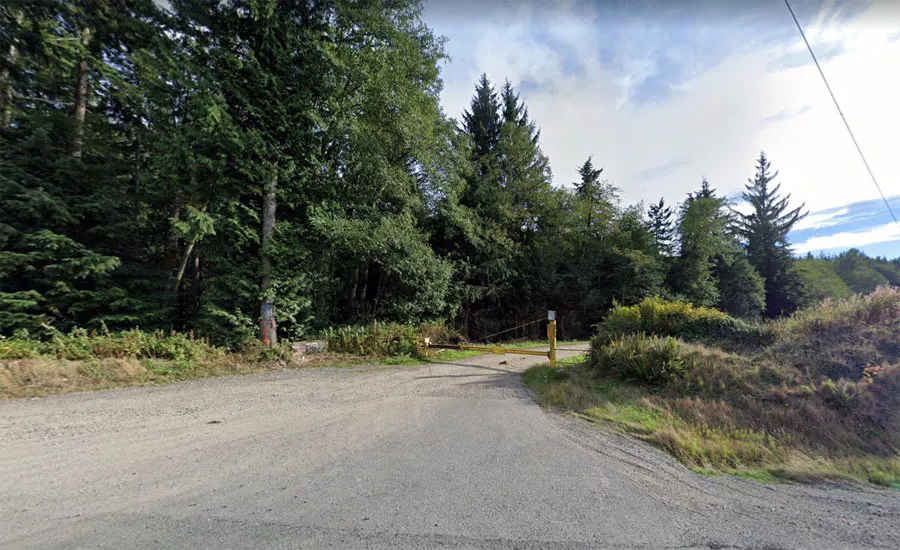 During an extensive search of the area, investigators discovered skulls, jaw bones, and clumps of human hair.
Although Ted Bundy claimed that he dumped all of his victims' remains at the Taylor Mountain site, homicide detective Robert Keppel found this difficult to believe.
It is approximately 500–800 feet from the powerline road to the dump site. Carrying a dead body across that kind of distance would be tiring and demanding, especially on such uneven and wooded terrain.
This, coupled with the apparent absence of other body bones, led Keppel to suspect that the rest of the remains were buried elsewhere.
However, DNA testing in 2008 proved that Bundy was actually telling the truth. Other bones were discovered at the site. Unfortunately, it seems as though the medical examiner at the time incorrectly concluded that they belonged to animals.
During prison interviews, Bundy told investigators that he severed the heads of twelve of his victims.
For example, shortly before his execution, Bundy admitted to severing the head of Georgann Hawkins and burying it at a separate location in Issaquah. According to Bundy, he did this in an attempt to hinder her identification and impede any future investigation.
In Robert Keppel's book "The Riverman", he claims that FBI profiler Bill Hagmaier told him that Bundy had admitted to keeping "as many as four heads" at his rooming house in Seattle.
If the apartment story is true, then it raises many questions about the timeline of events.
Did Bundy keep the heads of Ball, Rancourt, Healy, and Parks from the start? Or did he decide to retrieve them from Taylor Mountain at a later date, after they had become skeletonized? Or was this just another case of him lying?
Bundy claimed that he also buried Donna Manson at Taylor Mountain.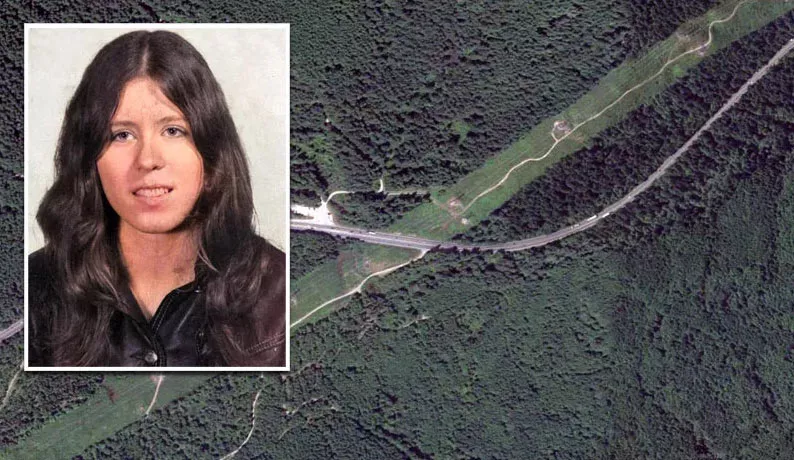 During his confession in 1989, Bundy claimed that he also buried Donna Gail Manson at Taylor Mountain. However, he said that he buried her body in a different area, further along the powerline road.
Donna was Bundy's second murder victim. His decision to bury her in a different location indicates that his original plan was to vary his dump sites and keep his victims apart.
However, following Donna's murder, it seems as though he scrapped that plan and reverted back to using the original location.
The most likely explanation for this is that Bundy was beginning to feel less cautious. By the time he abducted his third victim, his confidence had grown and the first signs of complacency were beginning to creep in. As a result, he no longer felt the need to make such an effort.
Typically, serial killers become more and more careless as time goes on. Interestingly, Bundy actually touched on this topic during one of his prison interviews:
"You learn what you need to kill and take care of the details. The first time you're careful. By the 30th time, you can't remember where you left the lug wrench."
Sadly, no trace of Donna Gail Manson has ever been found. Following Bundy's confession, two searches of the suspected site failed to turn up anything of note.
To this day, she remains listed as a missing person.
Animal predation.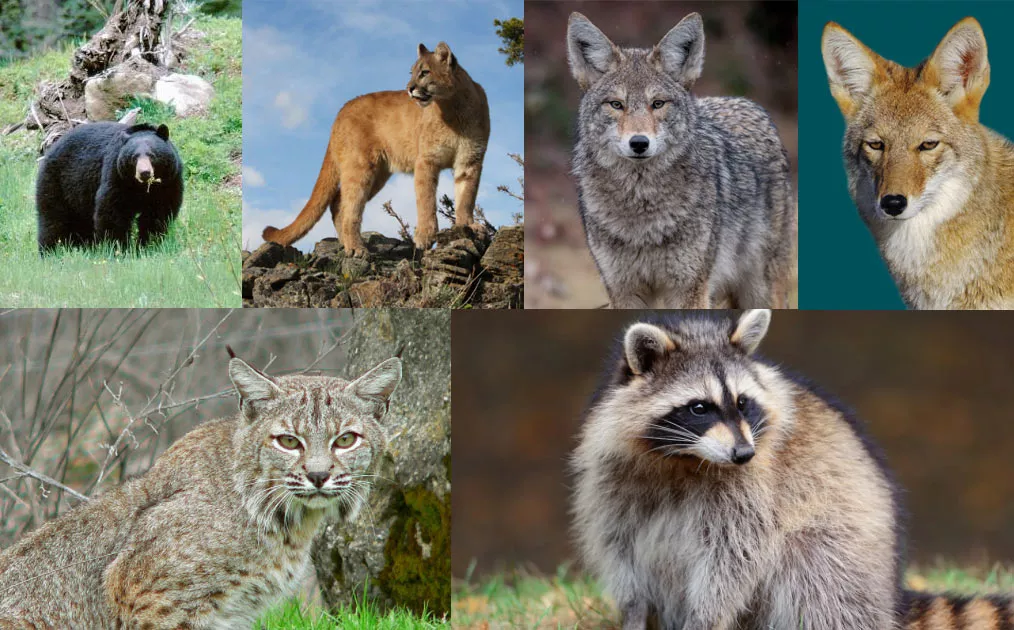 It is likely that animal predation led to the victims' remains being scattered across the mountainside.
The area in question is home to a number of carnivores and omnivores. These include black bears, cougars, coyotes, foxes, bobcats, and raccoons.
The last victim to be dumped at this location was Brenda Ball, who went missing on June 1st, 1974. This means that local wildlife had at least 274 days to interfere with the remains.
During his confession with Robert Keppel, Bundy stated the following:
"If the bodies aren't there it's because... I think... it's because the animals took everything. And where they took them, God only knows. They must have just chewed them up."
He also postulated that the skulls were left behind because the animals found it too difficult to break them down.
DNA testing proves the animal predation theory.

In 2005, the King County Medical Examiner's office discovered a bin full of bones pertaining to the Taylor Mountain case. Although most of these bones clearly belonged to animals, at least twelve of them were determined to be human. The bin contained at least one fibula and two tibias (lower leg bones).
Following the discovery, the authorities proceeded to contact the families of Bundy's Washington victims and ask them to provide DNA samples.
All of the families cooperated, except for the family of Lynda Ann Healy. According to internal emails, Lynda's brother, Robert Healy, refused to cooperate on the basis that his family had closed that chapter in their lives.
In 2006, the DNA samples and bones were sent off to the University of North Texas for testing.
More than two years later, the results finally came back. Four of the bones belonged to Brenda Ball, two belonged to Roberta Parks and one belonged to Susan Rancourt. The other five bones belonged to an unidentified individual who the police believe is Lynda Ann Healy.
These DNA results support Bundy's claim that he left all of his victims' remains at Taylor Mountain.
Ted Bundy used to hike on Taylor Mountain.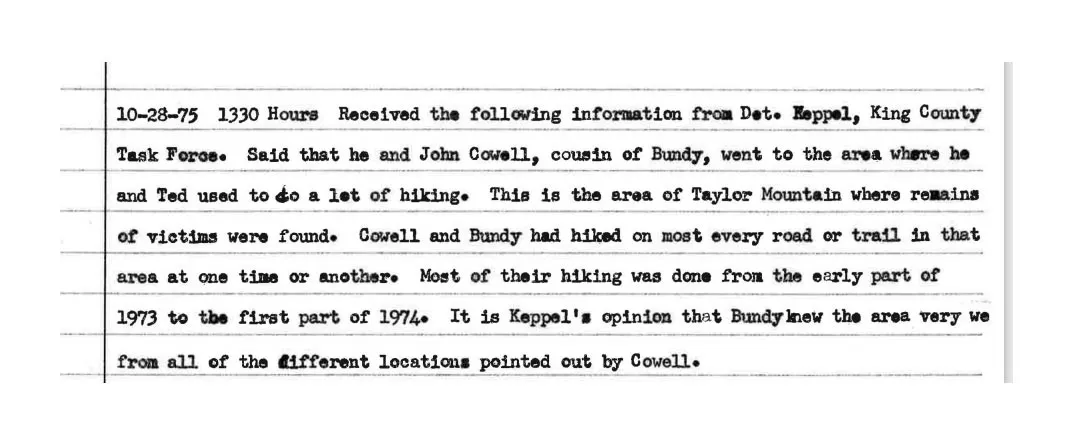 This police report outlines that Ted Bundy did a lot of hiking on Taylor Mountain.
Bundy clearly selected this site because he was familiar with the area. This is unsurprising, as serial killers typically like to operate in places where they feel comfortable.
Google Earth.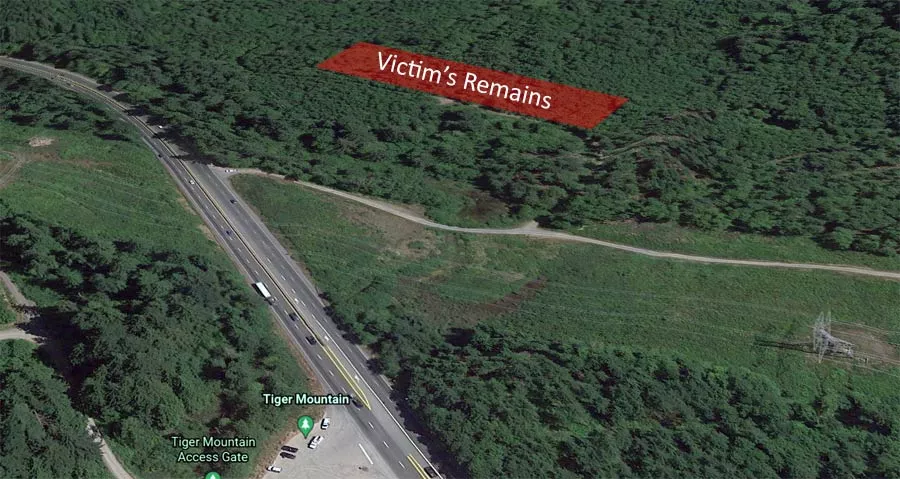 This is a Google Earth image of the site.
Keppel's interview at the site.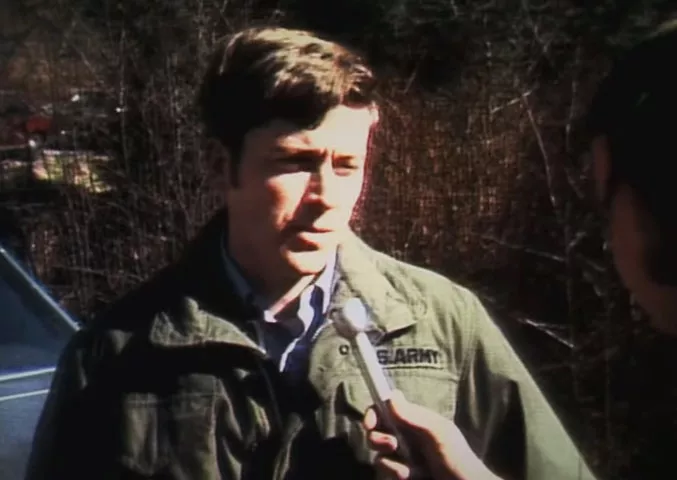 During the search, Keppel spoke to news reporters at the site:
"We keep finding more and more every day. You go into those woods and you just don't know what's in there. It's so thick, so overgrown with bushes that you could find anything... a couple of minutes from now... a couple of hours from now. It doesn't matter."
Search team.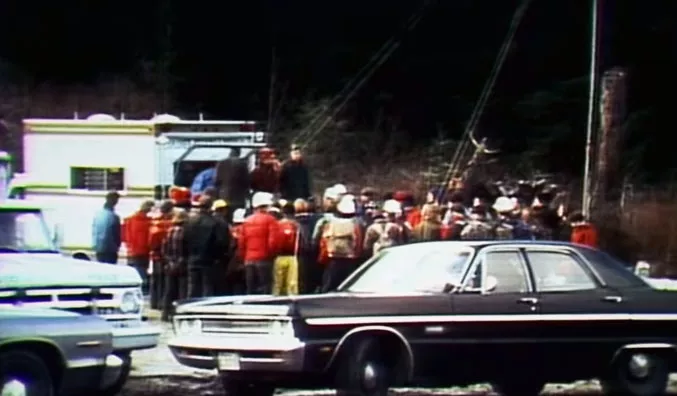 This image shows the search team gathering at Taylor Mountain.
The site itself was described as being nightmarish. It was gloomy, dark, cold, and wet. One ESAR volunteer likened it to something out of a Gothic movie. It was so dark inside the woods that the team needed flashlights to examine possible remains.
1972.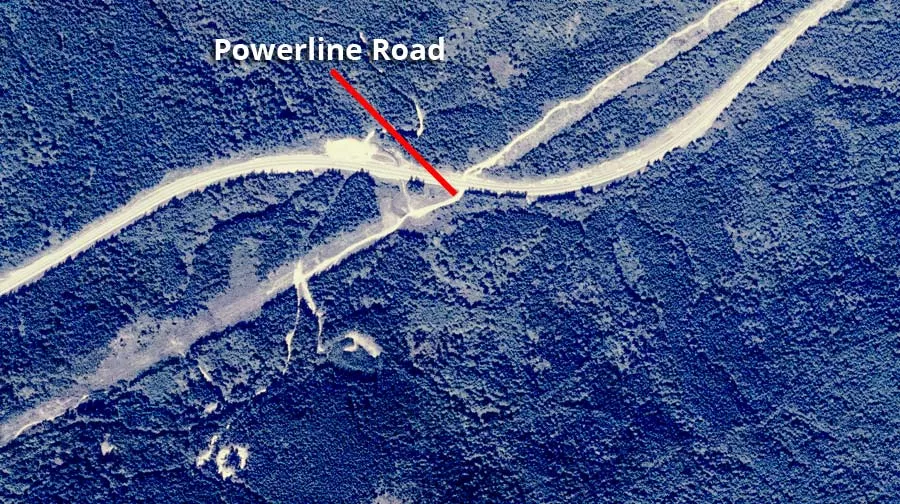 This aerial photograph of the site is from 1972.
It was taken roughly two years before Bundy started using it as a killing ground.
Closest locations.
Other locations that are relatively close to this place. Roughly 8 miles away.
Crime Location in Issaquah, Washington, United States Roughly 11 miles away.
Crime Location in Issaquah, Washington, United States Roughly 21 miles away.
Place of Interest in Seattle, Washington, United States Roughly 21 miles away.
Crime Location in Kent, Washington, United States Roughly 22 miles away.
Serial Killer House in SeaTac, Washington, United States