The location where Ted Bundy abducted Susan Elaine Rancourt
Crime Scene Location in Ellensburg, Washington, United States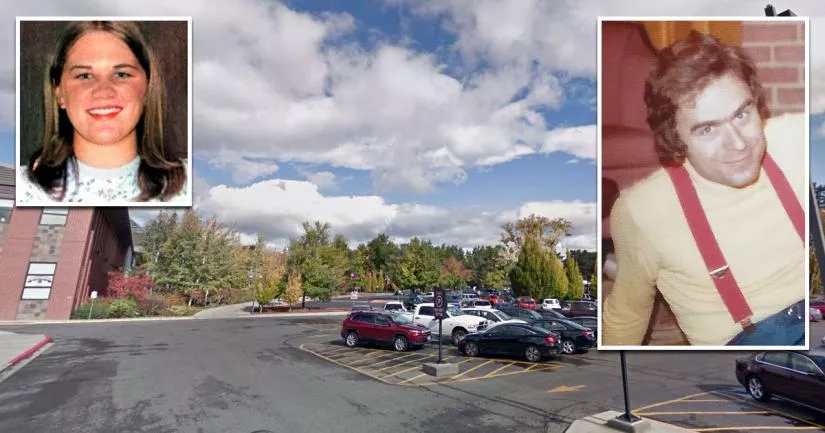 This is the parking lot where serial killer Ted Bundy abducted Susan Elaine Rancourt.
It is situated on the Central Washington University campus in Ellensburg, Washington.
On April 17th, 1974, Rancourt left a resident advisors meeting at Munson Hall and began walking back to her dorm room at Barto Hall.
As she was passing the campus library, a man with a sling on his arm dropped a number of packages and books on the ground.
At the time, the shy college student was on a mission to break out of her shell and become more outgoing. Therefore, she may have been more eager than usual to reach out and offer her assistance.
When the 18-year-old asked the "injured" student if he needed any help, he smiled and graciously accepted her offer.
After she had gathered his belongings together and picked them up off the ground, he informed her that his car was just around the corner.
Although she may have felt anxious about following a complete stranger across a dark and empty campus, it is likely that she felt somewhat pressured into doing so.
By that point, she had already volunteered to help him. Consequently, she may have found it very difficult to back out and say no.
Unfortunately, the stranger before her wasn't really injured. Nor was he a student at CWU. The man in question was Ted Bundy, a sexual predator who had traveled to Ellensburg to hunt for his next victim.
Earlier that day, Bundy had strategically parked his Volkswagen Bug in a poorly lit area that was roughly 150 yards northeast of Bouillon Library. He then put on a fake sling, grabbed a stack of books, and began hanging around the campus.
When Rancourt picked up Bundy's books and agreed to carry them back to his car, he led her up North Chestnut Street, towards the darkened lot.
After they reached his vehicle, it is likely that she leaned inside and attempted to place the books on one of the seats. However, while she was doing so, Bundy picked up a concealed tire iron and quickly struck her on the head.
Once she had been incapacitated, he shoved her into the passenger well of his Volkswagen, closed the door, and immediately took off.
Nearly one year later, her skull was discovered in a forested area on Taylor Mountain.

Further information is available in the "Photos" section below.
Susan Elaine Rancourt abduction location
Below, you will find the address and the GPS coordinates for this location.
GPS coordinates
The latitude and longitude coordinates for the parking lot are:
47.002465, -120.537215
Map
To view directions on how to get there, you can use the Google Maps shortcut below:
Address
The full address for this location is:
Central Washington University campus
North Walnut Street
Ellensburg
Washington
WA 98926
United States
Directions
The parking lot is at the end of North Chestnut Street. It is about 200 feet away from Black Hall.
Photos
Photos of the parking lot and other related images.
---
Aerial image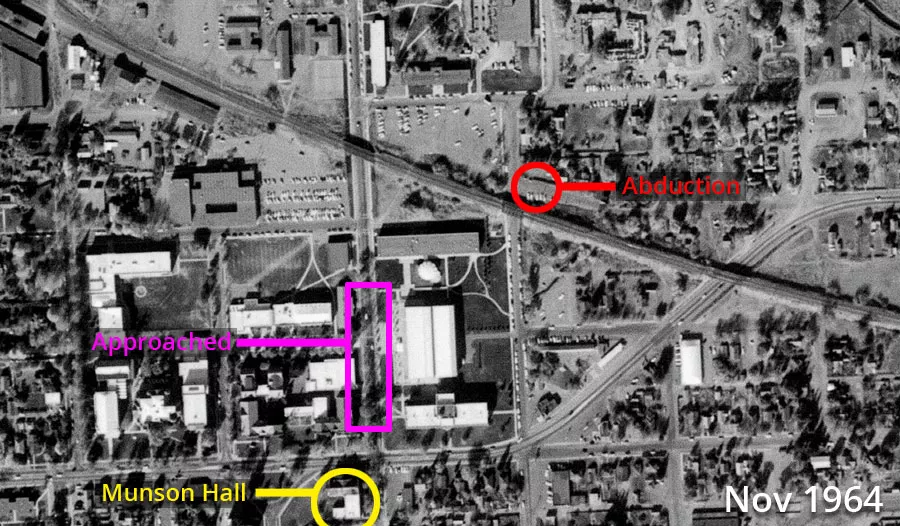 This aerial photograph of the CWU campus in Ellensburg was captured in November of 1964. Although Rancourt's abduction took place ten years after this image was taken, the layout of the campus was pretty similar at the time.
As you can see, Bundy's car was parked on the northern side of a railway trestle that cut through the campus.
The purple rectangle illustrates the general area where Bundy approached Rancourt. The pathway in question is on the western side of Bouillon Hall.
Map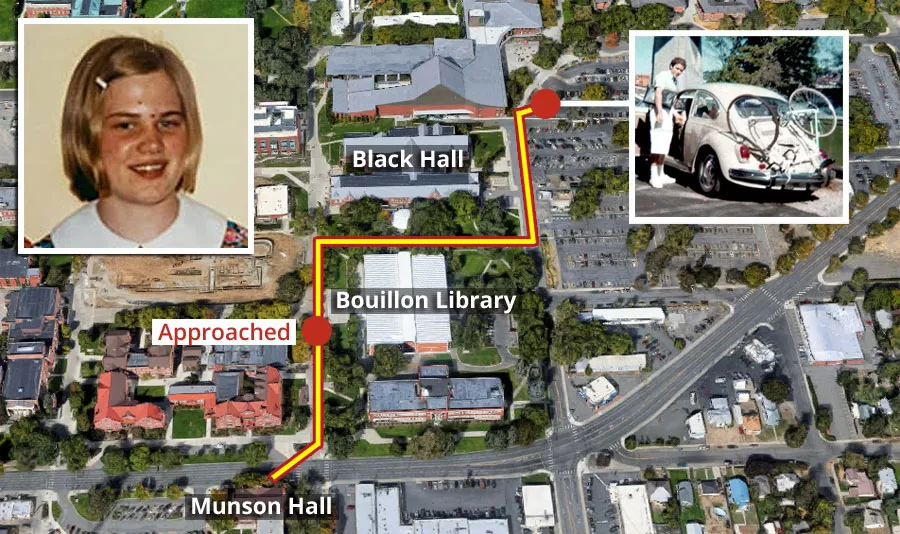 This map shows the route that Rancourt took on that fateful night.
At around 10 p.m., she left the meeting at Munson Hall and walked along the pathway on the western side of Bouillon Library.
After agreeing to follow the "injured" man back to his Volkswagen Bug, the pair cut between Black Hall and Bouillon Library before heading north along North Chestnut Street.
At the time, Black Hall was a much smaller building. It wasn't until 1998 that it was extended and tripled in size.
The parking lot where Susan Rancourt was abducted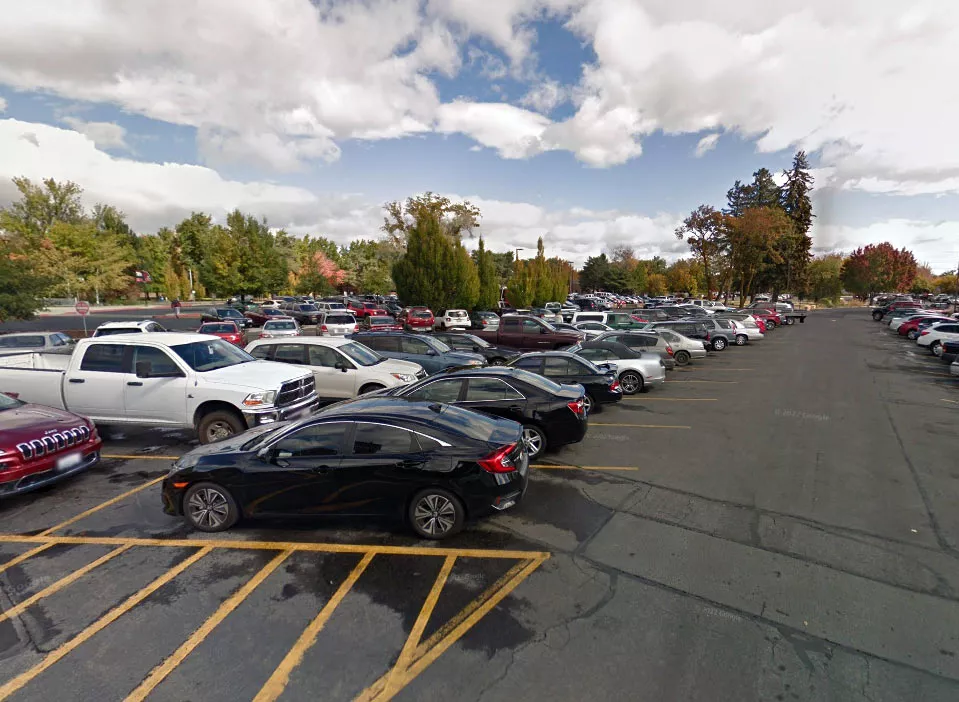 This is a Google Street View image of the general area where the 18-year-old was abducted.
Back in 1974, there was a railroad trestle in this area. It was also one of the darkest locations on the campus.
After layering old aerial photographs on top of modern maps, we determined that his Volkswagen Bug was situated close to where the H-15 parking lot exists today.
University Way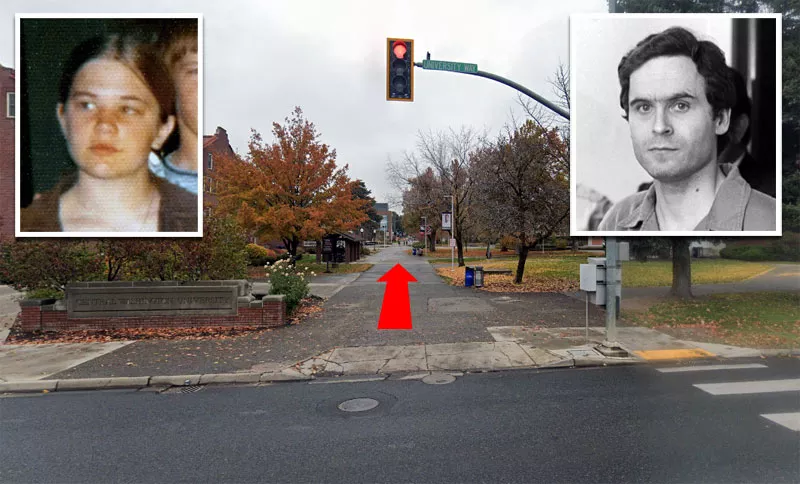 This is a Google Street View image of University Way. The shy college student was walking along this pathway when she was intercepted by Bundy.
That evening, he had a fake sling and was trolling around the area for his next victim.
Coordinates: 46.999960, -120.539312
Munson Hall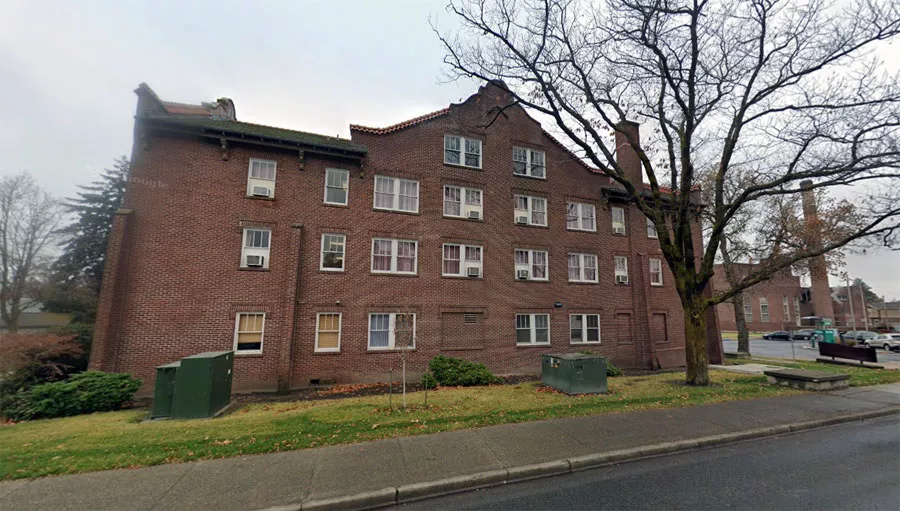 On the evening of April 17th, 1974, Rancourt was attending a meeting at Munson Hall on East University Way. The meeting in question was for college students who were interested in becoming resident advisors.
According to her friends, Rancourt felt as though she was far too shy. By taking on such a role, she hoped to break out of her shell and become more outgoing.
The meeting finished at roughly 10 p.m.
Afterwards, she started walking back to her dorm at Barto Hall, which was about 0.4 miles away.
Sadly, she never made it that far.
Coordinates: 46.999637, -120.539786
Bundy attempted to use the same ruse on others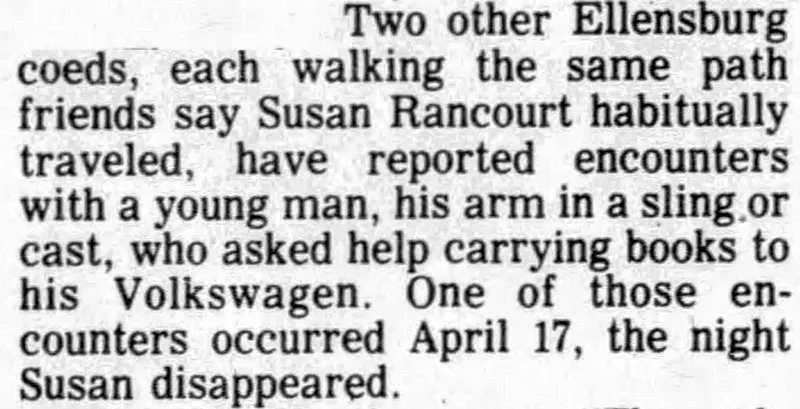 This newspaper clipping is from August 27th, 1974. It was published roughly one year before Bundy was arrested in Utah.
In the hours leading up to Rancourt's sudden disappearance, Bundy had attempted to use the exact same ruse on two other coeds. Although one of the women agreed to help him carry his books to his car, she eventually grew suspicious of him and decided to leave.
Visualize
There is more than one location associated with this entry. To view all of these places on the same map, you can use the following feature:
Closest Locations
Other locations that are relatively close to this address: Roughly 91 miles away.
Crime Location in King County, Washington, United States Roughly 98 miles away.
Crime Location in Issaquah, Washington, United States Roughly 99 miles away.
Place of Interest in Issaquah, Washington, United States Roughly 101 miles away.
Crime Location in Issaquah, Washington, United States Roughly 106 miles away.
Crime Location in Kent, Washington, United States