The Utah location where Ted Bundy was arrested in 1975
Arrest Location in West Valley City, Utah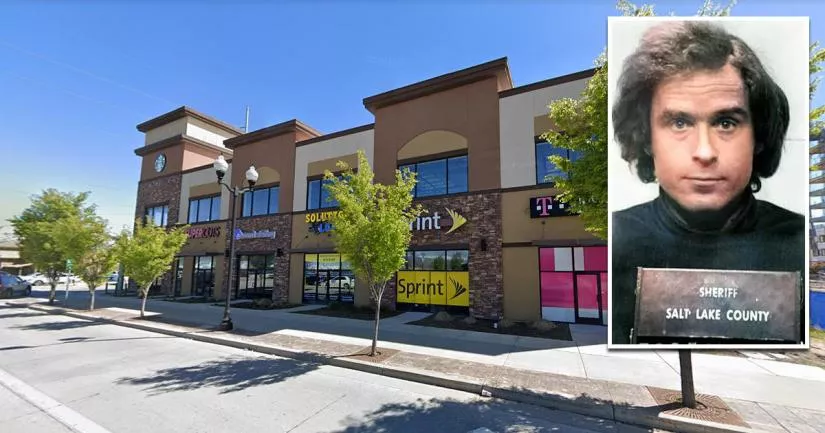 This is the location where Ted Bundy was arrested in 1975.
It is situated at 3500 South in West Valley City, Utah.
At the time, there was an old gas station on this lot. These days, it is the address of a Starbucks coffeehouse.
In the early hours of August 16th, 1975, Utah Highway Patrol Sergeant Bob Hayward chased a Volkswagen Bug for a mile and a half through the streets of Granger until the motorist eventually decided to pull over at this area near Interstate 215.
Hayward had become suspicious after he noticed Bundy's vehicle speeding off from a parked position on Brock Street with no headlights on.
When the Volkswagen Bug took off, the officer proceeded to chase it in his green 1974 Plymouth Fury. Because Hayward was driving an unmarked vehicle, it is possible that Bundy didn't realize he was being pursued by a police officer.
For the next five minutes, the two cars raced through the quiet residential streets of Granger until Bundy ran a stop sign and pulled out onto the main road at 3500 South. After driving eastbound along 3500 South for about 0.3 miles, he eventually decided to pull into an old gas station by the intersection with 2700 West.
After the two cars came to a stop, Bundy jumped out of his vehicle and started walking towards the green Plymouth. However, Hayward was quick to pull out his .357 Magnum and order him to step back.
Once the situation was under control, Hayward called for backup. When another trooper arrived at the scene, Hayward asked Bundy if he could look through his vehicle.
Feeling surrounded, Bundy complied.
It wasn't long before the officer discovered a brown bag on the floor of the Volkswagen. The bag contained trash bags, rope, a ski mask, a makeshift mask made out of pantyhose, a crowbar, and other tools. Moments later, Hayward opened the front trunk of the Bug and found a pair of brand new handcuffs crammed into the side.
At that point, the officers decided to arrest Bundy on suspicion of burglary. They had no idea that the bag in question was actually a "murder kit" and that the man standing in front of them was one of America's most notorious serial killers.
At the time, Bundy's name was already floating around law enforcement circles as a potential suspect in the murders and disappearances of several women in the Washington State area.
Furthermore, Salt Lake County Deputy Sheriff Jerry Thompson noticed that Bundy and his vehicle matched the description of the man who had attempted to abduct Carol DaRonch from a shopping mall in Murray, Utah.
As a result, investigators from several counties immediately began to focus their attention on the law student.

Further information is available in the "Photos" section below.
Where was Ted Bundy arrested in 1975?
Below, you will find the address and the GPS coordinates for this location.
Address
3500 S, West Valley City, Utah, UT 84119, USA
Map
To view directions on how to get there, you can use the Google Maps shortcut below:
GPS coordinates
The latitude and longitude coordinates for the arrest location are:
40.696490, -111.958333
Directions
The site sits on the corner of 3500 S and 2700 W in Granger. It is right across the road from Valley Fair Mall.
Photos
Photos of the arrest location and other related images.
---
Route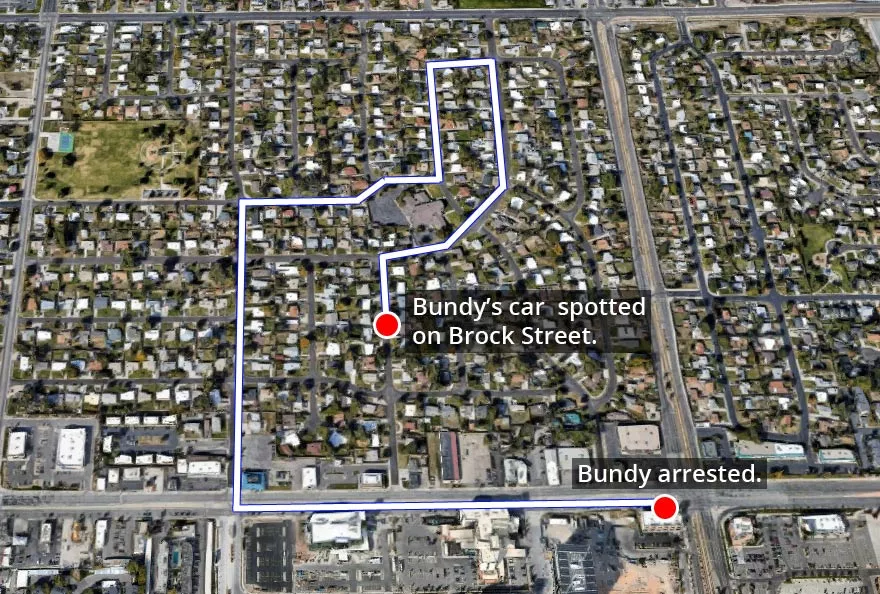 This aerial image shows the route that Bundy took before he was arrested. As you can see, he drove north up through Lehi Drive and then circled back towards 3500 South.
After pulling out onto the main road, he continued eastbound before finally pulling in at the intersection between 3500 South and 2700 West.
Although Bundy was hoping to lose Hayward, the trooper's Plymouth Fury proved to be too powerful for him to shake off.
3500 South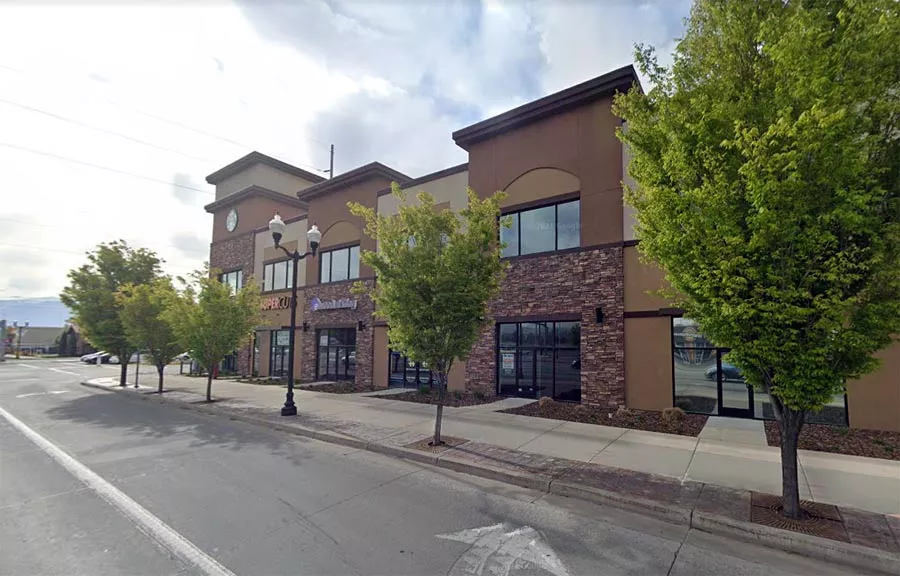 This Google Street View image of the site was taken in April 2021.
These days, the lot is home to several retail units. Judging by older Street View images, the current building was constructed in 2007.
Brock Street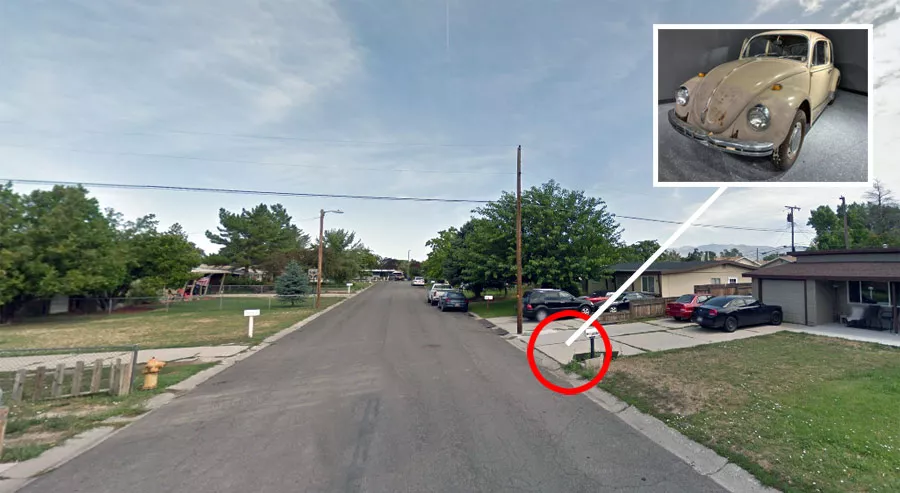 When Sergeant Bob Hayward noticed the Volkswagen Bug, it was parked outside 3381 Brock Street.
Coordinates: 40.698775, -111.962043
Hayward didn't plan on driving up Brock Street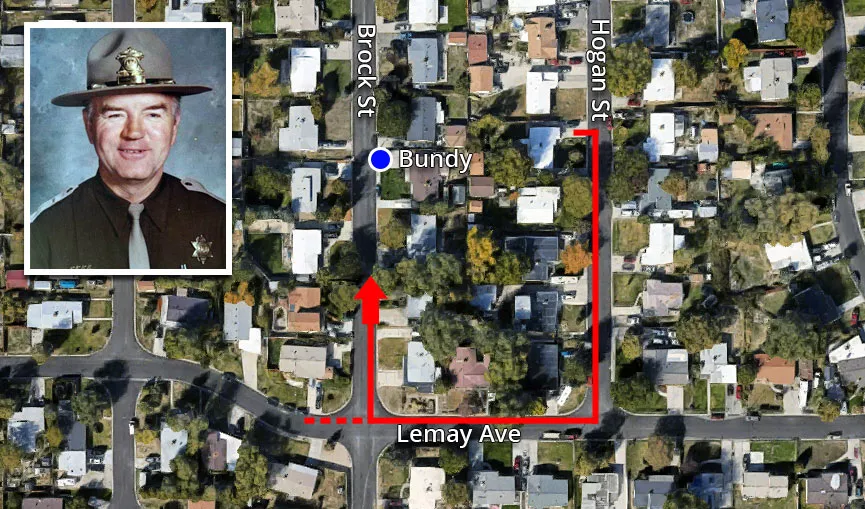 Inset is a photograph of Sergeant Bob Hayward.
That night, Hayward was on Hogan Street doing paperwork in his unmarked car when three vehicles drove by. While he was sitting there, word came out over the radio that a local party had been broken up in the area.
Believing that the cars were being driven by a group of drunken teenagers, the trooper decided to give chase.
His original plan was to drive westbound across Lemay Avenue (the dashed line) and cut the teenagers off. However, in the heat of the moment, Hayward mistakenly turned right onto Brock Street.
Frustrated by this mistake, he turned on his high beams and sped up. As he was driving up Brock Street, Bundy's Volkswagen suddenly shot out of one of the driveways in front of him and drove away.
Realizing that the driver was probably up to no good, Hayward decided to give chase.
Interestingly, this means that a small mistake led to the capture of one of America's worst serial killers.
Within four days, detectives in Washington State received word that one of the men on their list of suspects had been arrested in Utah.
The police also quickly realized that he fit the description of Carol DaRonch's kidnapper. In 1976, he was found guilty of the crime and sentenced to 1–15 years in prison.
Notably, this was not the last time that Bundy was arrested. After escaping from prison in Colorado in 1978, he fled eastward to Florida, where he murdered three women and a 12-year-old girl.
His final arrest occurred in Pensacola, Florida.
Bundy's arrest location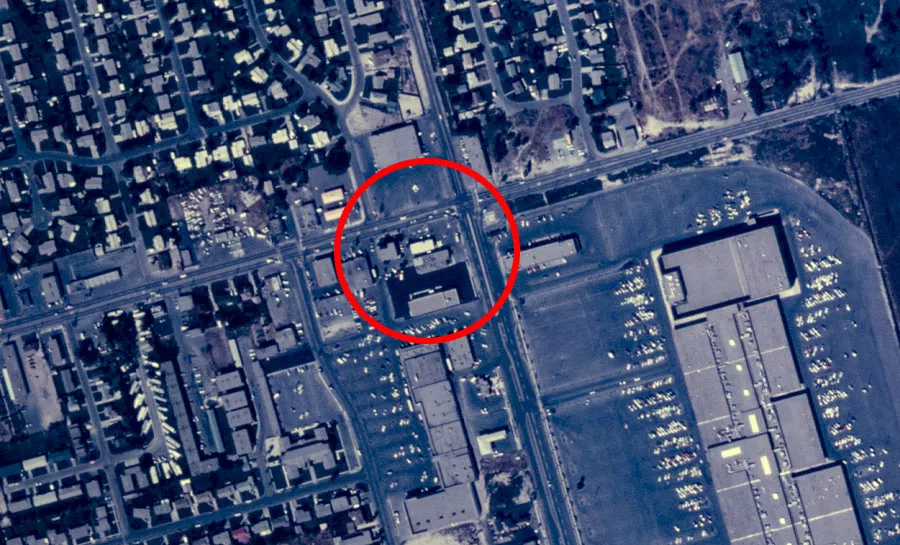 This is an aerial image of the old gas station where Bundy was arrested in August 1975.
The photograph was taken in 1972.
The large building on the right is Valley Fair Mall.
Map Viewer
There is more than one location associated with this entry. To view all of these places on the same map, you can use the following feature:
Closest Locations
Other locations that are relatively close to this address: Roughly 6 miles away.
Crime Location in Salt Lake City, Utah Roughly 7 miles away.
Crime Location in Murray, Utah Roughly 8 miles away.
Crime Location in Midvale, Utah Roughly 8 miles away.
Serial Killer House in Salt Lake City, Utah