The mall where Ted Bundy abducted Carol DaRonch.
Crime Scene Location in Murray, Utah, United States.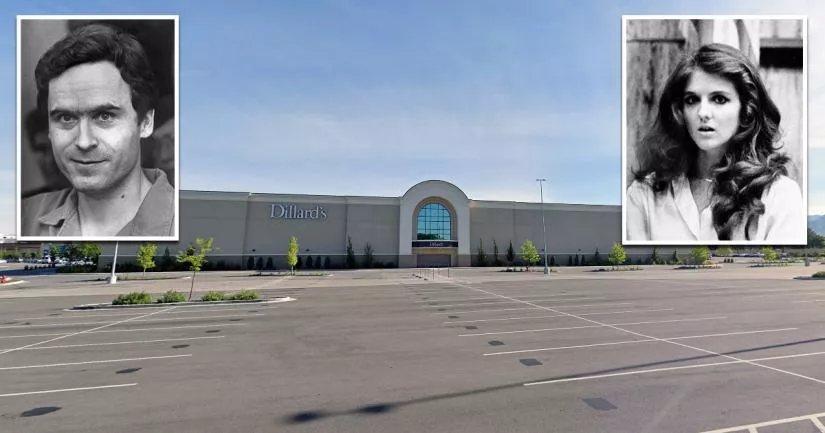 This is the shopping mall where serial killer Ted Bundy abducted Carol DaRonch.
On November 8th, 1974, Carol parked her maroon '74 Camaro near the Sears store entrance at the south end of the mall.
Nowadays, the area is home to a department store called Dillard's.
On that day, Carol was standing outside Walden Book Stores in Fashion Place when she noticed that a man was approaching her.
The man in question was Ted Bundy.
Bundy identified himself as a policeman called Officer Roseland. He then asked Carol if she had parked her vehicle by the Sears entrance.
After DaRonch confirmed that she did, the "officer" told her that someone had been seen breaking into her car.
At that point, DaRonch followed Bundy out of the mall. However, once they reached the vehicle, she saw that it was perfectly OK and that no valuables were missing.
Despite assurances from Carol that everything was fine, Bundy told her that she should follow him and file a complaint against the suspect that "they" were detaining inside.
Once they were back inside the mall, Bundy looked around as if he was searching for someone. He then told Carol that "they" must have taken the suspect down to the police substation.
Bundy then led the woman out of the mall and across the street to a nearby building on 6100 South. He tried to open the door, but it was locked. After the door failed to open, he proceeded to walk halfway down the alley beside the building before turning around and coming back again.
While this charade was going on, DaRonch continued to watch him from the sidewalk.
After Bundy failed to open the door to the "police substation", Carol started to become suspicious. Consequently, she asked him if she could see some identification.
Bundy was quick to pull out an oval-shaped wallet and show her a silver police badge.
At that stage, Carol felt more at ease. As a result, she agreed to go to the main police station with him and fill out a complaint against "the suspect".
The pair then walked across the street to Ted's car, which was a Volkswagen Bug with no license plates on it. Although Carol thought that it was a strange car for a police officer to be driving, she figured that he might be an undercover detective.
However, once they got into the Bug, Bundy started to drive in the opposite direction of the police station.
Then, about a half-mile away, he pulled the car up onto a curb outside of McMillan Elementary School.
Realizing that she was in trouble, Carol started to "freak out" and demand to know what they were doing. However, Ted seemed "removed" and did not respond.
As she tried to open the door and escape, Bundy grabbed her arm and put a handcuff on her left wrist.
At this point, Carol's life was flashing before her eyes. She started to think about how her parents would never find out what happened to her.
During the struggle, Carol scratched and hit Ted. This prevented him from being able to cuff her right wrist.
Then, in an effort to scare her into compliance, Bundy pulled out a small black gun. However, Carol continued to scream and struggle with him until she finally managed to escape the car.
After she fell out of the Bug, Ted pursued her with a crowbar. Fortunately, DaRonch was able to kick him, break free and then run away. At that stage, she flagged down a passing car, while Ted jumped back into his Volkswagen and sped off.
Carol DaRonch was one of the few lucky women who managed to survive an encounter with Ted Bundy.
Where was Carol DaRonch abducted?
Below, you will find the address and the GPS coordinates for this location.
GPS Coordinates.
The GPS coordinates for the mall are as follows.
Latitude: 40.633529
Longitude: -111.885208
Map.
Open 40.633529, -111.885208 in Google Maps to view directions on how to get there.
Address.
The full address for this location is:
Fashion Place
6191 South State Street
Murray
Utah
UT 84107
United States
Directions.
The lot where Carol parked is on the southwestern side of the mall. It sits beside the intersection between East Winchester Street and South Fashion Boulevard. The mall is pretty close to the Belt Route (Interstate 215).
Check out our "Photos" section for details about the other locations.
Trivia and other information.
The shopping mall opened in 1972—roughly two years before the abduction.
The Sears store at Fashion Place mall closed its doors in the spring of 2013. In February of 2014, the original building was demolished. Nowadays, it is home to a department store called Dillard's.
When Carol DaRonch escaped, the handcuffs were still attached to her right wrist.
Following the attack, Bundy drove 20 miles north to Bountiful, where he kidnapped and murdered a 17-year-old student named Debra Jean Kent. The police realized that there was a link between the two crimes after they discovered a key belonging to the handcuffs in the parking lot of Debra's school.
After the Utah Highway Patrol arrested Ted Bundy in 1975, a detective realized that his car and description matched the suspect in the DaRonch kidnapping case. Subsequently, he was put into a lineup and identified.
On March 1st, 1976, Bundy was found guilty of kidnapping. A few months later, a judge sentenced him to 1–10 years in prison.
Photos.
Photos of the mall and other related images.
---
Sears at the Fashion Place mall.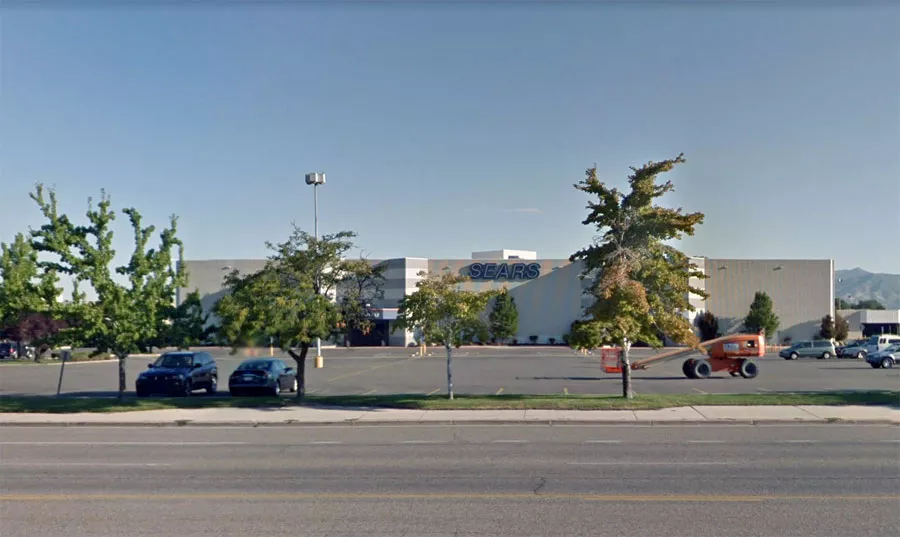 This is a Google Street View image of the old Sears building at the Fashion Place mall in Murray. It was taken in August, 2011.
The department store closed its doors in the spring of 2013 after 41 years.
Carol DaRonch.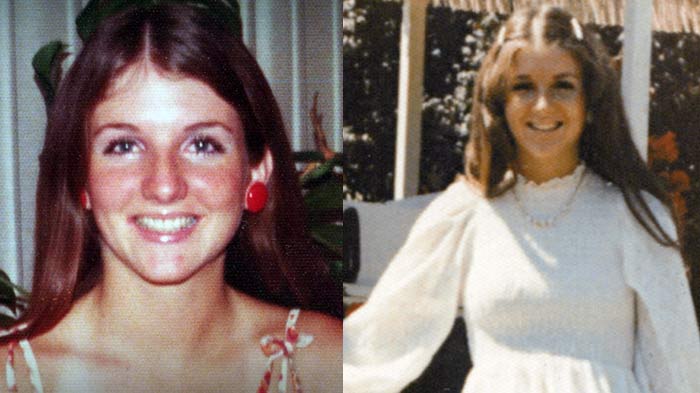 At the time of the attack, Carol DaRonch was an 18-year-old typist who lived at home with her parents.
After finishing work, she drove to the Fashion Place mall at around 7 p.m.
Bundy approached her while she was looking in the window of Walden's Book Store. According to DaRonch, he was polite and sounded well-educated.
The laundromat.
Bundy walked Carol over to this building at 6100 South under the guise that it was a police substation. However, it was really just a closed laundromat.
Coordinates: 40.638644, -111.887235
The parking lot where Bundy brought Carol DaRonch.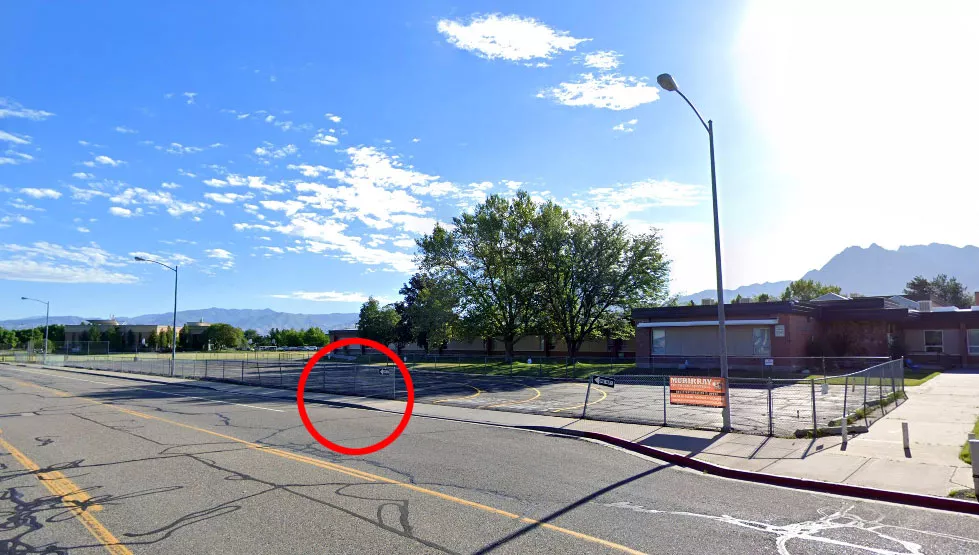 This is the parking lot that Bundy drove to after he picked up Carol DaRonch. The red circle highlights the exact location where he pulled the Volkswagen up onto the curb. It was here that he finally let his mask slip and attempted to handcuff her.
This lot is on the western side of McMillan Elementary School, close to the intersection between South Fashion Boulevard and 5900 South.
Coordinates: 40.643102, -111.882811
Lineup.
In 1975, Carol DaRonch identified Ted Bundy as her attacker during this lineup.
After the attack.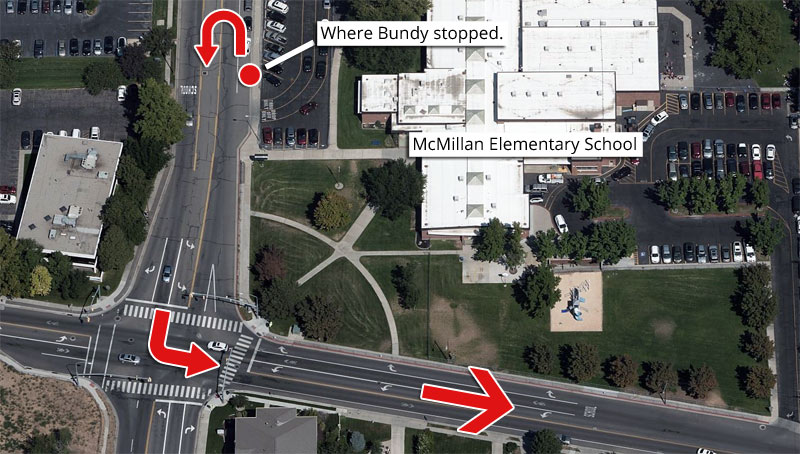 After Carol DaRonch escaped, Bundy did a U-turn before turning left onto 5900 South.
Fashion Place mall during the 70s.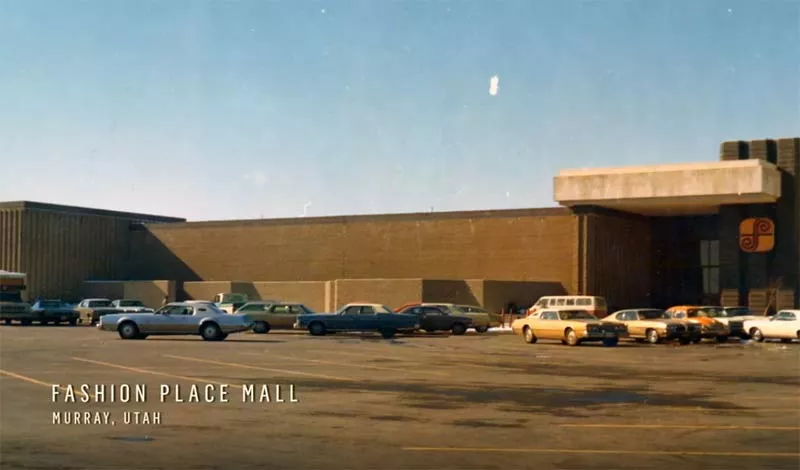 This photograph of the Fashion Place mall is from the 1970s.
Walden Book Stores.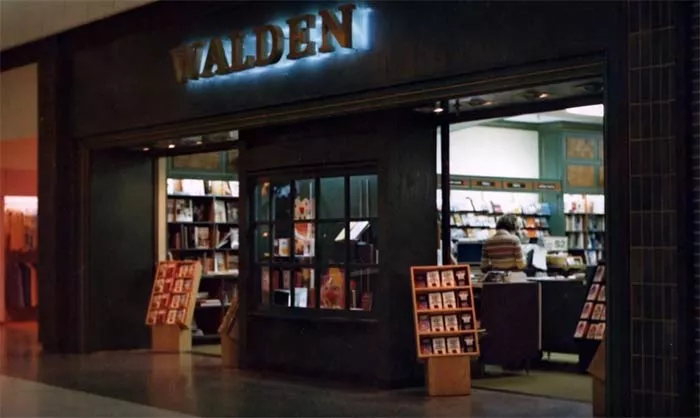 When Bundy approached Carol, she was standing outside of this book store.
Carol in 2020.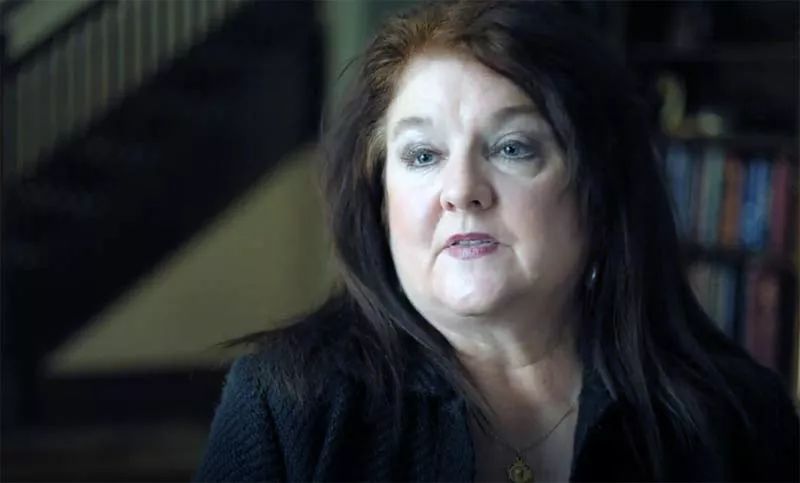 Carol retells her story in the 2020 docuseries "Ted Bundy: Falling for a Killer".
Closest locations.
Other locations that are relatively close to this place. Roughly 2 miles away.
Crime Location in Midvale, Utah, United States Roughly 6 miles away.
Crime Location in Salt Lake City, Utah, United States Roughly 7 miles away.
Place of Interest in West Valley City, Utah, United States Roughly 8 miles away.
Place of Interest in Salt Lake City, Utah, United States Roughly 11 miles away.
Serial Killer House in Salt Lake City, Utah, United States