Nancy Wilcox's house
Crime Scene Location in Salt Lake City, Utah, United States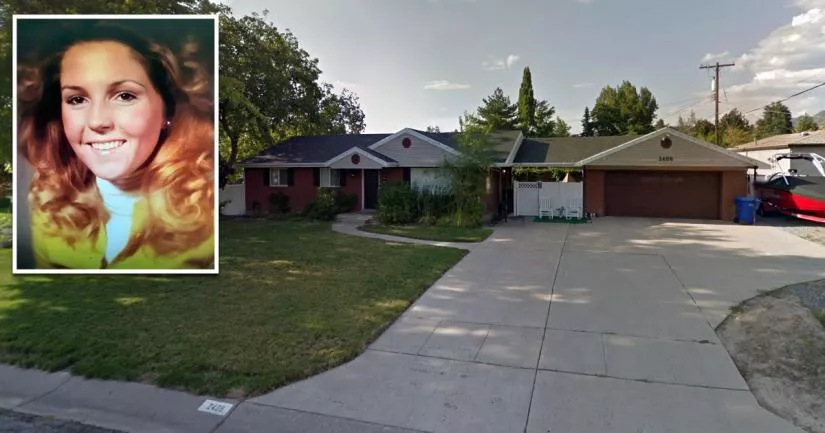 On October 2nd, 1974, 16-year-old Nancy Wilcox left this house in Salt Lake City and was never seen again.
Fourteen years later, serial killer Ted Bundy confessed to her murder.
That evening, Wilcox stormed out of her home on Arnette Drive following an argument with her father. Shortly afterwards, one of America's most notorious serial killers spotted her walking along a nearby road.
During his confession, Bundy said that she was walking on a "main roadway" that was poorly lit.
He claimed that he parked his car, crept up on the teenager, and forced her into an orchard. He then restrained her and put her into his Volkswagen Bug.
Once she was in his vehicle, he drove back to his apartment, where he allegedly kept her for 24 hours.
The following day, he murdered the 16-year-old, drove more than 200 miles south of Salt Lake City, and then dumped her remains in a rural area.
Notably, there are some major doubts hanging over his claim that he brought Wilcox back to his apartment.
Firstly, bringing a victim back to his rooming house would have been an incredibly risky move on his part, as there were other tenants staying there at the time, one of whom lived directly across the hallway from him.
Secondly, he gave a different version of events during one of his earlier third-person "confessions". In that interview, he said that "the killer" may have murdered the teenager in the orchard after she raised her voice and began to struggle.
Last but not least, Bundy was a narcissistic liar who liked to toy with the authorities. For all we know, he was trying to inflate his own notoriety by claiming that he had gotten away with such a daring feat.
Unfortunately, the only thing we know for certain is that Wilcox left her house on October 2nd, 1974, and was never seen again.
Although Bundy attempted to describe the area where he left her remains, he was unable to give a precise location. Consequently, her body has never been found.
To this day, she remains listed as a missing person.

Further information is available in the "Photos" section below.
Where did Nancy Wilcox live?
Below, you will find the address and the GPS coordinates for this location.
GPS coordinates
The latitude and longitude coordinates for the house are:
40.688359, -111.821913
Map
To view directions on how to get there, you can use the Google Maps shortcut below:
Address
The full address for this location is:
2409 Arnette Dr
Salt Lake City
Utah
UT 84109
United States
Directions
Arnette Drive is in Holladay, which is on the eastern outskirts of Salt Lake City. The general area is known as Millcreek. The house is just around the corner from Olympus High School.
Private Property Warning
This is a private property. It is not a public place. Therefore, you should be respectful and not step foot on the property without permission.
Photos
Photos of the house and other related images.
---
The orchard where Ted Bundy murdered Nancy Wilcox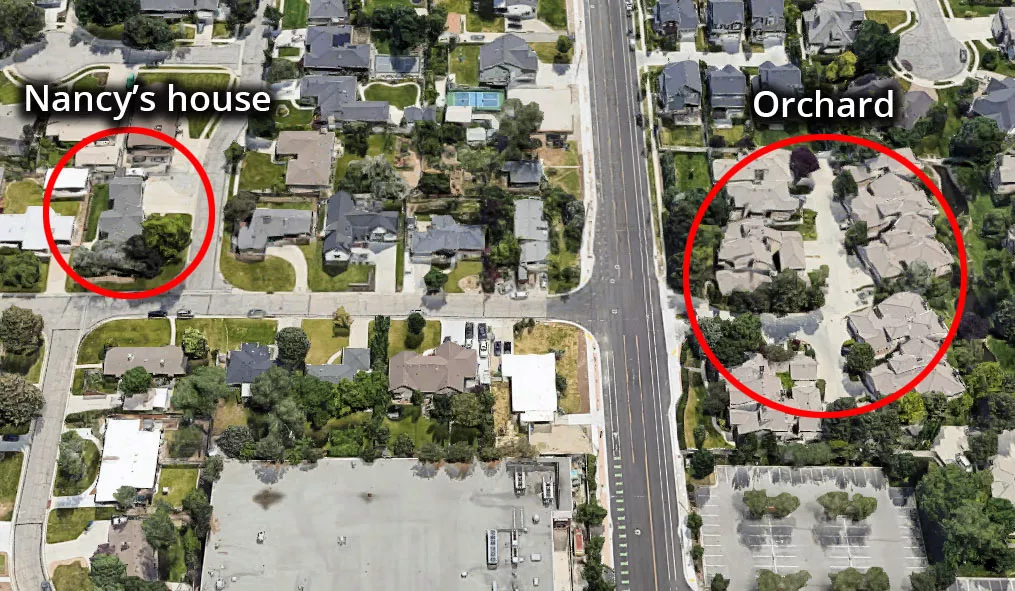 This aerial image shows how close Wilcox's house was to the orchard in Millcreek.
These days, the orchard in question no longer exists. The land is currently occupied by a housing development called Summerspring Court, which was built in 1987.
According to Bundy, he crept up behind Wilcox while she was walking along the main roadway. He then forced her into the orchard, restrained her, and put her into his car. Bundy claimed that he brought the young girl back to his apartment in Salt Lake City. He also stated that he didn't kill her until the next day.
However, law enforcement officials and "Bundy biographers" find this part of his confession difficult to believe. At the time, Bundy lived in a rooming house with other tenants. Such an act would have been incredibly risky on his part, especially if she was still alive.
Furthermore, during an earlier interview with author Stephen Michaud, he said that the 16-year-old was strangled to death in the orchard because she raised her voice and refused to comply.
Coordinates: 40.686956, -111.822286
The main roadway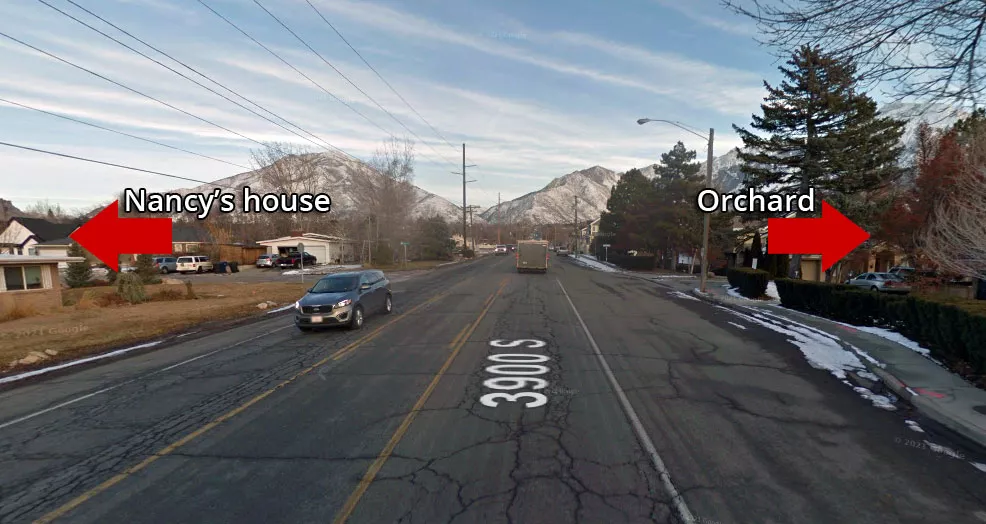 This is 3900 South in Salt Lake City.
Judging by Bundy's recollection of the crime, it is likely that this is the road that Wilcox was walking along when he spotted her.
During his confession, he claimed that the teenager was walking along a "particularly dark stretch" on a "main roadway." He also described the orchard as "small" and "residential."
Nancy's house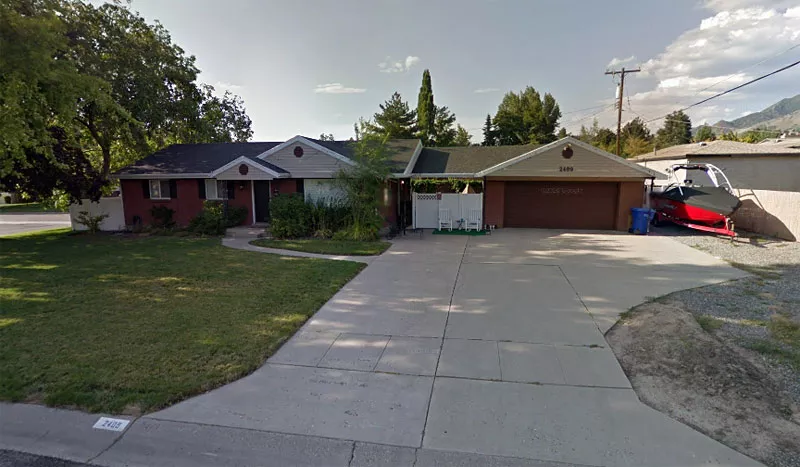 This Google Street View image of 2409 Arnette Drive was taken in August of 2014. The house is 1,482 square feet in size and was built in 1957.
The argument between Nancy and her father, Herbert, began after she told him that her high school boyfriend, John Hood, was coming around to pick her up.
According to Nancy's relatives, the fight was ignited by the topic of John's pickup truck, which used to leak oil onto the driveway.
Due to the nature of how she left the house, it was initially presumed that she had run away. Consequently, her disappearance didn't receive any publicity.
During his confession, Bundy recalled how the local newspapers didn't mention the 16-year-old:
"Because nothing came out in the paper about it for some time, as I recall in this particular case, which I later would associate with Wilcox."
This comment is interesting, as it shows us that Bundy actively paid attention to news stories about his victims.
"Bones not those of Bundy murder victim."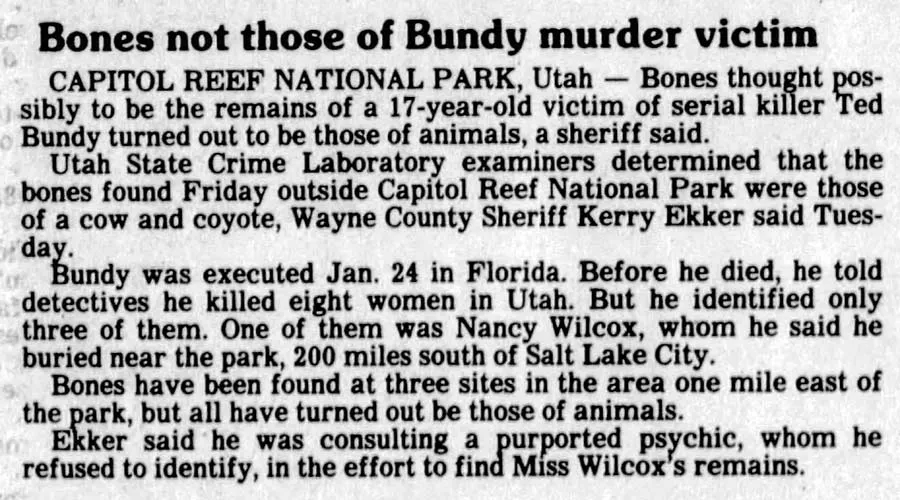 The article above was published in the Spokesman-Review newspaper on March 23rd, 1989.
During his confession, Bundy claimed that he buried Wilcox's remains near the Capitol Reef National Park in Utah. If he was telling the truth, then it means that he made a 400-mile round trip in order to dispose of her body.
Although the authorities discovered three separate sets of bones near the site, it was later determined that they belonged to animals.
Bundy's decision to bury his victim so far away may seem a bit excessive. However, there are two possible reasons for this.
Firstly, the skeletal remains of two of his victims had recently been discovered at his dump site in Issaquah. The news of this discovery may have motivated him to put more effort into the disposal of Wilcox's remains.
Secondly, this was his first victim since his move to Salt Lake City. Back in Seattle, the murders and disappearances of local women had attracted a large amount of attention. Therefore, it stands to reason that he wanted to try and avoid creating a similar level of panic in Utah.
This might also explain why he decided to "branch out" into Colorado following the murder of Debra Kent.
Nancy Wilcox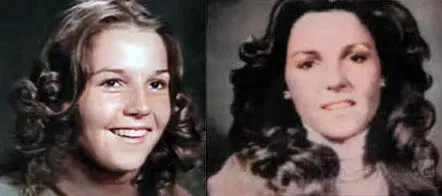 Nancy Wilcox was born on July 4th, 1958. She was just 16 years old when her life was suddenly snatched away from her.
According to her friends and family, she was a popular and funny young girl.
That night, it is likely that she was on her way to meet her boyfriend at Olympus High School. The school was only a five-minute walk away from her house.
Reports suggest that John was at football practice that evening.
Sadly, like many of Bundy's victims, it seems as though she was in the wrong place at the wrong time.
Aerial photograph from 1972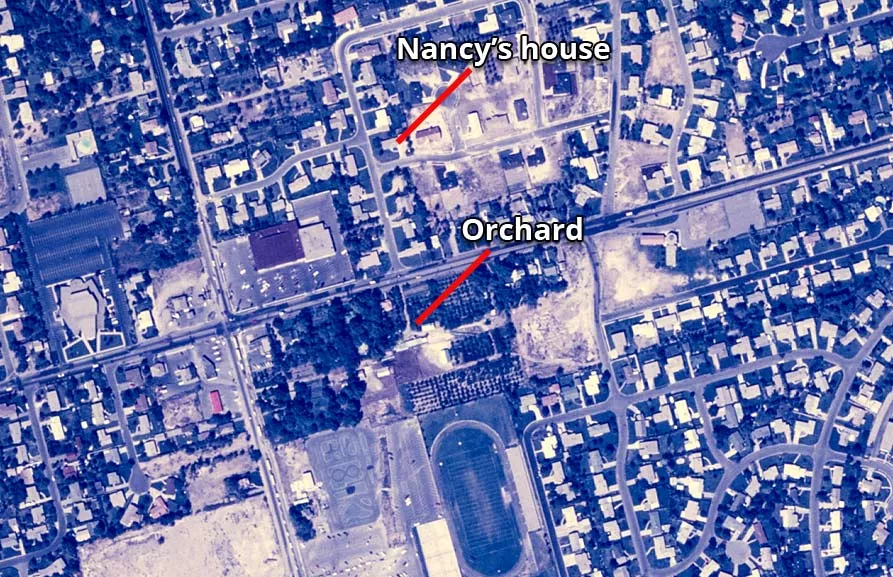 Image source: USGS
This aerial photograph of the neighborhood was taken in 1972.
In the image, you can clearly see the old orchard. You can also see a small road between the orchard and 3900 South.
2409 Arnette Drive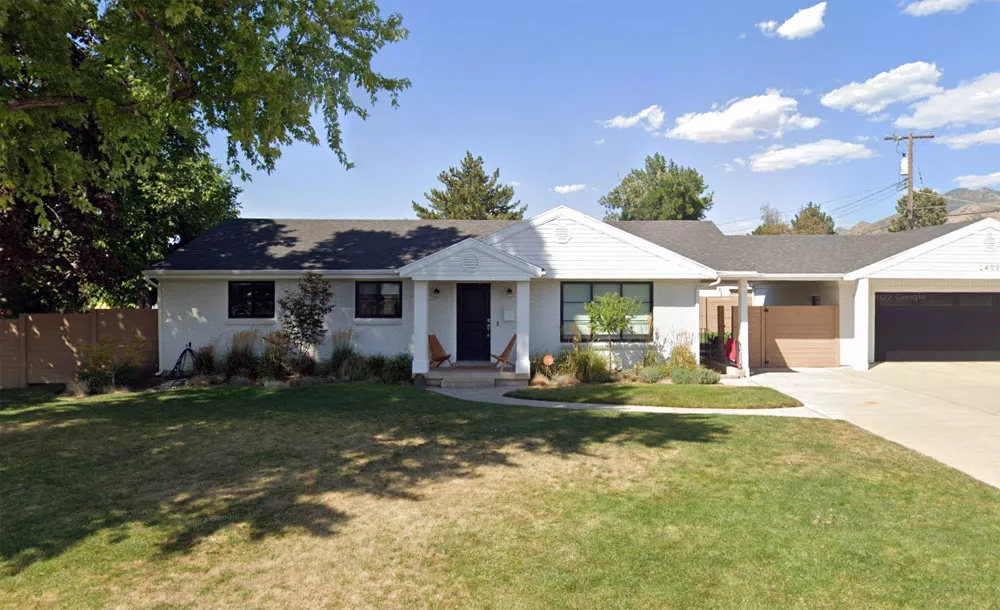 This Google Street View image was taken in September of 2022.
Summerspring Court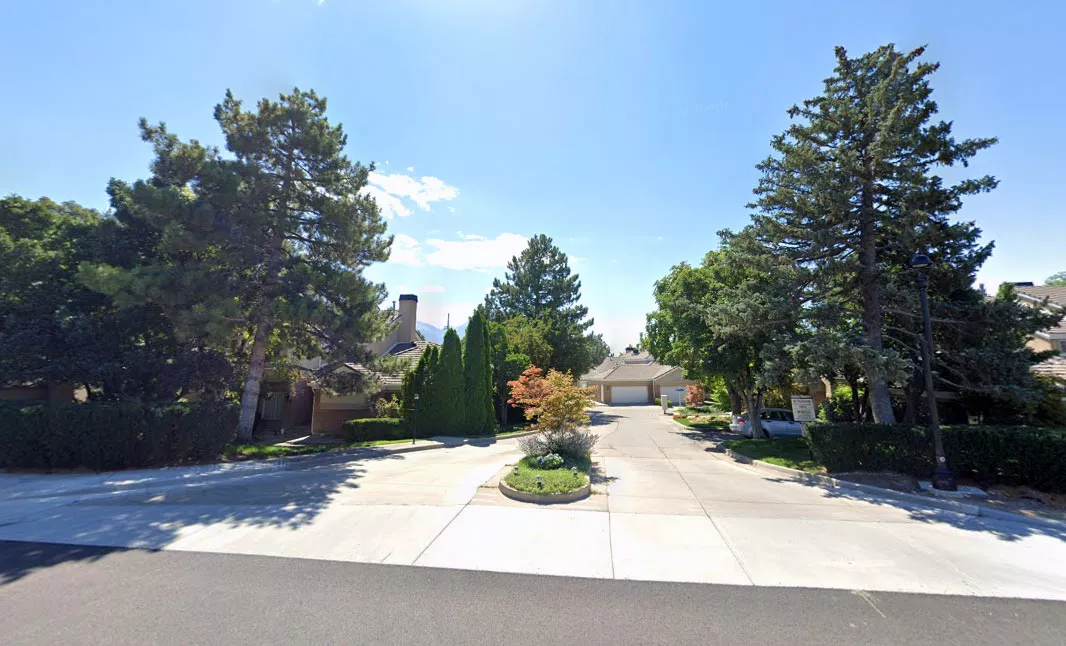 Summerspring Court was built in 1987—roughly 13 years after Wilcox disappeared.
Visualize
There is more than one location associated with this entry. To view all of these places on the same map, you can use the following feature:
Closest Locations
Other locations that are relatively close to this address: Roughly 4 miles away.
Place of Interest in Salt Lake City, Utah, United States Roughly 6 miles away.
Crime Location in Murray, Utah, United States Roughly 6 miles away.
Crime Location in Salt Lake City, Utah, United States Roughly 6 miles away.
Serial Killer House in Salt Lake City, Utah, United States Roughly 8 miles away.
Serial Killer House in Salt Lake City, Utah, United States