Ted Bundy's Issaquah dump site.
Crime Scene Location in Issaquah, Washington, United States.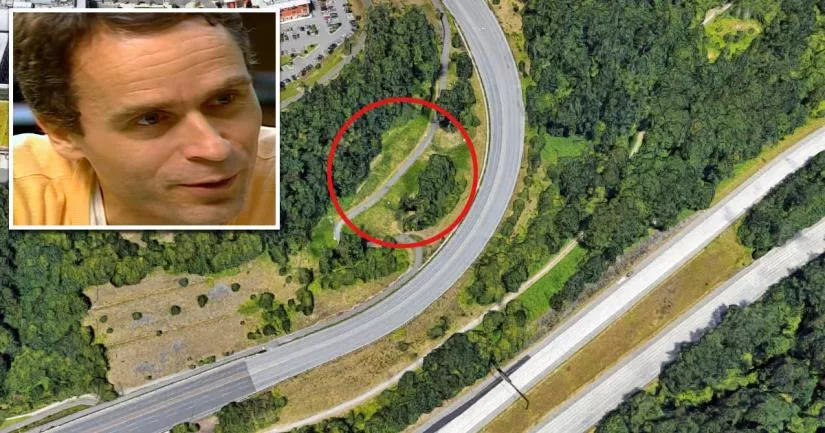 This is the Issaquah site where Ted Bundy dumped the bodies of Janice Ann Ott and Denise Marie Naslund. It is also believed to be the area where he buried the remains of Georgann Hawkins.
Throughout 1974, women kept disappearing in Seattle and the wider Washington state area. At the time, it was blatantly obvious to everyone in the Pacific Northwest that a predator was targeting young girls.
On Friday, September 6th, 1974, two grouse hunters came across skeletal remains at this location on the outskirts of Issaquah. Subsequently, a full-scale investigation was launched.
During the search, police discovered a number of human bones. The remains in question were spread out over a wide area due to disturbance from local wildlife.
Investigators found a skull, spine, mandible, pelvis and teeth, as well as a number of other bones.
The bodies belonged to Janice Ann Ott and Denise Marie Naslund, who had been missing for nearly two months. Bundy abducted the two women from Lake Sammamish on July 14th, 1974.
Bundy also claimed that he buried Georgann Hawkins at Issaquah.
According to Bundy, he also left the remains of 18-year-old Georgann Hawkins at this site in Issaquah. However, investigators were unable to confirm that any of the bones belonged to her. At the time, police typically needed a skull or a mandible (jaw bone) to identify skeletal remains. This is because DNA testing did not exist at the time and they were forced to rely on matching teeth against dental records.
Unfortunately, some of the bones that were found at the Issaquah scene were cremated by the coroner at a later stage. The remains were discovered roughly a decade before DNA testing was invented. This was during a time when it was policy to cremate unidentified bones if they remained in storage for too long.
Sadly, this means that we may never find out if this was the final resting place of Georgann. If we are to take Bundy's 1989 confession as truth, then it means that her head was buried nearby, 'beside a rocky hillside'.
The area has undergone a number of changes.
The site in question has undergone a significant number of changes over the years. For example, the campus to the north didn't exist at the time. The Highlands Drive road also wasn't there. Back then, the site could only be accessed via a short and winding dirt track.
Construction of the nearby Swedish Medical Center campus started in October of 2009. The project was finished in November of 2011.
Issaquah was his second dump site.
Although this was the first of Bundy's dump sites to be discovered, it wasn't the first one that he used. His first dump site was at a nearby location on Taylor Mountain. However, that wasn't uncovered until roughly six months later, in March of 1975.
The find at Issaquah was significant, as it confirmed everyone's suspicions that a predator was murdering women in the Seattle area.
Where was Bundy's Issaquah site?
Below, you will find the address and the GPS coordinates for this location.
GPS Coordinates.
The GPS coordinates for the site are as follows.
Latitude: 47.535027
Longitude: -122.018465
Map.
Open 47.535027, -122.018465 in Google Maps to view directions on how to get there.
Address.
The full address for this location is:
Issaquah Highlands
Issaquah
Washington
WA 98029
United States
Details about the general area.
Issaquah is a small city that lies 15 miles to the east of Seattle in Washington. Back in 1974, the city would have been much smaller. Since the 1970s, the population has increased from 4,500 to roughly 40,000.
Photos.
Photos of the site and other related images.
---
An old map of Issaquah.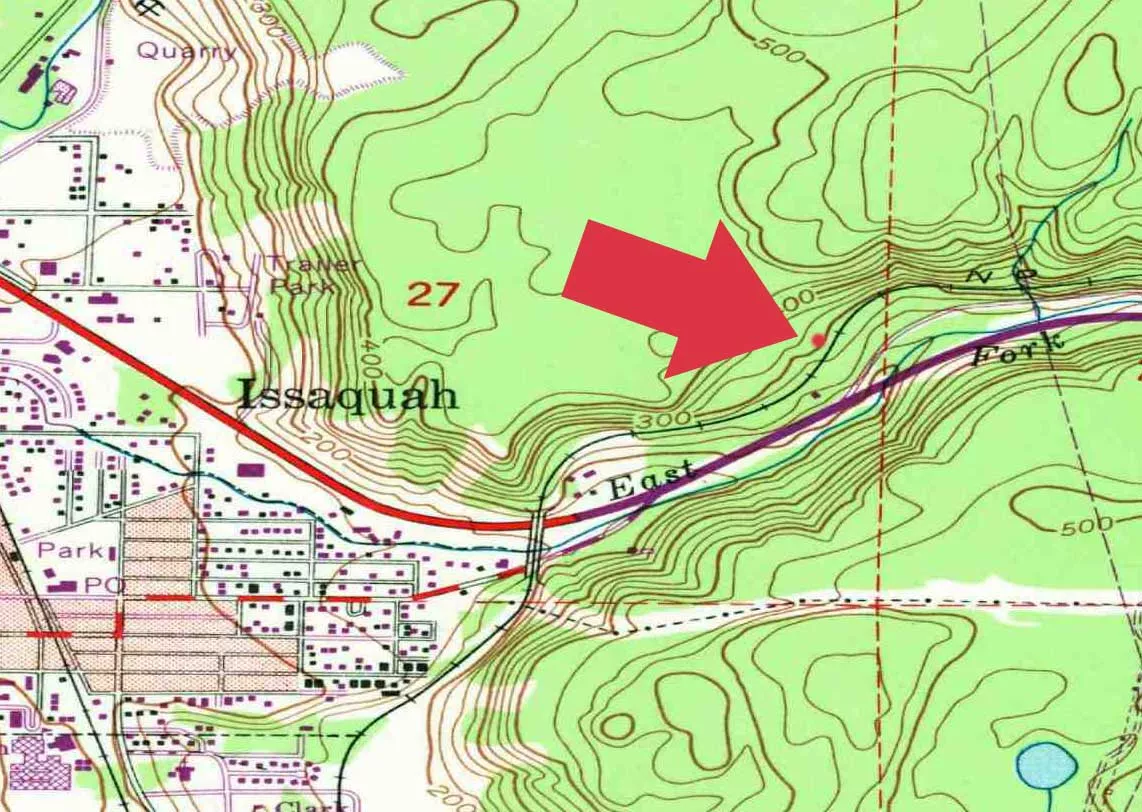 An old map of Issaquah from 1950. The body dump site was just north of an abandoned cabin, on the north side of the railway. The railway line, which ran through the Olde Town neighborhood of Issaquah, no longer exists. However, we do know the route that it took. This is because the railway line was replaced by the Rainier and Issaquah-Preston walking trails that are currently present today.
Please note that the exact location of the site is actually slightly to the left of the red dot.
Then and now.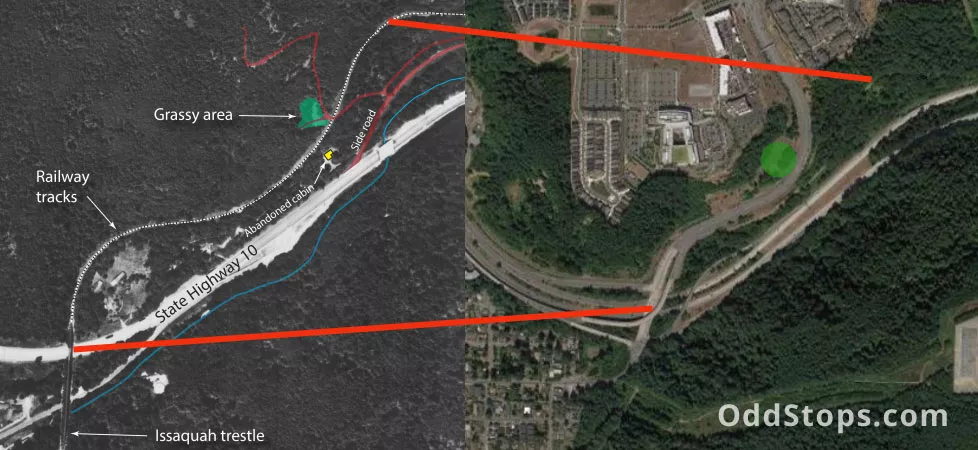 On the left is an older map which pinpoints the exact location of the site. This is from the book "Ted Bundy: A Visual Timeline" by Rob Dielenberg. On the right, you can see a recent aerial photograph of the area.
If you look at the red line at the bottom, you can see where railway bridge used to be. At the top, there is a feint outline of where the railway line curved up to the right. Nowadays, this is a walking trail.
Denise Marie Naslund and Janice Ann Ott.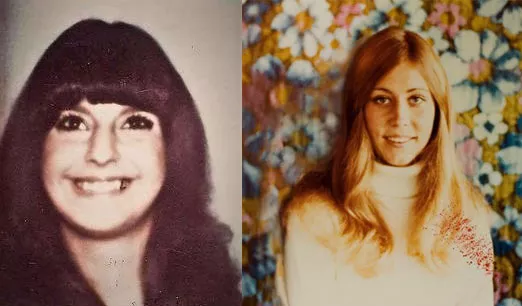 Bundy abducted Denise Marie Naslund (19) and Janice Ann Ott (23) from Lake Sammamish state park on July 14th, 1974.
That day, he approached multiple women at the beach and asked them if they could help him unload a sailboat.
The abductions of Janice and Denise occurred just four hours apart. Furthermore, they took place in broad daylight.
When police searched the burial site in September of 1974, they found the bones of Janice and Denise scattered across a large area.
Over the eight week period that followed the women's deaths, it seems as though local wildlife interfered with their remains. This is not surprising, as the Issaquah Highlands are home to a number of carnivores. For example, coyotes, bobcats, black bears and cougars all live in the area.
Police photograph.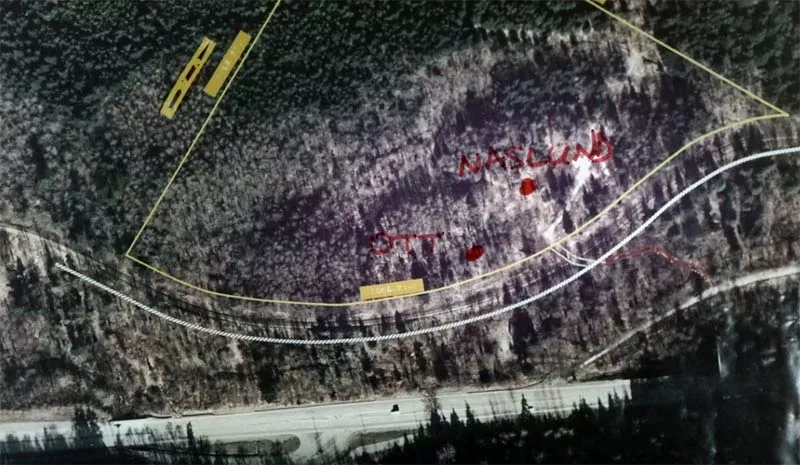 A police photograph of the site, which has been labelled. As you can see, Ted left the women's bodies at a clearance just before the trees. Note that the two red dots probably aren't too precise as the remains were scattered around the area by local wildlife.
Bundy's decision to stop using his original site at Taylor Mountain and switch to Issaquah is interesting. It may indicate that he wanted to "switch things up" in an attempt to impede any future investigations. It is also possible that he had a close call at the other site. For example, a vehicle may have driven by as he was pulling out onto the interstate, leaving him worried that he had been spotted by someone.
It is important to point out that Bundy was an impulsive creature who often found it difficult to keep his urges under control. Therefore, it is also plausible that he selected this new site simply because it was much closer to Seattle.
The search at Issaquah.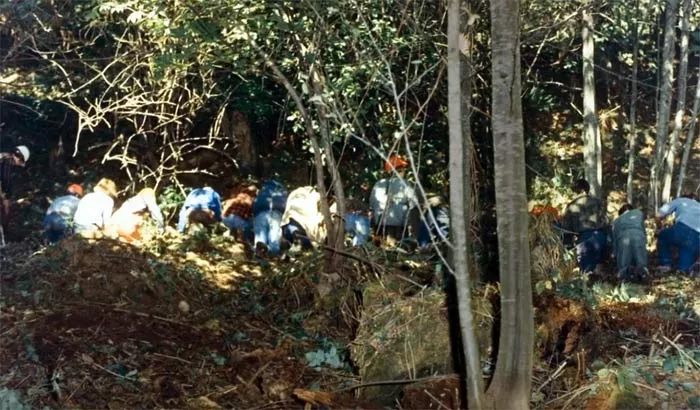 Once the remains were discovered, an extensive shoulder-to-shoulder search was carried out.
The rocky hillside.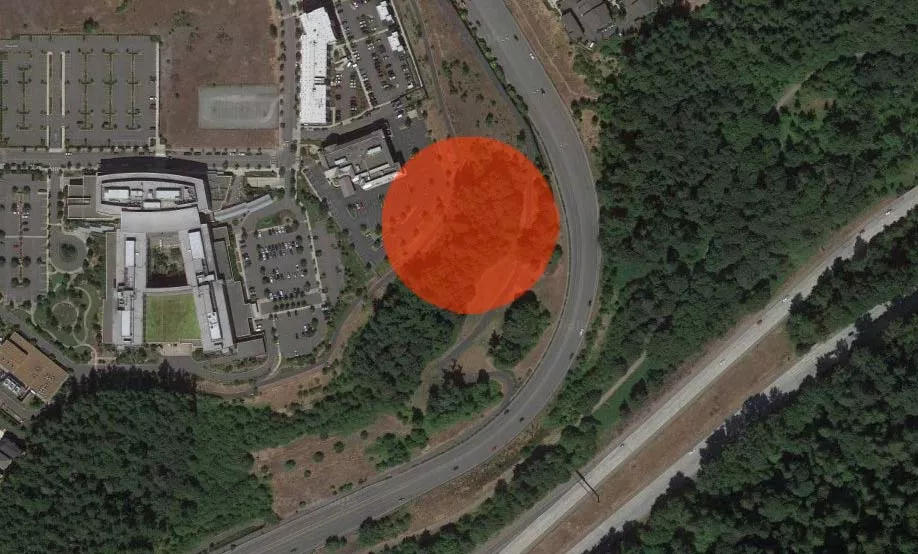 During his final confession to King County Detective Robert Keppel in 1989, Bundy stated that he buried Georgann Hawkins' head on a rocky hillside near the Issaquah body site.
According to Bundy, he carried her head about 25-50 yards north along the old dirt road. He then turned left and walked through the trees for about 10 yards.
At that point, he came across an area that was 'very rocky' and 'very hilly'.
Sadly, despite a thorough search of the suspected site, investigators were unable to find any trace of Georgann.
Bundy's confession took place nearly 15 years after Hawkins was murdered. He was also drinking heavily at the time. Consequently, his memory of the crime may have been distorted.
It is also possible that Georgann's remains were disturbed in the decade and a half that followed her disappearance.
Although Bundy was a liar and a manipulator, it is the author's opinion that he was telling the truth in this particular case. At the time of the confession, his execution was just over a week away. He was well aware that he needed to give detectives enough information to try and justify a stay of execution.
Google Earth image.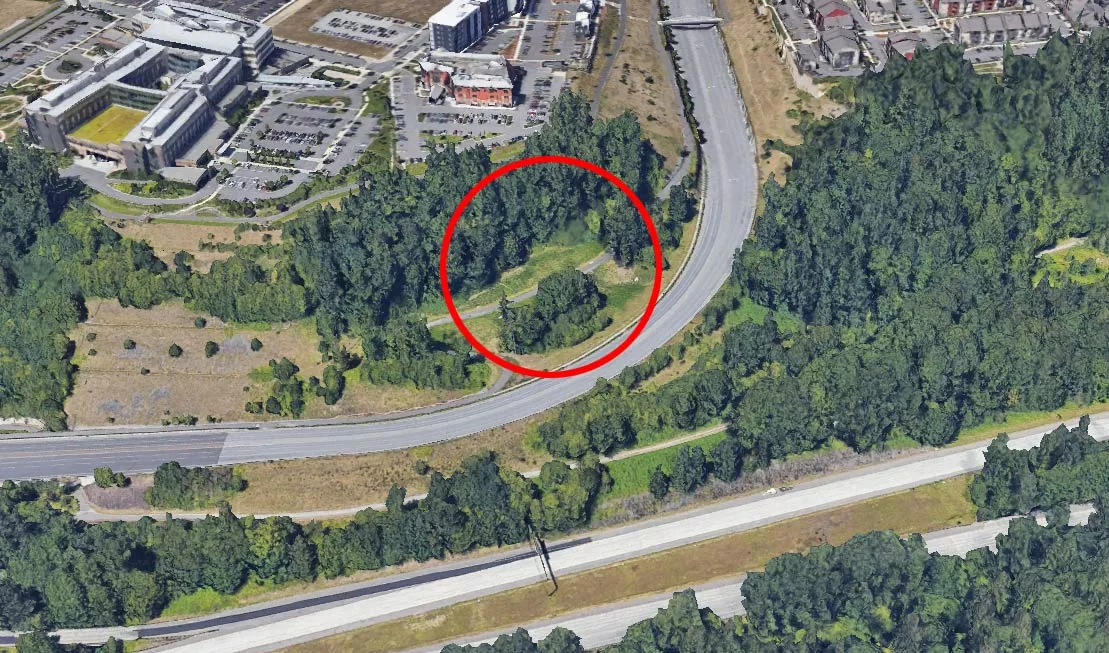 A 3D image of the dump site at Issaquah. Courtesy of Google Earth.
1977.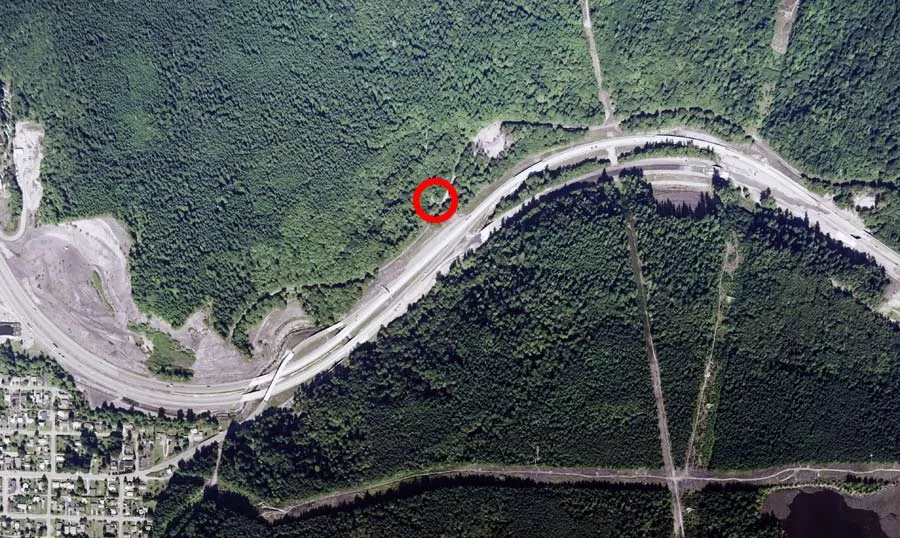 An aerial photograph of the site from 1977. Courtesy of USGS.
The Issaquah site in 1972.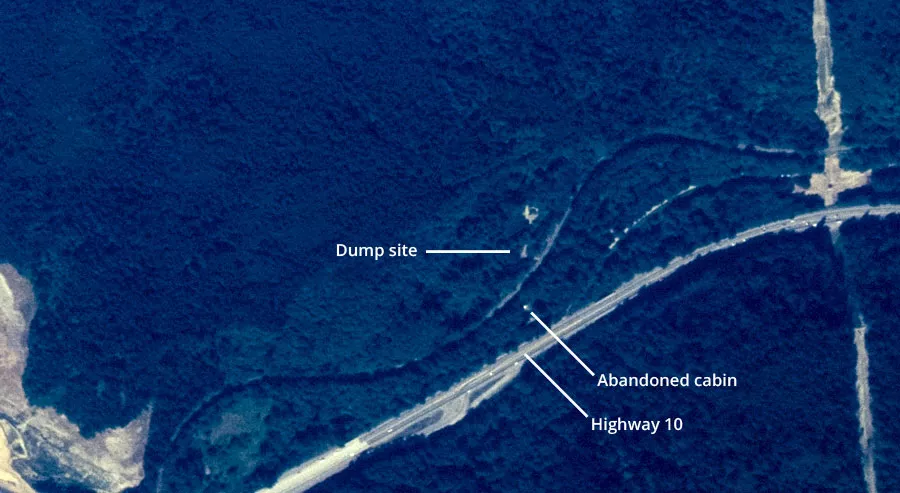 Another aerial image of the site. This photo is from September of 1972 - roughly two years before Bundy started using it as a dump site.
Closest locations.
Other locations that are relatively close to this place. Roughly 3 miles away.
Crime Location in Issaquah, Washington, United States Roughly 8 miles away.
Crime Location in King County, Washington, United States Roughly 17 miles away.
Place of Interest in Seattle, Washington, United States Roughly 19 miles away.
Serial Killer House in SeaTac, Washington, United States Roughly 19 miles away.
Crime Location in Burien, Washington, United States