The street where Maurice Clemmons was shot dead
Place of Interest in Seattle, Washington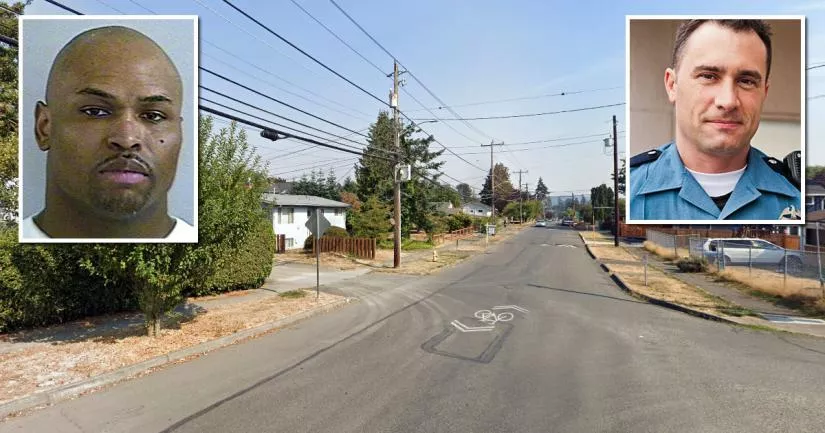 This is the location where wanted cop killer Maurice Clemmons was shot dead.
It is situated in the 4400 block of South Kenyon Street in Seattle, Washington.
Clemmons was shot and killed by a patrol officer named Benjamin Kelly.
Two days earlier, Clemmons had ambushed and killed four police officers at a coffee shop in Parkland.
Following the shootings, he went on the run to evade a massive statewide manhunt.
In the early hours of December 1st, 2009, Officer Kelly happened across a stolen Acura Integra on this street in the South End of Seattle.
The seemingly abandoned car caught Kelly's attention because the engine was running and its front hood was up.
After running the plates and learning that the Integra had been recently stolen from South Chicago Street, he sat in his patrol car and proceeded to report its location.
However, as he was doing so, he noticed that a man matching Clemmons' description was approaching his vehicle from behind.
When Officer Kelly jumped out and ordered Clemmons to stop, the wanted killer ignored the warnings and ran around to the other side of the patrol car.
He then began to reach for a handgun in his front pocket.
At that point, Officer Kelly fired several shots at Clemmons, two of which hit him.
The wanted man then collapsed on the northern side of the street, near 44th Place Street.
Sub-entry
This location has been marked as a sub-entry. As a result, it might lack certain details. For more information about this subject, please check out the following location:
Where was Maurice Clemmons shot?
Below, you will find the address and the GPS coordinates for this location.
Address
South Kenyon Street, Seattle, Washington, WA 98118, USA
Map
To view directions on how to get there, you can use the Google Maps shortcut below:
GPS coordinates
The latitude and longitude coordinates for the street are:
47.531608, -122.276874
Map Viewer
There is more than one location associated with this entry. To view all of these places on the same map, you can use the following feature:
Closest Locations
Other locations that are relatively close to this address: Roughly 6 miles away.
Crime Location in Burien, Washington Roughly 7 miles away.
Place of Interest in Seattle, Washington Roughly 8 miles away.
Death Location in Seattle, Washington