Kurt Cobain's house
Place of Interest in Seattle, Washington, United States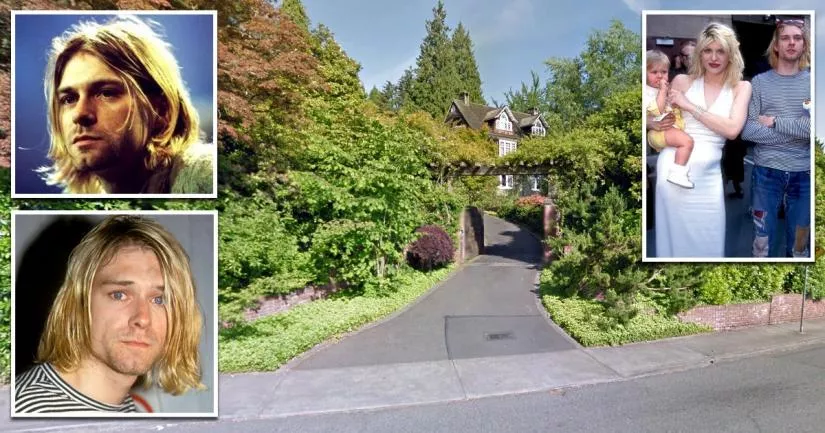 This is Kurt Cobain's former house.
It is situated at 171 Lake Washington Boulevard.
On March 31st, 1994, the Nirvana frontman absconded from the Exodus Recovery Center in Los Angeles and traveled back to this house in the east of Seattle.
A few days later, on April 2nd, he visited a gun store called Seattle Guns and purchased a bag of shotgun shells.
On April 8th, 1994, an electrician discovered the 27-year-old's body in a greenhouse at the property. Lying on the ground beside him were a shotgun, a heroin kit, cigarette butts, root beer, and a handwritten suicide note.
According to the medical examiner, it is likely that Cobain died on April 5th, which was three days before his remains were found.
Although Cobain died from a gunshot wound to the head, he also had a very high concentration of morphine in his blood.
Had he survived the gunshot wound, there was a very good chance that he would have died from a drug overdose.
The greenhouse that he killed himself in no longer exists, as it was torn down in 1996 to discourage Nirvana fans from trespassing on the property.
Three years after his death, Cobain's wife, Courtney Love, sold the house for $2.8 million.

Further information is available in the "Photos" section below.
Kurt Cobain house address
Below, you will find the address and the GPS coordinates for this location.
GPS coordinates
The latitude and longitude coordinates for the house are:
47.619618, -122.282186
Map
To view directions on how to get there, you can use the Google Maps shortcut below:
Address
The full address for this location is:
171 Lake Washington Blvd
Seattle
Washington
WA 98112
United States
Directions
The house lies to the north of Viretta Park. It is also relatively close to Denny Blaine Park.
Details about the general area
It is situated in the Denny-Blaine neighborhood of east-central Seattle.
Private Property Warning
This is a private property. It is not a public place. Therefore, you should be respectful and not step foot on the property without permission.
Photos
Photos of the house and other related images.
---
Aerial photograph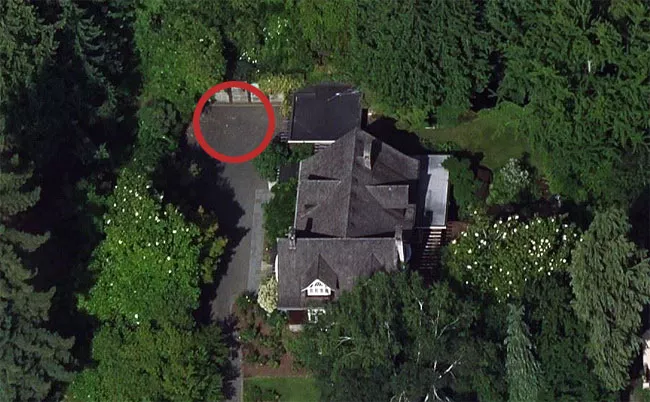 This is an aerial photograph of Kurt Cobain's former house on Lake Washington Boulevard.
The house was built in 1902. It has four bedrooms and five bathrooms.
Cobain and his wife, Courtney Love, purchased the house on January 24th, 1994, for $1.5 million. The sale took place roughly two months before Cobain's suicide.
Love demolished the greenhouse in 1996. The red circle indicates the area where the building once stood.
According to Love, she decided to tear down the greenhouse because Nirvana fans were constantly showing up at the site and making a nuisance of themselves by climbing the fence and leaving behind beer cans.
She eventually sold the house for $2,895,000 on July 2nd, 1997.
It was last sold for $7 million in August of 2020.
Greenhouse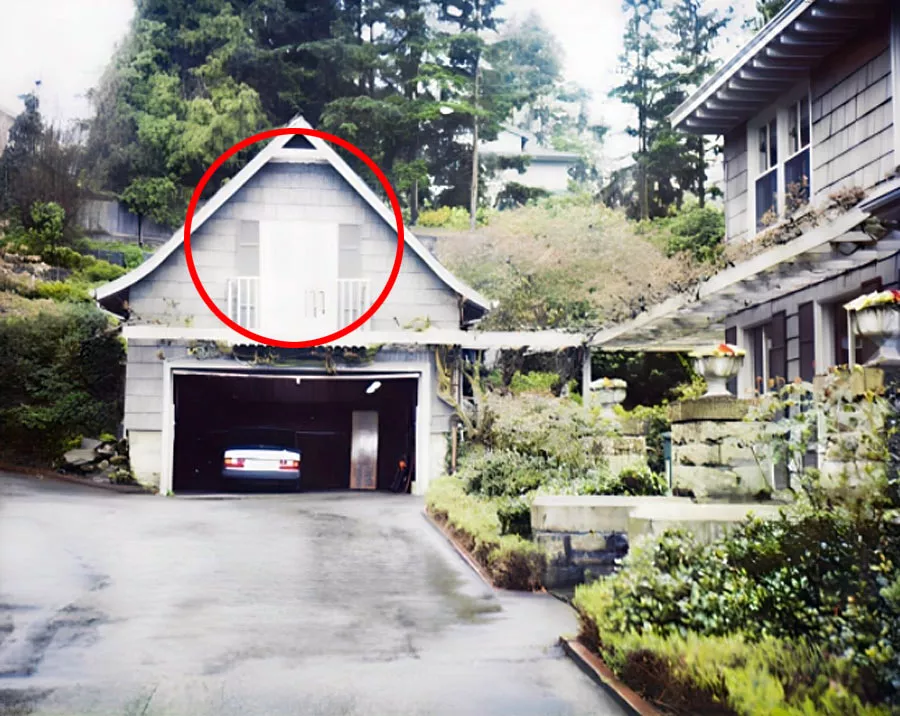 Cobain committed suicide in a greenhouse that sat on top of a garage.
The photograph above was taken by the police shortly after his remains were discovered.
Overdose in Rome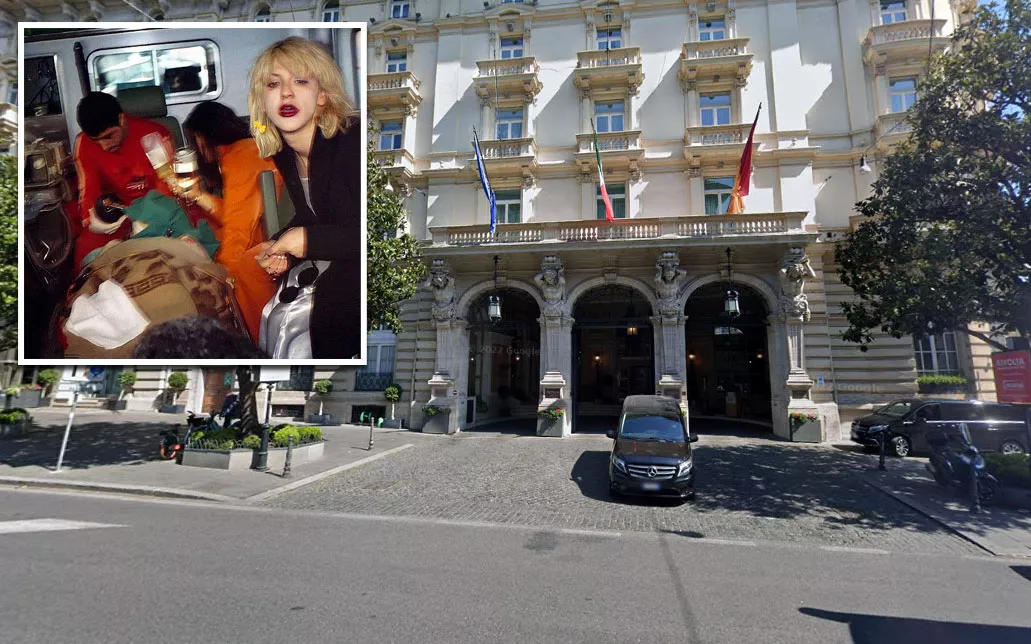 A month before his suicide, Cobain overdosed on Rohypnol at the Westin Excelsior hotel in Rome. Although his management agency claimed that the overdose was accidental, Love later admitted that it was a suicide attempt.
The Nirvana frontman had taken 50 pills in total.
According to Love, he "hated everyone and everything" at the time.
That morning, she woke up at around 4 a.m. and saw that he was "gone." Cobain had written a note claiming that she didn't love him anymore and that he would rather die than go through a divorce.
Five days later, he was released from the hospital. Shortly afterwards, he returned to the United States and entered rehab.
Coordinates: 41.907715, 12.489994
Shotgun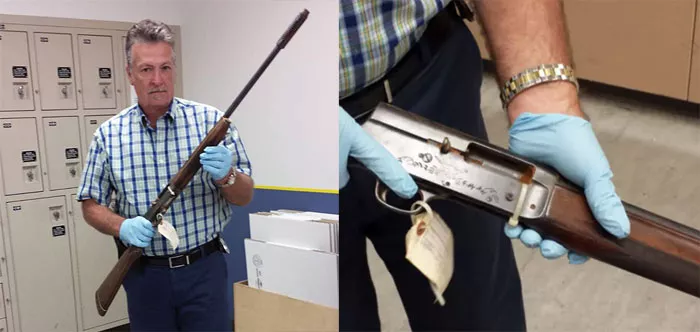 This is the Remington M-11 20-gauge shotgun that Cobain used to kill himself. The weapon was purchased for $308.37 on March 30th, 1994, which was six days before his suicide.
Cobain asked his friend Dylan Carlson to purchase the weapon because the police were constantly seizing his guns for his own protection.
Nine months earlier, officers had to be called to the singer's house after he locked himself in a room with several weapons.
Seattle Guns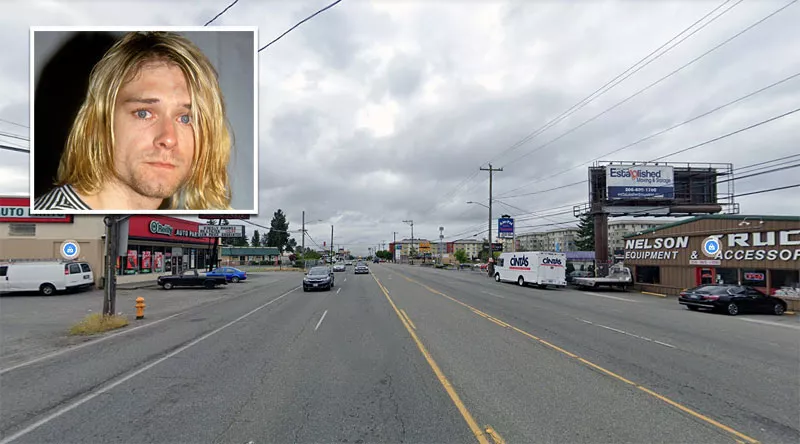 On April 2nd, 1994, Cobain hired a cab from a company called Gray Top Taxi.
Notably, the driver, Wodajo Abeye, did not know who he was. While he was picking him up, he thought to himself that the person did not "match" the residence.
In other words, Cobain, with his grunge fashion style, did not look like the type of person who owned a million-dollar property.
That day, Abeye dropped the singer off just south of Aurora Avenue and 145th Street. Shortly afterwards, he purchased a bag of shotgun shells at a store called Seattle Guns.
Coordinates: 47.732860, -122.345081
Stan Baker Sports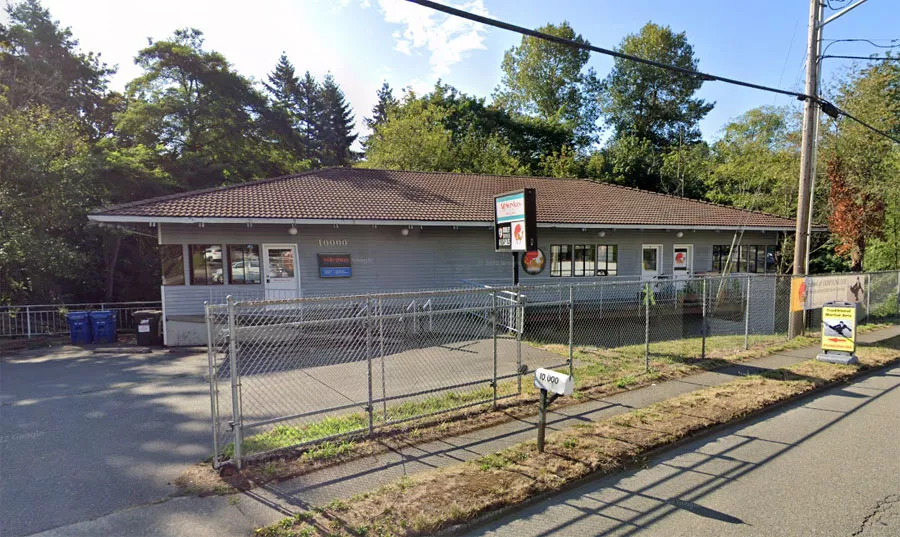 This is the location where the shotgun was purchased.
At the time, it was called Stan Baker Sports, and it was situated at 10000 Lake City Way NE.
Coordinates: 47.701416, -122.301991
The Exodus Recovery Center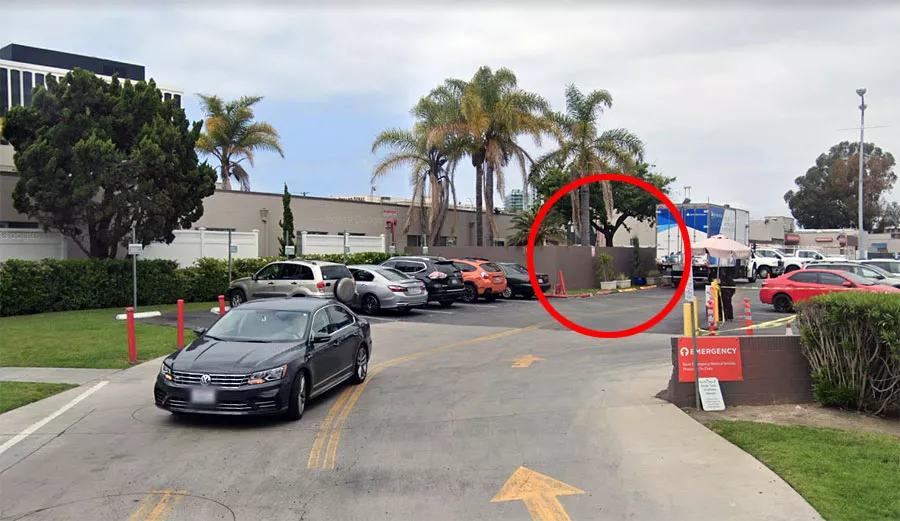 On March 31st, 1994, Cobain escaped from this rehab center in Los Angeles.
We have highlighted the wall that he allegedly jumped over in red.
At the time, it was known as the Exodus Recovery Center. Nowadays, it is called the Cedars-Sinai Marina Del Rey Hospital.
Coordinates: 33.982135, -118.438685
171 Lake Washington Blvd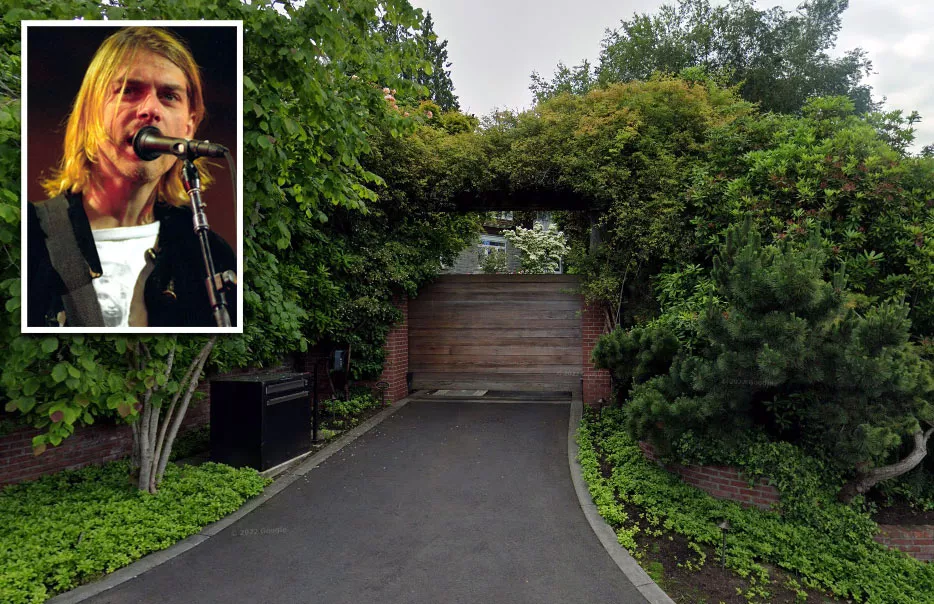 This Google Street View image of the front of 171 Lake Washington Blvd was taken in June of 2022.
As you can see, the property is surrounded by thick shrubs and trees.
If you do decide to visit the address, don't be surprised if you are unable to get a good look at the house.
Memorial park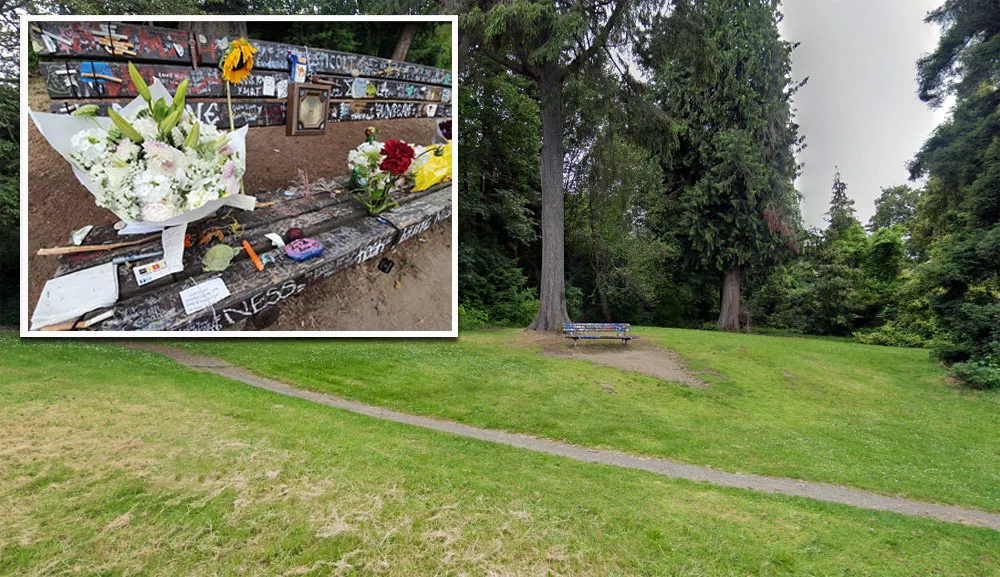 A public green space called Viretta Park is situated on the southern side of the property.
Nirvana fans have turned the park into a makeshift memorial site for Cobain.
The park bench has become a mural of sorts, with people leaving behind flowers, cigarettes, and handwritten notes.
Coordinates: 47.619200, -122.282159
Visualize
There is more than one location associated with this entry. To view all of these places on the same map, you can use the following feature:
This location belongs to the following categories:
Celebrities
Closest Locations
Other locations that are relatively close to this address: Roughly one mile away.
Crime Location in Seattle, Washington, United States Roughly 3 miles away.
Place of Interest in Seattle, Washington, United States Roughly 3 miles away.
Place of Interest in Seattle, Washington, United States Roughly 3 miles away.
Place of Interest in Seattle, Washington, United States Roughly 4 miles away.
Serial Killer House in Seattle, Washington, United States