Ted Bundy's rooming house in Seattle
Serial Killer House in Seattle, Washington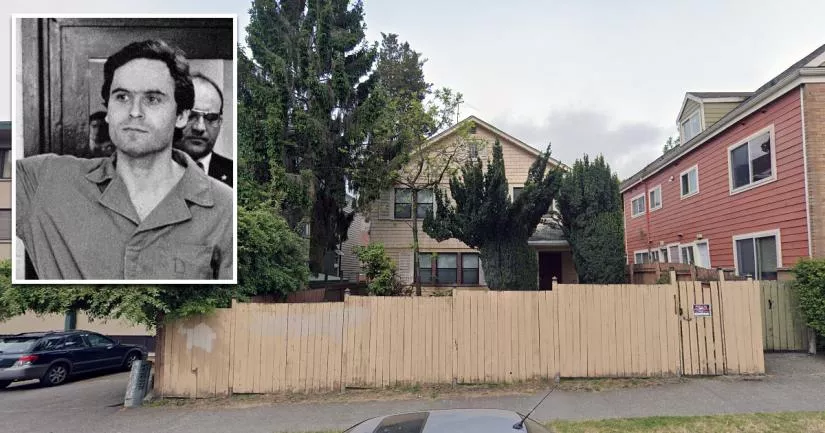 This is the unassuming house where serial killer Ted Bundy lived in the University District of Seattle.
It is situated at 4143 12th Avenue in Seattle, Washington.
Bundy started renting a room at the back of this residence in September 1969.
At the time, he had only recently arrived back in Washington following a six-month-long stay in Philadelphia.
This is a rooming house, which means that it has multiple tenants who share the same facilities.
During the 1970s, it was known as the Rogers' rooming house, as it was owned by an elderly couple called Ernst and Freda Rogers.
The fence around the outside was erected to prevent "true crime tourists" from trespassing on the property.
Bundy lived on the second floor for four years until he left for Utah on September 2nd, 1974.
He started his crime spree while he was living here in January 1974. He attacked his first known victim, Karen Sparks, in a house that was less than half a mile away.
The following month, he kidnapped Lynda Ann Healy from a nearby house on 12th Avenue NE.
During one of his third-person "pseudo confessions", Bundy theorized that the killer of Brenda Carol Ball may have picked her up at a bar and brought her back to his apartment. Once there, they had "consensual sex" before he strangled her to death in her sleep.
If Bundy was telling the truth about this crime, then it means that he murdered at least one of his victims at this location.
According to former King County detective Robert Keppel, Bundy told FBI analyst Bill Hagmaier that he kept the severed heads of four women in his apartment. However, this may have been a lie, as the former law student liked to toy with authority figures and was known for bending the truth.

Further information is available in the "Photos" section below.
Where did Ted Bundy live in Seattle?
Below, you will find the address and the GPS coordinates for this location.
Address
4143 12th Ave NE, Seattle, Washington, WA 98105, USA
Map
To view directions on how to get there, you can use the Google Maps shortcut below:
GPS coordinates
The latitude and longitude coordinates for the rooming house are:
47.658107, -122.315845
Directions
It is just a few feet south of the corner of NE 42nd Street and 12th Avenue NE.
Details about the general area
The house is situated in the University District. It is close to the University of Washington and the U District Station.
Private Property Warning
This is a private property. It is not a public place. Therefore, you should be respectful and not step foot on the property without permission.
According to a number of online reports, the tenants are not very welcoming to true crime fans. Please make sure that you remain on the sidewalk and that you do not encroach on their privacy.
Photos
Photos of the rooming house and other related images.
---
Rogers' rooming house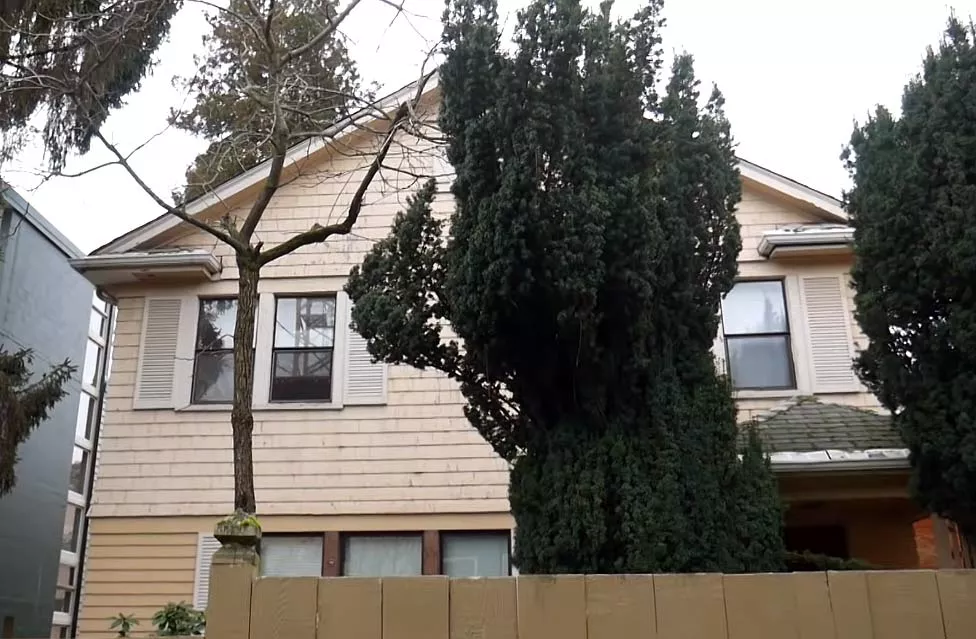 The house was built in 1922. It is 2,230 square feet in size and has five bedrooms.
During the 1970s, it was known as the Rogers' rooming house.
Bundy lived in a room at the back. When his girlfriend, Elizabeth Kloepfer, saw his room for the first time, she noted that it was "spotless."
One of his roommates described him as kind, intelligent, and easy to get along with.
While Bundy was living here, he liked to frequent bars such as Dante's Tavern and O'Banion's Tavern.
Front door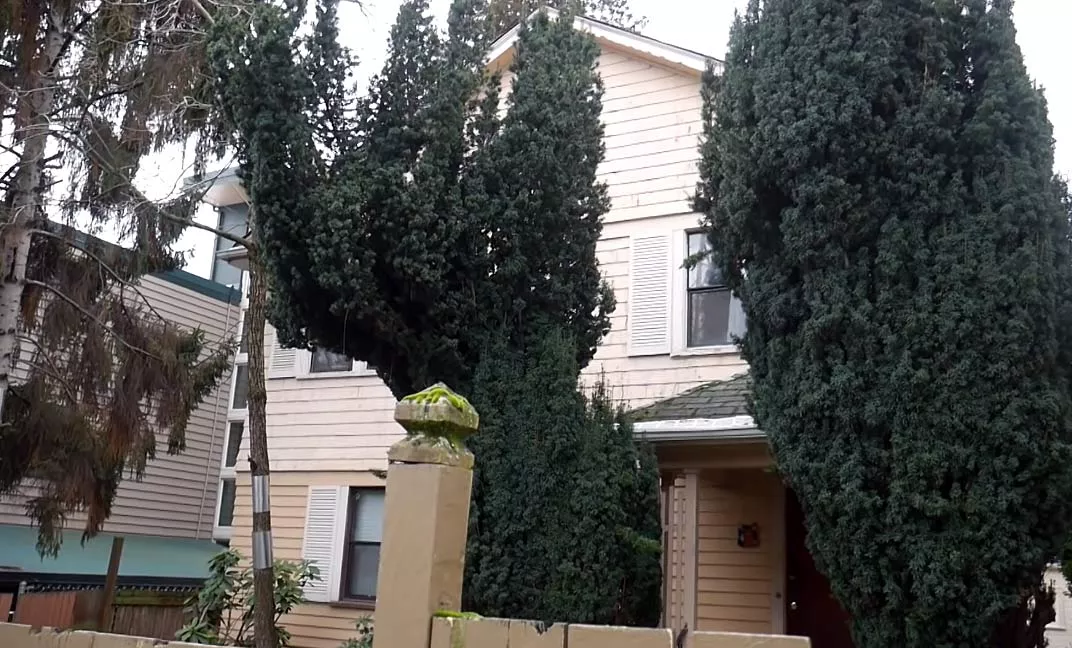 This is another angle of the front of the house.
Distance to Karen Sparks' house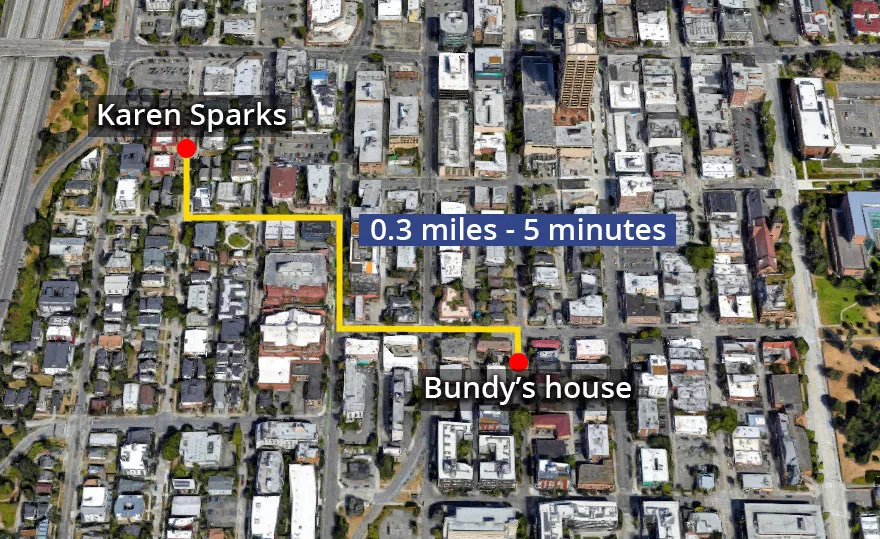 Image source: Google Maps
The map above shows the distance between Bundy's place and the house where he attacked his first known victim, Karen Sparks.
As you can see, it was just a few blocks away.
Judging by Google Maps, it would have taken him roughly five minutes to walk between these two locations.
4143 12th Avenue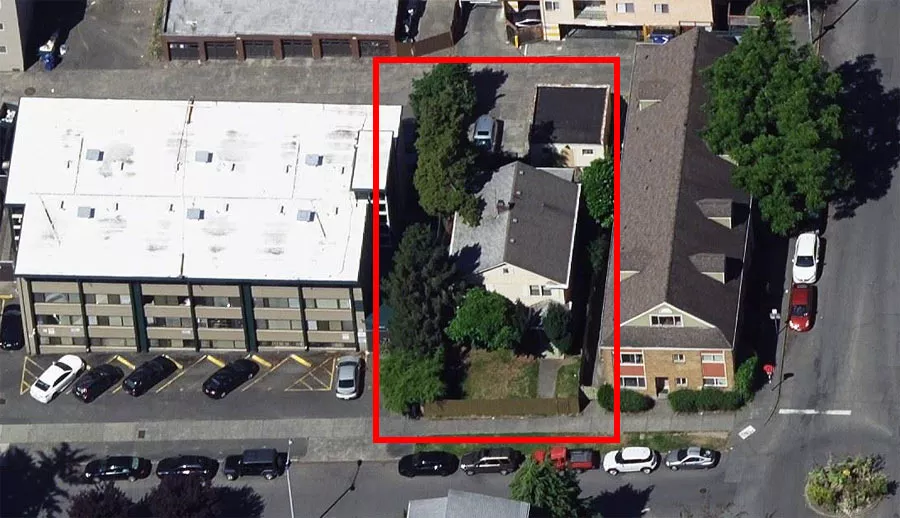 Image source: Bing Maps
This is an aerial photograph of 4143 12th Avenue. The large building on the left is called the Campus Apartments.
Room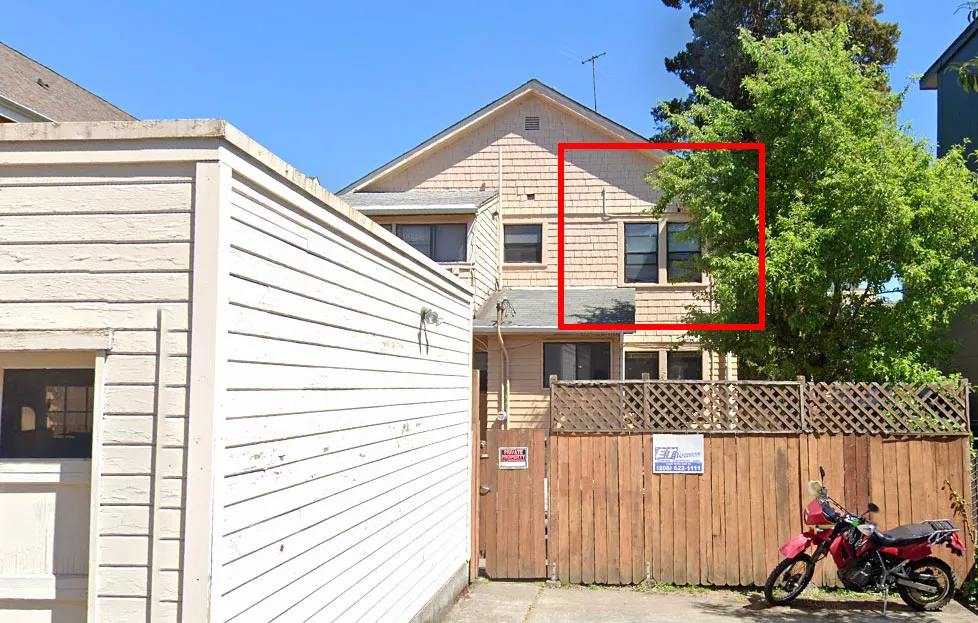 His apartment was on the second floor, in the southwest corner of the building (highlighted in red). It is visible from the street behind the house.
Street View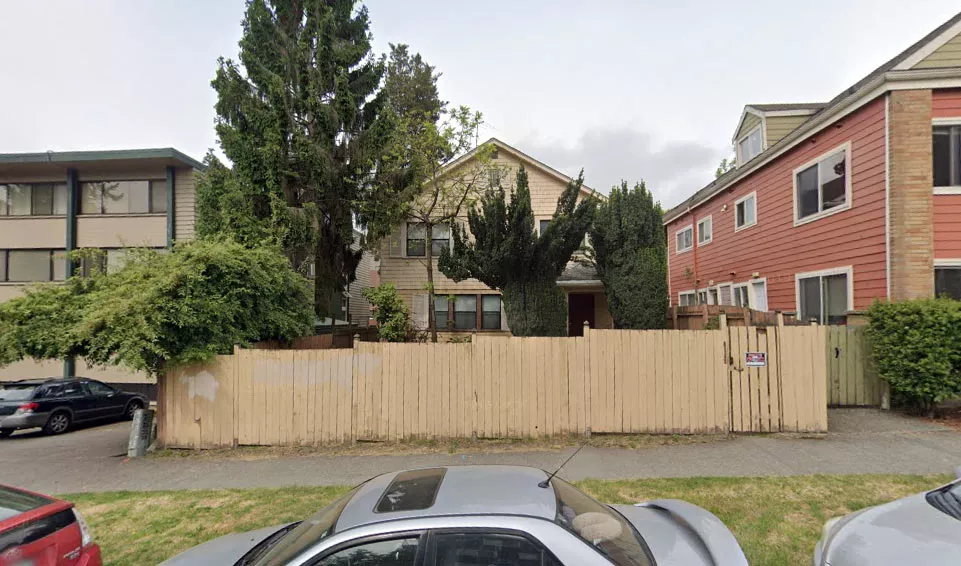 The Google Street View image above was captured in May 2019.
When Bundy was arrested in August 1975, the police searched this house and the backyard for evidence.
Using metal detectors, they scanned around lawn areas, flower pots, and storage areas.
However, they failed to find anything of note.
During his time here, he reportedly helped Ernst and Freda Rogers out with chores such as gardening.
Closest Locations
Other locations that are relatively close to this address: Less than a mile away.
Crime Location in Seattle, Washington Less than a mile away.
Place of Interest in Seattle, Washington Less than a mile away.
Crime Location in Seattle, Washington