Ted Bundy's 1978 arrest location in Florida.
Crime Scene Location in Pensacola, Florida, United States.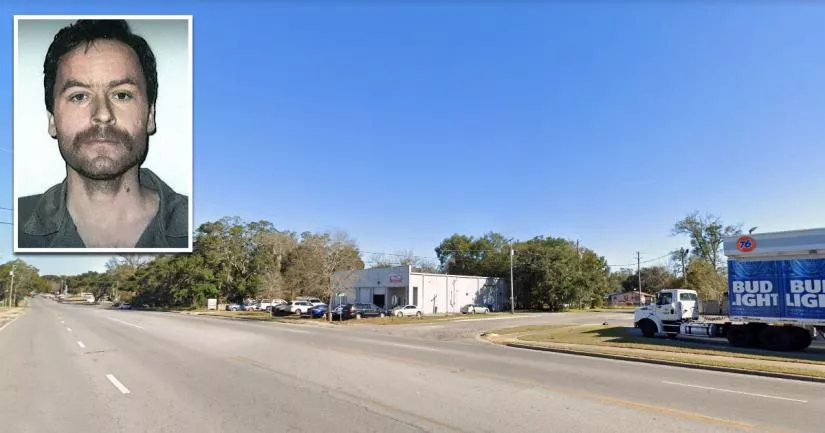 This is the location where Pensacola police officer David Lee arrested serial killer Ted Bundy.
At around 1 a.m. on February 15th, 1978, Officer Lee spotted a Volkswagen Bug at the back of Oscar's Restaurant.
Immediately afterwards, the car pulled out onto West Cervantes Street with no headlights on.
Thinking it was suspicious, Lee decided to follow the car as it turned right and headed north on W Street.
Officer Lee pulls Bundy over.
As the officer was following the vehicle, he decided to run a check on the license plates. After finding out that the Volkswagen Bug was stolen, he switched on his flashers and pulled the car over just north of West Cross Street.
Once the vehicle stopped, Lee radioed in his position and approached the car with his revolver pointing at the driver. He then ordered the driver to exit the vehicle and get down on the ground.
At first, Bundy complied and laid down on his stomach.
While the suspect was lying face down on the pavement, the officer asked him if there was anyone else in the vehicle. At the time, he believed that there might be another person in the Bug because it was "full of objects."
After Bundy failed to respond, Lee decided to handcuff him.
Fight.
However, after Lee placed a cuff on Bundy's left wrist, he suddenly rolled over and kicked the officer's legs out from underneath him. He then struck him in the head with the handcuffs that were on his left wrist.
At that stage, Lee managed to regain his composure and fire his weapon in Bundy's direction. This caused the wanted fugitive to turn around and flee south on W Street.
Once Bundy reached the intersection, he made a sharp left and continued running east along Cross Street.
As Bundy ran along Cross Street, the officer continued to pursue him and yell at him to stop. However, Ted kept running.
Lee fires another shot.
When Ted failed to stop after several warnings, Lee decided to fire another round at him.
Immediately, he fell to the ground.
According to the officer's arrest report, he initially believed that the bullet had hit the suspect and wounded him. However, after Lee got closer, the man once again started to kick and struggle with him.
During the second struggle, the officer struck Bundy "several times" with his revolver until he managed to subdue him and arrest him.
"I wish you had killed me."
Following the arrest, backup units arrived at the scene.
For most of the journey back to the police station, Bundy sat in silence. However, at one stage, he told the officer, "I wish you had killed me."
At the time, Lee did not realize that he had captured one of America's most notorious serial killers.
Ted Bundy's 1978 arrest location.
Below, you will find the address and the GPS coordinates for this location.
GPS coordinates.
The latitude and longitude coordinates for the street are:
30.440483, -87.248889
Map.
To view directions on how to get there, you can use the Google Maps shortcut below:
Address.
The full address for this location is:
North W Street
Pensacola
Florida
FL 32505
United States
Directions.
According to the Pensacola Police Department, the stop took place north of the intersection between North W Street and W Cross Street. The intersection is close to Pensacola Catholic High School. Following the struggle, Bundy ran east along Cross Street.
Details about the general area.
Pensacola is a city in the west of Florida. It is close to the state of Alabama. The arrest took place in an area of the city called Pinecrest.
Trivia.
After he was arrested, Bundy refused to identify himself for two days. Instead, he gave the police a fake name.
When he finally told the police his real identity, the lead investigator, Norman Chapman, had no idea who he was.
During one conversation with Chapman, he admitted that he was "addicted" to killing.
Bundy was on his way to Mobile, Alabama when he seemingly decided to stop in Pensacola and troll for a new victim.
His arrest took place roughly five days after he abducted and murdered 12-year-old Kimberly Dianne Leach in Lake City, Florida. Following the murder, Bundy traveled 300 miles across Florida.
He stole the orange Volkswagen Super Bug in Tallahassee on February 11th, 1978. The car was owned by a man named Rick Garzaniti. According to Garzaniti, he left the car parked outside of his babysitter's home with the keys in the ignition. However, he then became distracted while watching the action comedy film Gator (1976). When he returned, the car was gone.
Photos.
Photos of the street and other related images.
---
He was not arrested near Oscar's Restaurant.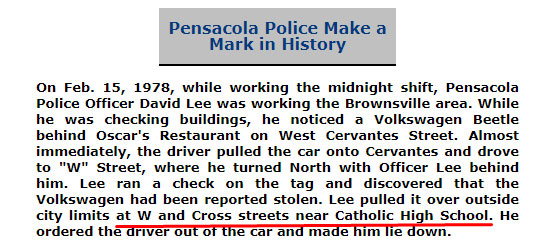 This is a screenshot from an archived version of the Pensacola Police Department's website.
A number of comments on social media have suggested that he was arrested at Oscar's Restaurant. However, this is incorrect.
Although Bundy was first spotted at Oscar's, his arrest actually took place 1.5 miles away at "W and Cross streets."
The area in question is right around the corner from Pensacola Catholic High School.
That night, Officer David Lee spotted Bundy's vehicle pulling out onto West Cervantes Street and then followed him.
Arrest map.
This map shows where Bundy was pulled over and arrested. As you can see, he was driving north along North W Street when he was pulled over. After a brief struggle, he ran south and then east along W Cross Street.
Cross Street, Pensacola.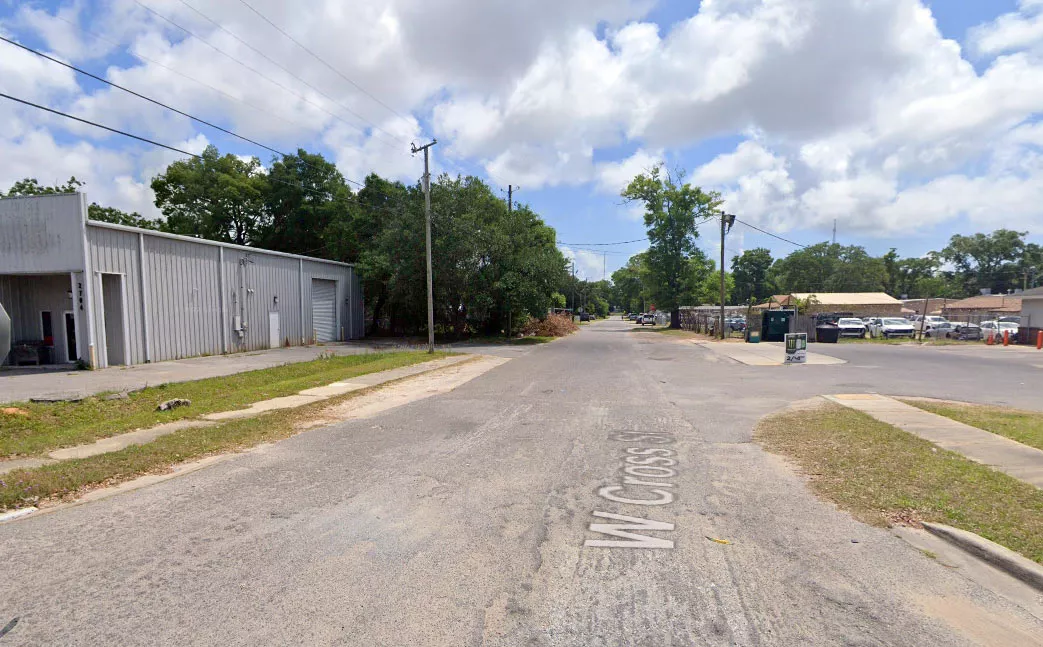 This Google Street View image of Cross Street was taken in March of 2019.
Coordinates: 30.440303, -87.248715
Aerial photograph.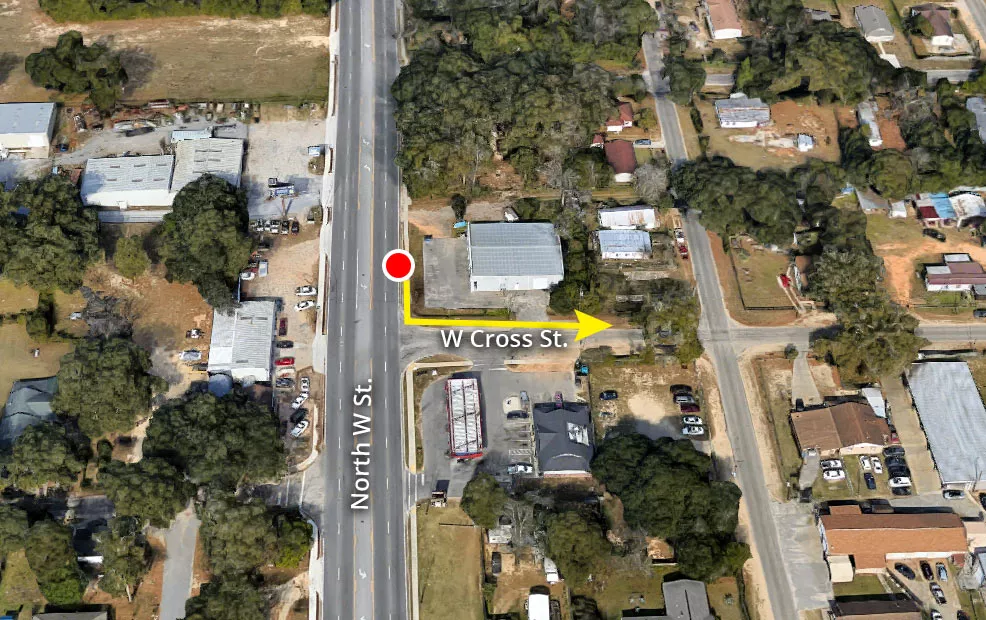 This is an aerial photograph of the location.
The red dot indicates the general area where Ted was pulled over. The yellow arrow highlights the path that he took when he attempted to run away.
Officer David Lee and Ted Bundy.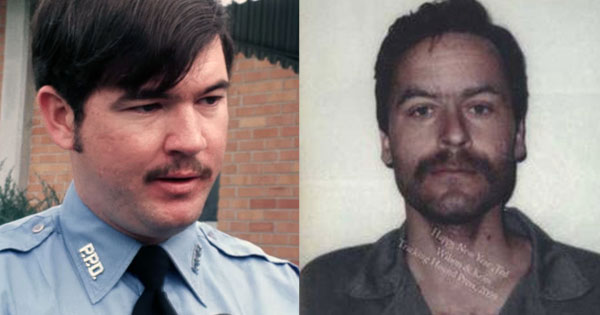 A photograph of Pensacola police officer David Lee and serial killer Ted Bundy. At the time of his arrest, Bundy was sporting a mustache.
Oscar's in Pensacola.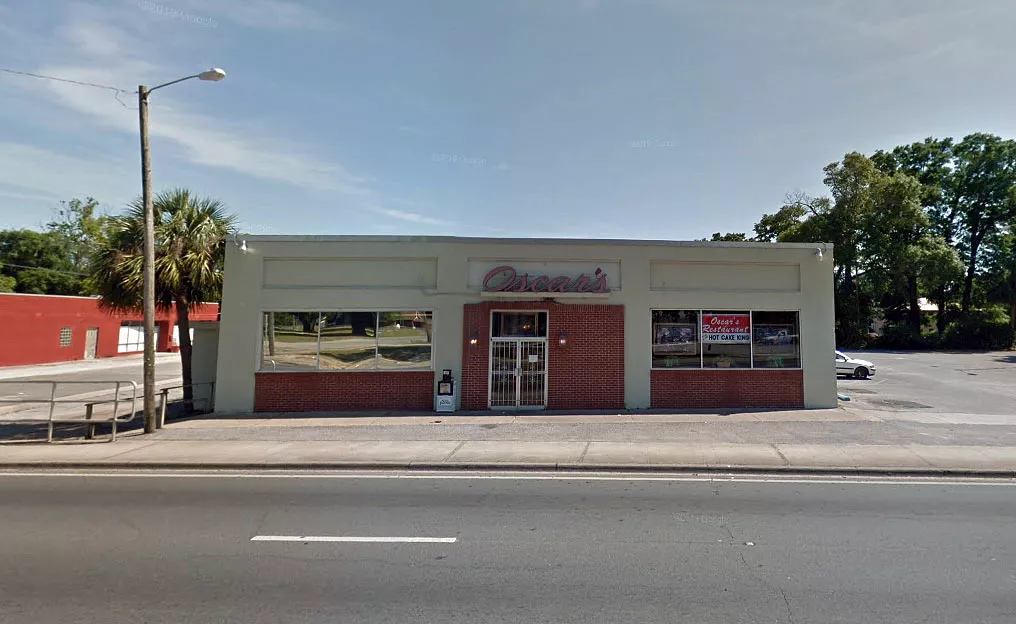 Bundy was parked behind this building when officer Lee noticed his vehicle. Shortly afterwards, the wanted fugitive started the stolen Volkswagen Bug he was driving and then pulled out onto West Cervantes Street with no headlights on.
At that point, the officer decided to follow him.
Coordinates: 30.421027, -87.249397
He was arrested 1.5 miles away from where he was initially spotted.
The map above shows the distance between Oscar's Restaurant and the arrest site.
The officer had been following the vehicle for about 2 minutes before he pulled it over. This route takes roughly 20–25 minutes to walk by foot.
The stolen Volkswagen Beetle and its owner.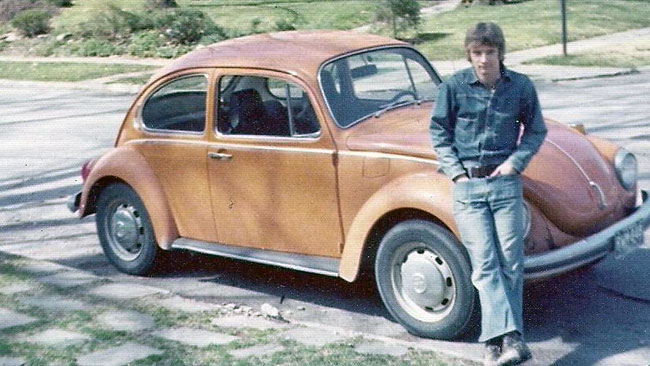 This is the orange 1972 Volkswagen Bug that Bundy stole in Tallahassee. Pictured beside it is the owner, Rick Garzaniti. Later on, Rick refused to capitalize on its notoriety. Instead, he sold the vehicle to a teenage girl who wanted her first car. According to Garzaniti, she did not care about its history.
Officer David Lee.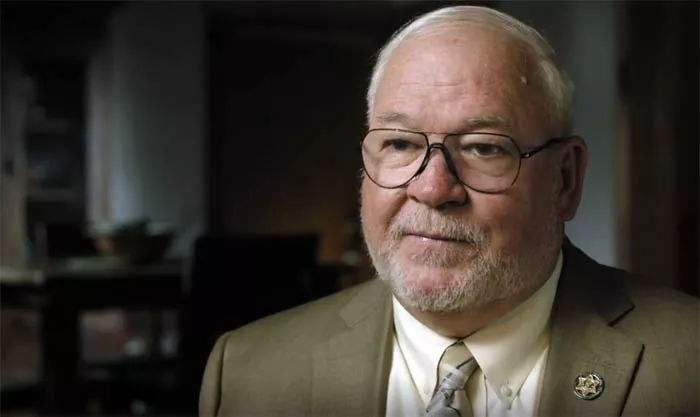 Officer David Lee recently appeared in the documentary "Ted Bundy: Falling for a Killer."
That night, there were only three police officers working in the city of Pensacola. As a result, Lee did not have any backup until after the arrest was made.
He spotted the vehicle after it pulled out of the alleyway behind Oscar's with no headlights on.
Mugshot.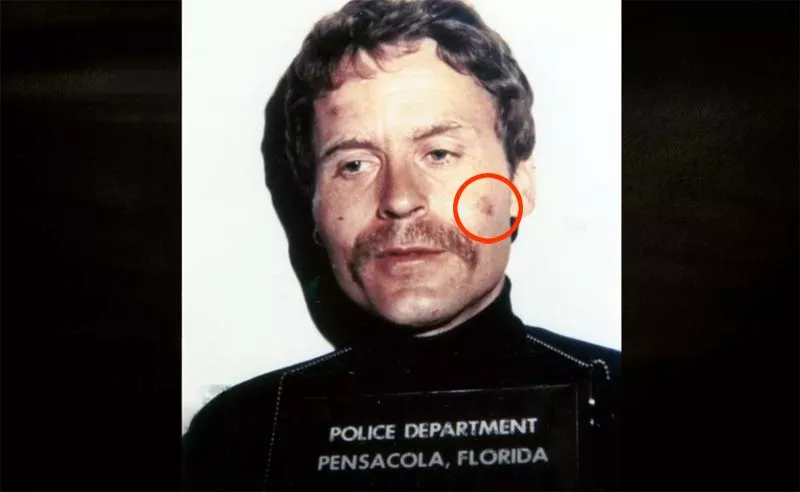 In Bundy's 1978 mugshot, a bruise is visible on the side of his face. This red spot is where Officer Lee struck him with his revolver.
Closest locations.
Other locations that are relatively close to this place. Roughly 128 miles away.
Place of Interest in Greenville, Alabama, United States Roughly 187 miles away.
Crash Site Location in New Orleans, Louisiana, United States