The location where Sherry Lynn Marler went missing
Place of Interest in Greenville, Alabama, United States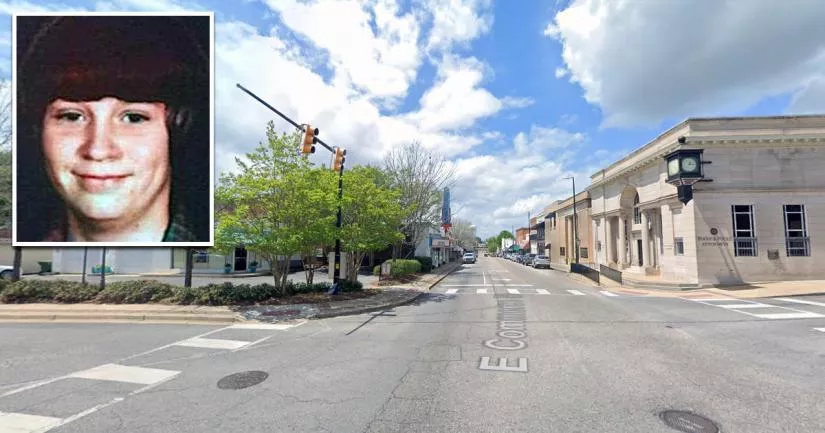 This is the location where Sherry Lynn Marler went missing.
It is situated at the corner of West Commerce Street and Fort Dale Street in Greenville, Alabama.
On the morning of June 6th, 1984, the 12-year-old accompanied her stepfather, Raymond Stringfellow, to the First National Bank at 100 West Commerce Street.
That day, Raymond needed to sign some paperwork, and Sherry had asked if she could tag along.
After parking his red pickup truck outside of the bank, Raymond exited the vehicle. However, before he closed the door, he placed a dollar bill on the seat so that Sherry could purchase a soda at the Chevron gas station across the road.
As Raymond was walking towards the bank, he could hear Sherry closing the passenger-side door of his truck.
Roughly fifteen minutes later, he returned and saw that Sherry wasn't back yet. Wondering what the delay was, he decided to look around for her.
After failing to find his stepdaughter, Raymond eventually decided to call the police. By that point, two hours had passed since she disappeared.
Although an immediate search was carried out by family members, friends, and local volunteers, no trace of the missing 12-year-old was ever found.
During the investigation, it was determined that no one had seen Sherry in town that day.
Following her disappearance, there were reported sightings of her in places such as Mississippi, Georgia, and New Orleans. Unfortunately, none of these sightings have ever been confirmed.
Notably, investigators do not believe that she was abducted by a stranger. In their opinion, a stranger would have found it very difficult to drive into the downtown area of a small, close-knit community and kidnap a girl off the street without being noticed.
Sherry's stepfather, Raymond, was cooperative with the police and answered all of their questions. However, he refused to take a polygraph test.
Sadly, there has been almost no movement in the case over the past four decades, as all of the tips and potential sightings have led to nowhere.
The only fact we can be certain of is that a young girl vanished on that summer morning in 1984 and was never seen again.
To this day, Sherry Marler remains listed as a missing person.
Where did Sherry Lynn Marler disappear?
Below, you will find the address and the GPS coordinates for this location.
GPS coordinates
The latitude and longitude coordinates for the bank are:
31.829673, -86.624452
Map
To view directions on how to get there, you can use the Google Maps shortcut below:
Address
The full address for this location is:
100 W Commerce Street
Greenville
Alabama
AL 36037
United States
Directions
The First National Bank was situated on the corner of West Commerce Street and Fort Dale Street in downtown Greenville. The Chevron gas station was directly across the road.
Details about the general area
Greenville is a small city in Butler County, Alabama. It is roughly 35 miles southwest of Montgomery.
Photos
Photos of the bank and other related images.
---
First National Bank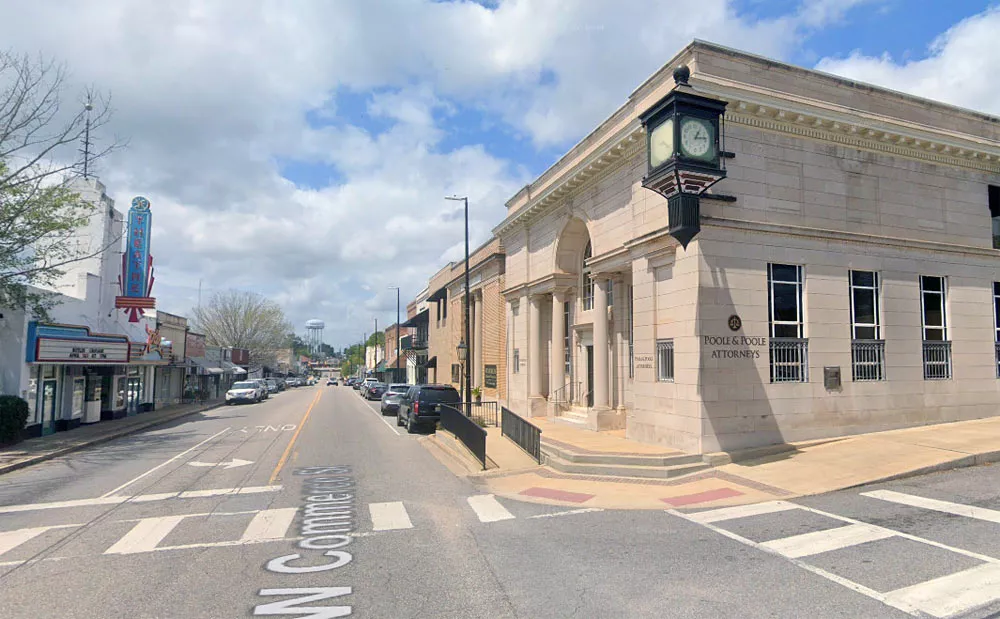 Image source: Google Maps
This Google Street View image of 100 West Commerce Street was taken in April of 2022.
At the time of Sherry's disappearance, the building was home to the First National Bank. These days, it is the location of Poole & Poole Attorneys.
Raymond Stringfellow parked his pickup truck outside the bank at 9.30 a.m. At that point, he left a dollar bill on the seat and went inside to fill out some paperwork.
Gas station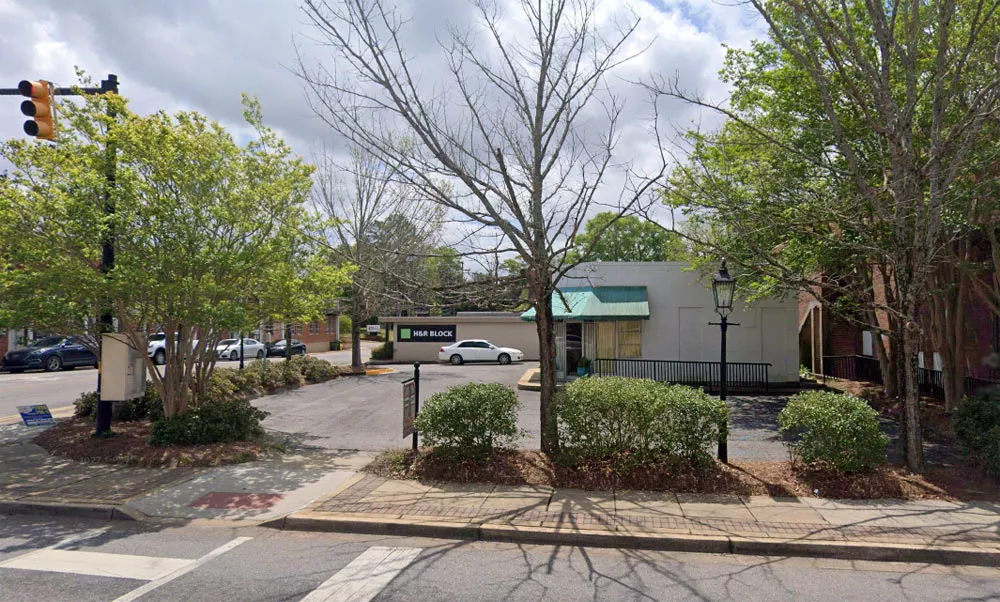 The Chevron gas station was directly across the road, on the corner of West Commerce Street and Church Street.
The location where Sherry Marler went missing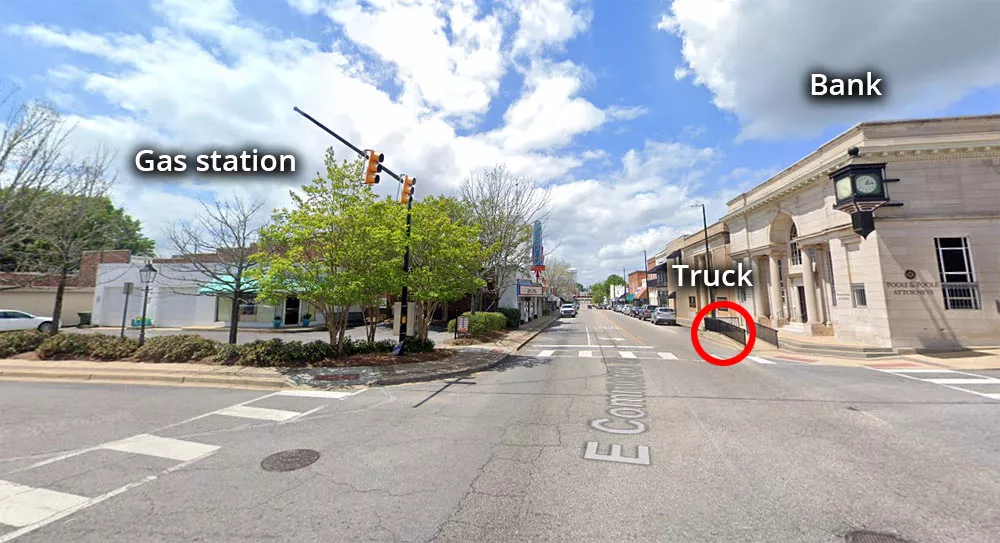 This Google Street View image provides a wider view of the intersection where Sherry Marler went missing.
After parking his truck, Raymond went into the bank. As he was entering the building, Sherry reportedly exited the vehicle and walked across the road to the gas station.
According to Raymond, he gave Sherry a dollar bill that day because she said that she was thirsty.
Following her disappearance, all of her friends and acquaintances were contacted. However, none of them remembered seeing her that day.
During the search, the police reached out to the public and drove around the surrounding roads. Flyers containing her photograph were also distributed throughout the town.
One month after she went missing, Greenville Police Chief Kenneth Flowers stated the following:
"Runaways are usually found within a few days and that is why we suspect foul play may be involved."
A number of websites state that witnesses saw Sherry walking across the road that day. Unfortunately, this is false.
In 1986, Greenville Police Captain Thomas L. Tutchtone explicitly told the Birmingham Post-Herald newspaper that no one in the town recalled seeing Sherry. He also expressed his doubts that a stranger snatched her off the street:
"This is not like Birmingham or any other big city. If you saw someone you didn't know, you'd quickly find out who it is."
Police Chief Lonzo Ingram, who replaced Kenneth Flowers, also dismissed the theory:
"I have a hard time believing that she was snatched off the street by a perfect stranger in Greenville."
Notably, there were no reports of any strangers in the town.
Polygraph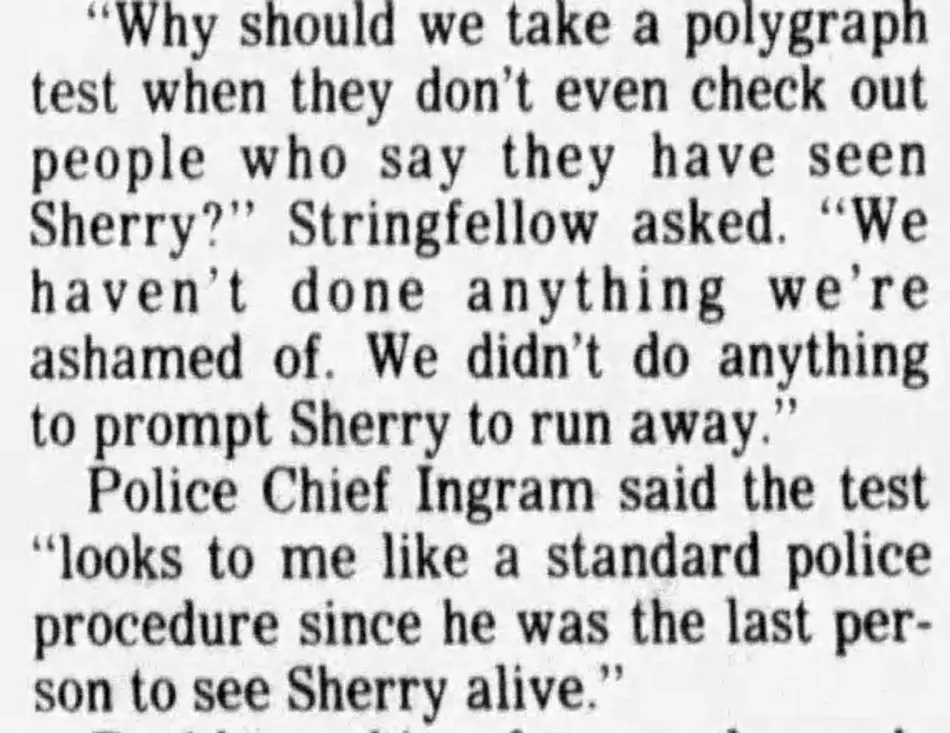 Image source: Birmingham Post-Herald - April 23rd, 1986
Sherry's stepfather refused to take a lie detector test.
Raymond Stringfellow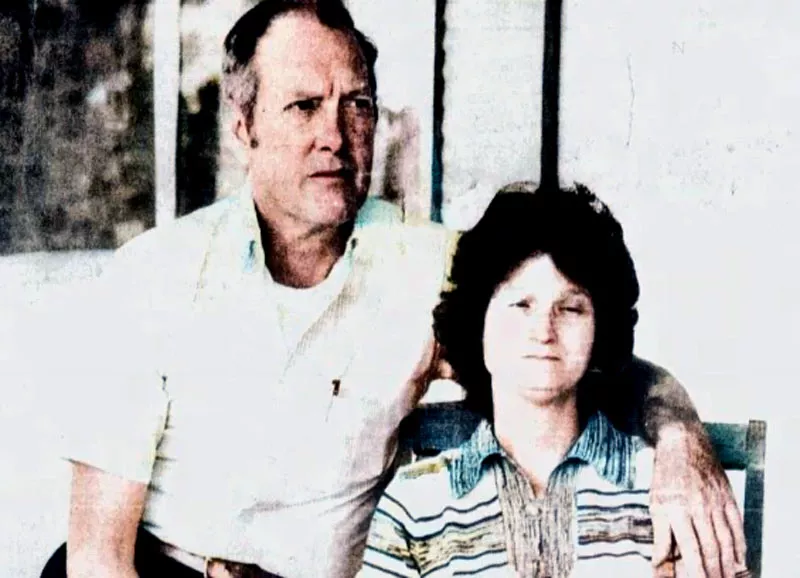 This photograph of Raymond and Betty Stringfellow appeared in the Birmingham Post-Herald in 1986.
During an interview with the newspaper, he expressed his belief that Sherry got into a car with someone she knew.
Theories

One anonymous source confidently stated that they would have seen the 12-year-old if she was in Greenville that day.
Sadly, like many unsolved cases, the details surrounding Marler's disappearance are muddied by rumors, factoids, and other unsubstantiated claims.
For example, a number of websites state that the young girl was seen in the presence of a weathered-looking man called "B.J." Unfortunately, the information about these sightings is vague and unsourced. Furthermore, the police have made it extremely clear that all of the supposed sightings lacked proof.
A number of articles claim that witnesses saw her walking across the street. As we pointed out above, this is false, as nobody in Greenville saw her that day.
Other sites report that Sherry's stepfather, Raymond Stringfellow, was ruled out as a suspect. Again, we were unable to find any statement to back up such a claim. Instead, we found this 2013 quote from Police Chief Lonzo Ingram, which seemed to suggest otherwise:
"The case is never far from my mind. We push hard, but it's frustrating when we can't seem to obtain some good results. When something like this happens, you try to eliminate family members first as possible suspects. That's just what we've tried to do. He was offered the opportunity to take a polygraph test but declined."
Discrepancies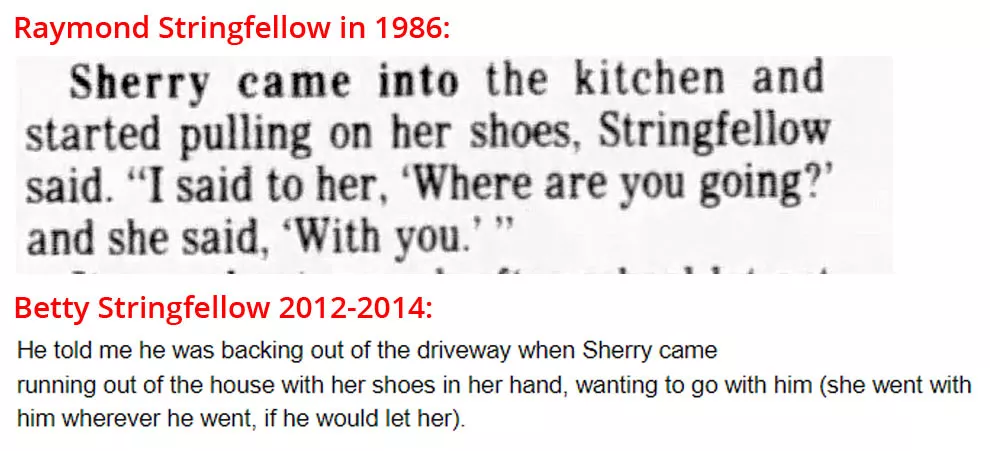 While we were researching this case, we noticed a slight discrepancy in the story about how Raymond agreed to bring Sherry into town.
In 1986, Raymond said that Sherry walked into the kitchen, put on her shoes, and informed him that she was accompanying him to Greenville.
However, roughly ten years ago, Sherry's mother, Betty, recalled a different story that her husband (presumably) told her. According to her recollection of events, Sherry came running out of the house with her shoes in her hand while he was backing out of the driveway.
Although the passage of time does blur details, this discrepancy is still worthy of attention.
Closest Locations
Other locations that are relatively close to this place. Roughly 53 miles away.
Crime Location in Montgomery, Alabama, United States Roughly 128 miles away.
Crime Location in Pensacola, Florida, United States