The school where Kimberly Leach was abducted
Crime Scene Location in Lake City, Florida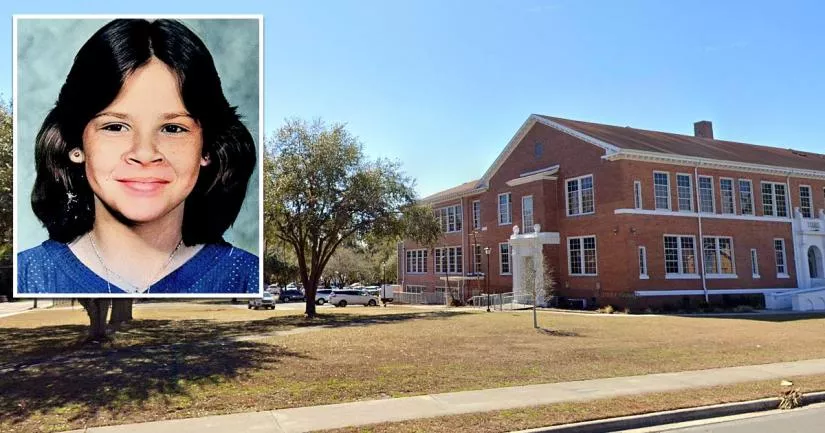 This is the school where serial killer Ted Bundy abducted Kimberly Dianne Leach.
It is situated at 372 West Duval Street in Lake City, Florida.
On the morning of February 9th, 1978, Leach left her gym class in the auditorium and walked over to her homeroom, where she had misplaced her purse.
After retrieving it, the 12-year-old headed back towards the auditorium, which was only 250 feet away.
Despite the short distance, she never made it back. As she was walking across the school campus, Bundy noticed her and quickly made his approach.
Although we will never know the exact details of what happened that morning, it is likely that Bundy lured her back to his stolen media van using some kind of ruse. During one of his third-person pseudo-confessions in prison, he "speculated" that "the killer" may have approached Leach and told her that one of her family members had been in an accident.
On the morning of her abduction, Leach was wearing a football jersey that had her name written on the back. If Bundy saw this jersey and called her name, it would have added weight to his story that he had been sent there by one of her relatives.
Once he had convinced the young girl to leave with him, it is likely that he quickly ushered her across the campus towards West Duval Street, where he had parked his stolen white media van.
Shortly before Leach disappeared, another student noticed a man fitting Bundy's description standing on West Duval Street. This suggests that he was most likely hanging around the grounds of Lake City Junior High and searching for his next victim.
Roughly two months after Leach went missing, a Florida Highway Patrol trooper discovered her decomposed remains underneath an abandoned hog shed in Suwannee River State Park.
Following Bundy's arrest in Pensacola, it was determined that he had assaulted and murdered Leach in his van. A large blood stain on the carpet in the back proved to be a match with her blood type. Investigators also discovered fibers that matched both of their clothes.
The cause of death was "violence to the neck area" and "a large amount of bleeding."
The prosecution team argued that Bundy cut his victim's throat using a hunting knife that he had purchased the day before the abduction.
On February 7th, 1980, Ted Bundy was found guilty of the murder of Kimberly Leach. Three days later, he was sentenced to death.
Kimberly Leach's school
Below, you will find the address and the GPS coordinates for this location.
Address
372 West Duval Street, Lake City, Florida, FL 32055, USA
Map
To view directions on how to get there, you can use the Google Maps shortcut below:
GPS coordinates
The latitude and longitude coordinates for the school are:
30.189034, -82.641365
Directions
The former school is about 0.1 miles west of the intersection between Main Boulevard and Duval Street.
Details about the general area
Lake City is a small town in the north of Florida. It is situated about 45 miles west of Jacksonville.
Photos
Photos of the school and other related images.
---
Lake City Junior High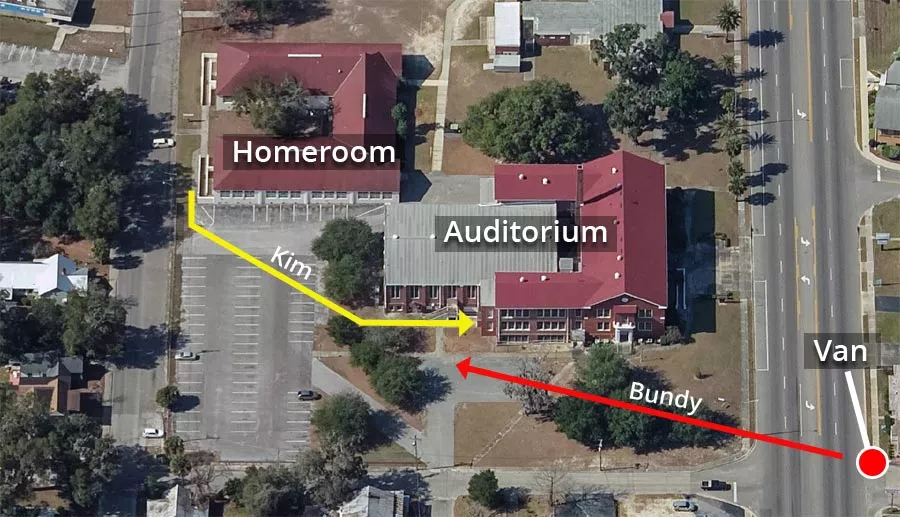 This is an aerial image of 372 West Duval Street. Back in 1978, this was the home of Lake City Junior High School.
The yellow line illustrates the route that Leach was taking when Bundy made his approach. At the time, the van that he had stolen from Florida State University was parked on West Duval Street.
The young girl retrieved her purse from her homeroom in the main elementary building. However, it seems as though she was intercepted while she was returning to the auditorium.
In this case, Bundy was hanging around the grounds of the school, waiting for an "opportunity." Because of the short distance between the two buildings, he had very little time to intercept his victim.
This raises two possibilities.
The first possibility is that he saw Leach while he was standing on the sidewalk and immediately rushed towards her. As he made his approach, he may have called out to her in an attempt to get her to stop. Once he got close enough, he may have told her that there had been an accident at home and that she needed to leave with him immediately.
The second possibility is that he was already lurking around the auditorium when she returned. Although that would have been riskier from his perspective, we do know that he was reckless and impetuous at times, especially when he had been drinking.
Bundy approached Leach outside of the school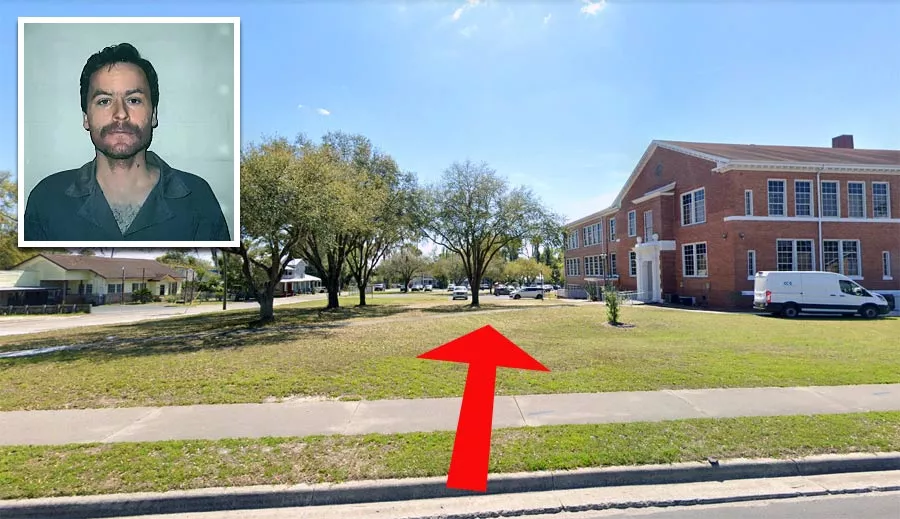 At around 9.20 a.m., Bundy walked across this section of the school campus. After convincing the young girl to leave with him, he led her back to his van on Duval Street.
When the 12-year-old failed to return to the auditorium, her PE teacher presumed that she had gone to her next class.
However, her friends started to realize that something was wrong when she didn't show up at their designated meeting spot.
Her friends knew her as a shy young girl and an honor student. In their minds, she would never skip class or leave the school campus without permission.
Hog shed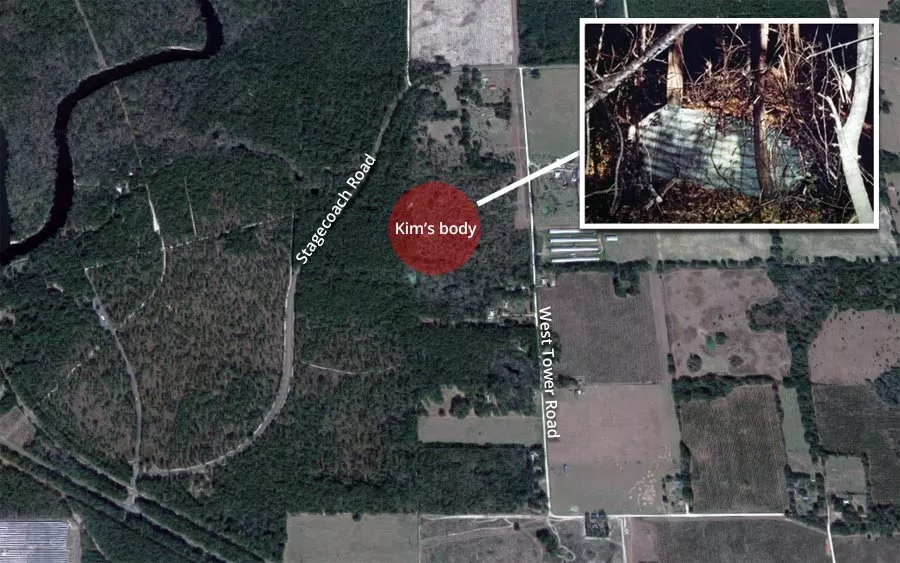 On April 7th, 1978, Kimberly Leach's decomposed remains were discovered in an abandoned hog shed in Suwannee River State Park.
By that point, she had been missing for nearly two months.
The site in question is 40 miles northwest of the school where she was abducted.
A poem for Kimberly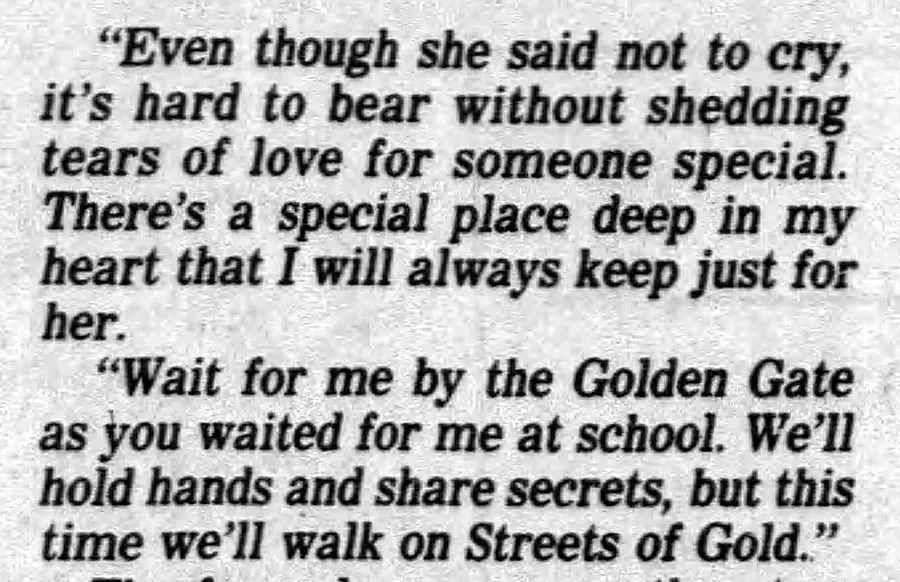 Kimberly's friend Lisa Little read out the above poem during her funeral.
School auditorium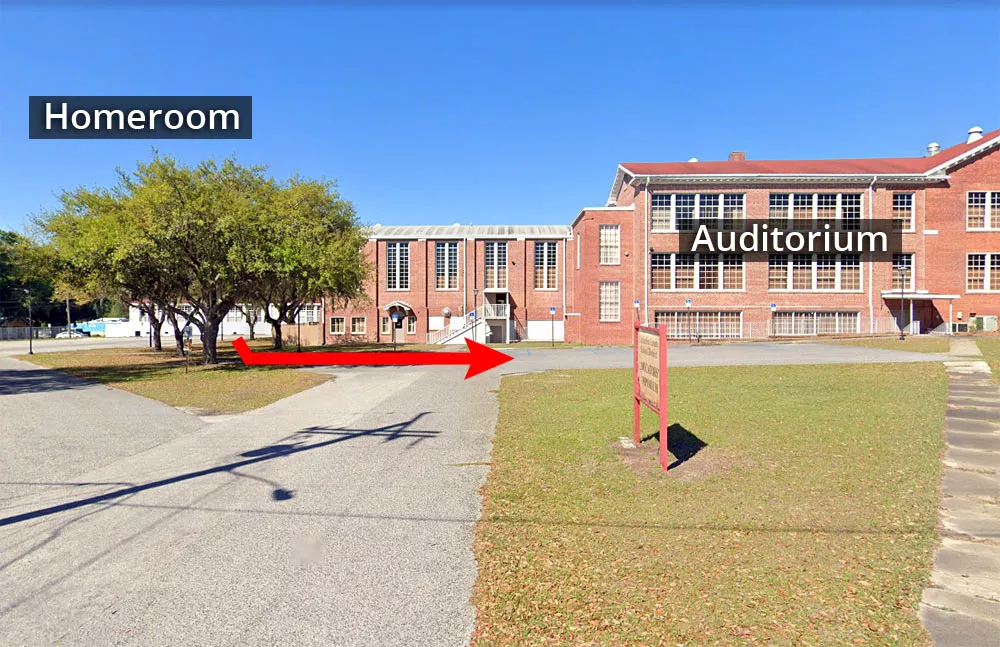 Leach was intercepted at some point between her homeroom on the left and the school auditorium on the right.
One day earlier, Bundy had attempted to abduct Leslie Parmenter from Jacksonville. However, that abduction failed when her older brother showed up and scared him away.
Following the failed attempt, Bundy drove to Lake City and parked near this school, where he eventually encountered Leach.
During the investigation, the police found fibers in the media van that Bundy had stolen from Florida State University. These fibers proved to be a match with the fibers from the young girl's football jersey.
The manufacturer stated that they were so identical that the fibers would have had to come from the exact same spool that created the jersey. Furthermore, only two or three jerseys from that particular batch would have had those exact fibers.
Shortly before his execution, Bundy told FBI profiler Bill Hagmaier that the young girl was not "preselected." In other words, he had been hanging around Lake City Junior High when he spotted Leach.
This means that the 12-year-old was simply in the wrong place at the wrong time.
Map Viewer
There is more than one location associated with this entry. To view all of these places on the same map, you can use the following feature:
Closest Locations
Other locations that are relatively close to this address: Roughly 42 miles away.
Crime Location in Live Oak, Florida Roughly 64 miles away.
Place of Interest in Jacksonville, Florida Roughly 67 miles away.
Crime Location in Jacksonville, Florida Roughly 124 miles away.
Place of Interest in Tallahassee, Florida Roughly 124 miles away.
Photo Location in Tallahassee, Florida