The mall where Ted Bundy approached Leslie Parmenter
Crime Scene Location
4645 Blanding Boulevard, Jacksonville, FL 32210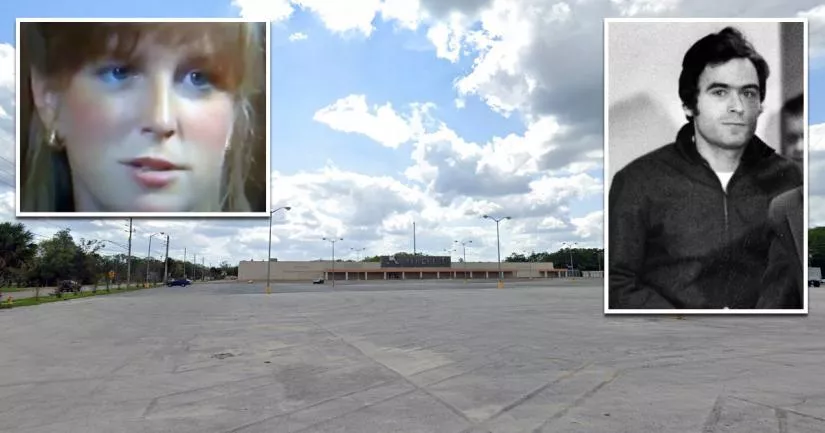 This is the mall parking lot where serial killer Ted Bundy attempted to abduct Leslie Parmenter.
It is situated on Blanding Boulevard in Jacksonville, Florida.
Back in 1978, this was the location of a Kmart department store. Nowadays, it is an Amazon Hub.
On February 8th, 1978, Parmenter left Jeb Stuart Junior High School and walked to this parking lot across the street.
At the time, the 14-year-old was looking for her brother Danny, who was supposed to pick her up after school.
Shortly after she entered the Kmart lot, Bundy pulled up beside her in a stolen white van and began asking her questions.
Bundy, who had recently purchased a hunting knife at a store on Normandy Boulevard, was eagerly searching for his next victim. By that stage, 24 days had passed since he attacked four women at the Chi Omega sorority house in Tallahassee.
Parmenter said he looked unkempt and that he was nervously fidgeting with his coat pockets. He was also wearing a plastic badge on his chest that read "Richard Burton: Fire Department".
After walking up to the teenager, Bundy introduced himself as Burton and claimed that he was from the fire department. He then asked her if she had just left Jeb Stuart Junior High School.
Fortunately, Parmenter was extremely suspicious of the fidgety, disheveled man who had seemingly approached her out of nowhere. Not only did he give her the creeps, but she could see that the plastic badge on his coat was obviously fake.
Although she attempted to walk past him, Bundy kept cutting her off and asking her questions. However, as he was doing so, Parmenter's older brother, Danny, arrived at the mall parking lot and witnessed the encounter.
After noticing the strange man badgering his sister, Danny quickly drove up beside him and asked him what he wanted. In response, Bundy became flustered and mumbled "nothing" before hurrying back towards his van.
When Danny marched over to Bundy and demanded to know why he had been talking to his sister, he claimed that he had mistaken her for someone else. During their short exchange, Bundy was so nervous that his voice started trembling.
Seconds later, "Richard Burton" rolled up his window and sped away.
Although Danny attempted to follow the van, it managed to slip away in the traffic. Fortunately, he was able to take down the license plate before he lost sight of it.
The vehicle's license plate confirmed that it was Bundy who approached Parmenter on February 8th, 1978. The following day, he used the exact same van to abduct 12-year-old Kimberly Leach from Lake City.

Further information is available in the "Photos" section below.
Where did Ted Bundy approach Leslie Parmenter?
Below, you will find the address and the GPS coordinates for this location.
Address
4645 Blanding Boulevard, Jacksonville, Florida, FL 32210, USA
Map
To view directions on how to get there, you can use the Google Maps shortcut below:
GPS coordinates
The latitude and longitude coordinates for the lot are:
30.257353, -81.740918
Directions
The former mall sits between Blanding Boulevard and Wesconnett Boulevard in the Confederate Point neighborhood of Jacksonville.
Photos
Photos of the lot and other related images.
---
4645 Blanding Boulevard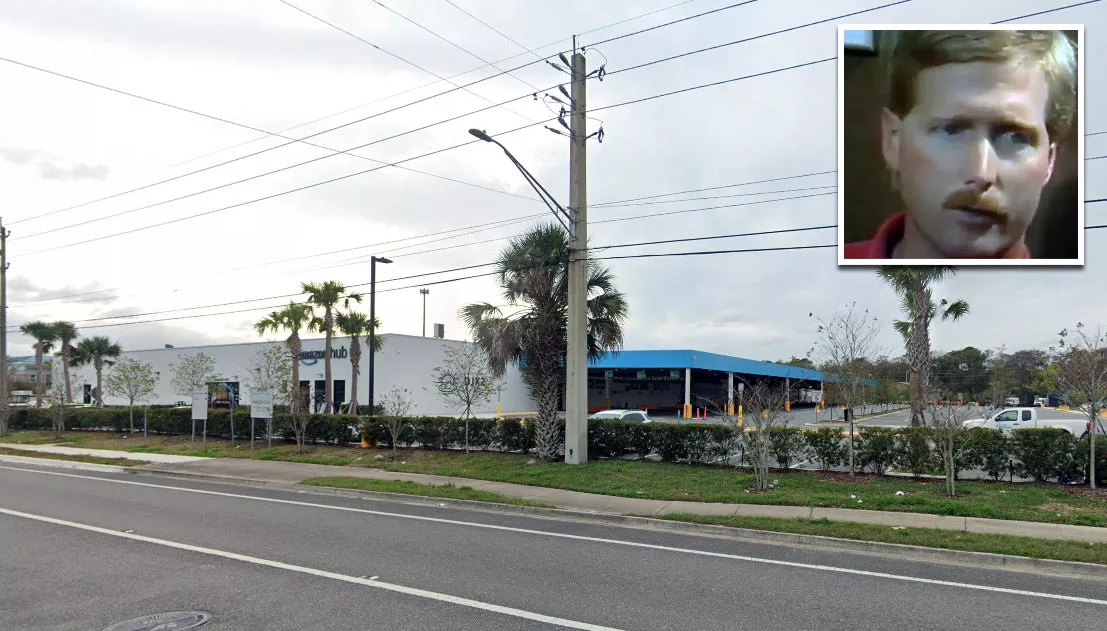 This Google Street View image of 4645 Blanding Boulevard was taken in January 2022.
As you can see, it is now the location of an Amazon Hub.
Older Google Street View images show that the former mall was lying vacant for nearly 10 years before Amazon started using it.
In the top right-hand corner, you can see a photo of Danny Parmenter, who frightened Bundy off.
This was the second time that he had attempted to abduct someone from a shopping mall. Four years earlier, he lured Carol DaRonch away from Fashion Place in Utah. However, that attempt also ended in failure when she fought him off and escaped.
Following this incident, he must have cursed his "bad luck" with department stores.
Vacant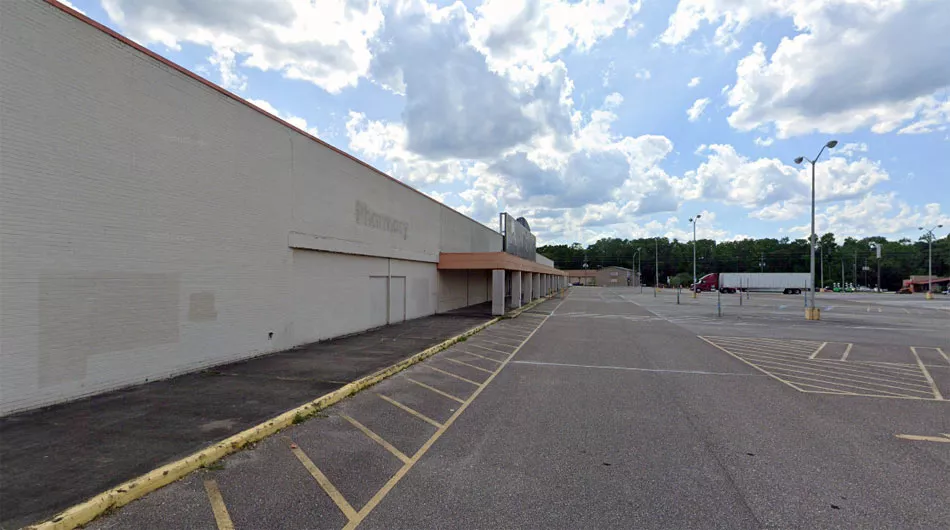 This is an older image of the entrance to the mall. At the time, the building was still vacant.
Newspaper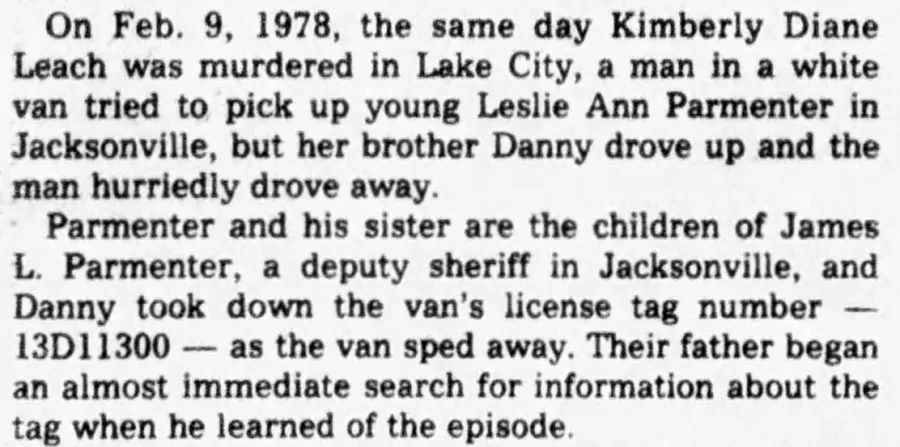 Image source: The Orlando Sentinel
Leslie was the daughter of James Lester Parmenter, who was the chief of detectives at the Jacksonville Police Department.
The license plate number "13D11300" proved to be a match with a van that Bundy had stolen from Florida State University in Tallahassee.
Note that the date in this news article is incorrect. Parmenter was actually approached on February 8th, not February 9th.
Jeb Stuart Junior High School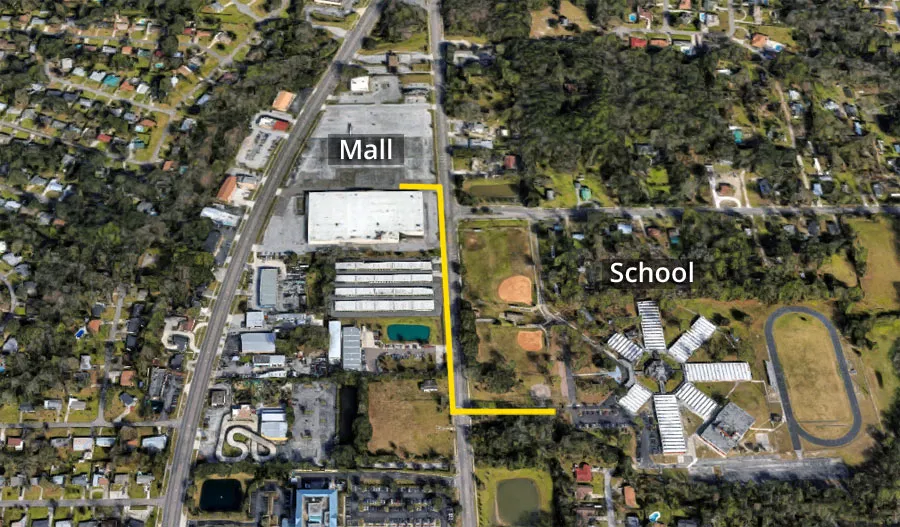 This aerial image shows how close Parmenter's school was to the Kmart mall.
Closest Locations
Other locations that are relatively close to this address: Roughly 5 miles away.
Place of Interest in Jacksonville, Florida Roughly 67 miles away.
Crime Location in Lake City, Florida Roughly 104 miles away.
Crime Location in Daytona Beach, Florida Roughly 106 miles away.
Crime Location in Live Oak, Florida Roughly 114 miles away.
Arrest Location in Port Orange, Florida