The bar where Aileen Wuornos was arrested
Place of Interest in Port Orange, Florida, United States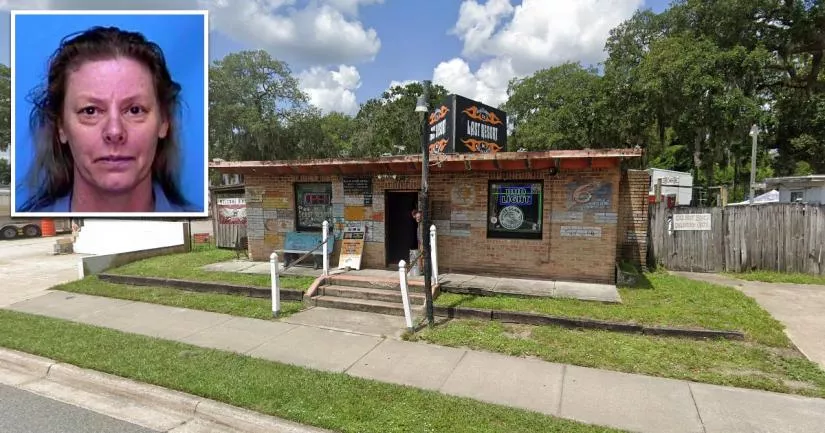 This is the bar where female serial killer Aileen Wuornos was arrested.
It is called the Last Resort bar, and it is situated at 5812 South Ridgewood Avenue in Port Orange, Florida.
Between 1989 and 1990, Wuornos shot and killed seven men in the state of Florida.
Although she originally claimed that the men in question had attempted to rape her, authorities found this difficult to believe. Instead, they suspected that the true motive behind her crimes was robbery. This is because she had pawned many of her victims' belongings.
Over the years, Wuornos changed her story a number of times. On one occasion, she stated that she robbed her victims and then shot them to avoid leaving any witnesses behind.
In January of 1992, she was convicted of the murder of Richard Charles Mallory and sentenced to death. In the months that followed, she also received death sentences for the other killings.
Ten years later, on October 9th, 2002, Aileen Wuornos was executed by lethal injection.
Where is the Last Resort bar?
Below, you will find the address and the GPS coordinates for this location.
GPS coordinates
The latitude and longitude coordinates for the bar are:
29.110702, -80.973463
Map
To view directions on how to get there, you can use the Google Maps shortcut below:
Address
The full address for this location is:
Last Resort
5812 South Ridgewood Avenue
Port Orange
Florida
FL 32127
United States
Directions
The bar sits off the U.S. Route 1 highway in Port Orange. It lies about 70 yards north of the intersection between Ridgewood Avenue and Poinciana Avenue. The bridge at Rose Bay is about half a mile south of the bar.
Details about the general area
Port Orange is a city in Volusia County, Florida. It lies to the south of South Daytona.
Private Property Warning
This is a private property. It is not a public place. Therefore, you should be respectful and not step foot on the property without permission.
Additional Information
Please do not enter the property unless you plan on being a customer.
Photos
Photos of the bar and other related images.
---
Aileen Wuornos' arrest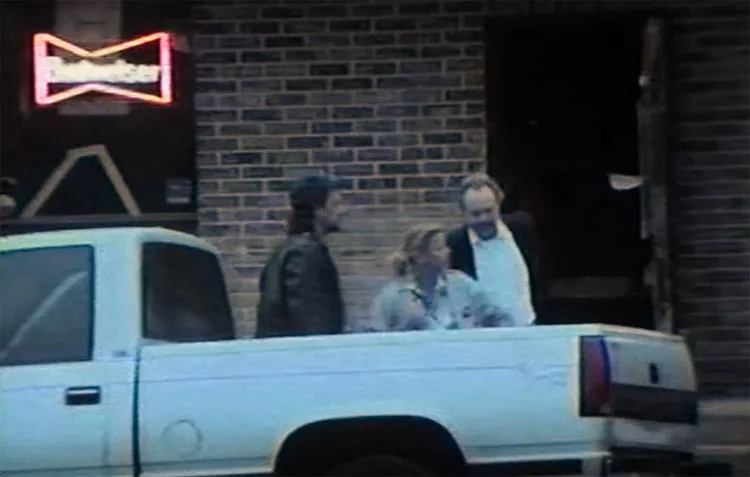 On January 9th, 1991, the police apprehended Aileen Wuornos outside of the Last Resort bar in Port Orange, Florida.
Before detectives swooped in, an undercover agent spent time with Wuornos inside the bar. While he was speaking with her, officers listened in on their conversation and videotaped the bar from across the street.
At one point, Wuornos suggested to the undercover agent that they should go out together that night. She also advised him to bring all of his money.
Realizing that he was in danger of becoming her next victim, the officer went to the restroom and told his backup team to make the arrest.
Parking lot
Episode 2, Season 1 - Catching Killers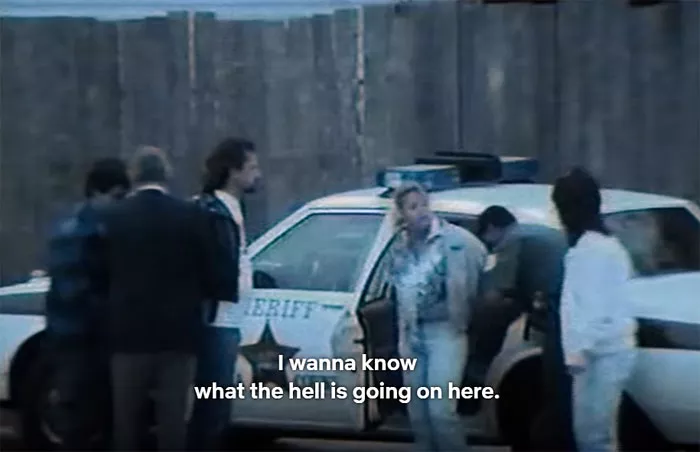 Following her arrest, Wuornos was put in the back of a police car in the parking lot. At the time, officers told her that she was being detained on an outstanding warrant.
2021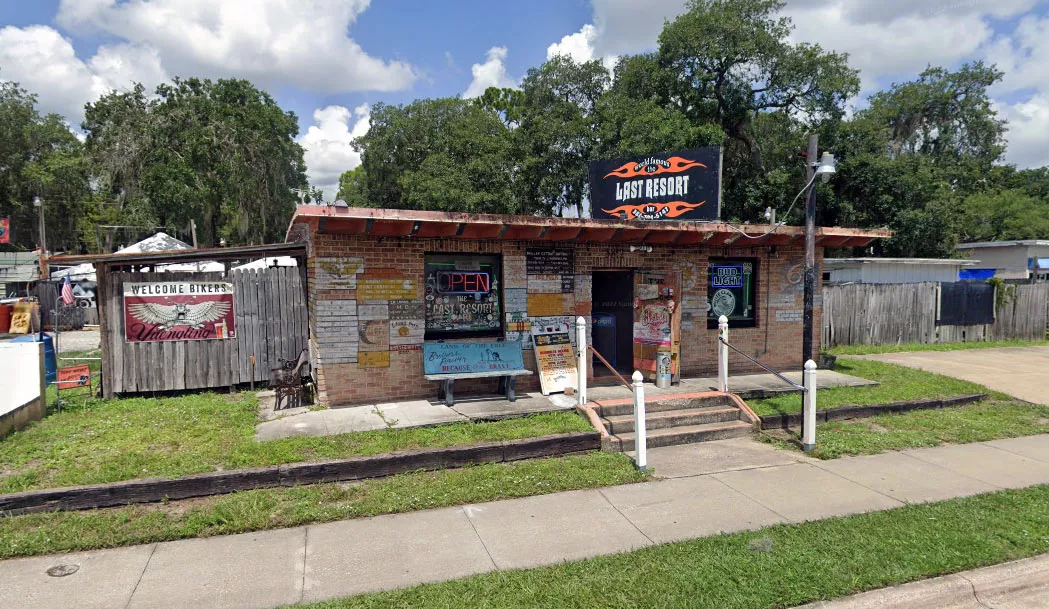 This Google Street View image of the Last Resort bar was taken in July of 2022.
Notably, the bar appeared in the 2003 film Monster, in which Wuornos is depicted by actress Charlize Theron.
Theron reportedly signed her name on the ceiling.
Mural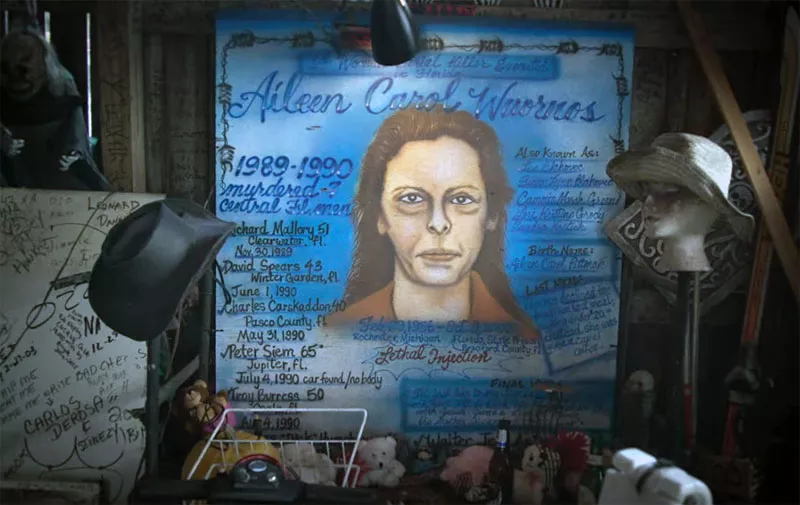 There is a painted mural of Wuornos inside the bar. It contains information about her victims, aliases, last meal, and final words.
Memorabilia
The bar has been known to sell Wuornos memorabilia.
The t-shirt above reads:
"Arrested at the world famous Last Resort bar. Home of ice cold beer and killer women."
In the past, the owners have also sold bottles of hot sauce with her face on them.
The Last Resort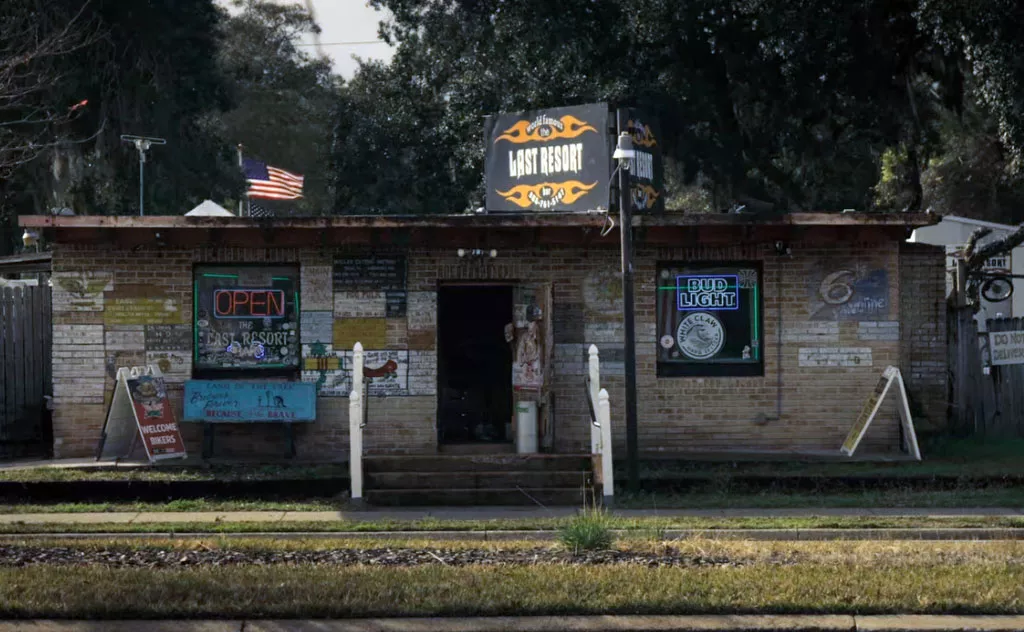 This is another photograph of the bar. According to online reviews, it is a unique, hospitable, and friendly place to visit.
Interestingly, American singer Hank Williams Jr. mentioned the Last Resort in his song Daytona Nights:
"Now the Boothill Saloon and the Last Resort, that's a few of the sites you need to be looking for."
Inside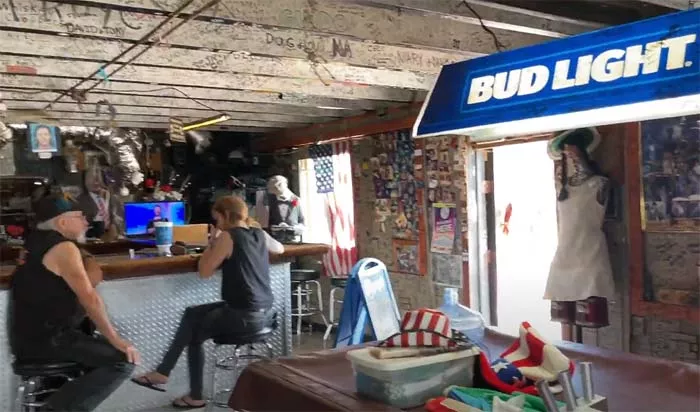 Patrons regularly sign their names on the ceiling.
Closest Locations
Other locations that are relatively close to this place. Less than a mile away.
Place of Interest in Port Orange, Florida, United States Roughly 56 miles away.
Crime Location in Orlando, Florida, United States Roughly 58 miles away.
Crime Location in Orlando, Florida, United States Roughly 64 miles away.
Crime Location in Orlando, Florida, United States Roughly 114 miles away.
Crime Location in Jacksonville, Florida, United States