Jennifer Kesse's condo
Crime Scene Location in Orlando, Florida, United States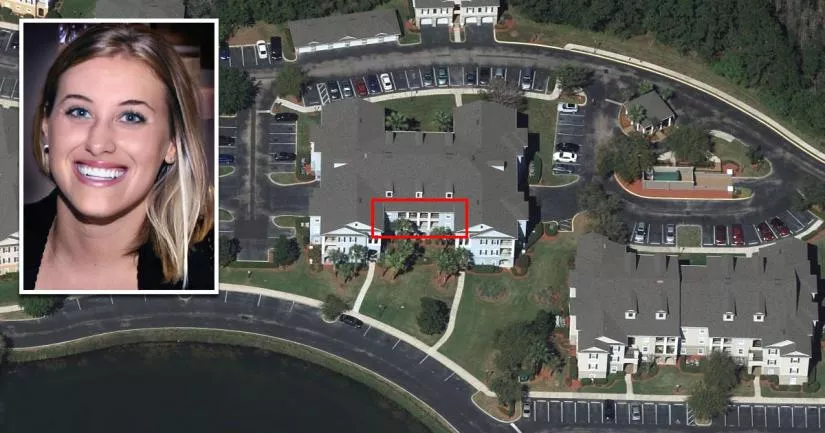 This is the condo that Jennifer Kesse was living in when she disappeared.
It is situated at 3735 Conroy Road in the Millenia neighborhood of Orlando, Florida.
The 24-year-old finance manager was last seen on January 23rd, 2006. The authorities believe that her killer somehow managed to abduct her the following morning.
An investigation of the condo showed that there were no signs of a struggle or forced entry. In fact, everything seemed perfectly normal.
Notably, the shower was wet, her contacts were missing, and her pajamas were on the bathroom floor. The front door had also been locked.
All of this suggests that she got ready for work that morning and left her residence before she was attacked.
Three days after Kesse's disappearance, her car was found in the parking lot of Huntington Green Court near Texas Avenue, which is roughly one mile east of Millenia.
Although a surveillance camera captured a suspect walking past the complex, his face was obscured by the spaced bars of a metal fence.
The prevailing theory among law enforcement is that Kesse was abducted at some point between the parking lot and her workplace.
The complex was undergoing extensive remodeling work at the time, as the company that owned it was refurbishing its apartments and selling them off as condos.
As a result, nearly half of the units were vacant.
According to her parents, Kesse had previously complained that some of the contract workers made her feel uncomfortable because they kept stopping to stare at her.
Furthermore, many of the empty units at the complex were being occupied by these men, who were reportedly "difficult to trace."
This has led to speculation that Kesse's killer was a worker at Mosaic at Millenia.
Sadly, no trace of the missing 24-year-old has ever been found. Ten years after her disappearance, she was legally declared dead.
Her case remains unsolved to this day.

Further information is available in the "Photos" section below.
Jennifer Kesse's condo location
Below, you will find the address and the GPS coordinates for this location.
GPS coordinates
The latitude and longitude coordinates for the condo are:
28.488467, -81.424542
Map
To view directions on how to get there, you can use the Google Maps shortcut below:
Address
The full address for this location is:
Apartment #2226
3735 Conroy Road
Orlando
Florida
FL 32839
United States
Directions
Kesse's condo was on the second floor of Building 22 in the "Mosaic at Millenia" complex on Conroy Road. It sits halfway between Millenia Boulevard and South John Young Parkway.
Private Property Warning
This is a private property. It is not a public place. Therefore, you should be respectful and not step foot on the property without permission.
This is a gated complex for residents only.
Photos
Photos of the condo and other related images.
---
Mosaic at Millenia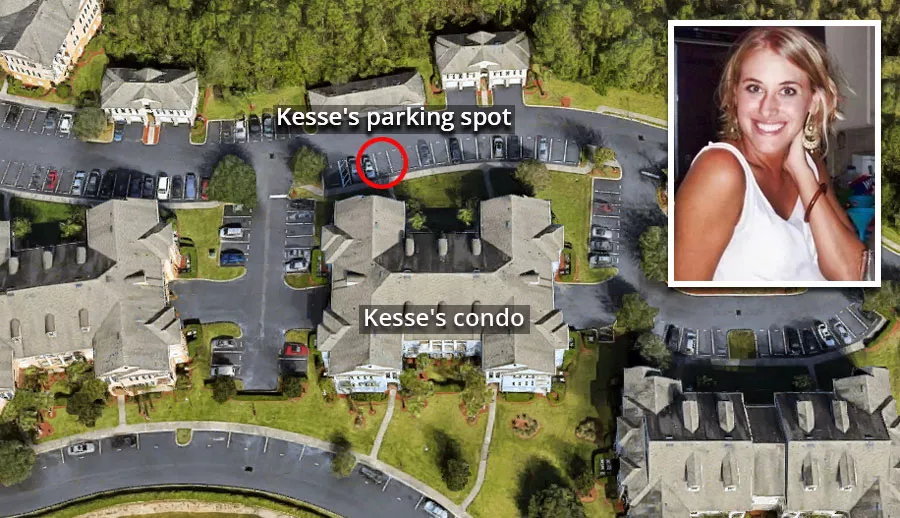 This is an aerial image of Jennifer Kesse's condo complex. Her parking spot was on the northern side of the building.
Jennifer Kesse's car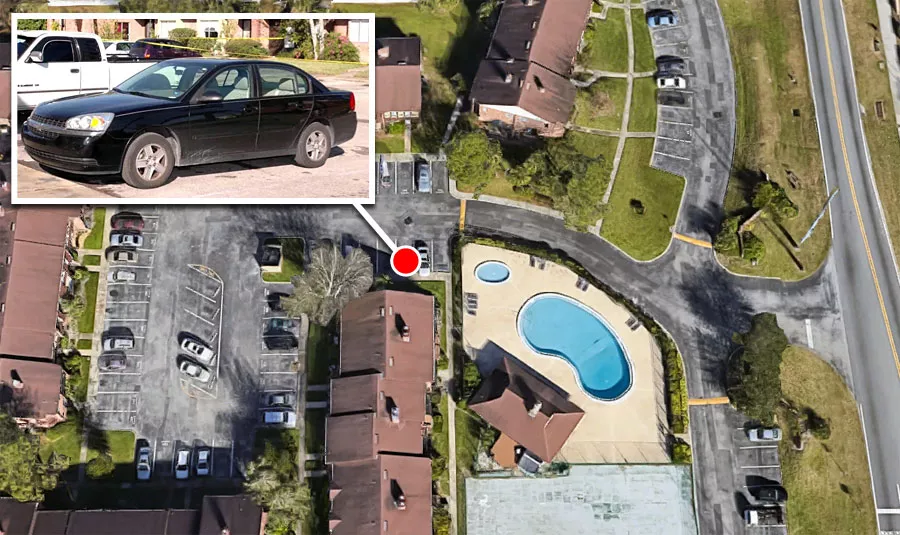 On January 26th, 2006, Jennifer Kesse's black Chevy Malibu was found in the parking lot of the Huntington Green Court apartment complex off Texas Avenue.
It is believed that her killer parked the car in the complex at around 12 p.m. on January 24th. He then proceeded to leave on foot.
The police did not find anything of note in the vehicle. There was no sign of a struggle, and all of the fingerprints belonged to Jennifer.
A number of Kesse's items are still missing. These include her brown purse, iPod, Verizon LG cell phone, work briefcase, and driver's license.
Shortly before her disappearance, Kesse and her boyfriend went on vacation to Saint Croix in the Caribbean.
While she was away, her brother Logan and his friends stayed at her condo. However, when they were leaving, one of Logan's friends mistakenly left his phone behind.
Notably, this phone was also missing.
This raises the possibility that Kesse had the phone with her and that she was planning on mailing it that morning. It also strengthens the theory that she was attacked after she left her residence.
Coordinates: 28.488371, -81.409915
Huntington Green Court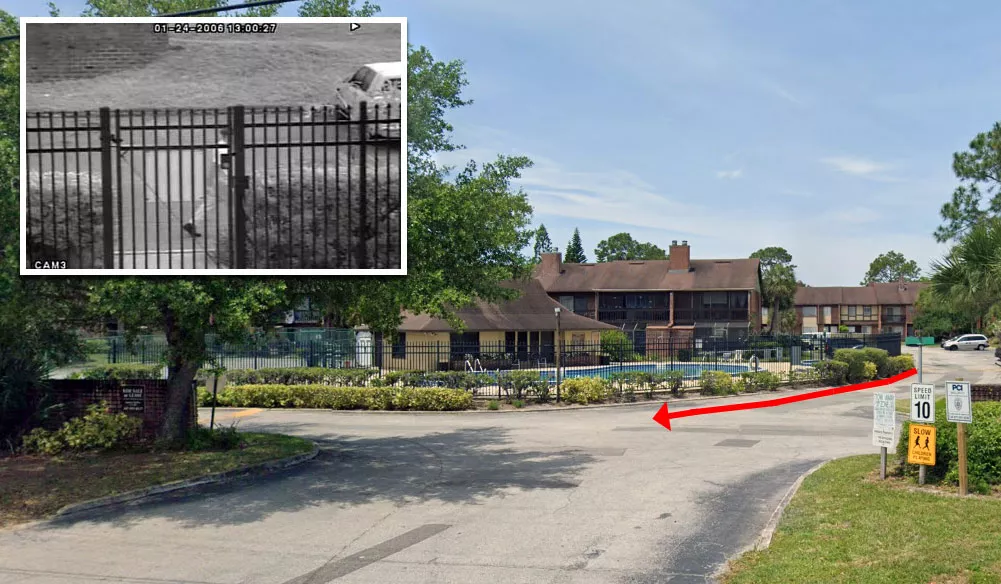 At around 12 p.m. on January 24th, 2006, a surveillance camera at Huntington Green Court captured a person of interest walking along the outside of the fence by the swimming pool.
Although the timestamp on the video footage reads 13:00:27, this is because the clock on the surveillance system had not been adjusted for daylight savings.
The suspect parked the car and then walked south on Downing Street.
Surveillance footage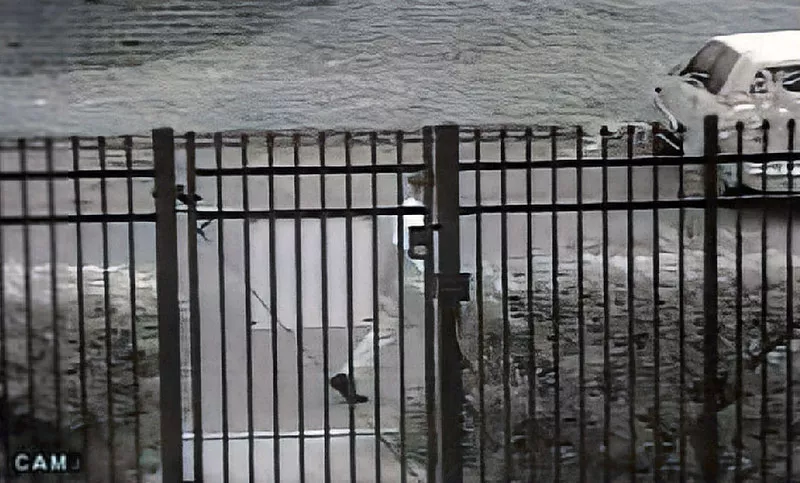 This is an enhanced image of the surveillance footage. To increase the size and resolution, we ran the video still through an AI resizer tool.
As you can see, the suspect's face was obscured by the fence.
The police believe that the man in question is short, standing at 5'3" to 5'5" tall. He also appears to be wearing painter's trousers or something similar.
Although it looks like he is wearing a hat or sporting a bun, the fence makes it impossible to say with any degree of certainty.
It is also important to point out that the surveillance system at the complex was pretty old and degraded. As a result, normal colors may have appeared white.
In other words, he might not have been wearing a white top.
Notably, the suspect did not attempt to hide his face. Instead, he calmly walked out of the main complex before heading south along Downing Street.
Path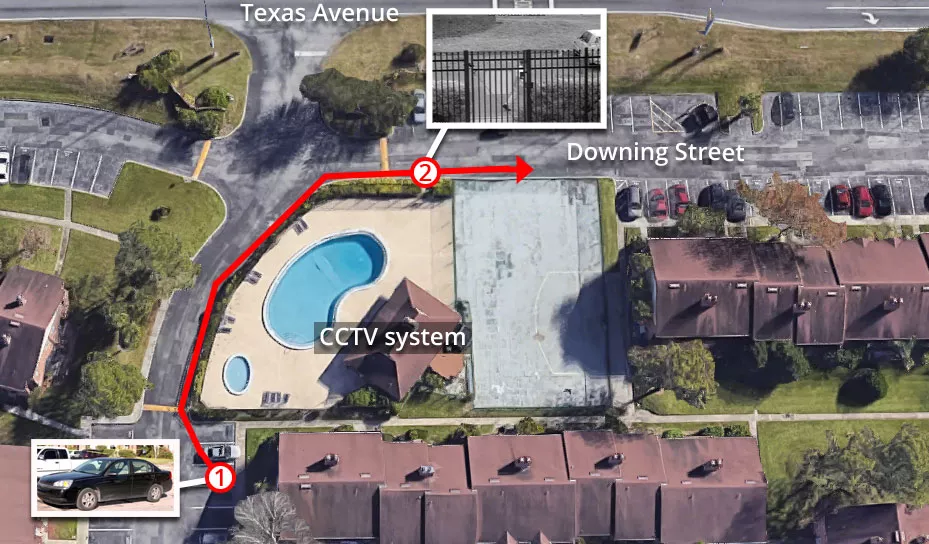 This aerial image shows the path that the suspect took.
Notably, he walked south, which is the direction that someone who was walking back to Jennifer's condo complex would have taken.
If the killer was a worker at "Mosaic at Millenia", then he probably walked along Downing Street, turned right onto Tom Jones Street, and then headed west along Americana Boulevard.
Distance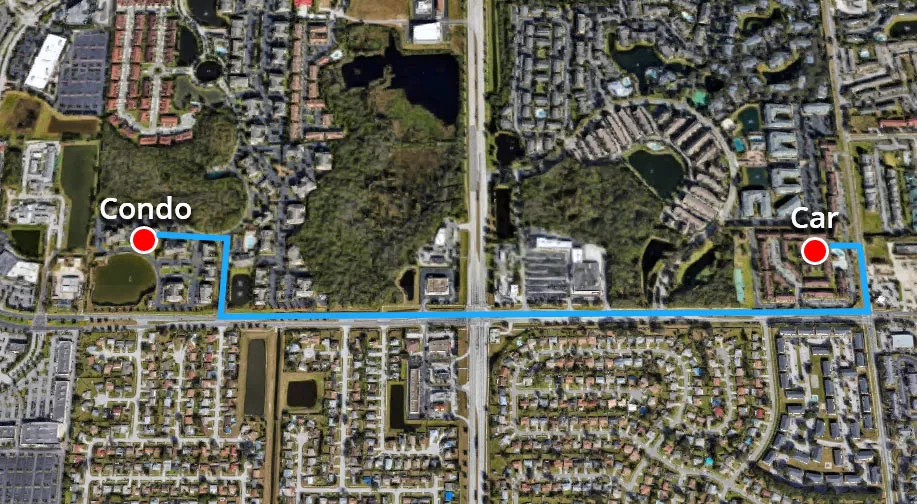 This aerial map highlights the distance between Jennifer Kesse's condo and the apartment complex where her car was found.
The route in question is exactly 1.2 miles long. It takes roughly five minutes to travel there by car. By foot, it takes 20–25 minutes.
Parking spot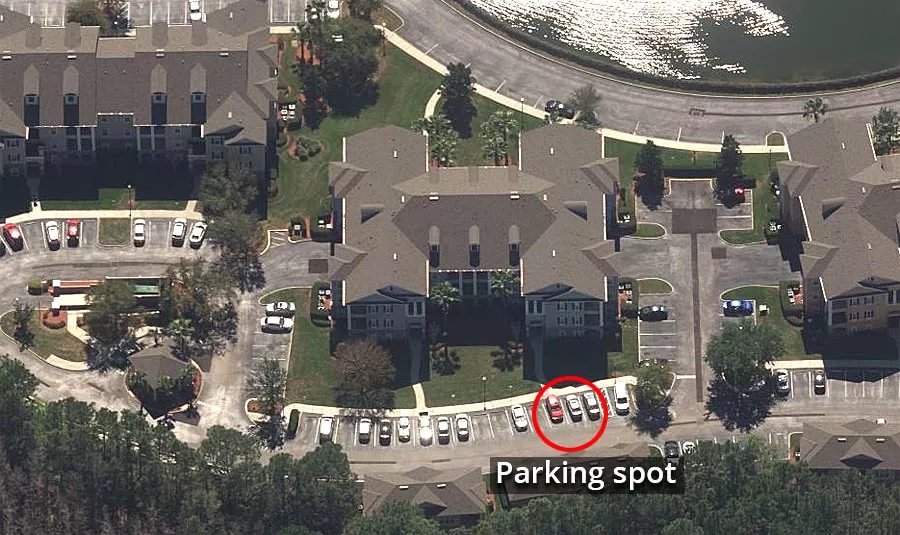 This is an aerial image of the northern side of the building. Kesse's parking spot was right in front of it.
One witness claimed that they saw a car driving erratically near Conroy Road at around 7.30 a.m. on the morning of January 24th.
If this car did belong to Kesse, then it suggests that she was attacked in the parking lot or shortly after she entered her car.
In these kinds of attacks, the abductor will shock and overwhelm their target by physically assaulting them or threatening them with a weapon. The sudden, violent nature of the attack will often make the victim feel paralyzed. By the time they fully grasp what has just happened, it is often too late.
If the witness account was correct, then it is likely that her abductor was trying to drive and keep her subdued at the same time. For example, she may have been forced down into the passenger footwell.
Jennifer Kesse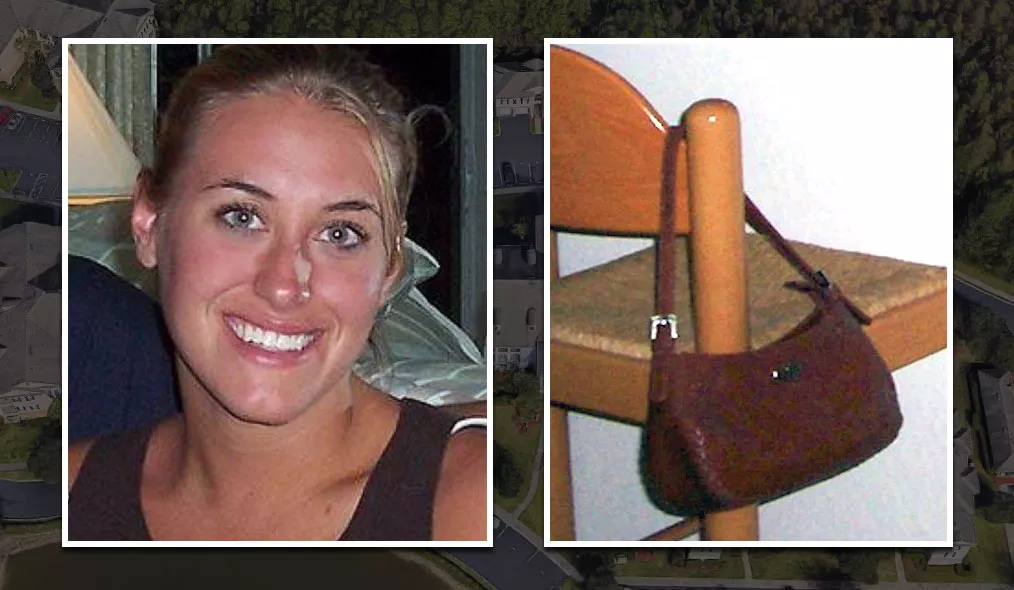 Jennifer Kesse was 24 years old when she went missing. She was 5 foot 8 and weighed around 135 lbs.
On the right, you can see a photograph of her brown bag, which was never recovered.
Visualize
There is more than one location associated with this entry. To view all of these places on the same map, you can use the following feature:
Closest Locations
Other locations that are relatively close to this address: Roughly 8 miles away.
Crime Location in Orlando, Florida, United States Roughly 12 miles away.
Crime Location in Orlando, Florida, United States Roughly 63 miles away.
Place of Interest in Port Orange, Florida, United States Roughly 64 miles away.
Place of Interest in Port Orange, Florida, United States Roughly 79 miles away.
Filming Location in Lutz, Florida, United States