The Chi Omega sorority house
Crime Scene Location in Tallahassee, Florida, United States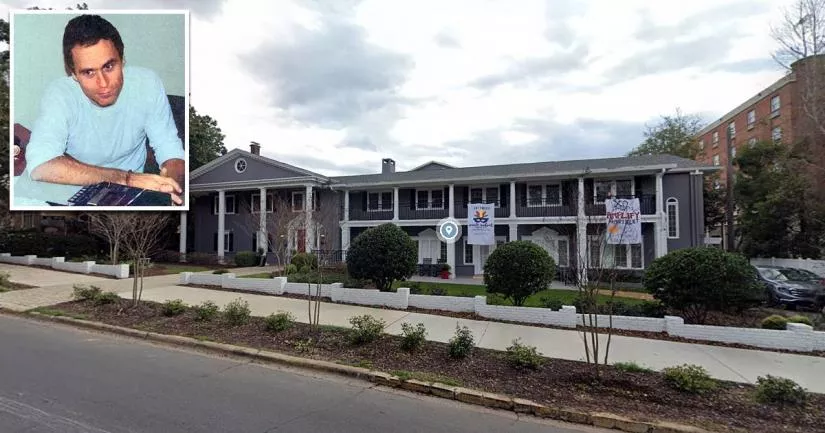 This is the Chi Omega sorority house.
It is situated at 661 West Jefferson Street in Tallahassee, Florida.
In 1978, it became the scene of a brutal crime after escaped serial killer Ted Bundy broke into the building and attacked four women.
College students Margaret Bowman and Lisa Levy died during the assault. The other two women, Karen Chandler and Kathy Kleiner, managed to survive. However, they were both left with serious injuries.
In the early hours of January 15th, 1978, Bundy grabbed a piece of firewood and entered the FSU Chi Omega sorority house on West Jefferson Street through an unsecured door at the back of the building.
Over the course of the next fifteen minutes, he crept from one room to the next and savagely attacked the four women while they lay sleeping in their beds.
His decision to target four victims in quick succession was an extraordinary change from his usual M.O.
Following the 1974 abduction of Lynda Ann Healy, Bundy typically approached women in public and lured them back to his Volkswagen Bug. He would then knock them unconscious with a tire iron and bundle them into his vehicle.
However, after escaping from prison and moving to Tallahassee, Florida, it seems as though Bundy quickly regressed back to breaking and entering.
By the time he moved into "The Oak" rooming house on College Avenue, two and a half years had passed since he had abducted his last known victim, Susan Curtis. Furthermore, he was now in his early thirties. As a result, he could no longer blend in with the younger university students on the FSU campus.
On the night of the attack, Bundy was drinking at a nightclub called Sherrod's, which was close to the Chi Omega sorority house. However, he stuck out like a sore thumb because of his age and appearance.
According to witnesses, he spent most of the night standing by himself and leering at young women. He also appeared to be "spaced out" at points.
As he continued to drink among these college students, it is likely that his urge to sexually assault and brutalize his first victim in two years became so strong that it started to cloud his judgment.
Bundy was drunk, desperate, and in a heightened state of excitement. He was now a free man again, and he was surrounded by potential targets.
This would explain why his actions at Chi Omega were so unhinged. In this case, Bundy decided to enter a sorority house that was full of potential witnesses and assault multiple women in a very short space of time.
From his perspective, this was an incredibly risky and unsophisticated crime. Fortunately, it was one that he would eventually pay for with his own life.
In 1979, Ted Bundy was convicted of the murders of Bowman and Levy and sentenced to death. Roughly ten years later, on January 24th, 1989, he was strapped into an electric chair in Florida State Prison and executed.
Where is the FSU Chi Omega sorority house?
Below, you will find the address and the GPS coordinates for this location.
GPS coordinates
The latitude and longitude coordinates for the house are:
30.439352, -84.293308
Map
To view directions on how to get there, you can use the Google Maps shortcut below:
Address
The full address for this location is:
Chi Omega sorority, FSU
661 W Jefferson Street
Tallahassee
Florida
FL 32304
United States
Directions
The sorority house is situated on the Florida State University campus in Tallahassee. It is close to the intersection between West Pensacola Street and Gray Street.
Private Property Warning
This is a private property. It is not a public place. Therefore, you should be respectful and not step foot on the property without permission.
Photos
Photos of the house and other related images.
---
Chi Omega and Sherrod's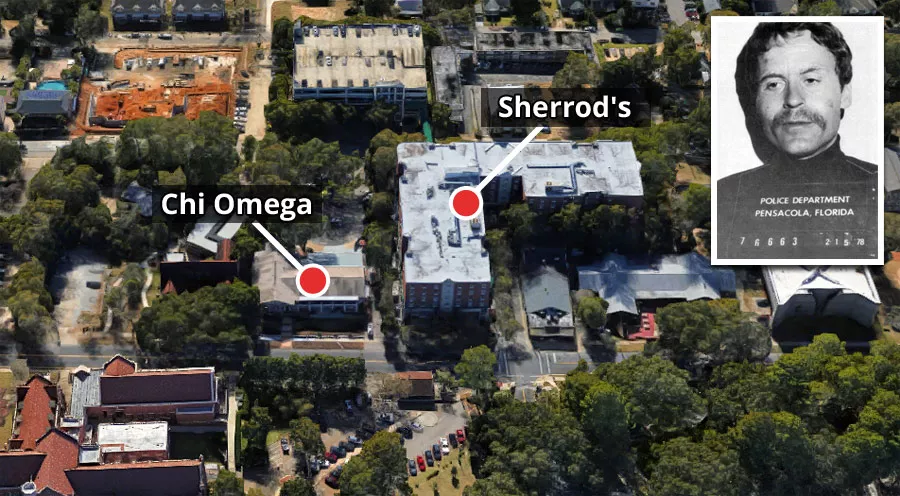 This is an aerial image of West Jefferson Street in Tallahassee.
As you can see, Sherrod's nightclub was located just around the corner from the Chi Omega sorority house.
That night, Bundy was seemingly desperate to claim his first victim in over two years. Two weeks had passed since he escaped from prison in Colorado. He was now free and living on a college campus in a state where no one knew his identity. As the days wore on, his old urges started to return and bubble beneath the surface.
However, Bundy had one problem.
The young women that he liked to target were not as receptive to him anymore. The charming "boy next door" image had faded. He was no longer a young, handsome, and well-dressed law student who could approach women and lure them back to secluded parking lots.
Young co-eds now saw him as a strange and unkempt older man who seemed out of place.
It is very likely that Bundy realized this at some point during his short stay in Tallahassee. It is also likely that it dented his confidence to some degree.
Consequently, he decided to revert back to his original M.O. of breaking and entering.
The Chi Omega sorority house now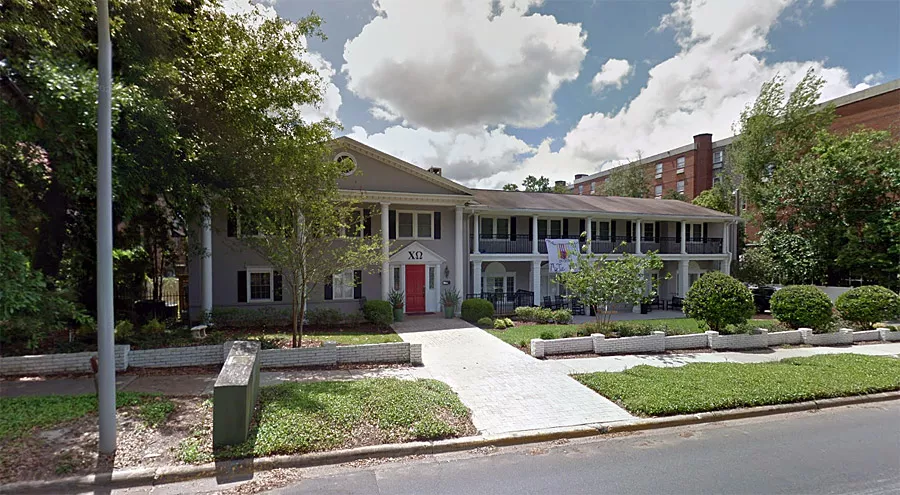 This Google Street View image of the FSU Chi Omega sorority house was taken in April of 2019.
Margaret Bowman and Lisa Levy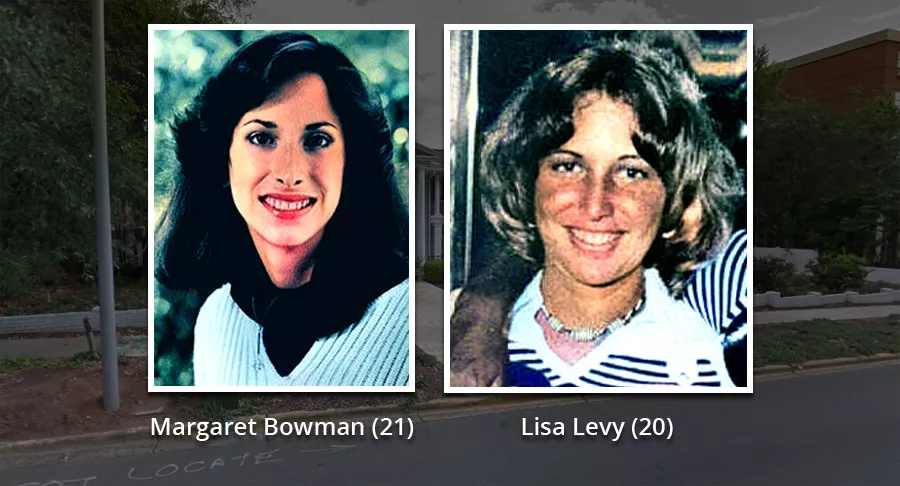 Bundy murdered Margaret Elizabeth Bowman, 21, and Lisa Levy, 20, while they slept that night.
Both victims were bludgeoned with a piece of firewood and then strangled.
Bowman was strangled to death with a nylon stocking. Levy was strangled, sexually assaulted, and bitten on the buttocks.
This bite mark eventually came back to haunt Bundy, as the prosecutor at his trial was able to convince the jury that it was a match with his teeth.
At the time of her death, Bowman was studying art history and classical civilizations. She was born in Honolulu and had moved to Florida five years prior. According to her family, she decided to join the Chi Omega sorority because her grandmother had pledged there.
Levy was studying fashion merchandising at FSU. She grew up in St. Petersburg and graduated from Dixie Hollins High School in Kenneth City.
Both of these women had bright futures ahead of them. Sadly, their lives were cut short by a man who saw them as objects that he could use for his own sexual gratification.
Kathy Kleiner and Karen Chandler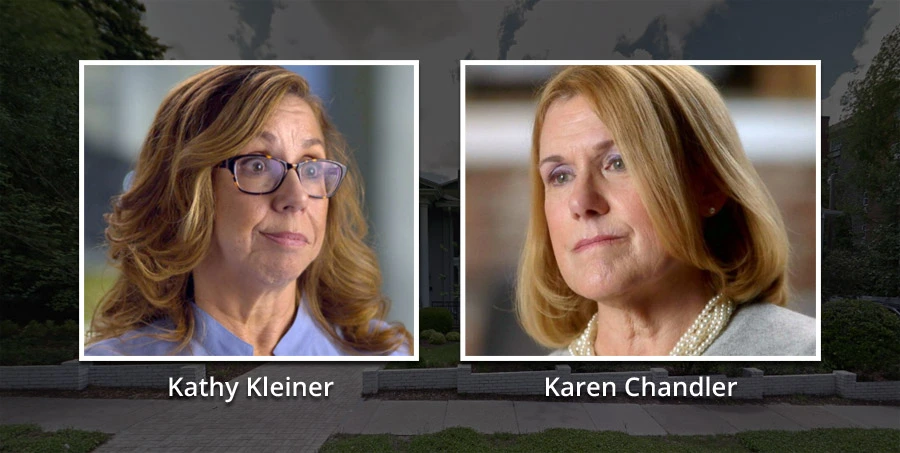 After murdering Bowman and Levy, Bundy crept into another room. There, he bludgeoned two co-eds called Kathy Kleiner and Karen Chandler.
The two women managed to survive the attack. However, they were both left with serious injuries.
Kliener's jaw was broken in three different places, and her right cheek was ripped open. Chandler suffered a fractured skull and a shattered jaw.
The two women's beds were so close together that Bundy was basically able to club both of his victims at the same time.
Fortunately, in a stroke of luck, the headlights of a nearby vehicle suddenly lit up their dorm room. Feeling exposed and fearing that the motorist might have spotted him, Bundy decided to abandon his attack and run for the exit on the ground floor.
However, as he was exiting through the front door, another sorority sister called Nita Neary was entering the house through the entrance at the back. Because Nita arrived at the right moment in time, she was able to get a good look at Bundy and identify him.
Sherrod's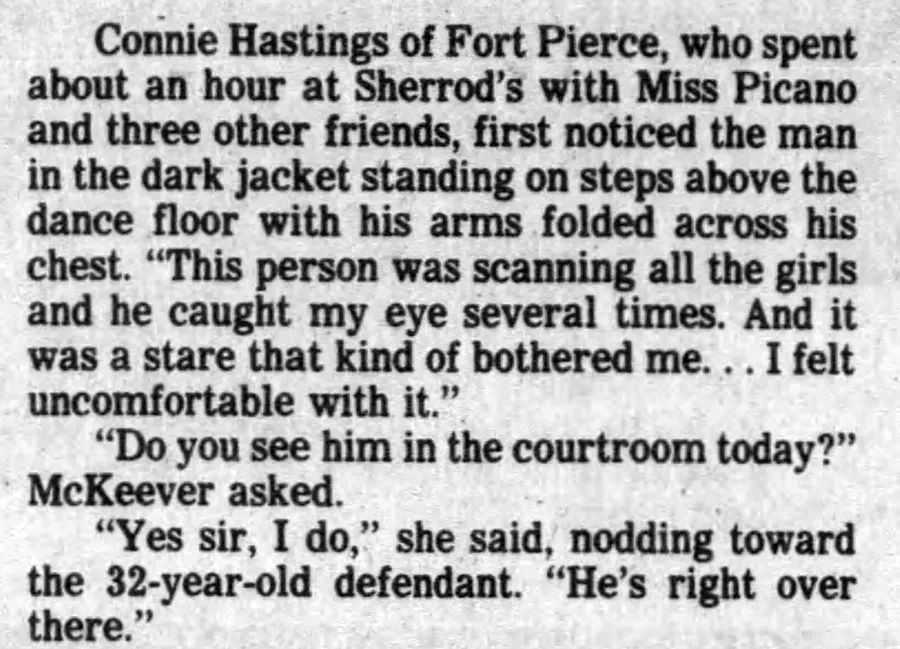 This is a newspaper clipping from the Tallahassee Democrat. The article was published on July 17th, 1979.
On the night of the attack, Bundy was drinking and leering at young women at a disco called Sherrod's, which was just around the corner from the Chi Omega sorority house.
Sherrod's was situated at 675 West Jefferson Street. Judging by newspaper advertisements, it changed its name to Byron's at some point in 1978.
Between 1979 and 1990, it was the home of a popular student bar called The Phyrst. Following Bundy's execution in 1989, The Phyrst changed its front advertisement sign to read "Bye Bye Bundy."
In February of 1991, the building was demolished to make way for the Southgate Campus Center, which was opened in 1993.
On that day in 1978, Ted Bundy sauntered along West Jefferson Street and spotted the popular nightclub at Sherrod's.
As he walked towards the entrance and eyed the place up, little did he know that there'd eventually come a day when a sign out front would be celebrating his death.
Closest Locations
Other locations that are relatively close to this place. Less than a mile away.
Crime Location in Tallahassee, Florida, United States Less than a mile away.
Serial Killer House in Tallahassee, Florida, United States Roughly one mile away.
Place of Interest in Tallahassee, Florida, United States Roughly 85 miles away.
Crime Location in Live Oak, Florida, United States Roughly 125 miles away.
Crime Location in Lake City, Florida, United States