Ted Bundy's house in Tallahassee, Florida
Serial Killer House in Tallahassee, Florida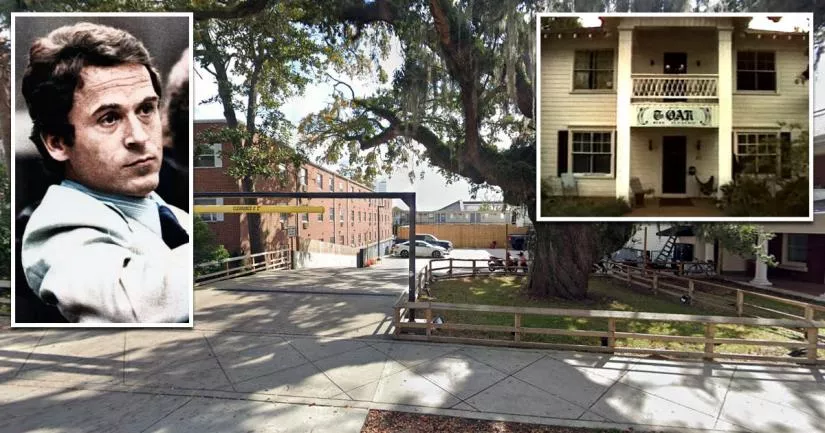 This is the house where serial killer Ted Bundy lived in Florida.
It is located at 409 West College Avenue in Tallahassee, Florida.
During the 1970s, it was a rooming house called the Oak. However, these days, it is a parking lot for a fraternity house.
On December 31st, 1977, Bundy escaped from jail in Colorado and fled eastward across the United States.
After spending seven days traveling through Illinois, Michigan, and Georgia, he eventually settled in Tallahassee, Florida.
He chose Florida as his new home because of how far away it was from the Pacific Northwest. Due to the distance involved, he reasoned that there was a much lower chance of someone recognizing him.
This turned out to be true, as most people in the Sunshine State had never heard of his name.
Bundy started living at the Oak rooming house on January 7th, 1978. He signed the lease for his second-floor apartment using the alias Chris Hagen.
By the time he arrived in Florida, two and a half years had passed since he abducted his last known victim, Susan Curtis.
Despite the passage of time, it did not take long for his old urges to take control. Within a week of moving into the Oak, he was already trolling around the Florida State University campus in search of his next victim.
In the early hours of January 15th, Bundy entered the Chi Omega sorority house on West Jefferson Street and attacked four sleeping women in the space of 15 minutes. Then, after leaving the sorority house, he attacked another woman named Cheryl Thomas, who was living just a couple of blocks away.
Two of the victims died. The other three women were left with serious injuries.
On February 8th, 1978, he abducted 12-year-old Kimberly Dianne Leach from her school in Lake City. Her remains were discovered roughly fifty days later, near Suwannee River State Park.
Bundy continued living at this address until February 12th. By that point, he was falling behind on his rent and starting to feel paranoid that the police were narrowing in on him.
Believing it was time to hit the road, he stole a Volkswagen Bug and drove westward towards Alabama.
Fortunately, he never made it that far. Nor did he get the chance to harm another victim.
Three days later, Bundy's luck finally ran out after he was arrested during a traffic stop in Pensacola.
Where did Ted Bundy live in Tallahassee?
Below, you will find the address and the GPS coordinates for this location.
Address
409 West College Avenue, Tallahassee, Florida, FL 32301, USA
Map
To view directions on how to get there, you can use the Google Maps shortcut below:
GPS coordinates
The latitude and longitude coordinates for the apartment are:
30.440603, -84.286199
Directions
The house was situated in Tallahassee's Downtown College Park district. The lot sits beside the Sigma Alpha Epsilon fraternity house, which is close to the corner of West College Avenue and South Boulevard Street. It is a short walk from the Museum of Florida History and the Old City Cemetery.
Photos
Photos of the apartment and other related images.
---
The Oak in Tallahassee, Florida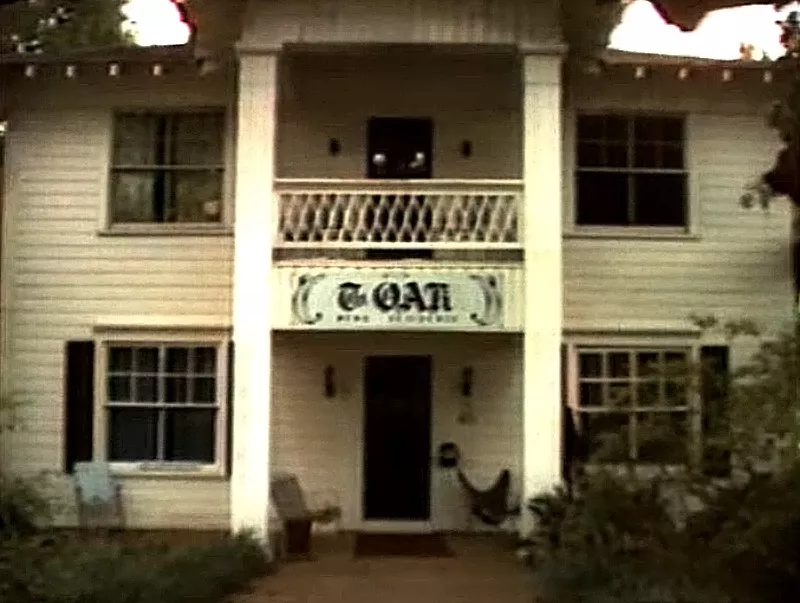 This is an old photograph of the Oak rooming house in Tallahassee, Florida. It was named after a giant oak tree that still exists at the front of the parking lot.
Bundy started renting Room 12 on the second floor on January 7th, 1978.
During his short stay here, he reportedly went on a date with a woman who lived across the hall from him.
The building was converted into a fraternity house in the late 1970s or early 1980s. However, a fire in the late 1980s left it damaged beyond repair.
Following the fire, the property remained vacant and boarded up for a number of years. Locals said that it was torn down because it was an eyesore and a hot spot for anti-social behavior.
After the house was demolished, 409 West College Avenue became an empty, fenced-off lot. Then, at some point after 2016, it was converted into a parking lot for the adjoining Sigma Alpha Epsilon fraternity house.
Empty lot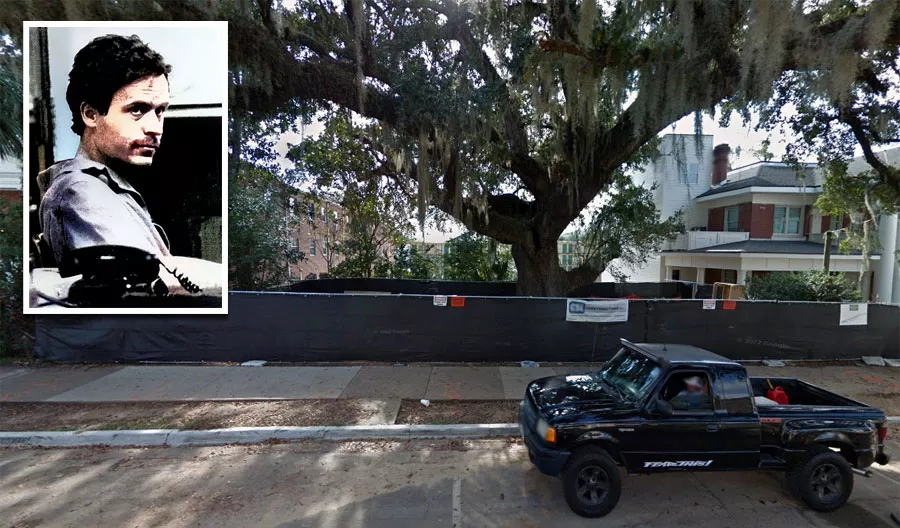 This Google Street View image of the lot was taken in December 2016. Shortly afterwards, it was converted into a parking lot.
As you can see, the large oak tree still exists.
409 West College Avenue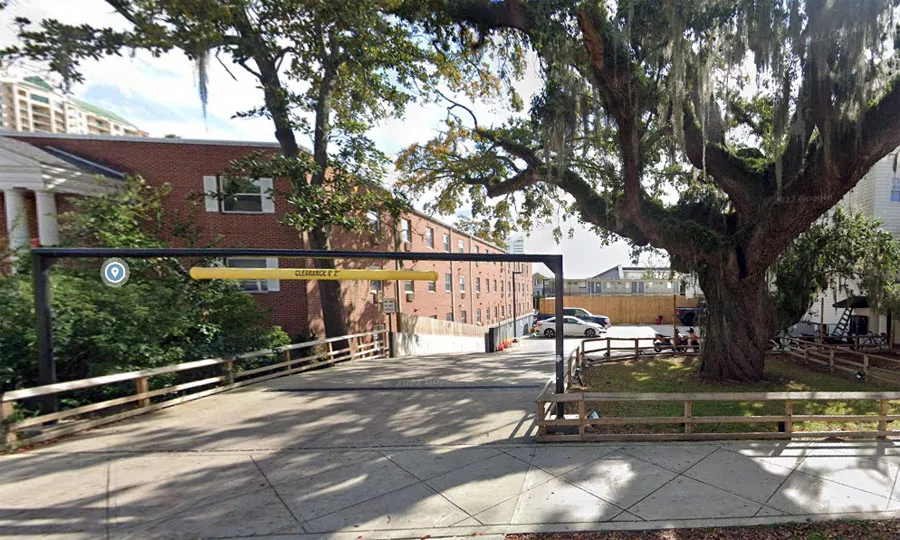 Image source: Google Maps
This Google Street View image of 409 West College Avenue was taken in December 2020.
Chi Omega sorority house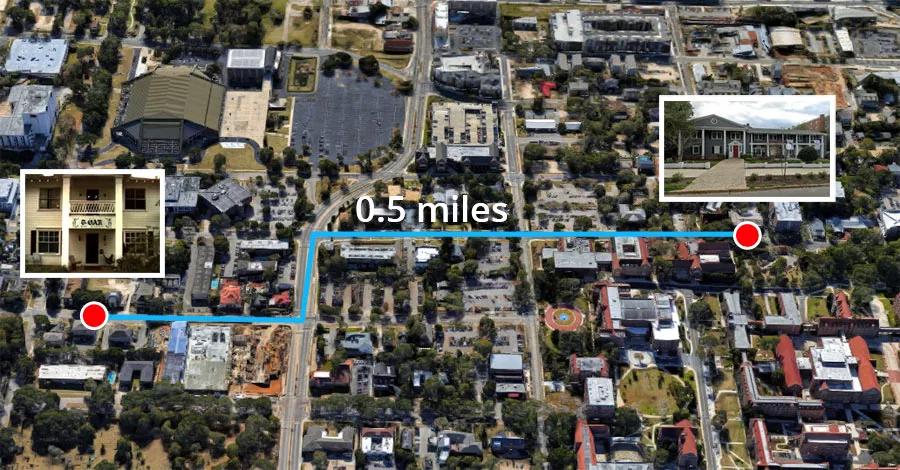 The aerial image above illustrates how close the Oak was to the Chi Omega sorority house.
The route is only 0.5 miles long.
Bundy's room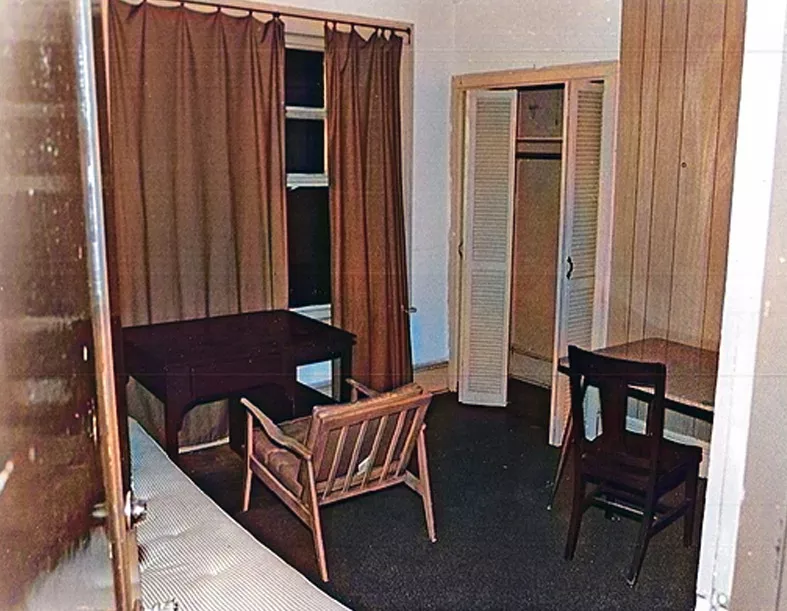 This is a colorized photograph of the room that Ted Bundy lived in while he was staying in Tallahassee.
Closest Locations
Other locations that are relatively close to this address: Less than a mile away.
Photo Location in Tallahassee, Florida Roughly one mile away.
Place of Interest in Tallahassee, Florida Roughly one mile away.
Crime Location in Tallahassee, Florida Roughly 84 miles away.
Crime Location in Live Oak, Florida