The house where Ted Bundy stole a Volkswagen Bug.
Place of Interest in Tallahassee, Florida, United States.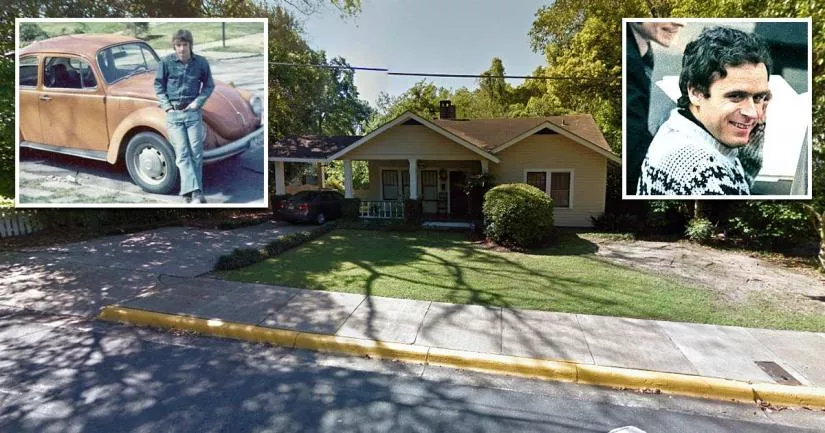 On February 12th, 1978, serial killer Ted Bundy stole a Volkswagen Super Bug that was parked outside of this house in Tallahassee, Florida.
That Sunday evening, he was prowling around Old Town and Lafayette Park in search of a suitable vehicle to steal.
By this stage, he had already murdered three victims during his short-but-brutal stay in the Sunshine State. He was also falling behind on his rent at "the Oak" rooming house on West College Avenue.
Sensing that it was time to up sticks and move, he decided to leave "the Oak" in the early hours of the night and then head westward towards Alabama.
However, in order for this plan to work, he needed a reliable vehicle.
That evening, Rick Garzaniti and his wife parked their orange 1972 Volkswagen Super Bug outside of this house on East Georgia Street and went inside to pick up their child.
According to Rick, he left his keys in the ignition because they weren't planning on staying for long. They were simply going to pick up their toddler from the babysitter's house and then leave.
However, once inside, the couple became distracted by conversation and the action comedy film Gator (1976).
When they finally left and returned to the car, it was gone. Bundy was already on his way to Alabama.
Fortunately, his plan of leaving Florida and crossing the state line didn't pan out like he imagined it would.
During a quick stopover in Pensacola, a police officer noticed Bundy driving suspiciously and decided to run a tag on his vehicle. After finding out that the Bug had been reported stolen, the officer pulled Bundy over and arrested him.
Where did Bundy steal the car?
Below, you will find the address and the GPS coordinates for this location.
GPS coordinates.
The latitude and longitude coordinates for the house are:
30.448450, -84.276402
Map.
To view directions on how to get there, you can use the Google Maps shortcut below:
Address.
The full address for this location is:
515 East Georgia Street
Tallahassee
Florida
FL 32303
United States
Directions.
The house is in the Lafayette Park neighborhood of Tallahassee.
Private property warning.
This is a private property. It is not a public place. Therefore, you should be respectful and not step foot on the property without permission.
Closest locations.
Other locations that are relatively close to this place. Roughly one mile away.
Serial Killer House in Tallahassee, Florida, United States Roughly one mile away.
Crime Location in Tallahassee, Florida, United States Roughly 2 miles away.
Crime Location in Tallahassee, Florida, United States Roughly 83 miles away.
Crime Location in Live Oak, Florida, United States Roughly 124 miles away.
Crime Location in Lake City, Florida, United States