The store where Ted Bundy purchased his hunting knife
Place of Interest in Jacksonville, Florida, United States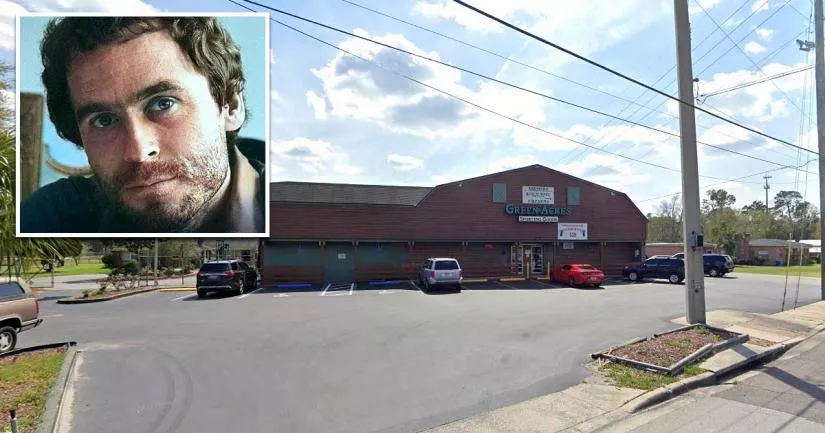 On February 8th, 1978, serial killer Ted Bundy purchased a Buck General hunting knife at this store in Jacksonville, Florida.
Bundy bought the knife for $26. He was served by the owner and founder of Green Acres Sporting Goods, John Farhat.
The following day, Bundy abducted 12-year-old Kimberly Leach from her school in Lake City.
Two months after the young girl went missing, a highway patrol trooper discovered her remains in an abandoned hog trap in Suwannee River State Park.
During the investigation into Leach's murder, it was determined that the cause of death was "violence to the neck area." This was backed up by insect activity on her remains.
Although the knife was never recovered, a receipt for it was found on the floor of the stolen media van that Bundy had used to carry out the abduction.
The store's owner, John Farhat, was a key witness during the murder trial against Bundy. He testified in court that he remembered selling the knife to a man fitting his description.
In February of 1980, Bundy was found guilty of Kimberly's murder and sentenced to death.
Farhat passed away in 2016 at the age of 82. According to his daughter-in-law, Amanda Gazaleh, John never liked to talk about the case because he always felt "pity for the situation."
Unfortunately, Farhat had no way of knowing who Bundy was or what his intentions were.
Where is the store located?
Below, you will find the address and the GPS coordinates for this location.
GPS coordinates
The latitude and longitude coordinates for the store are:
30.287621, -81.797886
Map
To view directions on how to get there, you can use the Google Maps shortcut below:
Address
The full address for this location is:
Green Acres Sporting Goods
8764 Normandy Boulevard
Jacksonville
Florida
FL 32221
United States
Directions
The store is situated in Normandy Manor on the westside of Jacksonville.
Private Property Warning
This is a private property. It is not a public place. Therefore, you should be respectful and not step foot on the property without permission.
Closest Locations
Other locations that are relatively close to this address: Roughly 5 miles away.
Crime Location in Jacksonville, Florida, United States Roughly 64 miles away.
Crime Location in Lake City, Florida, United States Roughly 101 miles away.
Crime Location in Live Oak, Florida, United States Roughly 119 miles away.
Place of Interest in Port Orange, Florida, United States Roughly 119 miles away.
Place of Interest in Port Orange, Florida, United States