Jayne Mansfield's crash site
Crash Site Location in New Orleans, Louisiana, United States
This is the site where actress Jayne Mansfield was killed in a car crash.
It is situated on the Chef Menteur Highway in New Orleans, Louisiana—just one mile south of the Rigolets Bridge.
Rise to fame
Mansfield was a Playboy Playmate, beauty contestant, and actress who actively courted media attention by appearing in newspaper photographs, wearing revealing outfits, and purposely having wardrobe "malfunctions".
At the height of her fame, she starred in popular movies such as "Will Success Spoil Rock Hunter?" (1957), "The Girl Can't Help It" (1956), and "Too Hot to Handle" (1960). She also performed in nightclubs, acted in Broadway productions, and appeared on television shows.
Mansfield was married three times and had several highly publicized relationships. She was also allegedly "involved" with high-profile men such as John F. Kennedy, Robert F. Kennedy, and billionaire Jorge Guinle.
Throughout her career, she was constantly compared to Marilyn Monroe, who was considered to be Hollywood's reigning "blonde bombshell".
Crash
In the early hours of June 29th, 1967, Mansfield left Biloxi, Mississippi, in a 1966 Buick Electra luxury car.
That night, she was accompanied by her lover, Sam Brody; her driver, Ronnie Harrison; and her three children.
Their intended destination was New Orleans, where Mansfield was scheduled to appear on a local daytime television program the following afternoon.
Roughly 90 minutes into their journey, they crossed the Rigolets Bridge, heading south on Highway 90. At the time, Harrison was driving at roughly 80 mph (130 km/h).
This was despite the mist and fog of the marshland, which would have distorted his sense of distance and reduced his visibility.
Unbeknownst to Harrison, a large tractor-trailer (lorry) had slowed down up ahead to accommodate a mosquito fogging truck, which was pumping out a large, thick cloud of insecticide.
Shortly after the car made its way around a large bend, it slammed into the back of the trailer.
The impact was so great that the top of the Buick was ripped off, leading to rumors that they had been traveling in a convertible.
Jayne Mansfield, Ronnie Harrison, and Sam Brody were all killed instantly. The three adults, who were sitting in the front, sustained multiple head traumas and fractures that were incompatible with life.
The car hit the truck with such force that the 34-year-old actress was tossed out of the vehicle. When the authorities arrived, her body was lying on the shoulder of the road.
Miraculously, her three children survived the crash with minor injuries because they were asleep in the back.
Aftermath
Although there were initial reports that Jayne's head had been decapitated, witness accounts, accident photographs, and her autopsy report confirmed that this was false.
At the time of impact, she was wearing a blonde wig, which flew off and became stuck in the windshield. It was the sight of this wig in photographs that led to rumors that it was her head.
In the aftermath of Mansfield's death, the trucking industry gradually started to fit underride guards on the back of trailers. These guards help to prevent cars from going underneath the trailer during a collision.
To this day, they are sometimes referred to as Mansfield bars.

Further information is available in the "Photos" section below.
Where did Jayne Mansfield die?
Below, you will find the address and the GPS coordinates for this location.
GPS coordinates
The latitude and longitude coordinates for the site are:
30.149657, -89.741679
Map
To view directions on how to get there, you can use the Google Maps shortcut below:
Address
The full address for this location is:
Chef Menteur Highway (Highway 90)
New Orleans
Louisiana
LA 70129
United States
Directions
The site is situated one mile south of the Rigolets Bridge. It is close to Lake Saint Catherine.
Photos
Photos of the site and other related images.
---
Crash site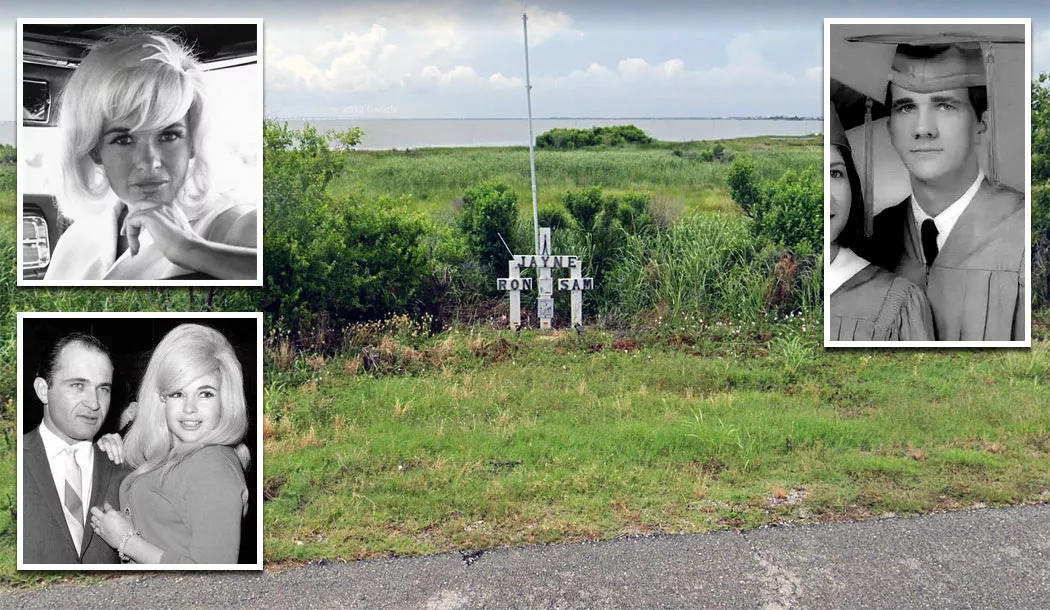 There is a memorial shrine at the side of the road.
The three crosses, which are labelled Jayne, Ron, and Sam, overlook the exact spot where the crash occurred.
The crosses were placed here in 2019 after a local historian discovered that the previous site was incorrect.
Ronnie Harrison (top right) was just 19 years old at the time of his death.
Ron (bottom left) was a divorce attorney who often represented celebrities. He started living with Mansfield one year before the accident.
Jayne battled alcoholism after her career nosedived during the mid-60s. She and Ron allegedly had several drunken brawls during their relationship. There were also reports that Ron was physically abusive towards Jayne's eldest daughter.
Final journey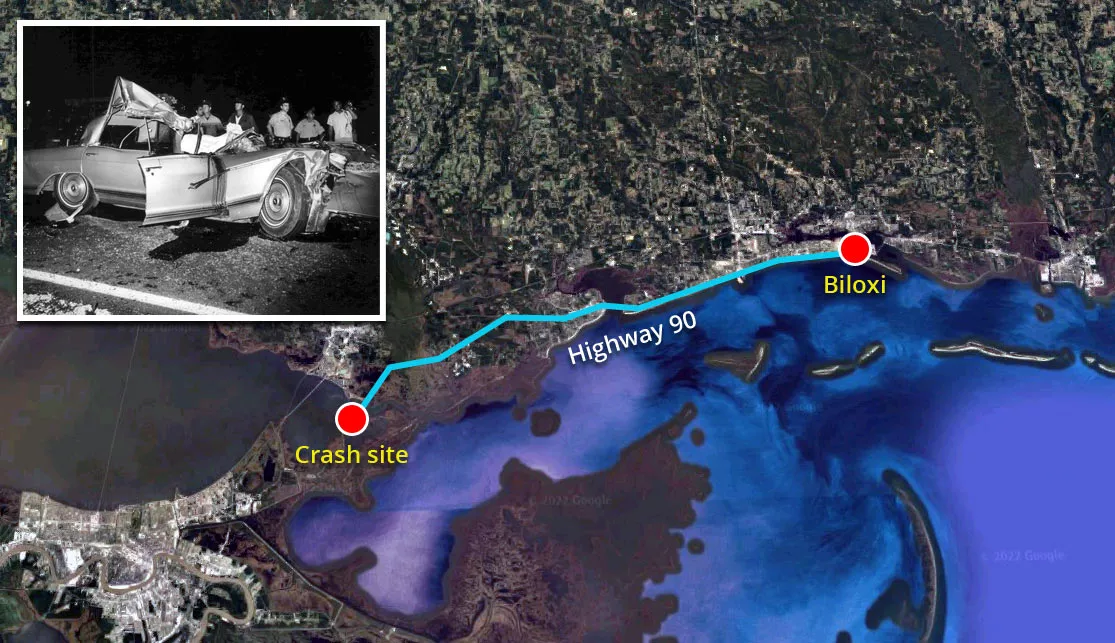 This aerial image shows the route that Mansfield took that night.
Interstate 10 (I-10) didn't exist back in 1967. As a result, they would have had to take the coastal route along Highway 90.
Dead Man's Curve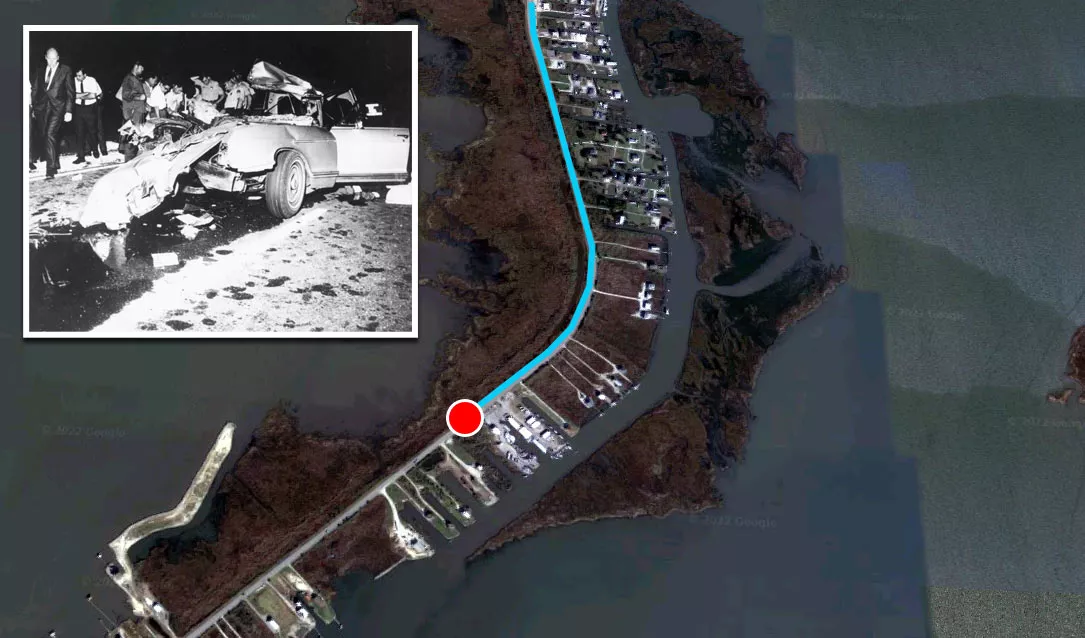 In this aerial image, you can see that there is a large "Dead Man's Curve" in the road. To make matters even worse, it was dark and foggy at the time.
When Harrison came around the bend, he had roughly 6-8 seconds before impact.
Because of his speed and poor visibility, it is likely that he had very little time to react. Due to the time (2:25 a.m.), it is also possible that he was feeling tired.
Judging by the impact, it seems as though Harrison didn't see the truck until it was far too late.
Street View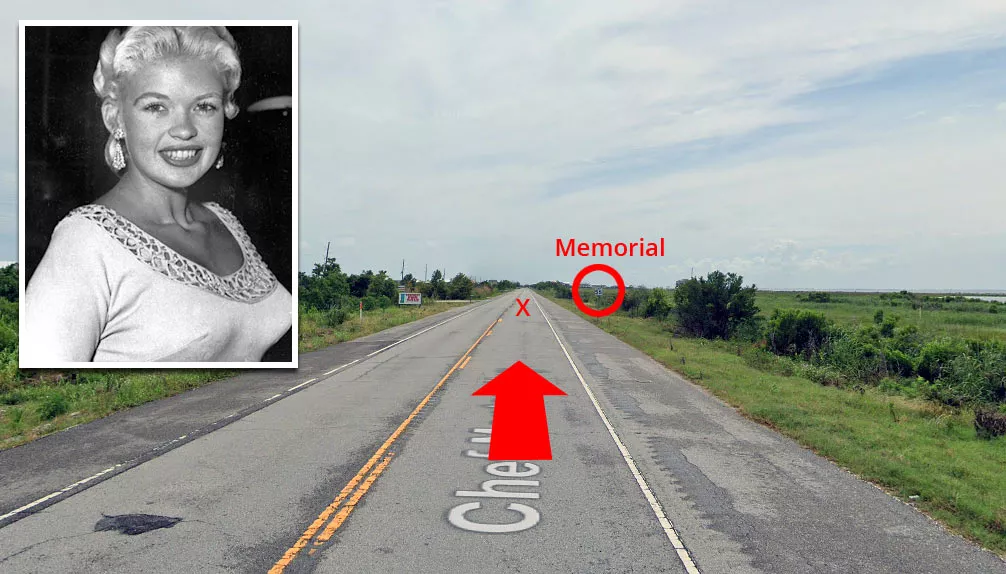 This Google Street View image shows what the road would have looked like from Mansfield's driver's perspective.
At the time of the crash, they were heading south on Highway 90 (Chef Menteur Highway).
The X marks the spot where the Buick collided into the back of the trailer. We have circled the memorial site in red.
Old memorial site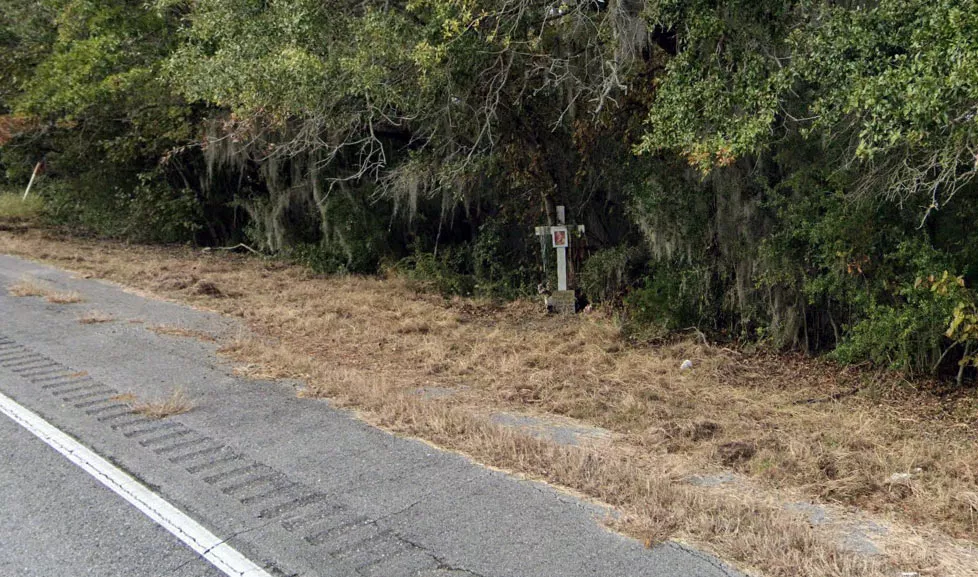 Originally, the memorial site was situated at this location, which is five miles south.
However, it was moved in 2019 after a local historian researched the police files for the accident and discovered that it was incorrect.
Unfortunately, this means that anyone who made the pilgrimage to Mansfield's death location in the past ended up visiting the wrong place.
Coordinates: 30.090525, -89.781553
Correct location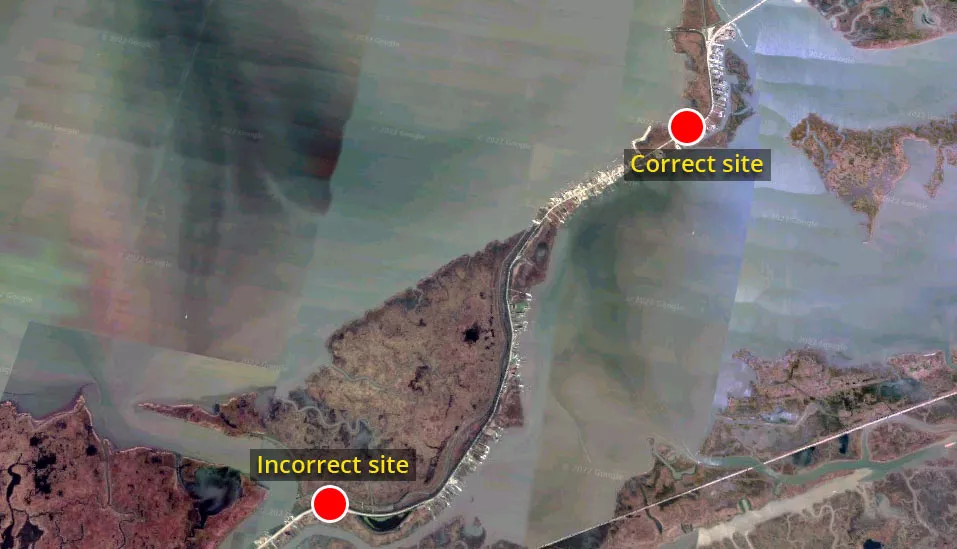 As you can see, there is a sizable distance between these two locations.
The most likely explanation for this mistake is that someone incorrectly determined that the accident occurred at the most southerly bend instead of the one that is close to the Rigolets Bridge.
These kinds of "factoids" are extremely common, especially in high-profile cases.
They can form when someone takes another person's theory or assumption and passes it on as fact. This "factoid" is then repeated by others until it eventually becomes an accepted truth.
Visualize
There is more than one location associated with this entry. To view all of these places on the same map, you can use the following feature:
This location belongs to the following categories:
Celebrities
Closest Locations
Other locations that are relatively close to this address: Roughly 27 miles away.
Crime Location in New Orleans, Louisiana, United States Roughly 28 miles away.
Crime Location in New Orleans, Louisiana, United States Roughly 96 miles away.
Crime Location in Baton Rouge, Louisiana, United States Roughly 102 miles away.
Crash Site Location in Gillsburg, Mississippi, United States Roughly 139 miles away.
Filming Location in Fairhope, Alabama, United States