Lynyrd Skynyrd's crash site
Crash Site Location in Gillsburg, Mississippi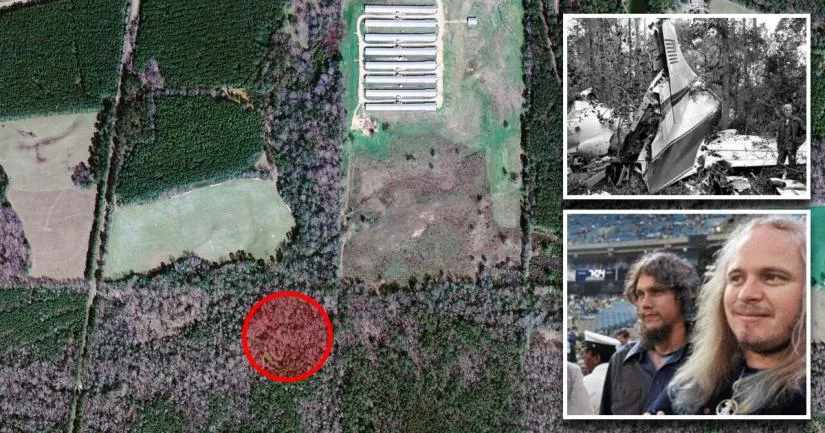 This is the exact location where Lynyrd Skynyrd's plane crashed.
It is situated in a rural, wooded area that is roughly 4.5 miles northeast of Gillsburg, Mississippi.
The crash claimed the lives of lead vocalist Ronnie Van Zant (29), guitarist Steve Gaines (28), and backup singer Cassie Gaines (29). The group's assistant manager, Dean Kilpatrick (28), and two of the pilots were also killed.
On October 20th, 1977, Lynyrd Skynyrd were flying from Greenville, South Carolina, to Baton Rouge, Louisiana, when their chartered aircraft ran out of fuel about 50 miles northeast of their destination.
It is believed that a malfunctioning engine burned through the fuel at a rate that was much higher than normal. It is estimated that this resulted in the premature loss of more than 200 gallons (757 liters) of fuel.
Unfortunately, the pilots' inattention to their fuel levels compounded matters.
By the time they noticed the issue, the plane was flying over a large rural area that was roughly 10 miles away from the closest airport.
Panicked and realizing that they were moments away from losing power, they decided to perform an emergency landing in a nearby open field. However, during the approach, they struggled to maintain altitude.
While they were gliding above the woods, most of the passengers sat frozen in fear as they listened to the sound of branches hitting the exterior of the aircraft. Those who did speak prayed to themselves and hoped for a miracle.
Sadly, the pilots were unable to reach the field.
At exactly 6.52 p.m., the plane struck a tree, broke into pieces, and then tumbled into the swamp area below.
There were six fatalities, including Ronnie Van Zant and Steve Gaines.
Although twenty passengers survived the impact, many of them were left with serious injuries.
Following the accident, rescue workers struggled to reach the crash site, as it was situated in the middle of a muddy and overgrown area that sat beyond a creek.
Later, it emerged that Lynyrd Skynyrd's backup singer, Cassie Gaines, had initially wanted to travel to Baton Rouge on the band's equipment van.
Shortly before the accident, she and some of the other passengers saw flames coming out of the right engine. This malfunction, which is known as "torching", spooked Cassie so much that she was fearful of getting back on the same aircraft.
However, on the day of the flight, Van Zant and some of the other passengers convinced her to get on board.

Further information is available in the "Photos" section below.
Lynyrd Skynyrd crash site location
Below, you will find the address and the GPS coordinates for this location.
Address
P P Wilson Road, Gillsburg, Mississippi, MS 39652, USA
Map
To view directions on how to get there, you can use the Google Maps shortcut below:
GPS coordinates
The latitude and longitude coordinates for the site are:
31.071938, -90.599182
Directions
The aircraft struck a tree that was about 1,660 feet east of P. P. Wilson Road.
Details about the general area
The crash site is situated in Amite County, which is in the south of Mississippi, near the state line with Louisiana. It is close to a small community called Gillsburg.
Private Property Warning
This is a private property. It is not a public place. Therefore, you should be respectful and not step foot on the property without permission.
The land is not accessible to the public. Visitors should go to the memorial site at 7364 Easley Road instead.
Photos
Photos of the site and other related images.
---
Aerial map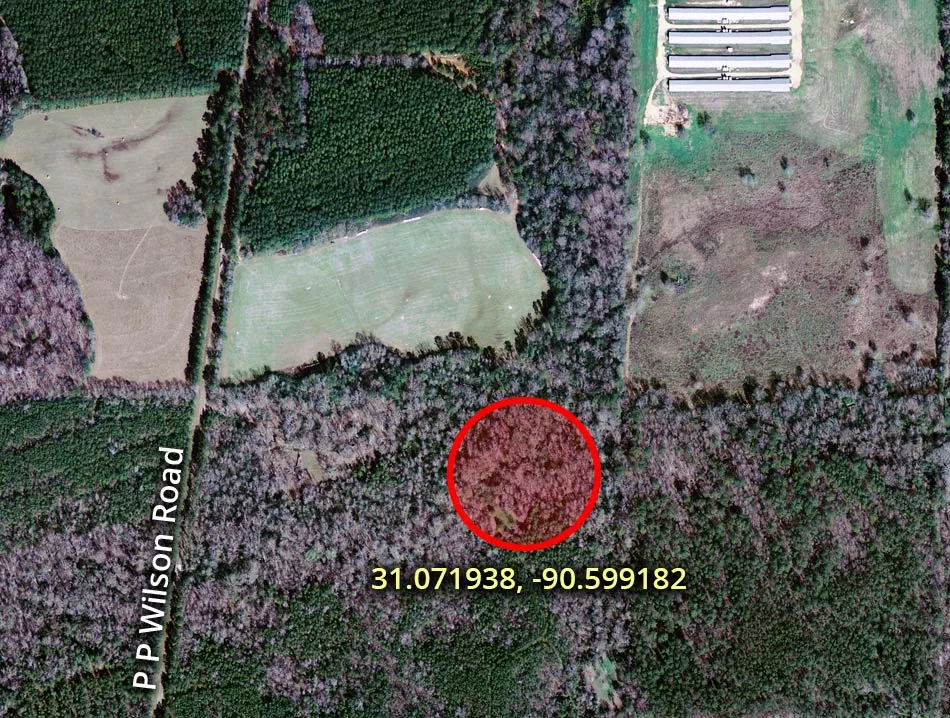 This is an aerial map of the crash site.
Lynyrd Skynyrd's Convair CV-240 airliner crashed into a wooded area that is 1,660 feet east of P. P. Wilson Road.
The site lies to the south of a creek called Easley Branch (not visible in this image).
A number of passengers witnessed flames coming out of the right engine during an earlier flight. These flames were most likely the result of a tailpipe fire (torching). Notably, this condition leads to the expulsion of unburned fuel.
The pilots only seemed to notice the issue after they had flown roughly 90% of their route. Had they been paying attention to their fuel monitors, it is likely that they would have changed their course beforehand.
When they finally realized that they were dangerously low on gas, they turned the aircraft around and attempted to head northeast towards McComb Airport.
However, by that stage, it was already too late.
Consequently, they decided to attempt an emergency landing in the northeast field (top right).
Wreckage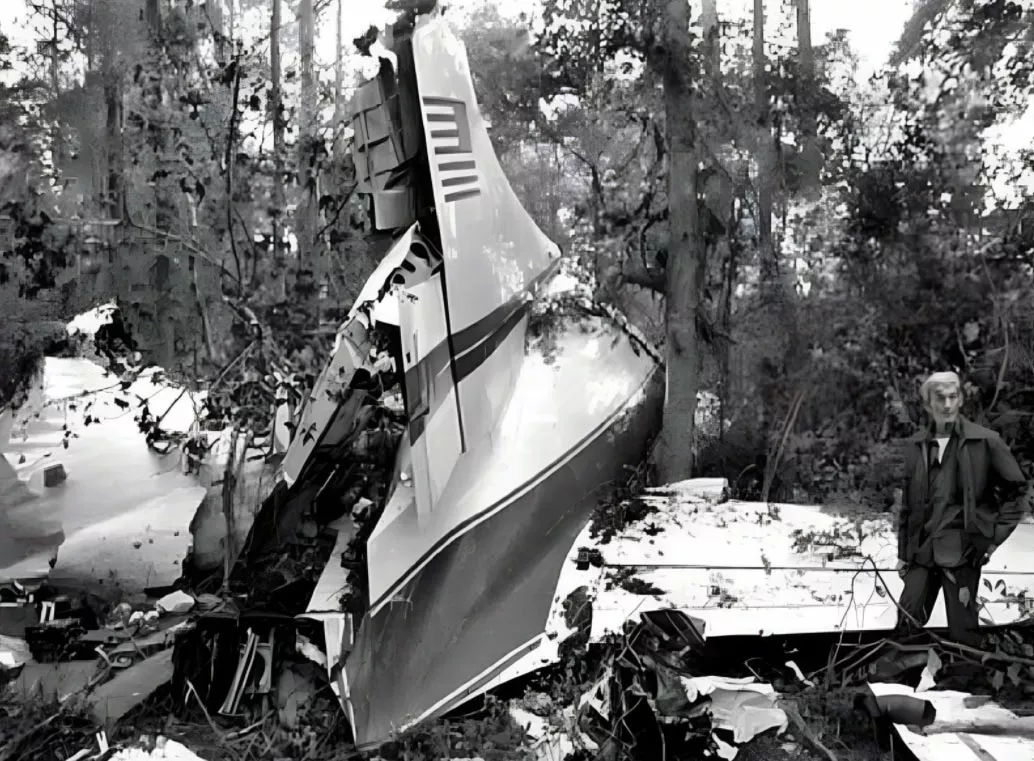 The aircraft broke into pieces after it struck a large tree.
Most of the passengers who survived had been sitting at the back.
Lynyrd Skynyrd memorial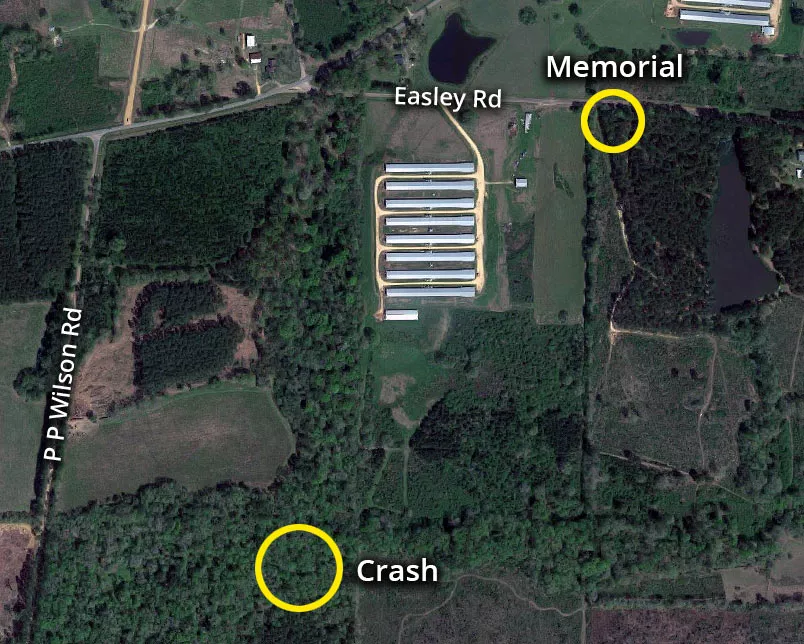 The Lynyrd Skynyrd memorial is situated at 7364 Easley Road, which is roughly 2,700 feet northeast of the crash site.
The aircraft crashed in a swampy, wooded area that sits on private land.
It is not accessible to the public.
The coordinates for the memorial site are available below.
Coordinates: 31.079021, -90.594111
Ronnie Van Zant and Steve Gaines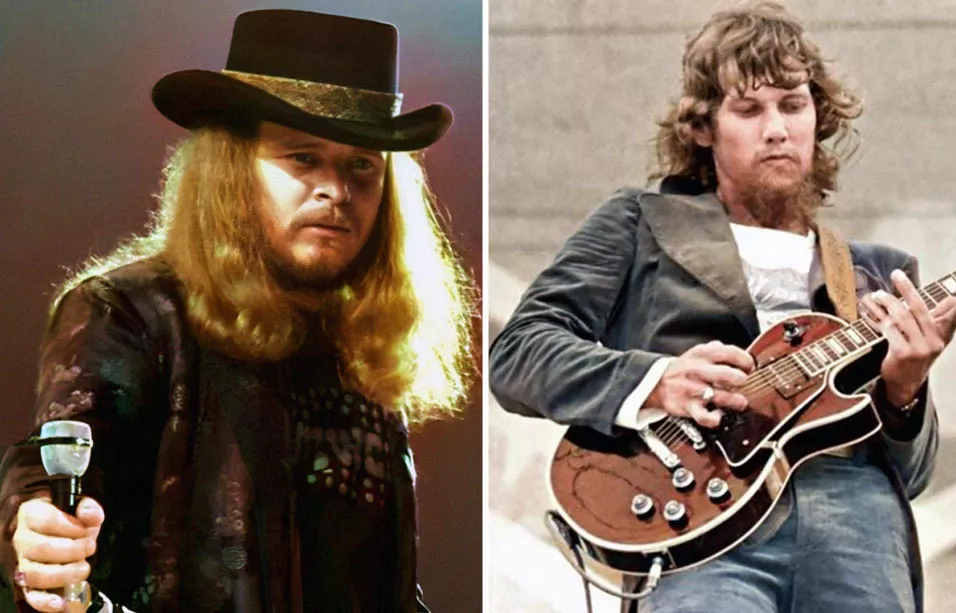 Vocalist Ronnie Van Zant and guitarist Steve Gaine were both killed in the accident.
Following their deaths, the band went on a ten-year hiatus.
In 1987, they reformed under Ronnie's brother, Johnny Van Zant.
Cassie Gaines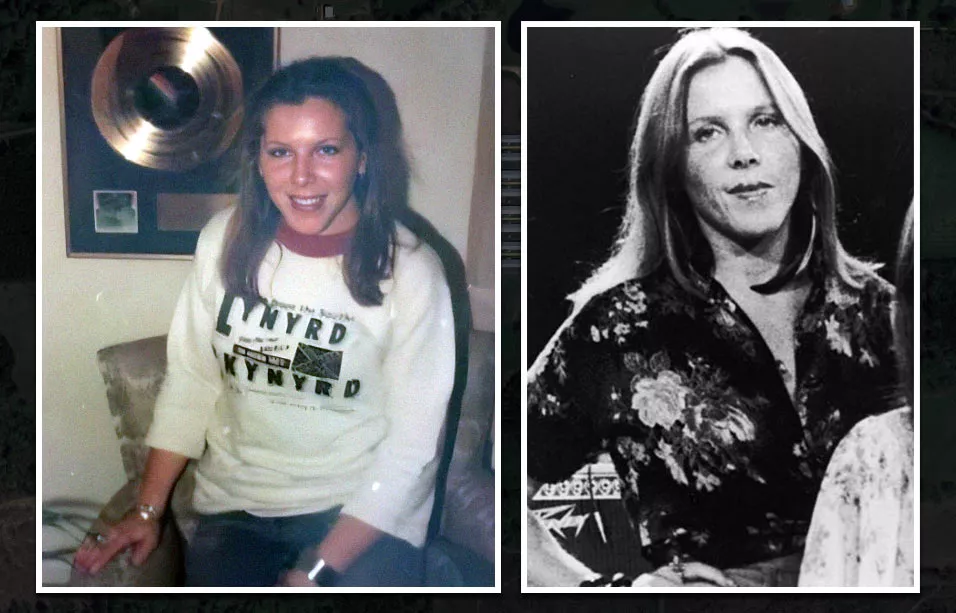 Steve Gaines' older sister, Cassie Gaines, joined Lynyrd Skynyrd in 1975 as a backup singer.
She was extremely hesitant to take the flight to Baton Rouge, as she had previously seen flames coming out of the aircraft's engine.
Instead, she wanted to travel to their next destination on the band's equipment truck.
Gaines eventually agreed to get on board after receiving assurances from Van Zant and some of the other passengers.
During their conversation, Van Zant was reportedly heard telling her, "If it's your time to go, it's your time to go."
Crash route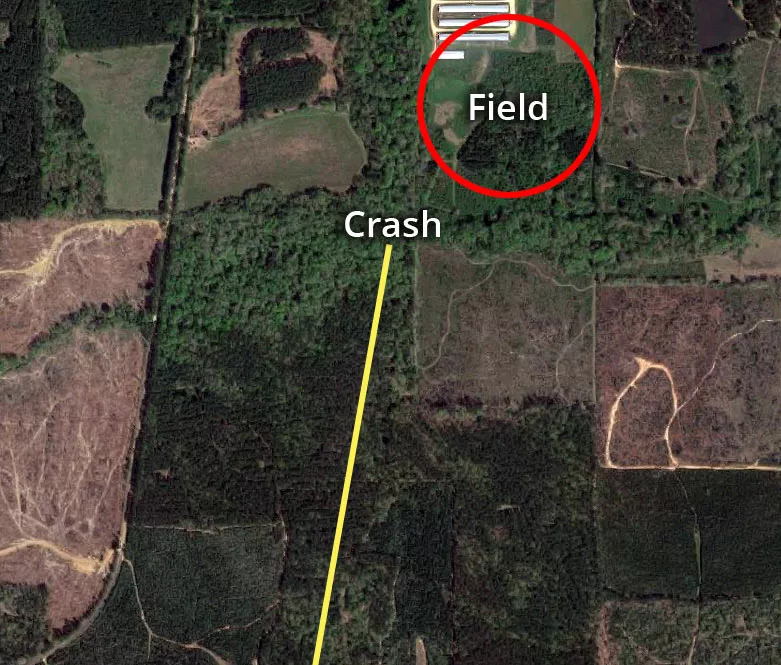 Initially, the plane was heading south, towards Baton Rouge. However, the pilots turned around and started heading north towards McComb Airport after they noticed that they were dangerously low on fuel.
After realizing that they wouldn't make it to McComb, they attempted to carry out an emergency landing in an open field (circled in red).
As they approached the field (yellow line), the aircraft struck the top of the trees, leaving behind a long trail of debris.
Survivors later recalled how it sounded like hundreds of baseball bats were hitting the exterior of the plane.
The final impact occurred when the Convair CV-240 struck a large tree and broke into pieces.
Map Viewer
There is more than one location associated with this entry. To view all of these places on the same map, you can use the following feature:
This location belongs to the following categories:
Celebrities
Closest Locations
Other locations that are relatively close to this address: Roughly 100 miles away.
Crime Location in New Orleans, Louisiana Roughly 102 miles away.
Crash Site Location in New Orleans, Louisiana Roughly 103 miles away.
Crime Location in New Orleans, Louisiana