The house where Helen Hill was murdered
Crime Scene Location in New Orleans, Louisiana, United States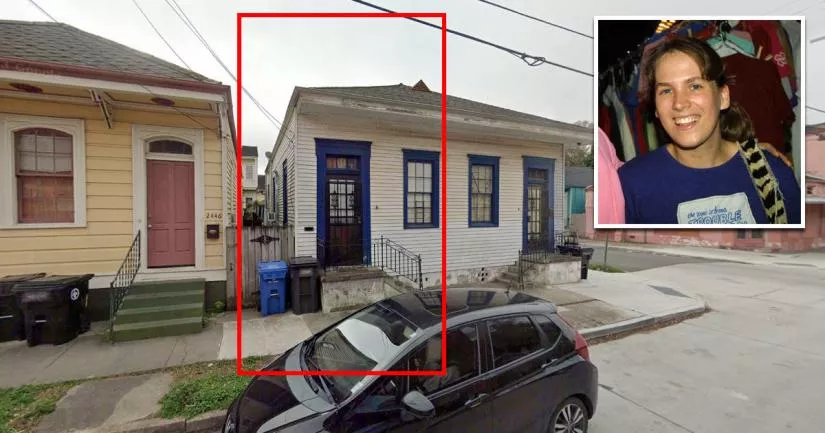 This is the house where Helen Hill was murdered.
It is situated at 2444 North Rampart Street in New Orleans, Louisiana.
Hill was an independent filmmaker, artist, teacher, and peace activist who was killed during a home invasion in the early hours of January 4th, 2007. Her husband, Dr. Paul Gailiunas, was also shot but survived. Their infant son, Francis Pop, was unharmed, as Gailiunas reportedly huddled over him when the gunman opened fire.
At the time of the shooting, Hill was sleeping by herself in the couple's bedroom, as Gailiunas had nodded off in their son's room.
Gailiunas said that he woke up to the sound of his wife screaming, "Don't! Get out! Don't hurt my child!" at someone near the front door.
At first, he thought that Hill was having a bad dream. However, when he exited their son's bedroom, he saw her struggling with a man in the hallway.
When the man shot Hill and pushed her aside, Gailiunas grabbed their son and ran to the bathroom, where he attempted to hide. However, the intruder calmly followed suit and fired several shots at him.
One of the bullets grazed Gailiunas' cheek. The other two cut through his arm and hand.
The attacker reportedly left the house a few minutes later without saying a word or taking anything of value.
By the time Gailiunas found his wife and attempted CPR, it was already too late, as she had died from a bullet wound to the neck.
Gailiunas believes that his wife's murder may be linked to an earlier break-in attempt that occurred in the same neighborhood.
Twenty minutes before the shooting, an unknown man began knocking on a nearby B&B. When the occupant, True Faust-Finnin, got out of bed and partially opened the door, she saw that he was holding a gun.
The man in question mumbled something and then attempted to push his way inside. However, during the struggle, Faust-Finnin and her husband managed to keep him out by using all of their weight to force the door closed.
Following the incident, the startled couple called the police, who arrived within minutes.
At around 5.30 a.m., they were standing in the kitchen of the B&B when they heard the sound of a man wailing. After going outside, they saw Gailiunas.
Although Gailiunas said that the killer had a medium build, he has been unable to offer any other description. During the shooting, he was not wearing his glasses.
The first week of 2007 was a particularly bloody one in New Orleans. In the space of 24 hours, Hill and five other people were shot dead in unrelated incidents. This spate of shootings culminated in thousands of people marching on City Hall to demand an end to the violence. It also led to the formation of a nonprofit organization called "Silence ls Violence", which campaigns for peace in New Orleans.
Sadly, it seems as though there has been little to no movement in Hill's case since 2007.
Her murder remains unsolved to this day.

Further information is available in the "Photos" section below.
Helen Hill death location
Below, you will find the address and the GPS coordinates for this location.
GPS coordinates
The latitude and longitude coordinates for the house are:
29.967699, -90.053026
Map
To view directions on how to get there, you can use the Google Maps shortcut below:
Address
The full address for this location is:
2444 North Rampart Street
New Orleans
Louisiana
LA 70117
United States
Directions
The house is situated in the Marigny district. It is about 120 yards (110 meters) south of the intersection between St. Claude Avenue and Spain Street.
Private Property Warning
This is a private property. It is not a public place. Therefore, you should be respectful and not step foot on the property without permission.
Photos
Photos of the house and other related images.
---
2444 North Rampart Street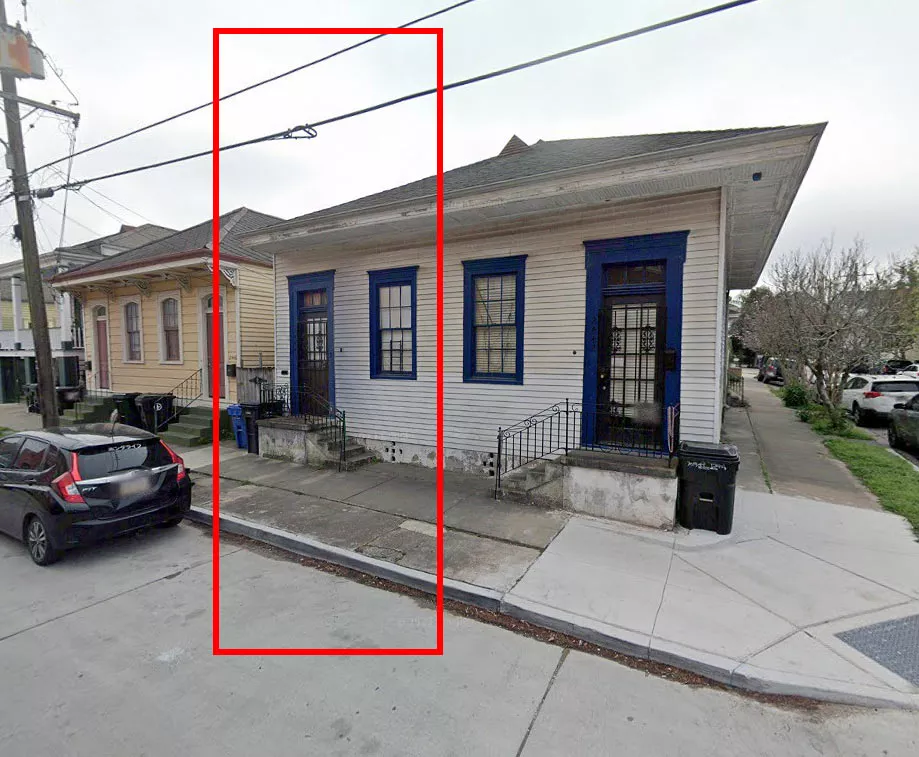 This Google Street View image of 2444 North Rampart Street was taken in March of 2022—roughly 15 years after Helen Hill's murder.
The duplex was built in 1890. It has four bedrooms and is roughly 2,160 square feet in size.
Hill and Gailiunas had been forced to leave New Orleans in 2005 after Hurricane Katrina flooded their home in Mid-City.
For the next year or so, they stayed with family members in Columbus, South Carolina.
Hill yearned to return to New Orleans, which she considered her adoptive home. Her husband, however, wasn't keen on the idea of going back to a city that had been decimated by floods.
In the end, she managed to change his mind by directing all of their mutual friends to send him postcards explaining why they should go back.
The couple moved into this house in August of 2006, which was just four months before her murder.
Gailiunas believes that the intruder may have entered through the back door, as both the front door and gate were locked. At the time, they had a pet pig, which they regularly let out into the back yard at night.
However, Hill was shot at the front of the house, beside the front door. This raises the possibility that she opened the door to her killer.
Cleveland Avenue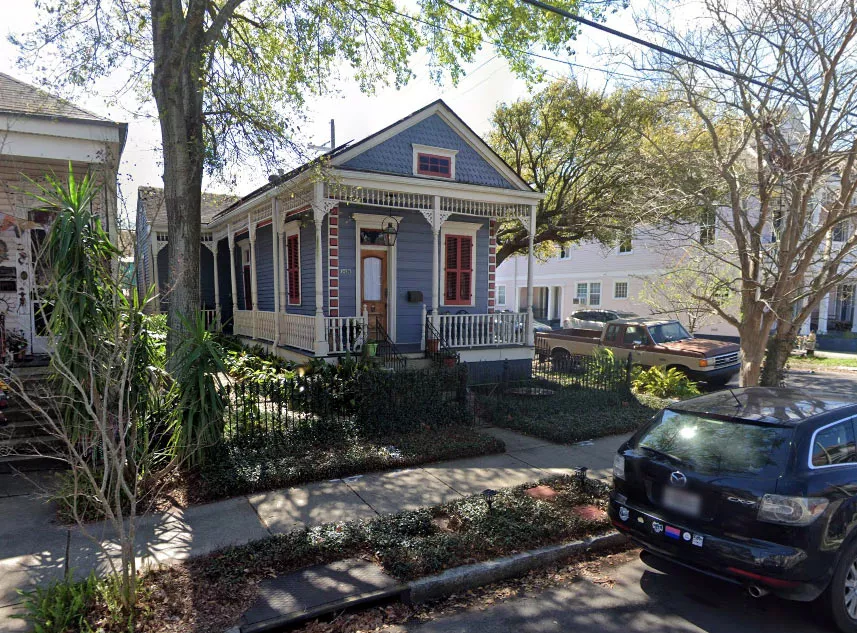 Hill and her husband lived at 3438 Cleveland Avenue Before Hurricane Katrina struck in August of 2005.
The property was abandoned for a number of years following the floods.
In the aftermath of Hill's murder, people converted the porch into a makeshift memorial site.
Coordinates: 29.969743, -90.095959
Helen Hill and Paul Gailiunas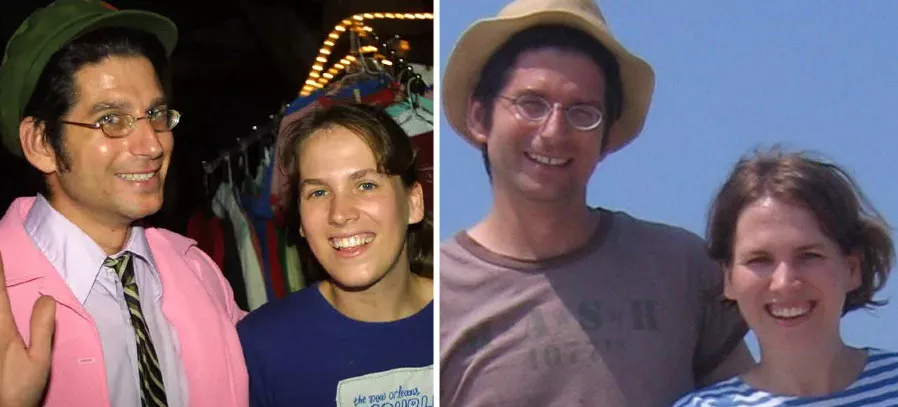 Gailiunas left New Orleans after Hill's death and vowed to never return.
The doctor, who grew up in Edmonton, Canada, currently practices medicine in Pasadena, California.
The couple's son, Francis Pop, is now in his late teens.
The New Orleans Police Department labeled Gailiunas as an uncooperative witness in the aftermath of his wife's death. During an interview with a local news channel, they said that he had become difficult to reach after leaving New Orleans.
However, Gailiunas publicly hit back at this claim, stating that he had made two statements before leaving and that he had also given them several contact numbers.
A spokesperson for the NOPD said that he wasn't a suspect. Later, it was confirmed that detectives had spoken to Gailiunas directly in South Carolina.
Guest house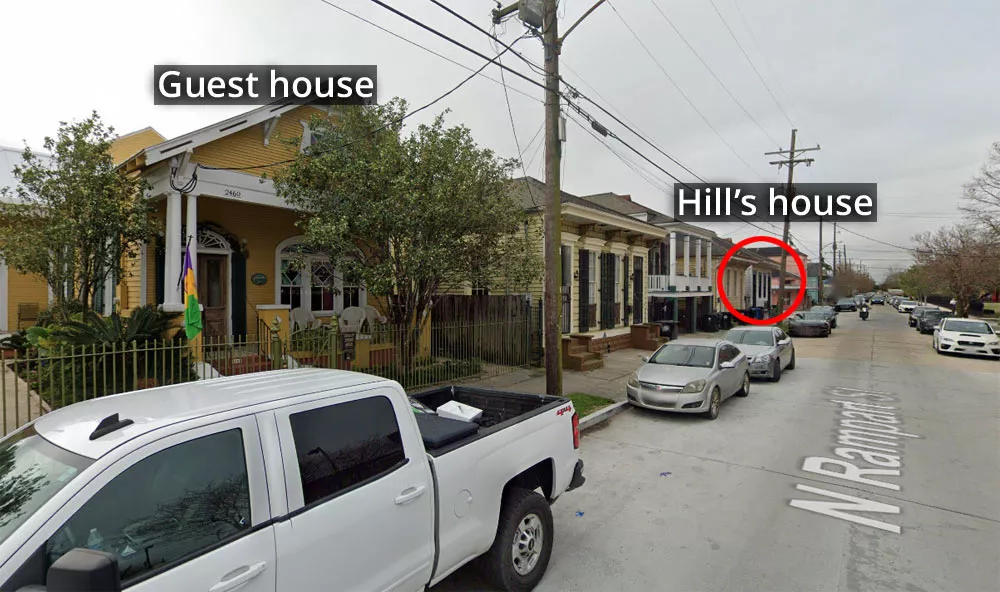 Roughly 20 minutes before the shooting, a gunman reportedly tried to break into a nearby guest house.
The police have not said whether they believe the two incidents are related.
Coordinates: 29.967680, -90.052649
Visualize
There is more than one location associated with this entry. To view all of these places on the same map, you can use the following feature:
Closest Locations
Other locations that are relatively close to this address: Roughly 3 miles away.
Crime Location in New Orleans, Louisiana, United States Roughly 28 miles away.
Crash Site Location in New Orleans, Louisiana, United States Roughly 80 miles away.
Crime Location in Baton Rouge, Louisiana, United States Roughly 103 miles away.
Crash Site Location in Gillsburg, Mississippi, United States