Donna Gail Manson's dorm.
Crime Scene Location in Olympia, Washington, United States.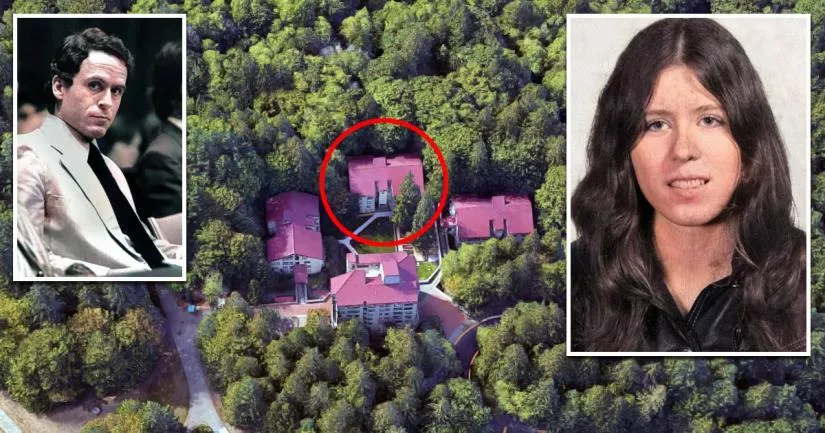 On March 12th, 1974, Donna Gail Manson disappeared after leaving this dorm building on the Evergreen State College campus in Olympia, Washington.
Although serial killer Ted Bundy eventually confessed to murdering the 19-year-old, her remains have never been found.
The disappearance of Donna Manson.
At around 7 p.m. on March 12th, 1974, Donna left her dorm room to attend a folk dancing class at the College Activities Building. After that, she was planning on going to see a jazz concert at the Evergreen library. The concert was due to start at 8 p.m. in the main foyer.
Because no one saw her at either of these locations, it is likely that she never made it that far.
The route in question takes roughly two minutes to walk. Because of the short distance involved, the most likely theory is that Ted Bundy intercepted Donna shortly after she left her dorm building.
For example, Bundy may have approached the young college student and asked her to help him carry something to his car.
Another possibility is that they crossed paths somewhere else. This is because a campus security guard reported seeing Donna multiple times on a nearby road between 8 p.m. and 9:30 p.m. By that stage, the jazz recital would have been in full swing.
Therefore, it is plausible that the 19-year-old was planning on going somewhere else that night. She may have also been sidetracked before she reached her dance class.
It took nearly a week before someone reported her missing.
Donna was a partier who liked to hitchhike and couch surf. She also had a habit of leaving for days at a time. Because of this, it took nearly a week for one of her roommates to report her missing.
By the time the investigation into her disappearance kicked into gear, many students and staff members had already left the campus for spring break. Unfortunately, this meant that the police didn't get the chance to interview a number of key witnesses until the end of March.
As a result, it is likely that many small and seemingly unimportant details were lost to the passage of time.
Confession.
Shortly before his execution in January of 1989, Ted Bundy confessed to the murder of Donna Gail Manson.
During this confession, he told King County detective Robert Keppel that he buried Donna's headless remains at a site on Taylor Mountain. He also made a highly dubious claim that he had reduced the 19-year-old's skull to ashes by burning it in the fireplace of his girlfriend's house.
Sadly, despite two searches of the suspected burial site, investigators were unable to find any trace of Donna's body.
Where was Donna Gail Manson abducted?
Below, you will find the address and the GPS coordinates for this location.
GPS coordinates.
The latitude and longitude coordinates for the dorm are:
47.075477, -122.974575
Map.
To view directions on how to get there, you can use the Google Maps shortcut below:
Address.
The full address for this location is:
4319 Indian Pipe Loop NW
Evergreen State College
Olympia
Washington
WA 98505
United States
Quick facts.
Donna Gail Manson was Bundy's third confirmed victim.
She is still listed as a missing person.
This is the first known case of him abducting someone from a public place. During his previous attacks on Karen Sparks and Lynda Ann Healy, he broke into their houses while they were sleeping.
This may have been the first time he successfully used his infamous injury ruse.
This is also the first confirmed case of Bundy targeting someone outside of Seattle.
Shortly before his execution, Bundy claimed that he was so drunk during the attack that he had trouble piecing it together. He also described that night as "blurry", "incoherent" and "nightmarish".
Photos.
Photos of the dorm and other related images.
---
A map of Donna Manson's journey.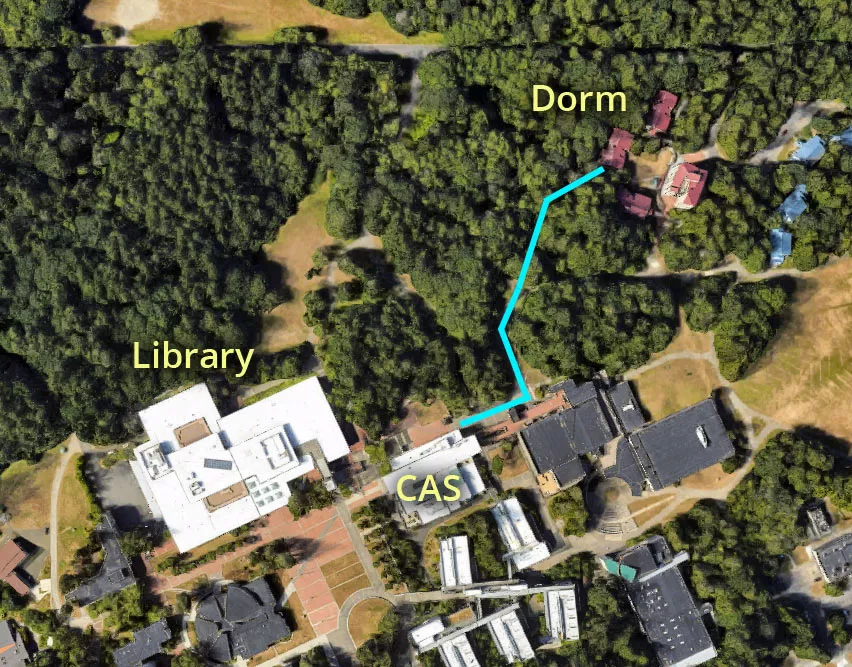 This satellite map shows the most likely route that Donna Manson took while she was walking between her dorm room and the library area. Note that the College Activities Building is the smaller white building on the right side of the library.
The route in question is only 350 yards (320 meters) in length.
Security guard sighting.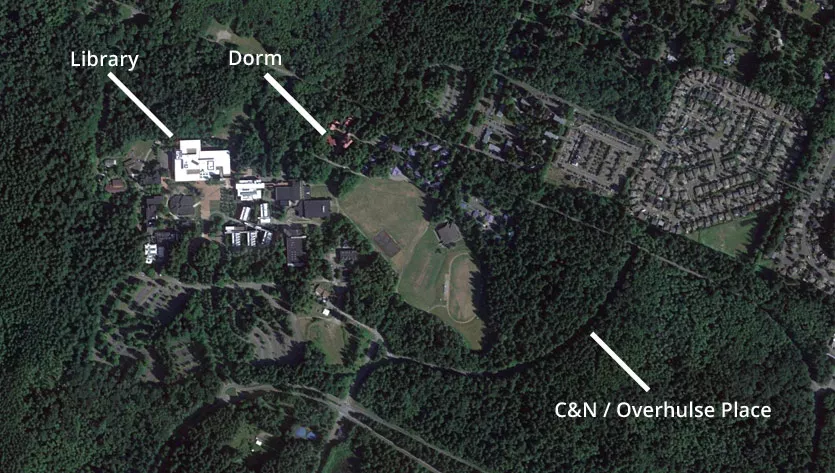 A campus security guard was pretty confident that he saw Donna walking along the C&N road on three separate occasions between 20:00 and 21:30.
According to his statement, she was walking back and forth.
The first time I was driving north on what we call the C&N road at approximately 8:00 p.m. or 8:30 p.m. and I observed her walking south. I went over and checked some buildings in the resident area and about 30 minutes later I observed her walking northward. I went into the security office and about 30 minutes after I had seen her I again went north on the C&N road and again observed her walking southward.
This sighting is credible for two reasons. Firstly, he knew who Donna was because he had seen her around campus in the past. Secondly, his description of her long maxi coat was accurate.
If this security guard wasn't mistaken, then it means that Donna either got sidetracked or she was lying when she told her roommates that she was planning on going to the jazz recital.
Most crime authors have surmised that Donna was approached by Bundy while she was en route to the library area. However, this sighting opens up the possibility that Bundy approached her elsewhere.
Although Donna did not say that she was meeting anyone, her roommates did note that she changed her outfit multiple times and seemed fixated on her appearance.
This, coupled with the fact that she was walking up and down the C&N road suggests that she may have been looking for someone.
Coordinates: 47.074161, -122.964462
Jazz ensemble.

This is an excerpt from the Evergreen State College newsletter. This newsletter was published on March 8, 1974, which was four days before Donna's disappearance.
The concert started at 20:00 in the main foyer of the Evergreen Library.
It is possible that Ted Bundy lured Donna to Parking Lot F.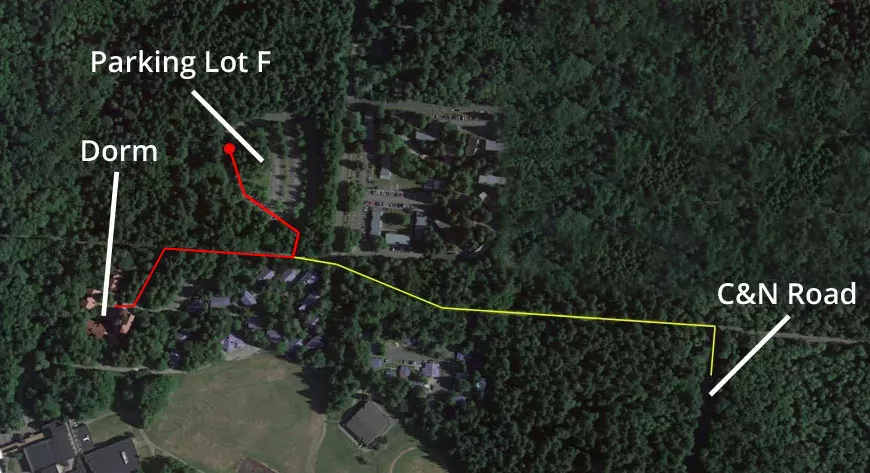 This aerial map shows Donna's dorm, Parking Lot F, and the C&N road that she was seen walking along. Note that we digitally removed the buildings above the C&N road because they did not exist at the time.
During the abductions of Georgann Hawkins and Susan Elaine Rancourt, Bundy strategically parked his Volkswagen Bug in areas that were dark, within walking distance, and slightly off the beaten track.
He typically lured his victims back to his vehicle by feigning an injury and asking them for their assistance in carrying something. Once there, he would wait until his victim's back was turned and then strike them over the head with a crowbar.
This was Bundy's favored M.O. while he was targeting women in Washington.
Bundy liked to park his car close to the location where he was planning on trolling around for a victim. That way, if a woman did fall for one of his ruses, they wouldn't have too far to walk. Not only did this reduce the possibility of him being spotted with the girl, it also gave his target less time to have second thoughts.
If we take all of this into account, then it is difficult to look at this map and not see Parking Lot F as a prime location for such an attack.
1. It provides quick and easy access to the campus. Particularly, the dorm areas.
2. It is slightly off the beaten track.
3. There is a dark area on the western side of the lot that is obscured by trees.
4. Older maps show that it existed in 1974.
Coordinates: 47.077100, -122.972403
3D overview.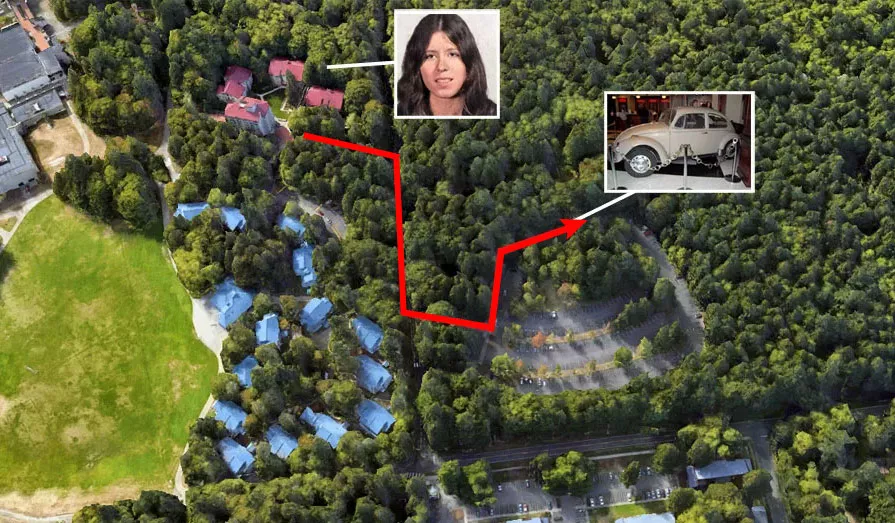 This aerial image illustrates how close Donna Manson's dorm building was to Parking Lot F.
It takes roughly five minutes to walk between these two locations.
The pathway that Donna Manson probably walked along.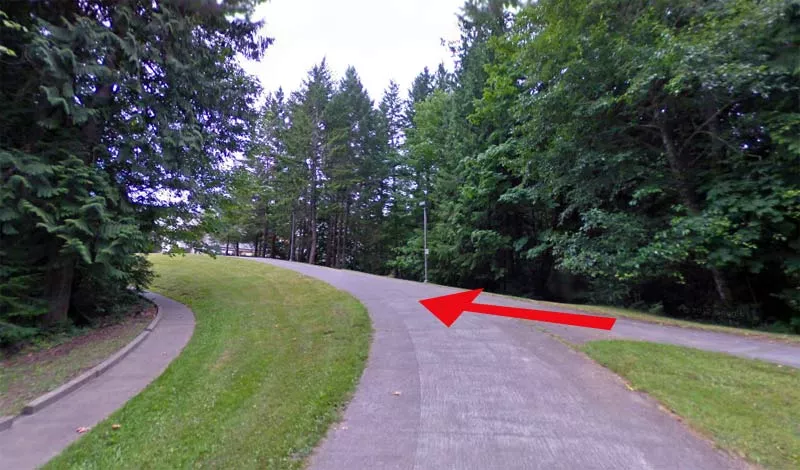 This is a section of the pathway between the dorm building and the library.
The red arrow indicates the direction that Donna would have been walking in.
A number of true-crime authors have posited the theory that Bundy ambushed Donna while she was walking along this pathway and then carried her to his vehicle.
However, there are two problems with this theory.
Firstly, traffic in the area was relatively high that evening because there were three different events occurring on the Evergreen campus. Therefore, it stands to reason that this location was pretty busy at the time.
Secondly, this kind of ambush attack does not square with Bundy's M.O. at the time.
All in all, it seems far more likely that Bundy employed some sort of ruse to trick Donna into accompanying him back to his vehicle.
Coordinates: 47.074641, -122.975345
College Activities Building.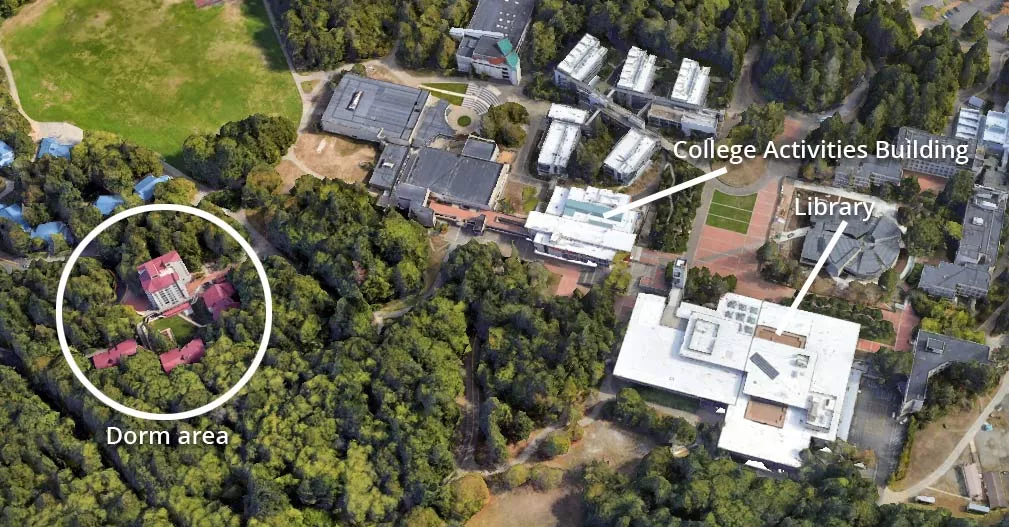 This aerial image shows the College Activities Building and the library. As you can see, they are both beside each other.
Donna was planning on attending a folk dancing class at the College Activities Building. After that, she intended on going to see the jazz recital at the library.
However, she did not attend either.
This means that she was most likely approached while en route to the College Activities Building.
Evergreen State College Campus map.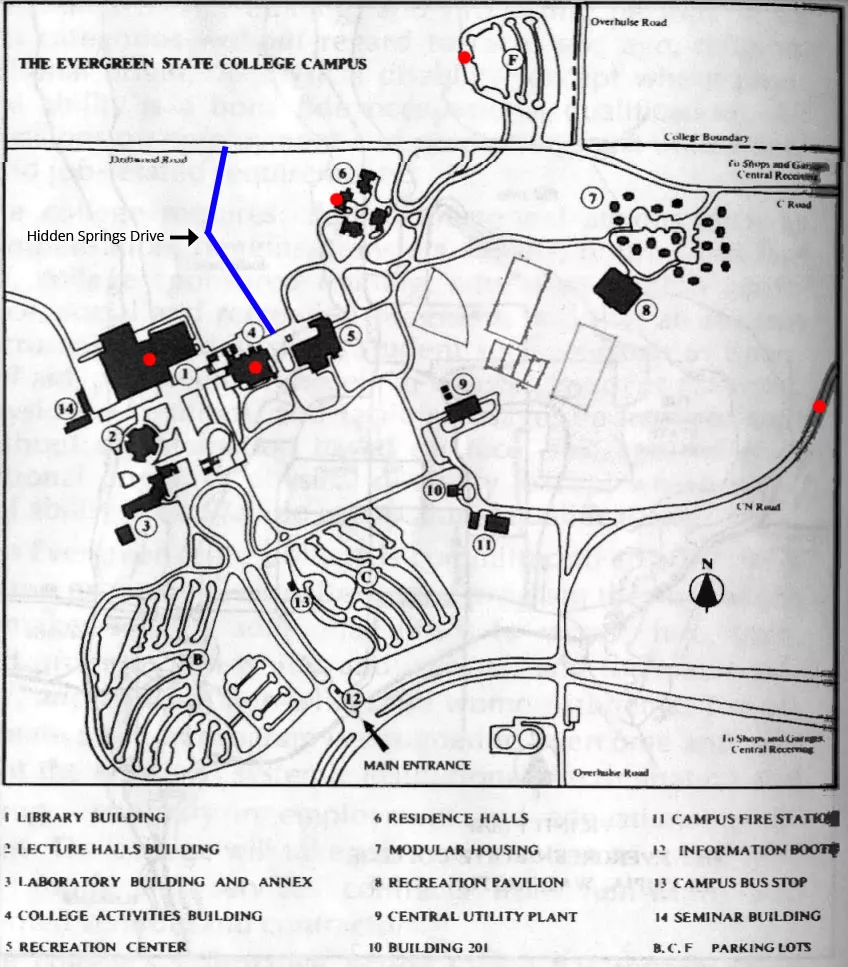 This old map of the Evergreen State College campus is from the 1975–1977 course catalog.
We have marked the relevant locations with red dots.
Note that the "Hidden Springs Drive" road seems to have been omitted from this map. However, earlier maps show that it did exist at the time. To make up for this, we have drawn its approximate path using a blue line.
Ted Bundy often visited Olympia.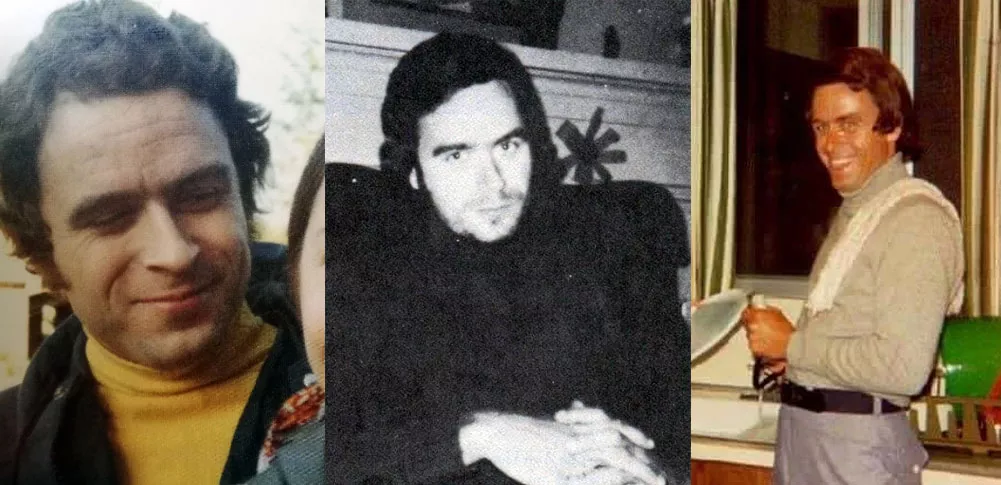 Credit card receipts listed in a multi-agency report show that Ted Bundy visited Olympia at least 25 times in 1973 alone. Therefore, it is likely that he knew the area pretty well.
This falls in line with the theory that most serial killers and rapists tend to operate in areas that they are somewhat familiar with.
Hidden Springs Drive.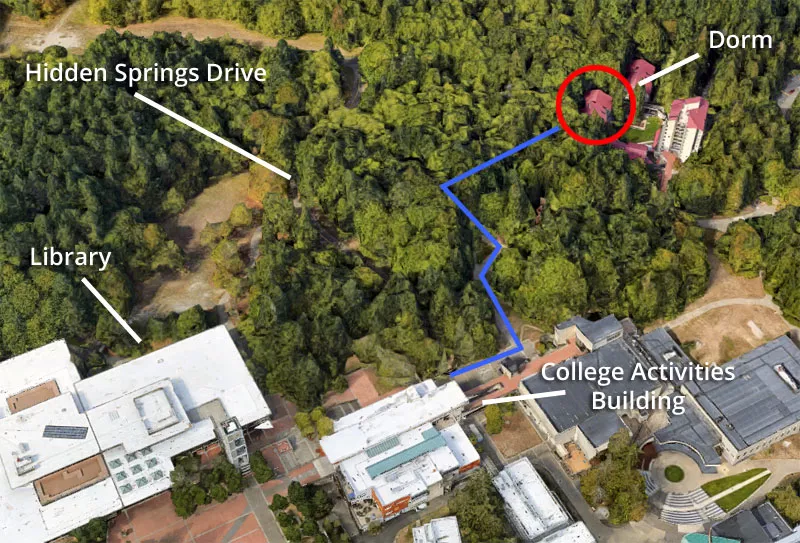 Another theory is that Bundy parked his car on Hidden Springs Drive. This small road connects the area around the library with Driftwood Road to the north. It is also very close to the route that Donna would have taken.
The only problem with this theory is that it seems too close to the library. Due to the level of activity on the Evergreen campus that night, this would have been a very risky spot to carry out an abduction.
Having said that, it would be foolish to rule it out. This is because Bundy often engaged in risky behavior, especially when he was drunk.
Bundy's fireplace story is questionable.

Bundy's story about burning Donna Manson's skull in Liz's fireplace is questionable. It is unlikely that an open fireplace in a house could have reached the minimum temperature that is required to turn bone into ash.
During this part of his confession, he also stated that it was warm outside and that lighting the fireplace was risky on his part because it could have drawn suspicion.
"It's a twist. And it's a lot of work and certainly very risky, under the circumstances. I mean, the kids come home from school and there's a roaring fire in the fireplace and it's warm outside."
However, historical weather data shows that the temperature in Seattle remained pretty cold that week.
The highest recorded temperature that month was 60°F (15.5°C) on March 26th—two weeks after the abduction.
Parents.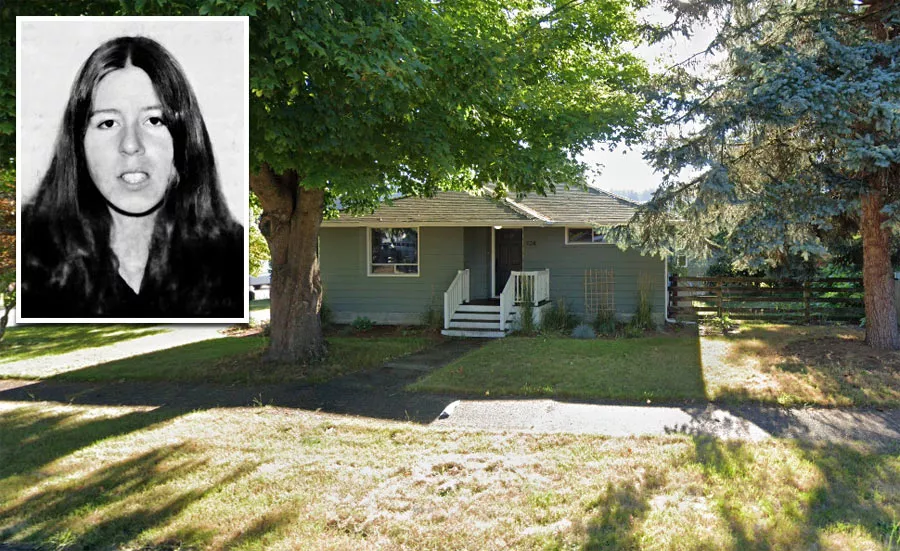 At the time of her disappearance, Donna's parents were living at this house in Auburn.
Her father, Lyle, passed away in December of 2007, following a long battle with Parkinson's disease. Her mother, Marie, died in March of 2014 at the age of 91.
Sadly, they never got the chance to bury their daughter's remains.
Coordinates: 47.309772, -122.210596
Closest locations.
Other locations that are relatively close to this place. Roughly 30 miles away.
Serial Killer House in Tacoma, Washington, United States Roughly 32 miles away.
Serial Killer House in Tacoma, Washington, United States Roughly 33 miles away.
Place of Interest in Tacoma, Washington, United States Roughly 33 miles away.
Crime Location in Tacoma, Washington, United States Roughly 34 miles away.
Serial Killer House in Tacoma, Washington, United States