The location where Nirvana played their first gig
Place of Interest in Tacoma, Washington, United States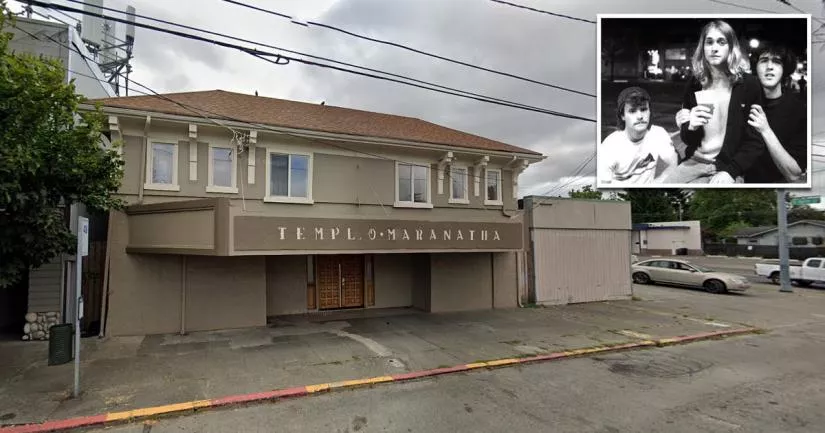 This is the location where Nirvana played their first gig.
It is situated at 5441 South M Street in Tacoma, Washington.
Back then, it was known as the Community World Theater. These days, it is the home of a Christian church called Templo Maranatha.
The gig took place on Saturday, March 19th, 1988.
Although the band had previously played together under names such as Skid Row, Pen Cap Chew, Bliss, and Ted Ed Fred, this was their first live performance as Nirvana.
At the time, Dave Foster was on drums. During its formative years, the band went through a string of drummers until Dave Grohl finally joined in 1990.
Notably, this wasn't their first time at the Community World Theater, as they had played at the venue on five occasions between April 18th, 1987, and March 19th, 1988.
Nirvana's set lasted an hour and included songs such as Love Buzz, Big Cheese, Floyd The Barber, and Aero Zeppelin. Two bands called Lush and Vampire Lezbos also performed that night.
The cost of entry was $5. However, the poster for the gig claimed that attendees could lower their ticket price by bringing cans of food.
Because they were playing as Nirvana for the first time, the flyer also listed all their previous band names.

Further information is available in the "Photos" section below.
Community World Theater location
Below, you will find the address and the GPS coordinates for this location.
GPS coordinates
The latitude and longitude coordinates for the theater are:
47.206755, -122.450845
Map
To view directions on how to get there, you can use the Google Maps shortcut below:
Address
The full address for this location is:
5441 S M Street
Tacoma
Washington
WA 98408
United States
Directions
The theater is about 120 feet north of the intersection between South 56th Street and S M Street.
Details about the general area
It is situated in the South End of Tacoma, roughly half a mile north of Wapato Park.
Private Property Warning
This is a private property. It is not a public place. Therefore, you should be respectful and not step foot on the property without permission.
Photos
Photos of the theater and other related images.
---
Community World Theater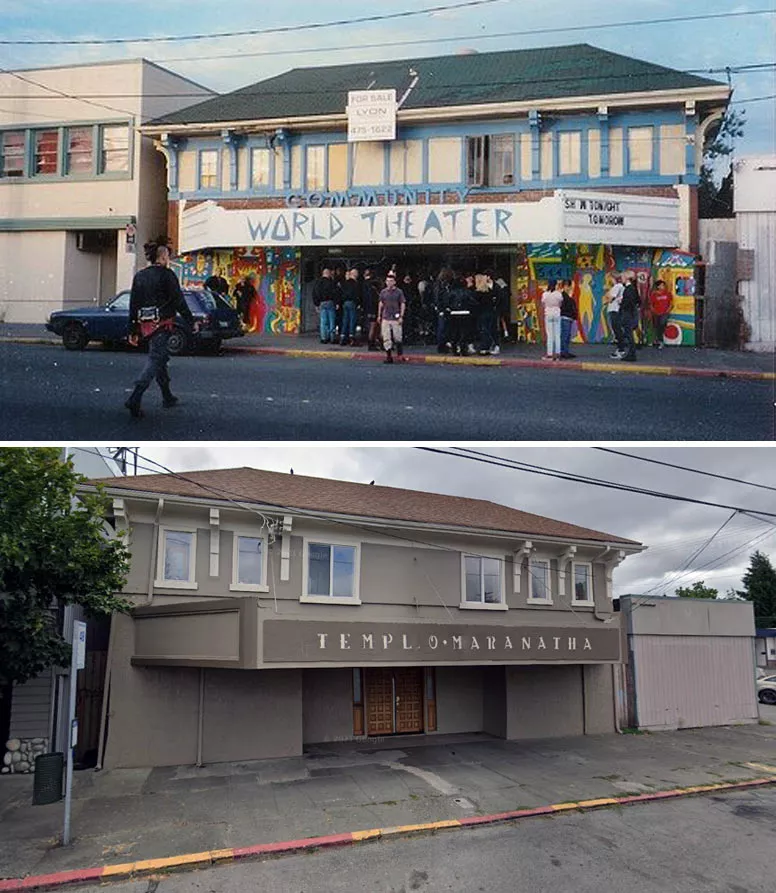 This is a "then and now" image of the Community World Theater, which was a popular venue for punk, rock, and heavy metal bands.
The photograph at the top was taken in the late 1980s. The Google Street View image at the bottom is from August of 2021.
The building was owned by Alex Mushkin, who leased it to Jim May.
Previously, the building was an adult movie theater. However, May converted it into a rock venue after he began leasing it in early 1987.
The first show took place on February 14th, 1987.
Nirvana played their first gig at the venue on Saturday, April 18th, 1987. At the time, they were performing under the name Skid Row.
The Community World Theater only lasted for about 18 months.
It hosted its final show on June 28th, 1988. On that occasion, more than 700 people crammed into the venue to watch a band called the Circle Jerks. Unfortunately, this show proved to be its downfall, as its maximum occupancy was 222.
Mushkin immediately cancelled May's lease after the large crowd attracted the attention of the local fire marshal. There was also considerable pressure from locals, who weren't too fond of the influx of punk rockers with mohawks and leather jackets.
According to Mushkin, the attendees regularly vandalized the local neighborhood and left behind litter. A local business owner also accused the theater's patrons of jumping on cars and slashing tires.
Despite these claims, a spokesperson for the Tacoma Police Department stated that he knew of "little negative activity" at the Community World Theater.
Templo Maranatha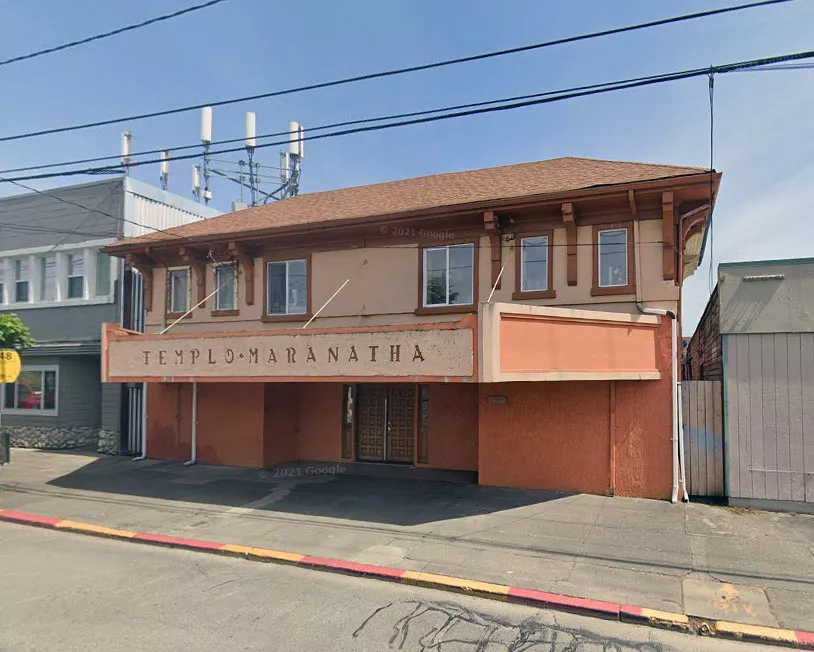 Image source: Google Maps
Judging by Google Maps, 5441 South M Street has been the home of Templo Maranatha for quite some time, as it is visible in Street View images from 2007.
Nirvana in 1988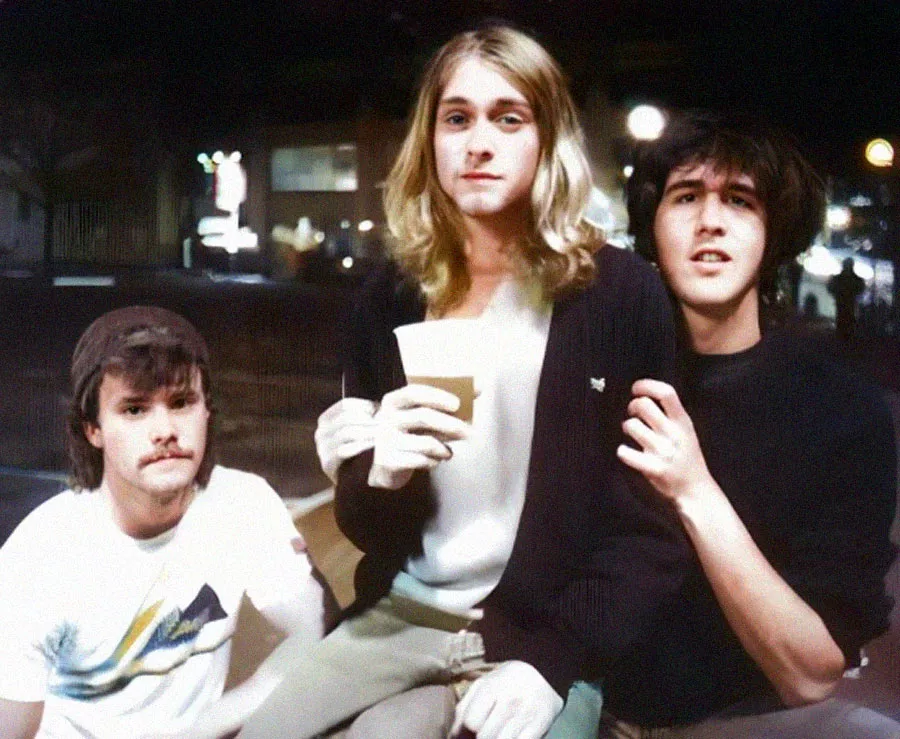 On March 19th, 1988, Nirvana's members consisted of Kurt Cobain (center), Krist Novoselic (right), and Dave Foster (left).
Foster was replaced by another drummer named Chad Channing later that year.
Judging by a letter that Cobain wrote but never sent, Foster wasn't able to practice enough due to work commitments and the lengthy drive from Aberdeen to Tacoma. He also felt as though Foster wasn't "compatible" with him and Novoselic:
"Most importantly we can relate to him [Chad]. Let's face it, you are from a totally different culture. Our hobbies and interests are different."
Foster dressed differently and often got into fights, which didn't exactly gel with Cobain's peaceful nature.
This location belongs to the following categories:
Celebrities
Closest Locations
Other locations that are relatively close to this address: Roughly 3 miles away.
Place of Interest in Tacoma, Washington, United States Roughly 3 miles away.
Serial Killer House in Tacoma, Washington, United States Roughly 4 miles away.
Serial Killer House in Tacoma, Washington, United States Roughly 4 miles away.
Crime Location in Parkland, Washington, United States Roughly 5 miles away.
Crime Location in Tacoma, Washington, United States