Ted Bundy's childhood home.
Serial Killer House in Tacoma, Washington, United States.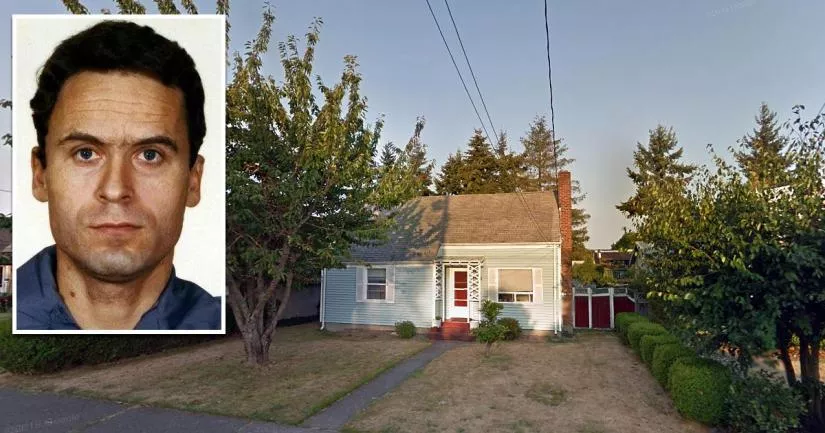 This is Ted Bundy's childhood home.
It is situated at 658 North Skyline Drive in Tacoma, Washington.
During the 1950s and 1960s, he spent most of his childhood and teenage years living at this location.
In 1953, his family left their home on South Sheridan Avenue and moved into this house in Tacoma's West End.
At the time, Ted was six or seven years old. For the next thirteen years, he lived at this address with his mother, stepfather, and four half-siblings.
Bundy roamed around this neighborhood as a teenager.
During interviews with Hugh Aynesworth and Stephen Michaud, Bundy admitted to roaming around this neighborhood and searching through people's trashcans for detective magazines and photographs of naked women.
He also told them that he was a "Peeping Tom" who liked to sneak out of his house late at night and "creep around in the darkness."
In his mid-to-late teens, he spent a lot of time prowling around North Skyline Drive and the surrounding streets. At that stage in his development, it is likely that he was looking for open windows to peer through.
He was also on the lookout for things to steal.
Shortly before his execution, Bundy told a psychiatrist about some of the autoerotic activities that he engaged in when he was just 13 years old. According to Bundy, he liked to go into the woods at the back of his house, take off his clothes, and then run around.
Strange events.
In 2017, the property was purchased by a man called David Truong, who planned on remodeling it and then "flipping" it. It was only after Truong bought the house that he discovered who used to live in it.
During the remodeling work, the contractors experienced a number of strange events. These events spooked the contractors so much that pastors were called to the house to bless it.
Ann Marie Burr.
Although Bundy's first confirmed murder did not occur until 1974, he is considered to be a suspect in the 1961 disappearance of 8-year-old Ann Marie Burr.
Burr lived at 3009 N 14th Street, which is about 5 miles from Bundy's childhood home on North Skyline Drive. Bundy, who was 14 years old at the time, worked as a paperboy in the area. Furthermore, police found a footprint outside of Burr's window that fit the profile of a teenager.
It is also worth noting that Burr's house is close to where Ted previously lived.
Silas High School.
During his time in Tacoma, Bundy attended Woodrow Wilson High School. This school is less than 2 miles away from the Burr residence in North End.
In February of 2021, the school changed its name to Dr. Dolores Silas High School.
Bundy's family sold this house in 1968.
Bundy lived on North Skyline Drive up until September of 1966, when he moved to the McMahon Hall dormitory building at the University of Washington campus in Seattle. Two years later, in 1968, his parents sold this house and moved to 3214 N 20th Street.
Where was Ted Bundy's childhood home?
Below, you will find the address and the GPS coordinates for this location.
GPS coordinates.
The latitude and longitude coordinates for the house are:
47.257810, -122.531586
Map.
To view directions on how to get there, you can use the Google Maps shortcut below:
Address.
The full address for this location is:
658 N Skyline Dr
Tacoma
Washington
WA 98406
United States
Details about the general area.
North Skyline Drive is located in the West End area of Tacoma. It is a stone's throw away from the War Memorial Park and Highway 16. It is also relatively close to places such as Tacoma Community College and Titlow Beach.
Private property warning.
This is a private property. It is not a public place. Therefore, you should be respectful and not step foot on the property without permission.
Additional information.
This is a private house. Please do not trespass on the yard or make your presence felt.
Trivia about the house.
The house was built in 1946 by Charles and Pauline Kelly.
It currently has 4 bedrooms and 2 bathrooms.
The contractors who did remodeling work on the house in 2017 stated that writing kept appearing in dust on the floor. They also said that furniture fell over on a number of occasions. Following the weird happenings, the house was blessed by two pastors.
The house itself is 1,431 sqft in size. That's about 0.0133 in hectares.
The entire lot is 6,969 sqft in size.
According to the real estate website Zillow, the property was worth over $500,000 in 2021.
In 2017, it sold for $334,700.
The house was also renovated back in 1996. This means that interior probably looks a lot different than it did when Ted Bundy lived there.
Photos.
Photos of the house and other related images.
---
Inside Ted Bundy's childhood home in Tacoma.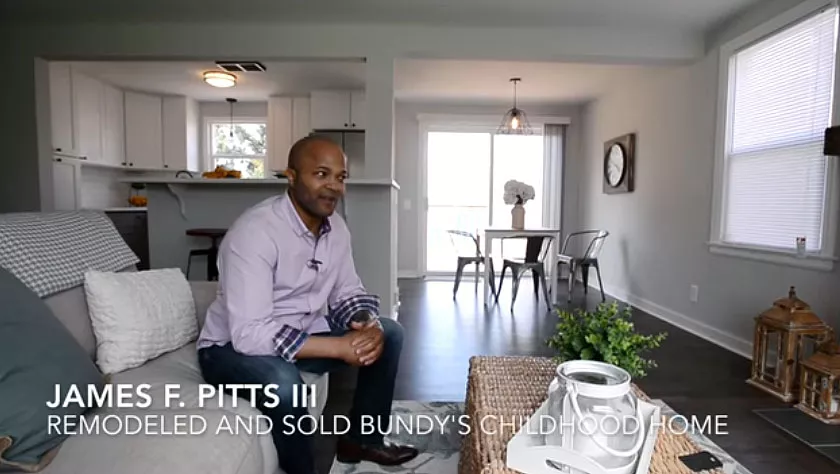 Real estate broker James Pitts III shows off the living room, which was remodeled in 2017.
2012.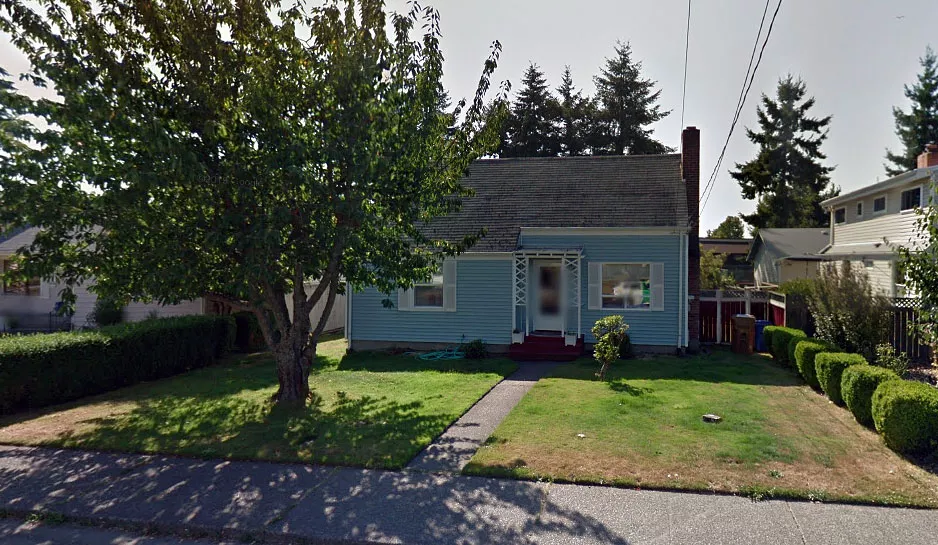 This Google Street View image of the outside of the house was taken in August of 2012.
The yard.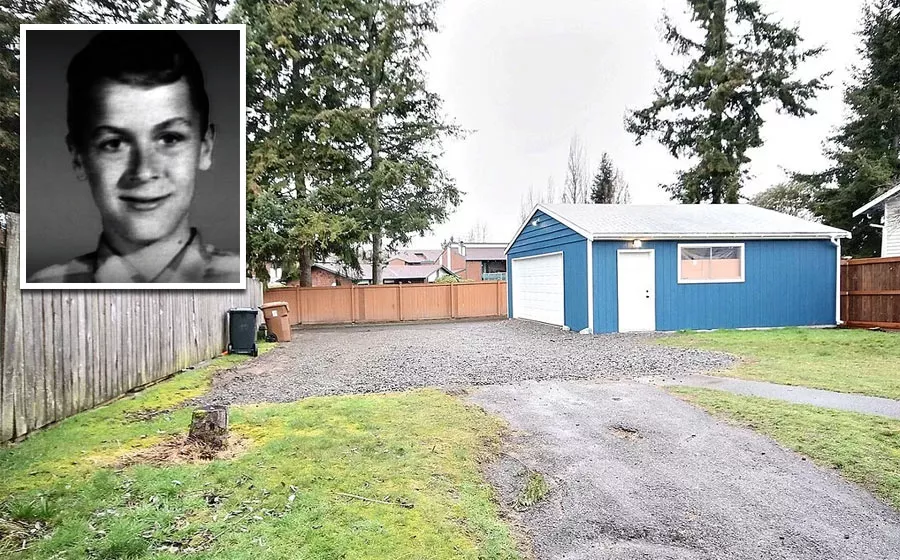 This is the yard that Bundy would have played in as a kid.
A 2015 photograph of the yard.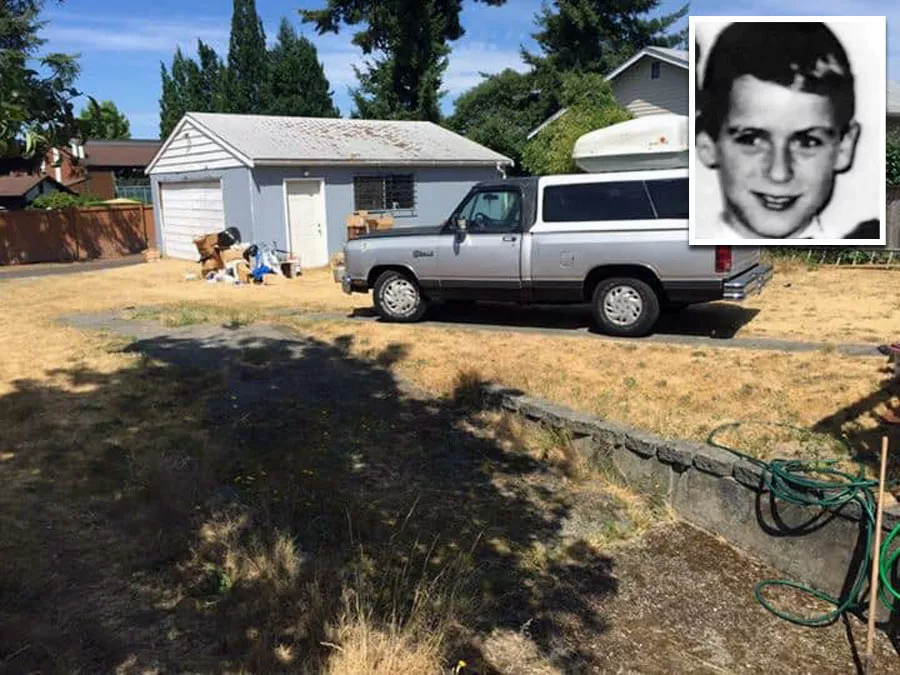 This photograph of the back yard was taken by author Kevin M. Sullivan in 2015.
Childhood photo.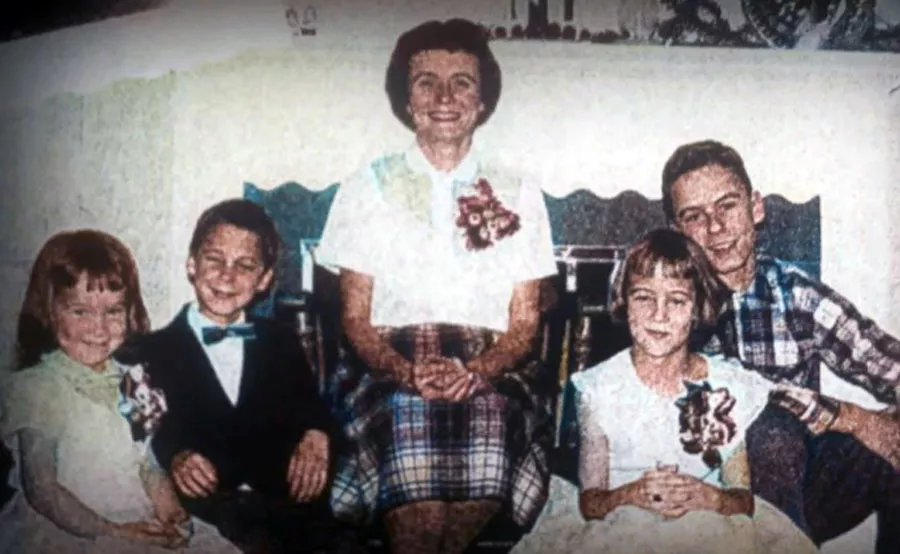 A photo of Bundy sitting with his family in his childhood home.
Basement.
This is what the basement looked like before it was refurbished.
Louise and Johnny Culpepper Bundy.
This is a colorized photograph of Ted's mother, Louise, and his adoptive father, Johnny Culpepper Bundy.
Ted did not get along with his stepfather and would often try to provoke him into confrontations. He also told friends that his stepfather wasn't bright and that he resented him for not being wealthy.
From the side.
The house from the side.
Looking out from the inside.
From the living room window, looking out onto North Skyline Drive.
Ted Bundy's bedroom.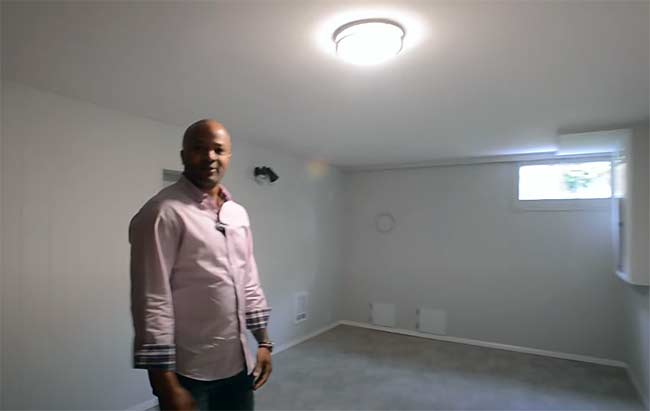 Real estate broker James Pitts III stands in Ted Bundy's childhood bedroom. Judging by the small window in the top-right corner, his room was located in the basement of the house.
The living room.
This is a photograph of the living room before it was remodeled.
Note that the house was also renovated in 1996. Therefore, we cannot assume that this is what it looked like when Ted lived here.
His family sold the property back in 1968, which was over 50 years ago. It is extremely likely that this room has seen a number of changes over the years.
Aerial photograph.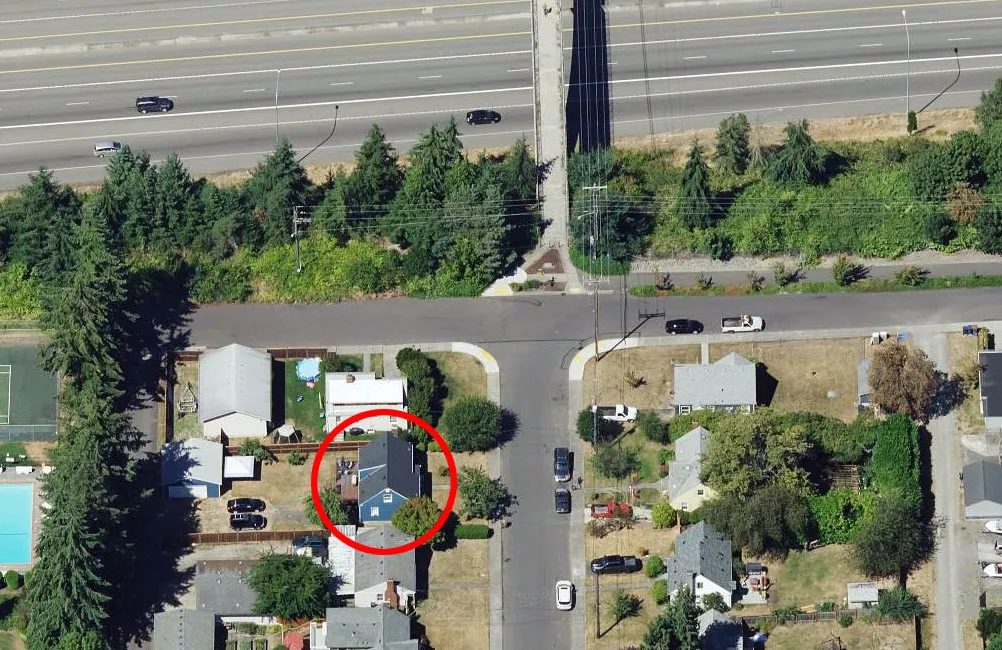 This is an aerial photograph of the neighborhood. Highway 16 is visible at the top. You can also see the footbridge over the highway.
North Skyline Drive.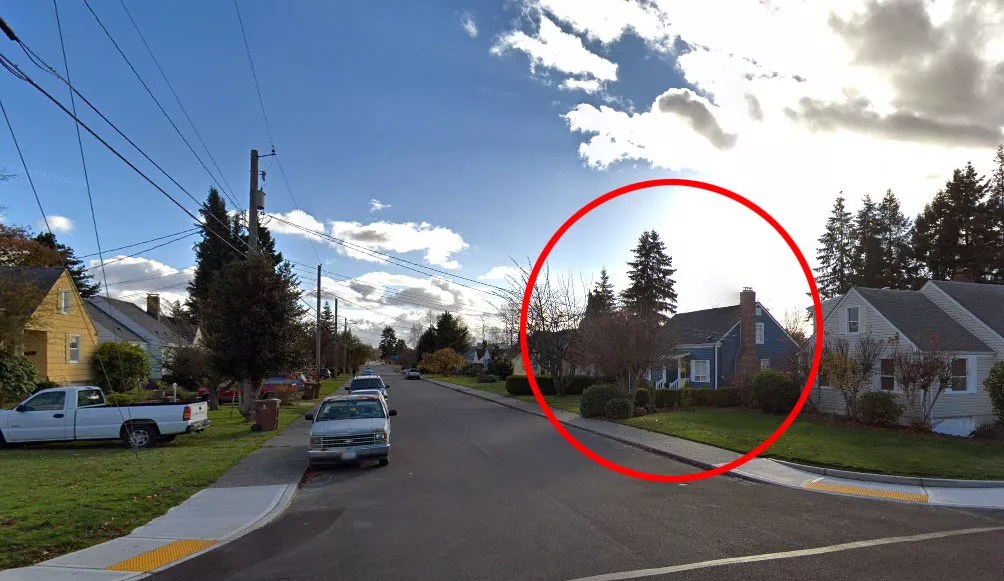 This is a Google Street View image of North Skyline Drive, where Bundy lived as a teenager. The house, with its red-brick chimney, is visible over on the right.
3214 North 20th St.
After selling their house in 1968, the Bundy family moved to 3214 North 20th St in the North End area of Tacoma. This house is close to the University of Puget Sound, which is where Ted studied Chinese for a year after he graduated from high school.
Closest locations.
Other locations that are relatively close to this place. Roughly 3 miles away.
Place of Interest in Tacoma, Washington, United States Roughly 3 miles away.
Serial Killer House in Tacoma, Washington, United States Roughly 3 miles away.
Crime Location in Tacoma, Washington, United States Roughly 4 miles away.
Serial Killer House in Tacoma, Washington, United States Roughly 9 miles away.
Crime Location in Parkland, Washington, United States