The site where Jessica Taylor was found.
Crime Scene Location in Manorville, New York, United States.
On July 26th, 2003, a dog walker discovered the naked torso of Jessica Taylor at the end of this paved access road in Manorville, New York.
The decomposed remains of the 20-year-old sex worker were found lying on a pile of tree branches and scrap wood.
Because her body was left out in the open, just yards away from the treeline, it seems as though her killer made no effort to hide it.
Jessica is believed to be a victim of the Long Island serial killer (LISK). This access road is just half a mile away from the site where he dumped the torso of another sex worker called Valerie Mack in 2000.
Tattoo.
LISK removed Jessica's head and hands in an attempt to conceal her identity. He also mutilated a tattoo that was on her back.
Fortunately, he was not thorough enough. As a result, the medical examiner's office was able to piece the tattoo back together and release photographs of it.
Shortly afterwards, a detective in Washington, D.C., saw the images and realized that the tattoo might belong to a missing sex worker called Jessica Taylor.
At that stage, the authorities were able to track down members of Jessica's family and confirm her identity using DNA samples.
The rest of Jessica Taylor's remains were discovered at Gilgo Beach.
Nearly eight years later, the bodies of four missing women were uncovered at a roadside near Gilgo Beach. This shocking discovery led to a broad search of the area along Ocean Parkway.
On March 29th, 2011, investigators found a skull and two hands roughly one mile away from where the other four women had been dumped.
Subsequent DNA tests confirmed that the skull belonged to Jessica Taylor.
The discovery of Jessica's skull led investigators to believe that the Long Island serial killer had been operating in both Manorville and Gilgo Beach.
Where was Jessica Taylor found?
Below, you will find the address and the GPS coordinates for this location.
GPS Coordinates.
The GPS coordinates for the site are as follows.
Latitude: 40.878571
Longitude: -72.782271
Map.
Open 40.878571, -72.782271 in Google Maps to view directions on how to get there.
Address.
The full address for this location is:
Halsey Manor Road
Manorville
New York
NY 11949
United States
Directions.
The entrance to the paved access road is just 300 feet north of where Halsey Manor Road crosses over the Long Island Expressway.
Quick facts and other trivia.
A fellow "streetwalker" called Crystal reported Taylor missing in July of 2003.
Jessica regularly bounced between Washington, D.C. and New York.
She was last seen working around the Port Authority Bus Terminal in Manhattan between July 18th and July 22nd. This means that she was probably picked up by LISK on the 22nd or 23rd.
She was 5 ft. 3 tall.
Her tattoo consisted of a red heart with angel wings. Written across it were the words "Remy's angel".
A convicted murderer called John Bittrolff is one of the prime suspects in the Long Island serial killer case. At the time of the murder, he was living roughly three miles away from this site.
Jessica had a purple and silver floral decal on one of her toenails.
Photos.
Photos of the site and other related images.
---
Aerial image.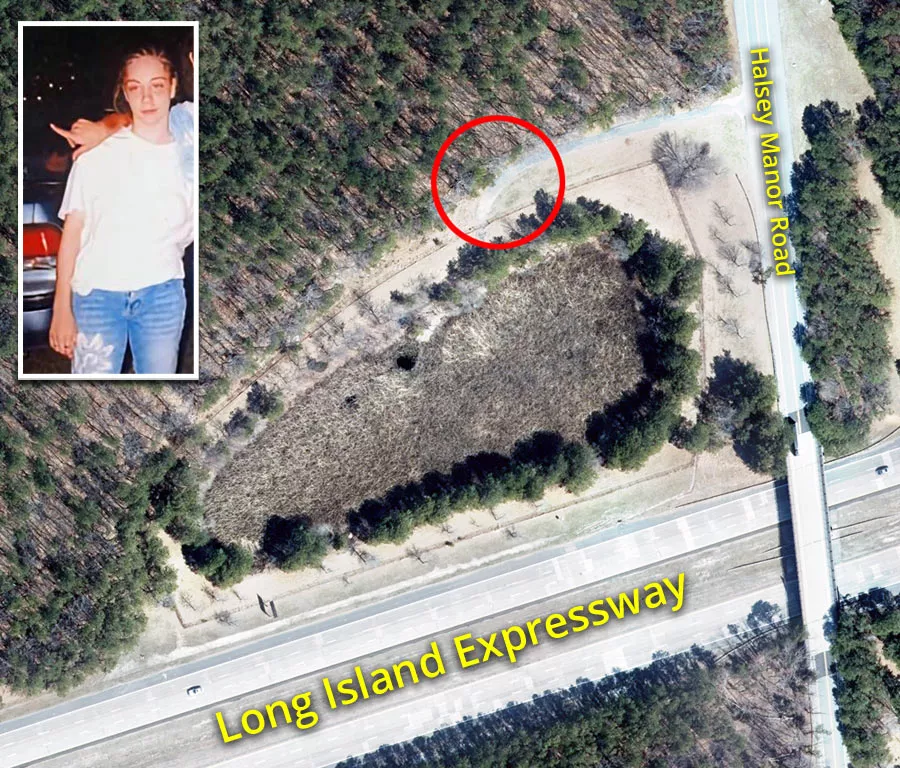 The site is just a stone's throw away from the Long Island Expressway.
Inset is a photograph of Jessica Taylor that was taken just days before her disappearance.
LISK dumped the torsos of Jessica Taylor and Valerie Mack in the same area of Manorville.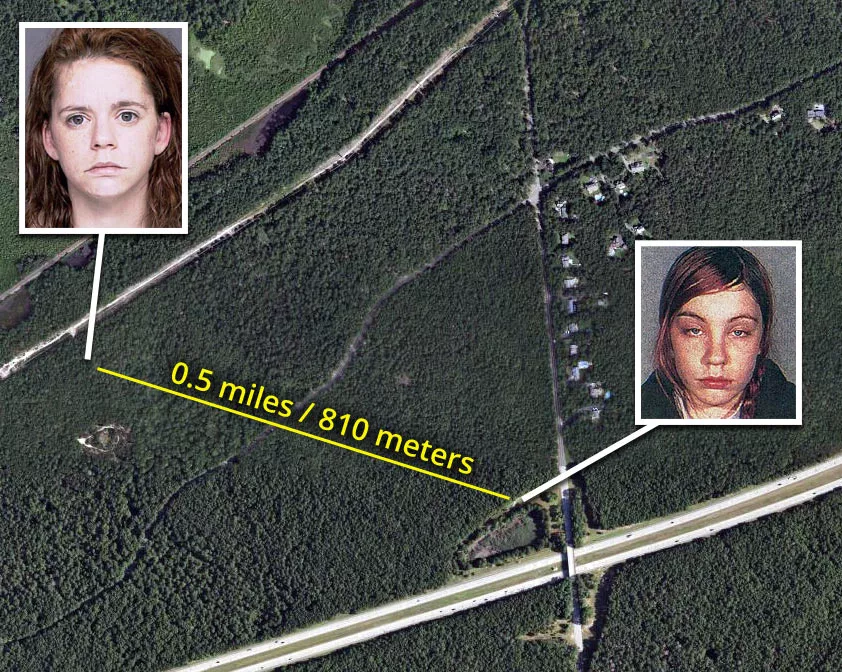 In 2000, LISK dumped the torso of Valerie Mack at a site near the Peconic River in Manorville. Then, in 2003, he left Jessica Taylor's remains at the end of this access road near the Long Island Expressway.
The two locations are only 0.5 miles apart.
His decision to reuse this part of Manorville as a dump site suggests that he is somewhat familiar with the area.
Halsey Manor Road.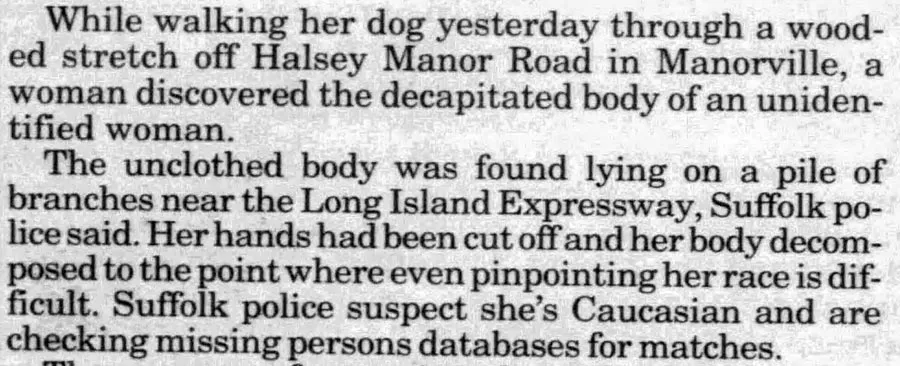 This clipping is from an article that was published in the Newsday newspaper on July 27th 2003.
Because Jessica was last seen on July 22nd, it is possible that her torso lay out in the open for 4-5 days.
Google Street View.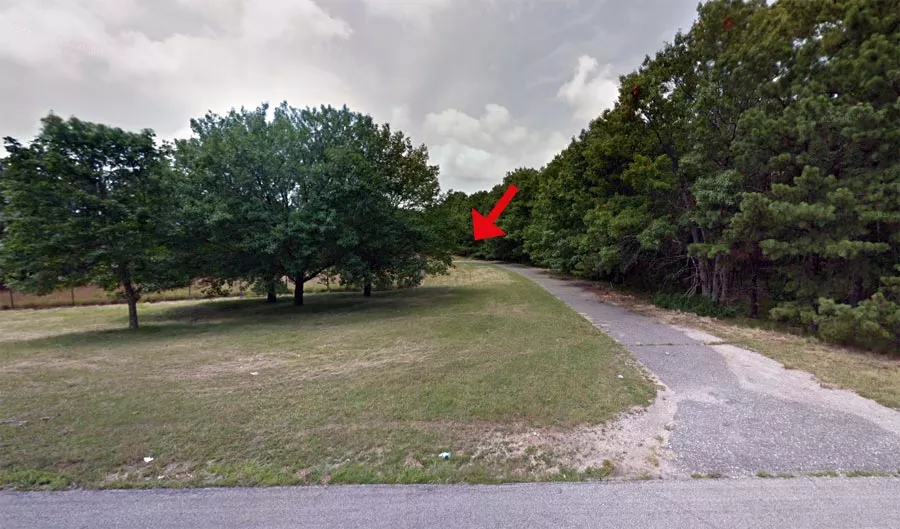 This Google Street View image was taken in July of 2012.
The red arrow is pointing towards the general area where a dog walker made the gruesome discovery.
Jessica's remains were dumped in two different locations.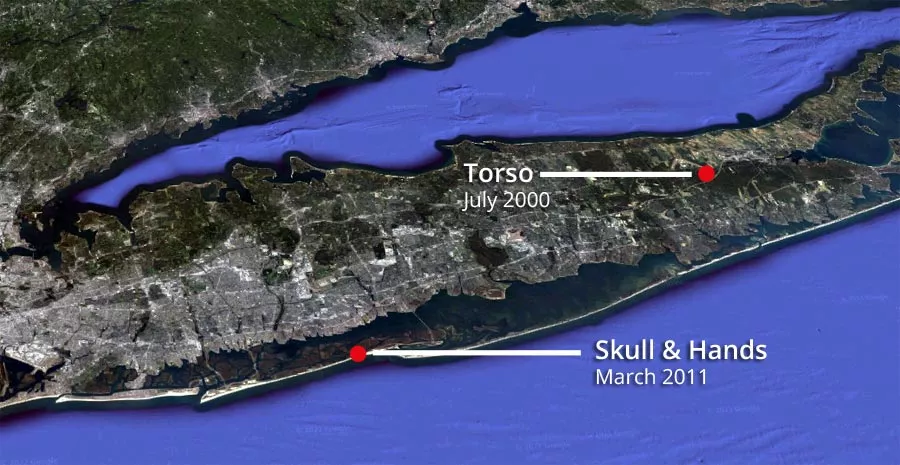 This satellite photo shows the two locations where Jessica's remains were found.
It seems as though LISK quickly arrived at the conclusion that Gilgo Beach was a "safer" place to dump identifiable body parts such as skulls and hands. As time wore on and his dump sites at Gilgo Beach remained undiscovered, it is likely that his confidence in the area continued to grow.
Aerial photo from 2001.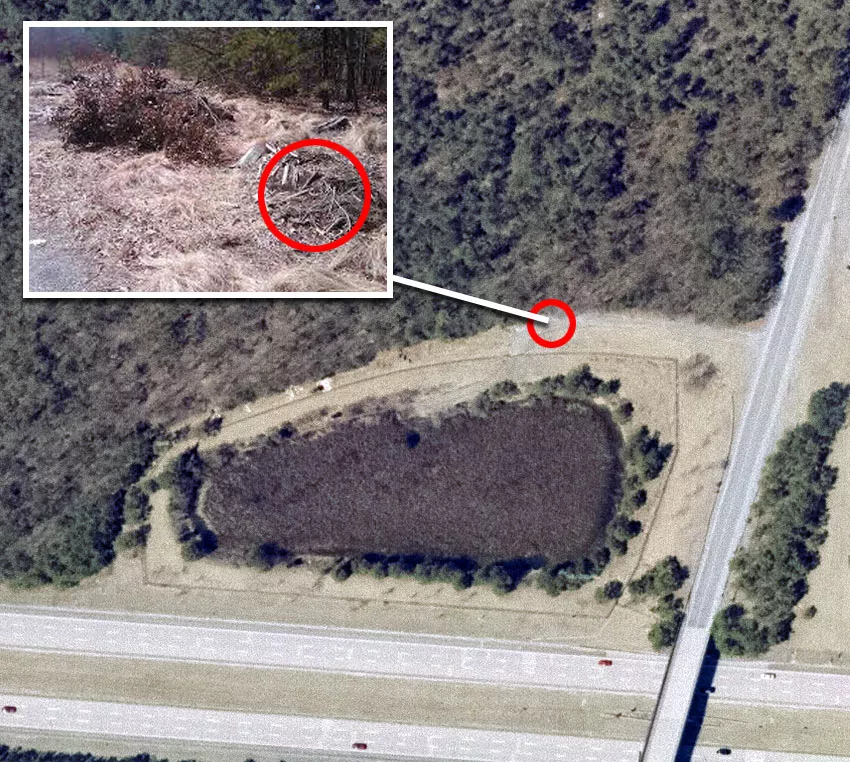 This aerial photograph of the site was taken in 2001—roughly two years before Jessica was murdered.
Inset is a photograph of the exact spot where Jessica's remains were discovered. Her torso was resting on a sheet of plastic, which had been placed on top of a pile of branches and wood scrap.
There are a number of different theories about why he decided to leave her body out in the open.
We know that he wasn't under time constraints, as he dumped her remains in two separate areas that were 45 miles apart. Therefore, it stands to reason that he could have easily devoted more time to concealing her torso.
It is plausible that he wanted someone to find it. For example, he might have liked reading newspaper articles about the crime. He might have also gotten a kick out of thumbing his nose at the authorities and hearing other people talking about the case.
The fact that he previously left Valerie Mack's torso close to a powerline road that is off the beaten track suggests that he is somewhat familiar with this part of Manorville. In other words, he lives nearby or has visited the area on a number of occasions.
"Creating" such a gruesome scene would have stirred up a heightened sense of anxiety in the area and caused a lot of chatter among local residents. This situation may have given him psychological gratification. So much, in fact, that there's a good chance that he took part in the neighborhood gossip and even started conversations about the murder.
However, this "public staging" ultimately backfired on him when the authorities were able to piece Jessica's tattoo together and identify her using DNA evidence.
Picking up a newspaper and seeing Jessica Taylor's face would have undoubtedly filled him with worry. Now that his victim's identity was known, there was an increased possibility that detectives would be able to track her last known movements and connect him to the crime.
Following the identification of Jessica Taylor, the Long Island serial killer stopped dumping his victims' torsos in places where they could be easily found. This change in M.O. was most likely driven by Taylor's identification and the realization that DNA technology was becoming an increasingly powerful tool for investigators.
At the same time, it may have been beginning to dawn on him that all of his dump sites at Gilgo Beach remained undisturbed.
Crime scene.

These images of the crime scene at Halsey Manor Road are from a News 12 report. The photo on the left shows police standing at the entrance to the access road.
During a press conference about the murder, a police spokesperson said that the killer made no effort to hide Taylor's body:
"It doesn't really seem like they were concerned that the body would have been found. It certainly would not be a place to put a body if you were looking to hide it."
Closest locations.
Other locations that are relatively close to this place. Less than a mile away.
Crime Location in Manorville, New York, United States Roughly 3 miles away.
Serial Killer House in Manorville, New York, United States Roughly 8 miles away.
Crime Location in Shirley, New York, United States Roughly 16 miles away.
Crime Location in East Patchogue, New York, United States Roughly 23 miles away.
Crime Location in Fire Island, New York, United States