The motel where Maureen Brainard-Barnes was last seen
Crime Scene Location in Manhattan, New York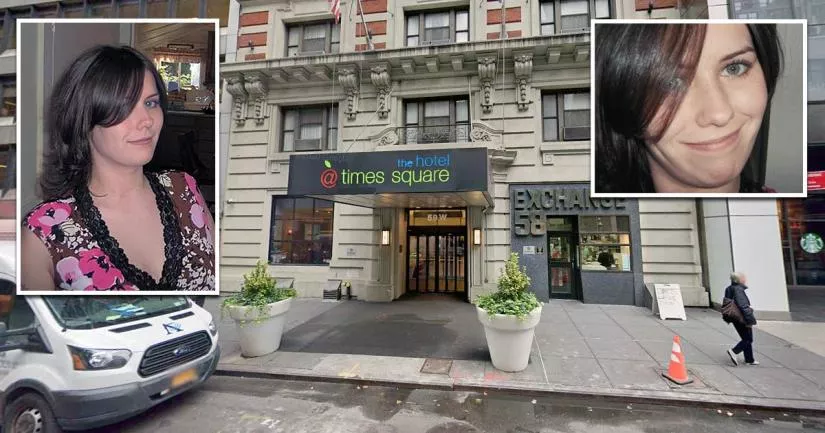 This is the motel where Maureen Brainard-Barnes was last seen.
It is situated at 59 West 46th Street in Manhattan.
In 2007, it was called the Super 8. These days, it is known as The Hotel @ Times Square.
Brainard-Barnes is believed to be a victim of the Long Island serial killer (LISK).
On the night of July 9th, 2007, the sex worker left this motel to meet a client for an outcall and was never seen again.
More than three years later, her skeletal remains were discovered among the bodies of three missing sex workers at Gilgo Beach. Her killer had restrained her with three leather belts, one of which was tied around her legs.
Brainard-Barnes was the first of the "Gilgo Four" to go missing.
Between July 6th and July 9th, 2007, she had sixteen interactions with a client who was using a prepaid burner phone.
Just before midnight on July 9th, Brainard-Barnes called a friend and told her that a client was going to pick her up outside of the Super 8 motel.
It is highly likely that the client in question was LISK.
Her last known cell activity occurred near the 59th Street Bridge at approximately 11.56 p.m. The bridge in question runs between Manhattan and Queens.
This suggests that her killer picked her up in Manhattan and then drove east toward Long Island.
In the months leading up to her disappearance, the 25-year-old had been under a huge amount of financial pressure.
At the time, she was facing eviction and an expensive court battle to keep custody of her son. Although she had a job as a telemarketer, her wages were far too low to keep her afloat.
As a result, she started making sporadic weekend trips from Connecticut to New York so that she could work as an escort.
Sadly, it wasn't long before her financial situation became the least of her worries.
On that warm summer night in 2007, she stepped out onto this busy street in Midtown Manhattan, anxious to make some money.
Unbeknownst to her, she was being lured to her death by a sexual predator who had become extremely proficient at making his victims vanish without a trace.
More than sixteen years later, on July 13th, 2023, the police arrested 59-year-old Rex Heuermann in connection with the murders of three of the Gilgo Four victims. Although he has not been officially charged with Brainard-Barnes' death, officials have publicly named him as the prime suspect.
The investigation into her murder is still ongoing.
Maureen Brainard-Barnes last seen location
Below, you will find the address and the GPS coordinates for this location.
Address
59 W 46th Street, Manhattan, New York, NY 10036, USA
Map
To view directions on how to get there, you can use the Google Maps shortcut below:
GPS coordinates
The latitude and longitude coordinates for the motel are:
40.757108, -73.981304
Directions
The motel is roughly 100 yards east of the intersection between 6th Avenue and West 46th Street in Midtown Mahattan. It is a five-minute walk away from Times Square.
Photos
Photos of the motel and other related images.
---
West 46th Street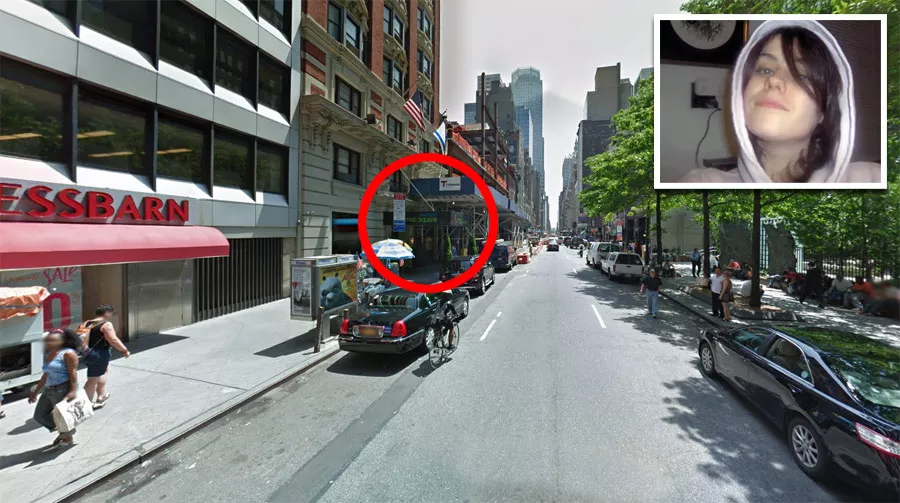 This Google Street View image of West 46th Street was taken in June 2011.
It is believed that the Long Island serial killer parked his vehicle somewhere in the vicinity of the motel.
Cellphone activity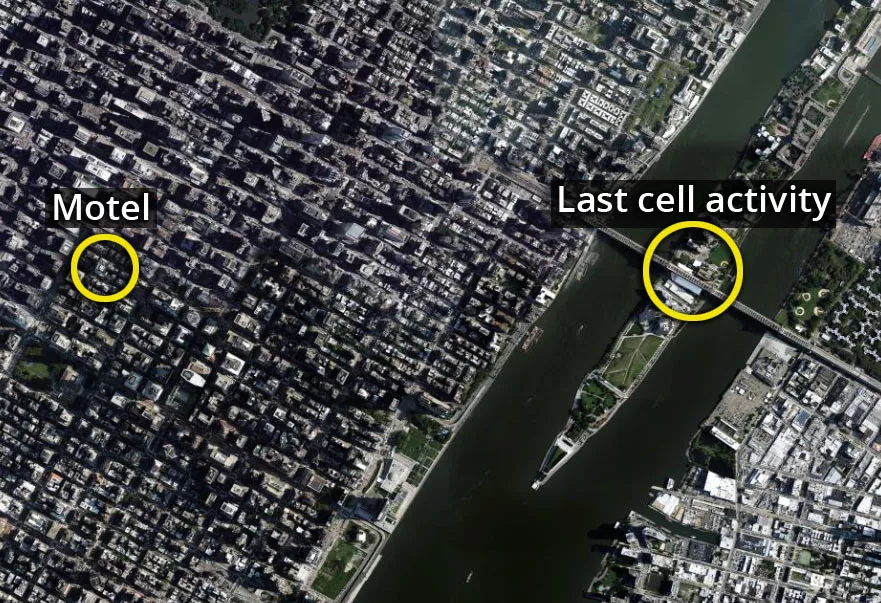 Brainard-Barnes was picked up outside the Super 8 motel shortly before midnight on July 9th, 2007. Her last cellphone activity occurred near the Ed Koch Queensboro Bridge (59th Street Bridge).
Coordinates: 40.756861, -73.954445
Map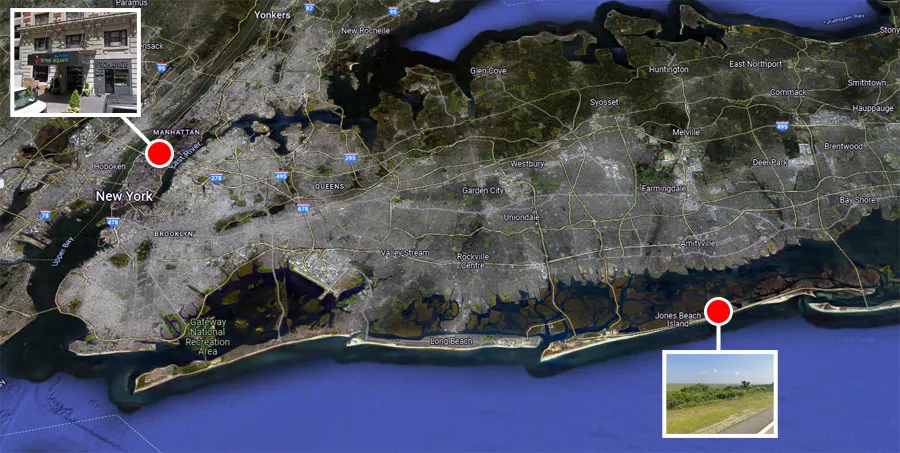 Brainard-Barnes' remains were discovered on Gilgo Beach, which is roughly 50 miles away from the motel where she was last seen.
Brainard-Barnes was found at Gilgo Beach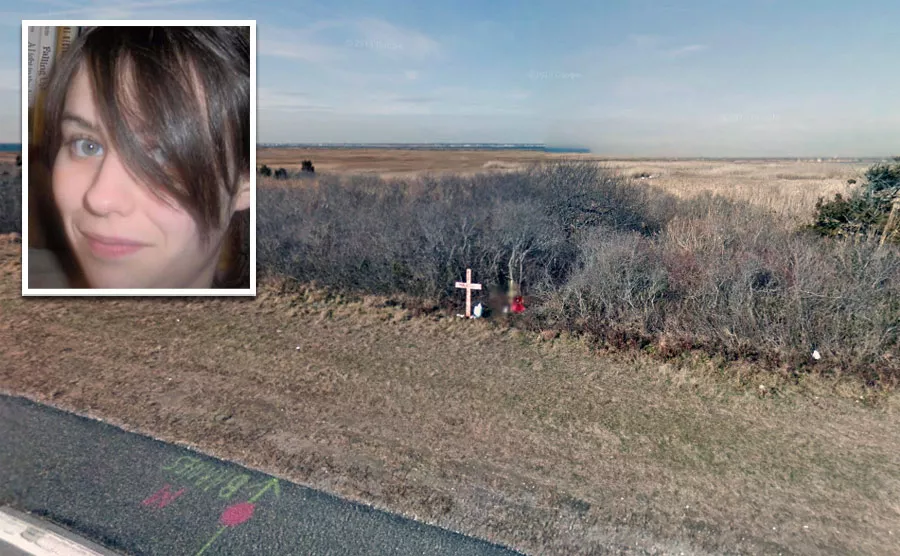 In December 2010, investigators discovered Brainard-Barnes' remains in these bushes off Ocean Parkway, near Gilgo Beach.
By that point, she had been missing for three and a half years.
Her killer had restrained her using three leather belts, one of which had been tied around her legs. One of the belt buckles contained a single strand of female hair that did not belong to the victim.
This hair was later proven to have the same mitochondrial DNA profile as Rex Heuermann's wife, Asa Ellerup. The police said that the belt buckle may have picked up Ellerup's hair while it was inside the couple's residence.
Brainard-Barnes was dumped in the same spot as three missing sex workers called Megan Waterman, Melissa Barthelemy, and Amber Lynn Costello. The women are referred to as the "Gilgo Four" because they were all found in close proximity to one another.
Heuermann was charged with the murders of Waterman, Barthelemy, and Costello on July 14th, 2023. However, he has yet to be charged with Brainard-Barnes' death.
There are two reasons for this.
The cell tower records for the burner phone that contacted Brainard-Barnes no longer exist, as they were not obtained at the time of her disappearance.
In the cases of the other three women, investigators were able to prove that Heuermann's wife, Asa Ellerup, was out of town during the murders by checking her phone, bank, and travel records.
They were unable to find any such records for Ellerup in 2007, as they had already been deleted due to retention policies.
Coordinates: 40.624433, -73.376600
180 Prospect Street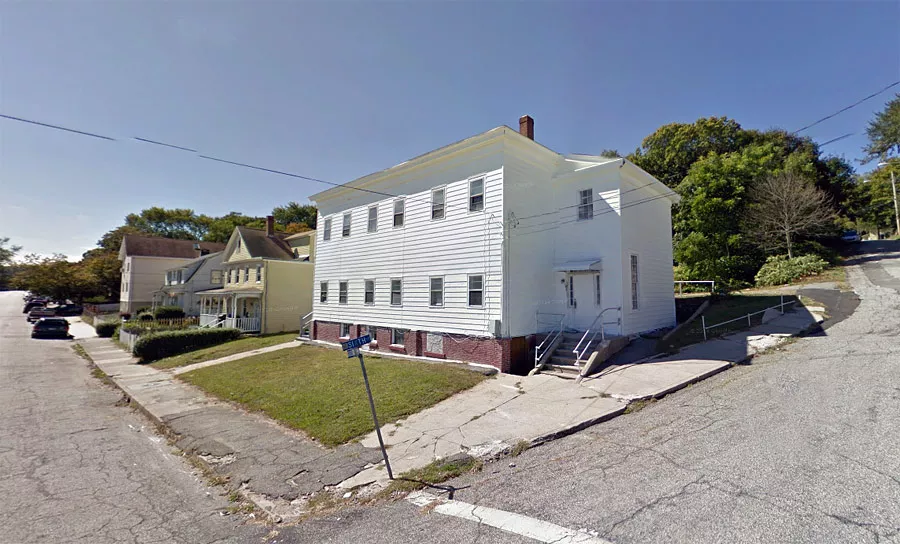 Maureen Brainard-Barnes was born on June 14th, 1982.
At the time of her death, she was living in an apartment at 180 Prospect Street in Norwich, Connecticut.
The 25-year-old was petite, standing at only 4 feet 11 inches.
Before she became an escort, she originally went to New York City with hopes of becoming a model.
She stopped working as an escort for a couple of months before she went missing. However, she decided to start again shortly after receiving an eviction notice.
Three days before her disappearance, she and another sex worker named Sara Karnes traveled to Manhattan by train. Although they were planning on working out of their rooms at the Super 8 motel, they soon learned that their ads on Craigslist had either been suspended or demoted.
Consequently, they were unable to advertise their services.
In an effort to turn the trip into something positive, they decided to hire a photographer and update their escort pictures. They also spent time wandering around the city together.
On July 8th, Karnes returned to Connecticut. However, Brainard-Barnes decided to stay behind.
Cellphone data indicates that LISK started calling Brainard-Barnes on July 6th, which was the Friday that she traveled to Manhattan. This means that he may have spotted her ad and initiated contact before it was demoted or suspended.
Considering they had 16 separate interactions over that weekend period, it seems plausible that they were haggling over the particulars of an outcall. It is also possible that this outcall was the sole reason that she decided to remain behind by herself when her friend returned home.
In the case of Amber Lynn Costello, the killer offered a sum of money that was noticeably higher than the usual rate. Therefore, he may have employed a similar strategy while communicating with Brainard-Barnes.
For obvious reasons, sex workers are often hesitant about doing outcalls with clients they have never met before. However, the promise of a large fee at a time when she was desperate for money may have been enough to convince her to throw caution to the wind.
Coordinates: 41.534993, -72.057007
Voicemail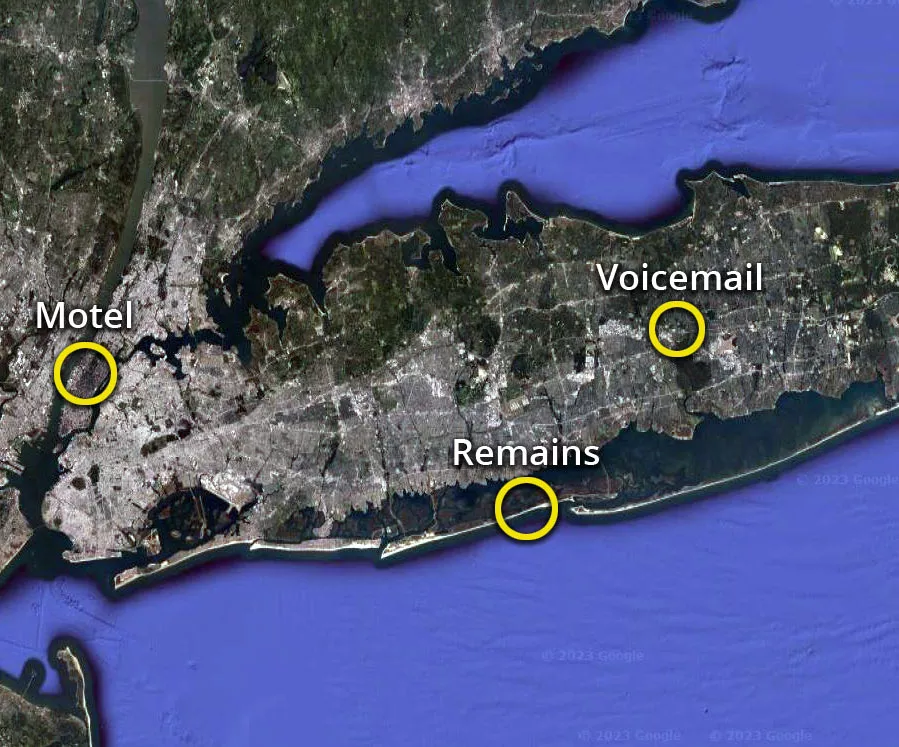 Cell tower records indicate that Brainard-Barnes' killer accessed her voicemail on July 12th, 2009, which was roughly three days after her disappearance.
On that date, two outbound calls to her voicemail were made near the Long Island Expressway in Islandia.
Coordinates: 40.808988, -73.174498
Sara Karnes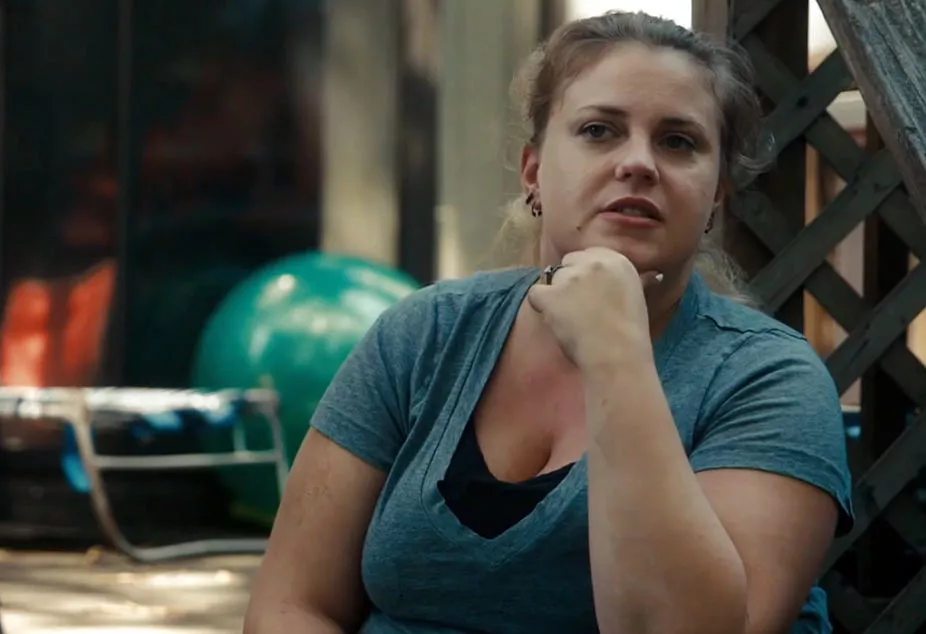 Image source: The Killing Season
Sara Karnes accompanied Brainard-Barnes to Manhattan on Friday, July 6th, 2007. However, after a quiet weekend, she decided to cut her losses and return to Connecticut on the 8th.
Two weeks later, she received a phone call from a private number. When she answered it, a man asked her if she was from Connecticut and if she knew Maureen. He also described a tattoo on her friend's right arm.
Karnes told the man that Maureen was her friend and that she had been missing for two weeks.
In response, he claimed that she was "fine" and that he had just seen her at a "wh*rehouse in Queens."
Karnes knew that this didn't sound right, as her friend was an independent escort. When she asked where it was, he said that he didn't know the exact address.
At that point, the man promised to call her back and provide her with the location.
However, he never did.
It is possible that the man in question was the Long Island serial killer and that this was his first attempt at contacting one of the victims' friends or families.
In 2009, he called the sister of Melissa Barthelemy multiple times.
Furthermore, we know that he had access to Brainard-Barnes' contacts, text messages, and phone logs, as he checked her voicemail on July 12th, 2007.
If this caller was the killer, then it is likely that he was trying to use Karnes as a conduit to sow disinformation about her friend's disappearance. In other words, he knew that anything he said to Karnes would eventually be passed on to both her family and the police.
Brainard-Barnes may have been the only Gilgo Four victim who was not wrapped in burlap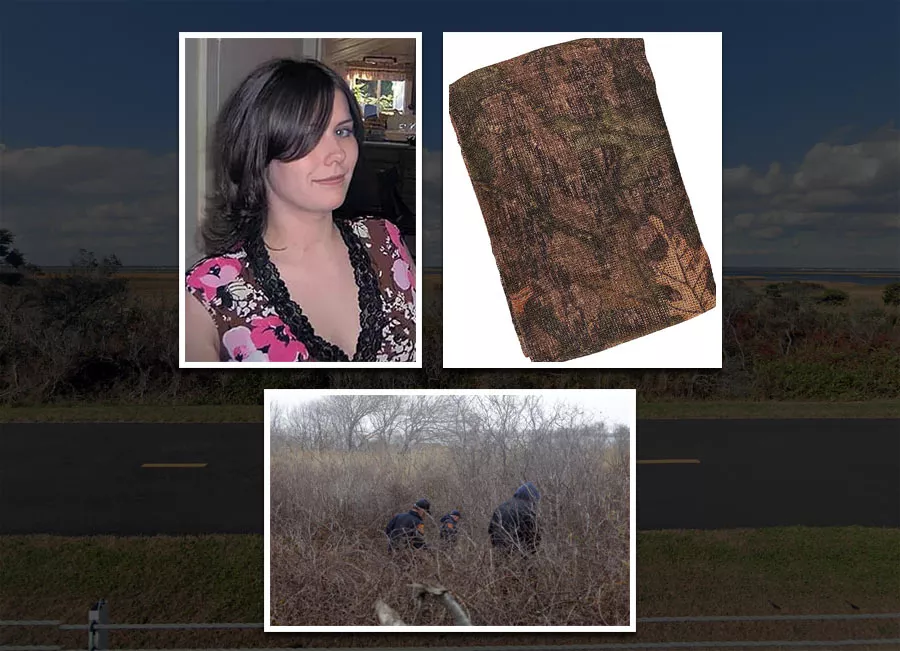 Brainard-Barnes was the first of the Gilgo Four to disappear (2007). Judging by Heuermann's bail form, it seems as though she was the only victim in that "group" who was not wrapped in burlap.
The document states that 3/4 of the victims were wrapped in duck-blind camouflage burlap. It also says that human hair was found on the burlap that was used to contain Waterman and Costello (both 2010).
Canine police officer John Mallia, who located the remains of Barthelemy (2009), told the New York Times that he walked into the thicket and found a skeleton that was in "disintegrated burlap".
This leaves Brainard-Barnes as the outlier.
However, this isn't surprising, as she was the earliest Gilgo Four victim by about two years. She was also the first identified Long Island serial killer victim who wasn't dismembered.
The killer had used duct tape to restrain his 2010 victims, Waterman and Costello. However, Brainard-Barnes had been bound with three leather belts.
All of this provides some insight into the evolution of his modus operandi (MO).
Map Viewer
There is more than one location associated with this entry. To view all of these places on the same map, you can use the following feature:
Closest Locations
Other locations that are relatively close to this address: Less than a mile away.
Shooting Location in Manhattan, New York Less than a mile away.
Photo Location in Manhattan, New York Less than a mile away.
Death Location in Manhattan, New York Less than a mile away.
Crime Location in Manhattan, New York Less than a mile away.
Arrest Location in Manhattan, New York