The motel where Maureen Brainard-Barnes was last seen.
Crime Scene Location in Manhattan, New York, United States.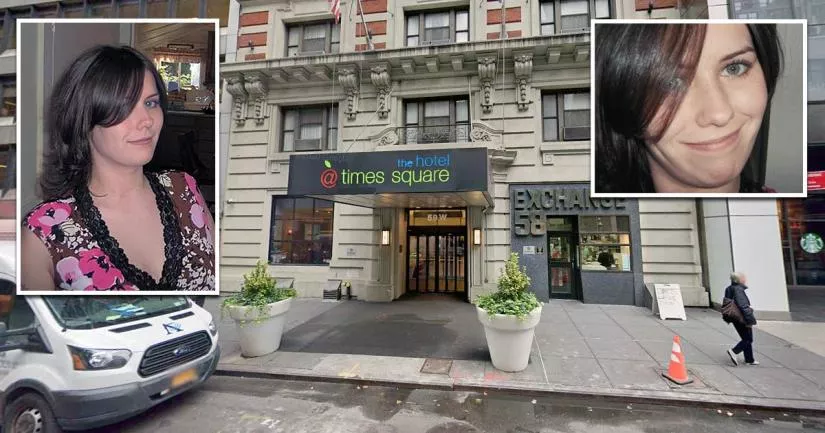 This is the motel where murdered sex worker Maureen Brainard-Barnes was last seen. In 2007, it was called the "Super 8". These days, it is known as "The Hotel @ Times Square."
Maureen is believed to be a victim of the Long Island serial killer (LISK).
On the night of July 9th, 2007, she left this motel to meet a client for an "out-call" and was never seen again. More than three years later, her skeletal remains were discovered among the bodies of three other sex workers at Gilgo Beach.
Barnes was the first of the "Gilgo Four" to go missing.
That Monday, she was working at the Super 8 motel when someone scheduled an "out-call" with her using an untraceable burner phone. Just before midnight, she called a friend and told her that a client was going to pick her up outside of the motel.
It is highly likely that the client in question was LISK.
In the months leading up to her disappearance, the 25-year-old was under a huge amount of financial pressure.
At the time, she was facing eviction and an expensive court battle to keep custody of her son. Although she had a job as a telemarketer, the wages were far too low to keep her afloat.
As a result, she started making sporadic weekend trips from Connecticut to New York so that she could work as an escort.
Sadly, it wasn't long before her financial situation became the least of her worries.
On that warm summer night in 2007, she stepped out onto this busy street in Midtown Manhattan, anxious to make some money.
Unbeknownst to her, she was being lured to her death by a sexual predator who had become extremely proficient at making his victims vanish without a trace.
Maureen Brainard-Barnes' last known location.
Below, you will find the address and the GPS coordinates for this location.
GPS Coordinates.
The GPS coordinates for the motel are as follows.
Latitude: 40.757108
Longitude: -73.981304
Map.
Open 40.757108, -73.981304 in Google Maps to view directions on how to get there.
Address.
The full address for this location is:
Super 8
59 W 46th Street
Manhattan
New York
NY 10036
United States
Directions.
The motel is roughly 100 yards east of the intersection between 6th Avenue and West 46th Street in Midtown Mahattan. It is a five-minute walk away from Times Square.
Trivia and other information.
Maureen Brainard-Barnes was born on June 14th, 1982.
She stood 4 feet 11 inches tall and weighed 105 pounds.
Maureen stopped working as an escort for a couple of months before she went missing. However, she decided to start again shortly after she received an eviction notice.
Family members and friends became concerned after she failed to return from her trip to Manhattan.
Before she became an escort, she originally went to New York City with the hope of becoming a model.
A week or two after her disappearance, her phone pinged a cell tower on Fire Island. However, this does not necessarily mean that her phone was on Fire Island.
Photos.
Photos of the motel and other related images.
---
West 46th Street.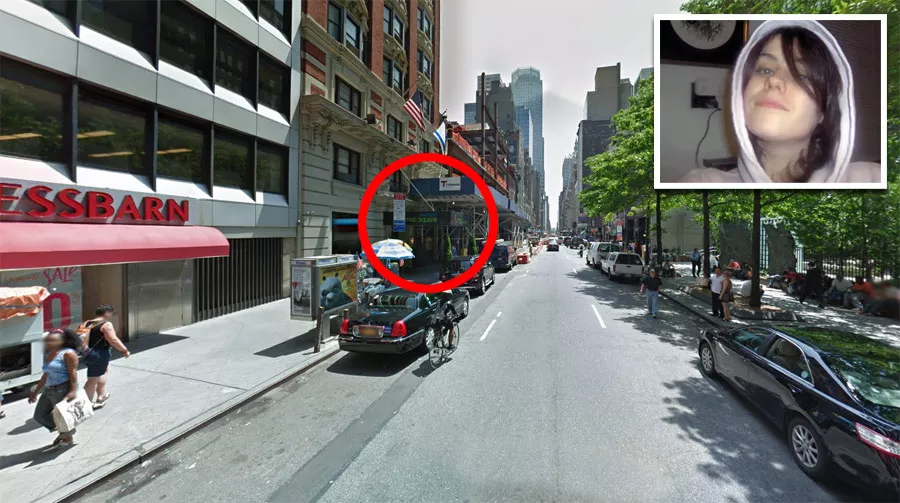 This Google Street View image of West 46th Street was taken in June of 2011.
It is likely that the Long Island serial killer parked his vehicle somewhere in the vicinity of the motel and then directed Maureen where to go.
Map.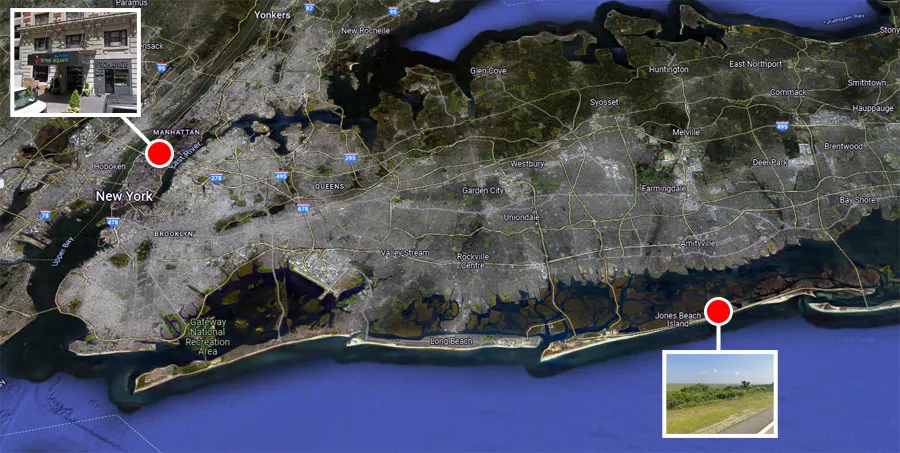 Maureen's remains were discovered on Gilgo Beach, which is roughly 50 miles away from the motel where she was last seen.
Gilgo Beach.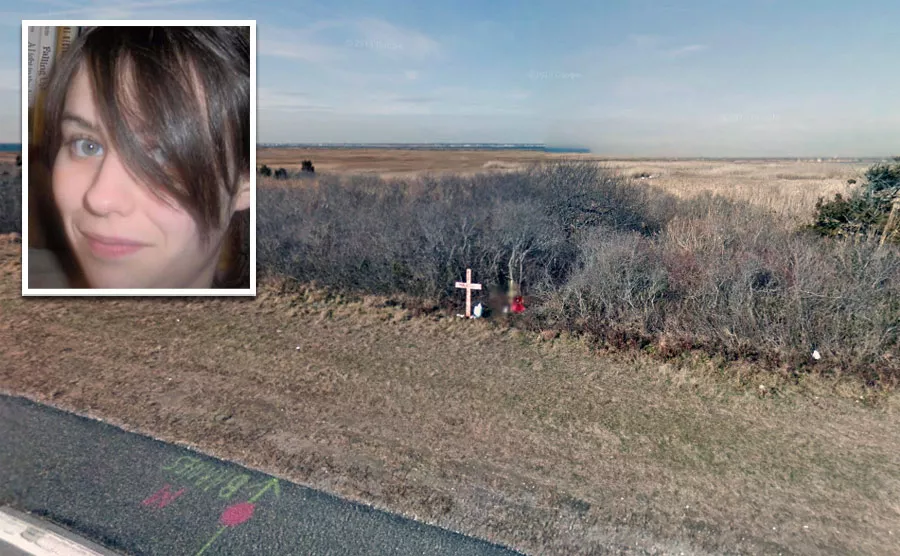 In December of 2010, investigators discovered the remains of Maureen Brainard-Barnes beside a desolate stretch of road near Gilgo Beach.
At that stage, she had been missing for three and a half years.
Her killer had wrapped her body in burlap and then dumped it in the thicket beside Ocean Parkway.
Barnes was placed in the same spot as Megan Waterman, Melissa Barthelemy and Amber Lynn Costello.
The women are referred to as the "Gilgo Four" because they were all found in close proximity to one another.
Coordinates: 40.624717, -73.375401
180 Prospect Street.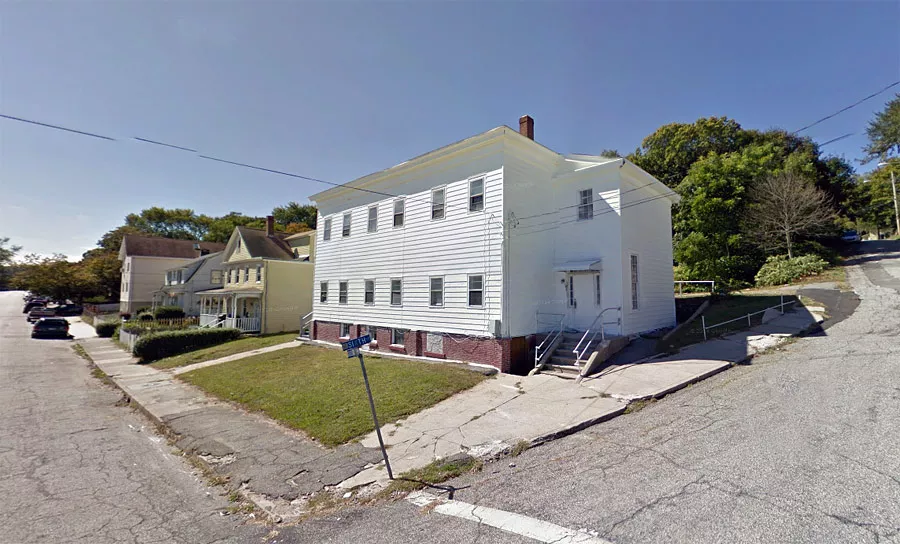 Maureen Brainard-Barnes was living in an apartment at 180 Prospect Street in Norwich, Connecticut.
Three days before her disappearance, Maureen and another sex worker called Sara Karnes traveled to Manhattan by train. Although they were planning on working out of their rooms at the Super 8 motel, they soon learned that their profiles on Craigslist had been suspended.
As a result, they were unable to advertise their services.
In an effort to make the most out of the weekend, they decided to hire a photographer and update their profile pictures. They also spent time wandering around the city together.
On July 8th, Sara Karnes returned to Connecticut. However, Maureen was so desperate for money that she decided to stay behind.
According to Karnes, Maureen "had regulars".
Because she was unable to advertise on Craigslist, it is possible that LISK was a previous client who already had her phone number.
Coordinates: 41.534993, -72.057007
Closest locations.
Other locations that are relatively close to this place. Less than a mile away.
Crime Location in Manhattan, New York, United States Less than a mile away.
Crime Location in Manhattan, New York, United States Roughly one mile away.
Crime Location in Manhattan, New York, United States Roughly 3 miles away.
Place of Interest in Manhattan, New York, United States Roughly 3 miles away.
Filming Location in Manhattan, New York, United States