Amber Lynn Costello's house
Crime Scene Location in West Babylon, New York, United States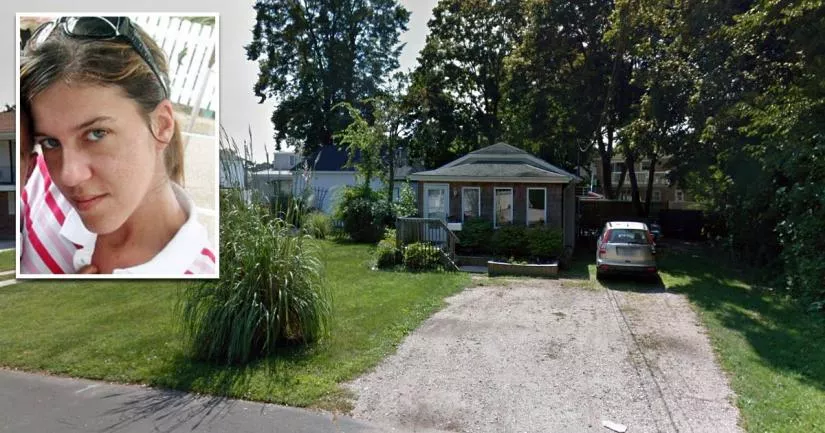 This is the house where Amber Lynn Costello was last seen.
Costello is believed to be a victim of the Long Island serial killer (LISK).
On September 2nd, 2010, the 27-year-old sex worker received a number of phone calls from a client who was willing to pay $1,500 for an overnight outcall.
Notably, this figure was much higher than the usual rate.
Unbeknownst to her, the man in question was calling from a disposable burner phone that wasn't registered under his real name.
At around 10.30 p.m., she left this small house in West Babylon and was never seen again.
Three months later, the remains of Costello and three other sex workers were discovered at the Long Island serial killer's dump site on Gilgo Beach.
The four women had been asphyxiated, wrapped in burlap, and then dumped in the thicket beside Ocean Parkway.
In September of 2012, Costello was living at this house with her roommate, Dave Schaller.
At the time, they were both heavy heroin users.
That day, she used her roommate's phone to negotiate an out-call price with an unidentified client. According to Schaller, she seemed so familiar with the man that she was willing to drop all of her normal precautions.
For safety reasons, most escorts are unwilling to do overnight stays with men they have never met before.
Although this might suggest that LISK was a repeat client, it is also difficult to overlook the possibility that she may have decided to take a risk.
Costello was desperate for money because of her drug addiction, as she was reportedly blowing through multiple bags of heroin per day.
Consequently, the promise of such an unusually high fee may have tempted her to throw caution to the wind.
The man who wanted her for the night also sounded pretty friendly and accommodating. For example, when she told him that she didn't have a phone, he quickly assured her that she could use his.
Sadly, the 27-year-old had no way of knowing that the voice on the other side of the line belonged to a manipulative serial killer who had been successfully luring sex workers into his web since the 1990s.
By that stage, LISK was well practiced in the art of disarming his victims. To most of these girls, he would have seemed like a harmless, everyday "john".
Notably, the killer did not park on America Avenue, as Schaller didn't want the neighbors to see clients stopping directly outside of their house. If one of the residents noticed his roommate jumping into random vehicles, it wouldn't be long before they realized that she was turning tricks.
While LISK was navigating through the quiet streets of West Babylon, he was most likely aware that Costello lived with a roommate, another working girl, or a pimp.
In his experience, escorts rarely worked alone.
However, in this case, he had been told not to stop in front of the residence.
To an opportunistic predator who only strikes when he can pick up his victims unseen, hearing this would have been like music to his ears.
He could now park away from potential witnesses without raising anyone's suspicions.
Shortly after 10.30 p.m. on that mild September night, Costello exited this house and turned to her right. According to Schaller, the killer's vehicle was parked just around the corner, beside a crossroads that is visible from the front porch.
When Costello reached the intersection, she paused for a second, looked up and down, and then sauntered off to her right.
Sadly, this was the last time anyone saw her alive.
The following day, the hours drifted by, and Schaller started to worry.
His roommate was still gone.
Fearing that something might have happened to her, he decided to raise the alarm with her sister, Kimberly Overstreet.
However, Overstreet did not file a missing persons report, as she presumed that her sister was probably off getting high with someone else.
Because her sister was a drug addict and a sex worker, she also believed that the police wouldn't take her case seriously.
Unfortunately, she was probably right.
Three months later, on December 13th, 2010, investigators found Amber Lynn Costello's remains wrapped in burlap on Gilgo Beach.
Amber Lynn Costello house address
Below, you will find the address and the GPS coordinates for this location.
GPS coordinates
The latitude and longitude coordinates for the house are:
40.722732, -73.353109
Map
To view directions on how to get there, you can use the Google Maps shortcut below:
Address
The full address for this location is:
1112 America Avenue
West Babylon
New York
NY 11704
United States
Directions
The house is situated 0.2 miles east of the intersection between Little East Neck Road and America Avenue.
Private Property Warning
This is a private property. It is not a public place. Therefore, you should be respectful and not step foot on the property without permission.
Photos
Photos of the house and other related images.
---
1112 America Avenue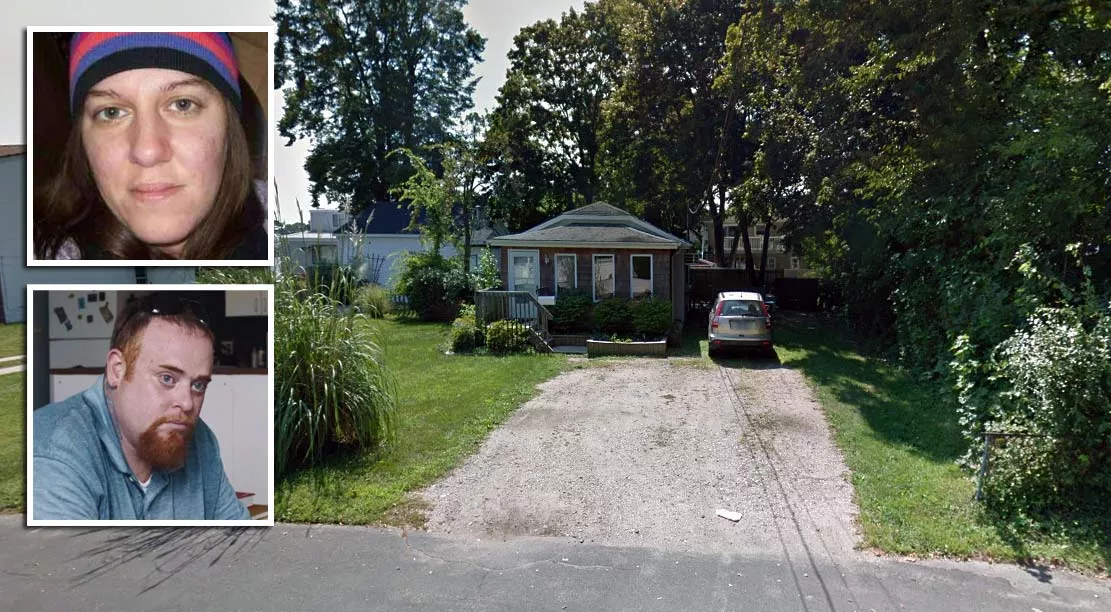 Amber Lynn Costello and Dave Schaller lived at this small, 753-square-foot house on America Avenue in West Babylon, Long Island.
At the time, they were both drug addicts. According to Kimberly Overstreet, her sister was a heavy heroin user who went through roughly 10 bags per day.
When the 27-year-old's remains were discovered on Gilgo Beach, Schaller was able to identify her body after seeing a small tattoo on her arm.
The Long Island serial killer picked Costello up on Hampton Road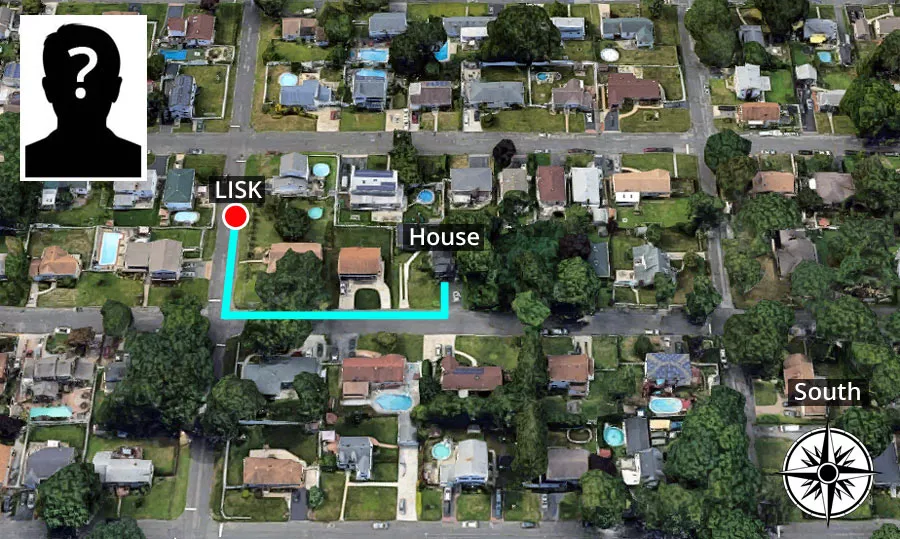 This south-facing aerial image shows the location where the Long Island serial killer picked up Amber Lynn Costello.
It is the author's opinion that LISK's vehicle was facing south at the time. That way, he could continue southward and avoid exposing his vehicle at the crossroads.
It is vital to understand that a serial killer who targets sex workers isn't someone who is merely pretending to be a client.
He is a client.
For example, Joel Rifkin, Larry Bright, Gary Ridgway, Kendall Francois, and Robert Lee Yates all frequented escorts on a regular basis. Both before and during their killing sprees, they picked up women, paid for their services, and then dropped them off completely unharmed.
In most cases, they only murdered their victims when the timing and circumstances were right.
This means that the Long Island serial killer was almost certainly a regular john.
He was a "fish in water", so to speak. This was a man who was deeply familiar with the industry. More importantly, he knew how to speak to sex workers without raising red flags.
Over the years, he would have picked up dozens of girls, most of whom were left relatively unscathed.
When these women got into LISK's vehicle and exchanged pleasantries with him, they didn't realize how close they were to death. In many cases, their lives were spared simply because someone had accompanied them to the vehicle or a bystander had witnessed the pickup.
At around 10.30 p.m. on September 2nd, 2010, LISK parked his vehicle on Hampton Road, which is just around the corner from Costello's house.
By that stage, it was long past sunrise, and most residents had settled in for the night.
Once LISK rolled to a stop, he called Costello using his burner phone and informed her that he was just around the corner.
When he picked up his phone and made the call, he knew that the other occupants inside Costello's house were unable to see his vehicle. However, he was also experienced enough to know that it was far too early to celebrate.
There was just one more final hurdle.
For safety purposes, many escorts are accompanied to their client's vehicle by a pimp or another working girl. That way, they can recall the license plate if something goes awry.
This is mostly a preventative measure, as it lets the client know that they shouldn't attempt any funny business.
While LISK was waiting, it is likely that he remained vigilant by checking his mirrors and paying close attention to nearby properties.
If Costello's roommate had accompanied her to the corner that night, it is very likely that the killer would have spotted him. At that point, he would have decided to use her services as normal.
However, in this case, the 27-year-old strolled around the corner by herself.
West Babylon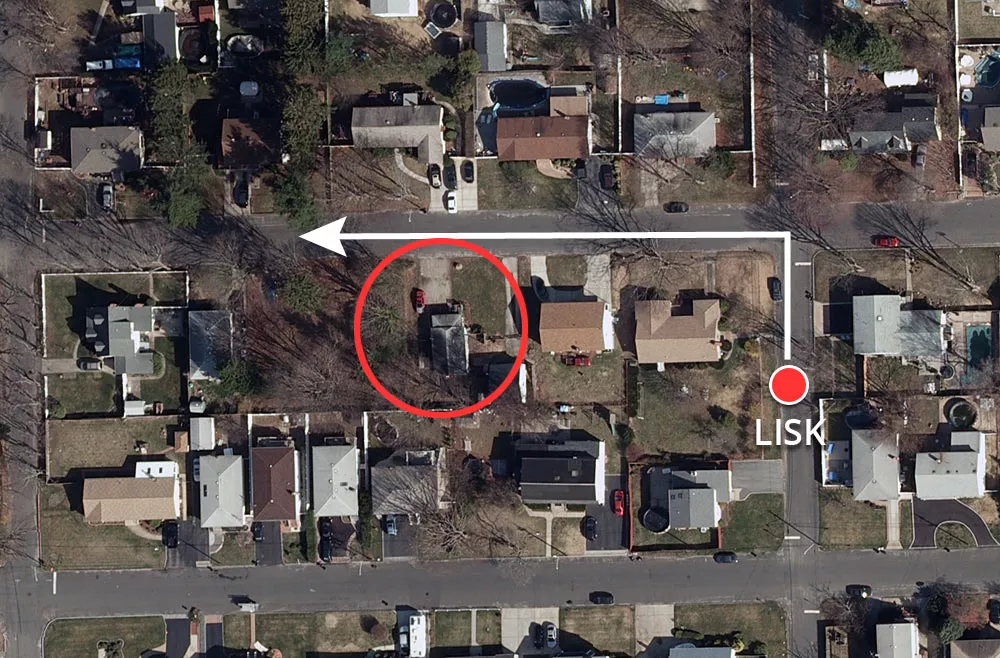 This aerial photograph of America Avenue was taken on April 1st, 2010, which was roughly five months before Costello disappeared.
We have circled the house in red.
According to her roommate, she walked east along America Avenue until she came to the crossroads. At that point, she looked up and down Hampton Road before turning right.
Hampton Road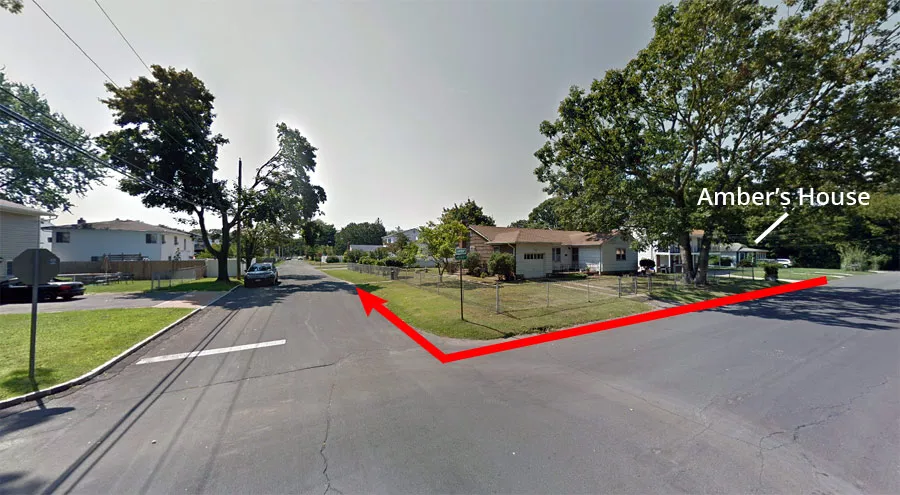 That night, LISK parked his vehicle on Hampton Road.
Once he was confident that he had picked up Costello without being seen, it is likely that he drove southbound. At that point, he either circled around the block and headed north or he decided to continue southward towards Sunrise Highway.
Dave Schaller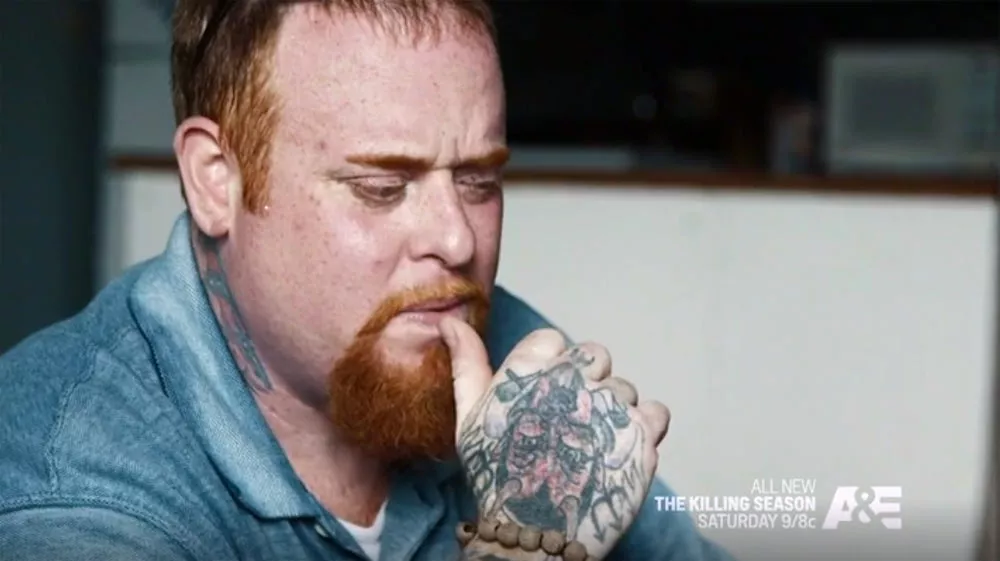 Image source: The Killing Season
Dave Schaller was Costello's roommate. During an interview for the TV series The Killing Season, he recalled the night in question:
This one guy kept calling, and she said he wanted her for the night. I said, "Did he throw money at you?" "Yea, $1,500." You know, it just sounded like too much money. 1,500 bucks. The guy called, and I walked to the edge of the property. She gave me a hug. She bounced, she took off. And all I had to do was walk another ten feet, and I would have seen the guy's f**kin' car. Like ten more feet. Ten feet... I could have seen a license plate or something. Ten feet killed that girl.
Sadly, it seems as though the Long Island serial killer was an opportunistic predator who pounced on the first sign of complacency.
Remains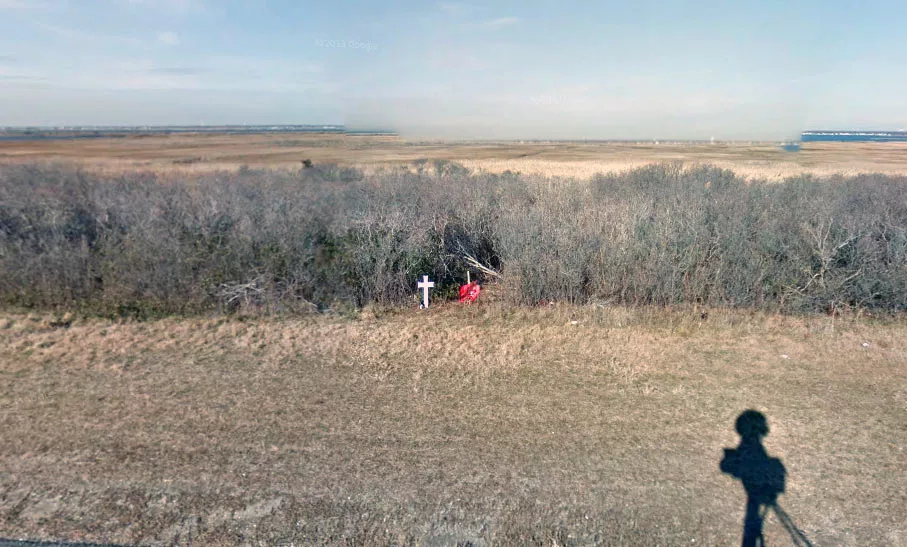 In December of 2010, Costello's remains were found inside the thicket at this section of Ocean Parkway.
By that stage, she had been missing for about three months.
Costello was not reported missing because her sister, Kimberly Overstreet, presumed that she was off getting high somewhere.
Overstreet had previously worked in the industry herself. Consequently, she was also aware that the police were reluctant to file missing person reports about sex workers.
Sadly, she was correct.
Relatives of some of the other victims would later recall that they received pushback when they attempted to report their loved ones missing, as sex workers are usually transient in nature.
It wasn't until all of their remains turned up in the same spot on Gilgo Beach that the authorities realized they had a serial killer case on their hands.
Coordinates: 40.624084, -73.377395
Closest Locations
Other locations that are relatively close to this place. Roughly 5 miles away.
Crime Location in North Bay Shore, New York, United States Roughly 6 miles away.
Crime Location in Amityville, New York, United States Roughly 8 miles away.
Crime Location in Gilgo Beach, New York, United States Roughly 9 miles away.
Place of Interest in Babylon, New York, United States Roughly 11 miles away.
Crime Location in Hauppauge, New York, United States