Amber Lynn Costello's house
Crime Scene Location in West Babylon, New York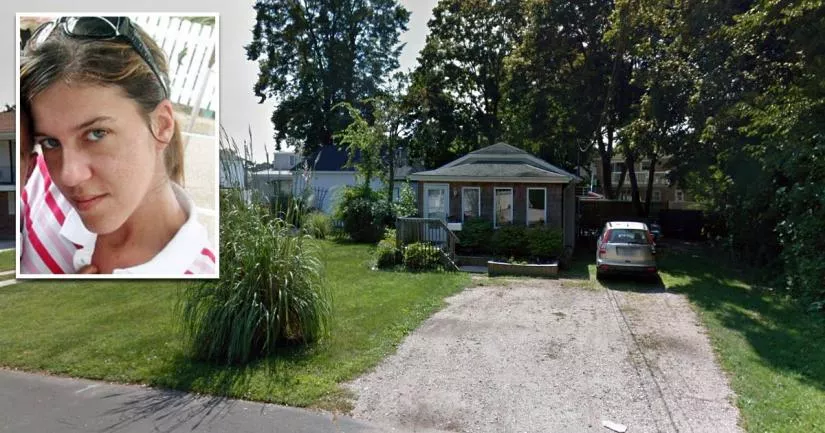 This is the house where Amber Lynn Costello was last seen.
It is located at 1112 America Avenue in West Babylon, New York.
Costello is believed to be a victim of the Long Island serial killer (LISK).
The 27-year-old sex worker lived at this address with her roommate, Dave Schaller.
On the night of September 1st, 2010, an unidentified client contacted her using a prepaid burner phone. When Costello agreed to meet this man, the burner phone in question began traveling from the West Amityville/Massapequa Park area of Long Island towards her home in West Babylon.
While the client was en route, Costello and Schaller decided that they were going to pull a scam on him.
The scam, which they had pulled multiple times in the past, was pretty simple: Once Costello had taken the cash from the client, Schaller would appear with a baseball bat and pretend to be her outraged boyfriend. More often than not, the startled client would then flee without receiving any "services" for his money.
That evening, a large white male in his mid-forties turned up at their residence. Schaller described him as a tall "ogre" who was wearing sunglasses and driving a dark-colored pickup truck with a triangular feature at the back.
Although Schaller confronted this man with his trusty boyfriend ruse, he stopped short of taking his money when he saw that he was "the size of a mountain."
The ogre, who must have thought that he had walked into a domestic situation, claimed that he was "just a friend." He then said, "Tell her I'll give her a call," before leaving.
However, instead of cutting his losses and contacting a different escort, the man sent Costello a text message from his burner phone:
"That was not nice, so I [get] credit for next time."
The following evening, on September 2nd, the man called her again. However, this time, he requested that they go to his place for the night, as he didn't want to risk having another encounter with her "boyfriend". During their conversation, the killer reportedly offered to pay her $1,500 for an overnight stay—a figure that was much higher than the usual rate.
After a bit of back and forth, the pair agreed on a price, and the burner phone began traveling from Massapequa Park to West Babylon.
The killer did not park on America Avenue, as Schaller had a rule against clients stopping directly outside their house. If one of the residents noticed his roommate jumping in and out of random vehicles, it wouldn't be long before they realized that she was turning tricks.
The killer also had another excuse to park away from the address—her supposed "boyfriend".
At around 11.20 p.m., Costello exited this small house in West Babylon and walked to the killer's vehicle, which was parked around the corner. Not long after, Schaller saw a dark-colored truck driving past.
The following day, the hours drifted by, and Schaller started to worry.
His roommate was still gone.
Fearing that something had happened to her, he raised the alarm with her sister, Kimberly Overstreet.
However, Overstreet did not file a missing persons report, as she presumed that her sister was off getting high with someone else. Because her sister was a drug addict and a sex worker, she also believed that the police wouldn't take her case seriously.
Unfortunately, she was probably right, as the relatives of some of the other victims received a significant amount of pushback when they attempted to report their loved ones missing.
Three months later, on December 13th, 2010, investigators found Costello's body near Gilgo Beach. She had been bound with tape, wrapped in burlap, and then dumped in the thick bushes beside Ocean Parkway. Beside her lay the remains of three missing sex workers, all of whom had met a similar fate.
For more than a decade, the investigation into their murders went nowhere.
As the years drifted by, it seemed less likely that an arrest would ever be made. However, hidden among the details of Costello's disappearance was a vital lead that had gone overlooked.
Schaller initially told detectives about the ogre and the truck with the triangular feature back in 2010 or 2011. The authorities had also deduced that the vehicle in question was most likely a dark-green Chevrolet Avalanche.
Unfortunately, it seems as though this information was treated as inconsequential, as it lay buried beneath the hundreds of interviews, phone records, and other tips that had been gathered over the years.
Former Chief of Detectives, Dominick Varrone, told the media that they did not have a "suspect vehicle" on their radar during the first year of the investigation. This means that the tip was either dismissed or forgotten about.
In February 2022, a new multi-agency task force was established to investigate the Gilgo Beach murders. While it was reviewing the case files, it came across Schaller's tip about Costello's last known client.
Realizing that they had a potential lead, they began searching for a large man who lived in Massapequa and owned a Chevrolet Avalanche.
Shortly afterwards, a state police detective on the task force searched the New York motor database and struck gold.
Finally, after years of nothingness, there was a name.
Amber Lynn Costello house address
Below, you will find the address and the GPS coordinates for this location.
Address
1112 America Avenue, West Babylon, New York, NY 11704, USA
Map
To view directions on how to get there, you can use the Google Maps shortcut below:
GPS coordinates
The latitude and longitude coordinates for the house are:
40.722732, -73.353109
Directions
The house is situated 0.2 miles east of the intersection between Little East Neck Road and America Avenue.
Private Property Warning
This is a private property. It is not a public place. Therefore, you should be respectful and not step foot on the property without permission.
Photos
Photos of the house and other related images.
---
1112 America Avenue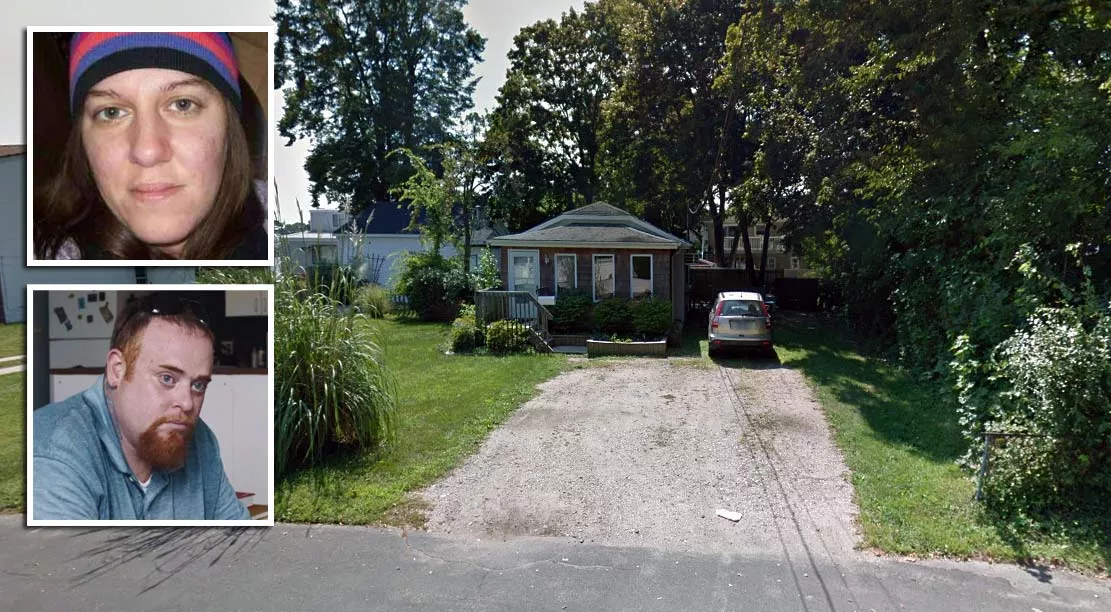 Amber Lynn Costello and Dave Schaller lived at this small, 753-square-foot house on America Avenue in West Babylon, Long Island.
At the time, the pair were both drug addicts.
Kimberly Overstreet said that her sister was a heavy heroin user who went through roughly 10 bags per day.
When the 27-year-old's remains were discovered on Gilgo Beach, Schaller was able to identify her body after seeing a small tattoo on her arm.
Costello was contacted by a burner phone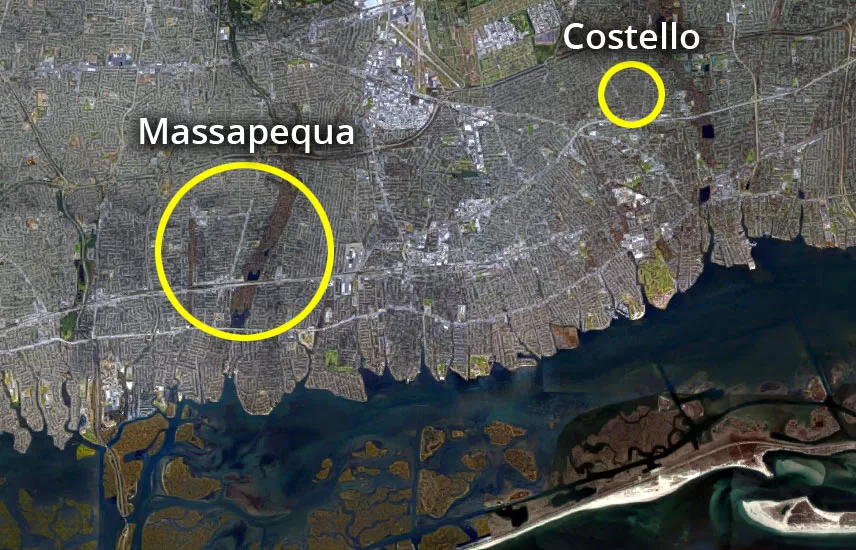 Investigators noticed that the burner phone that contacted Costello originated from the Massapequa area of Long Island.
On September 1st, 2010, it began traveling from West Amityville/Massapequa Park towards her house in West Babylon. Shortly afterwards, the "ogre" appeared at the residence. However, he left after Schaller pulled his "jealous boyfriend" routine.
The following day, at around 9.32 p.m., the phone contacted Costello from Manhattan. Afterwards, it moved from Manhattan to Massapequa Park, where it communicated with her two more times.
Then, at roughly 11.17 p.m., it began traveling from Massapequa Park to West Babylon.
Not long after, an unknown client picked Costello up in a dark-colored truck.
The Long Island serial killer picked Costello up on Hampton Road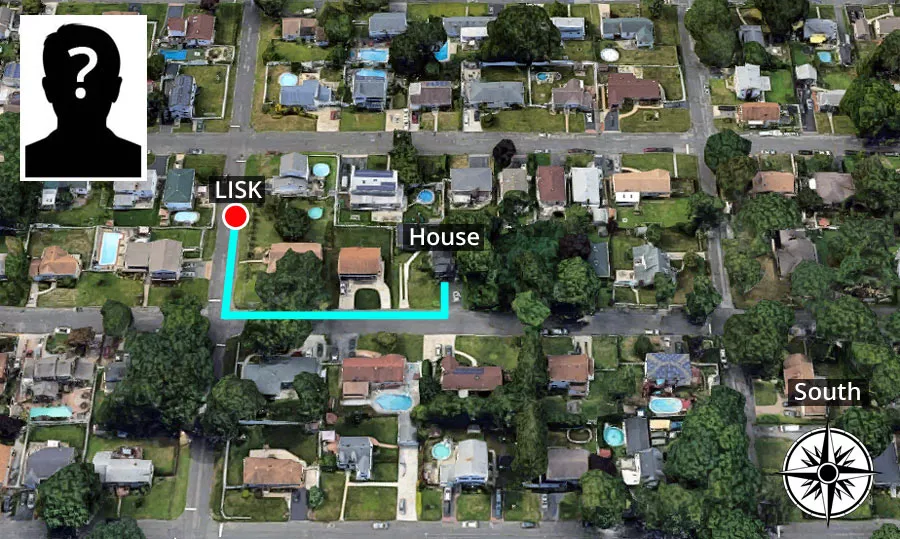 This south-facing aerial image shows the location where the Long Island serial killer picked up Amber Lynn Costello.
It is vital to understand that a serial killer who targets sex workers isn't someone who is merely pretending to be a client.
He is a client.
For example, Joel Rifkin, Larry Bright, Gary Ridgway, Kendall Francois, and Robert Lee Yates all frequented escorts on a regular basis. Both before and during their killing sprees, they picked up women, paid for their services, and then dropped them off completely unharmed.
In most cases, they only murdered their victims when the timing and circumstances were right.
This means that the Long Island serial killer was almost certainly a regular client.
He was a "fish in water", so to speak. This was a man who was deeply familiar with the industry. More importantly, he knew how to speak to sex workers without raising red flags.
Over the years, he would have picked up dozens of girls, most of whom were left relatively unscathed.
When these women got into LISK's vehicle and exchanged pleasantries with him, they didn't realize how close they were to death. In many cases, their lives were spared simply because someone had accompanied them to the vehicle or a bystander had witnessed the pickup.
At around 11.20 p.m. on September 2nd, 2010, LISK parked his vehicle on Hampton Road, which is just around the corner from Costello's house.
By that stage, it was long past sunrise, and most residents had settled in for the night.
Once he rolled to a stop, he called Costello using his burner phone and informed her that he was just around the corner.
While he was waiting, it is likely that he remained vigilant by checking his mirrors and paying close attention to nearby properties.
If Costello's roommate had accompanied her to the corner that night, it is very likely that the killer would have spotted him. At that point, he would probably use her services as normal.
However, in this case, the 27-year-old strolled around the corner by herself.
West Babylon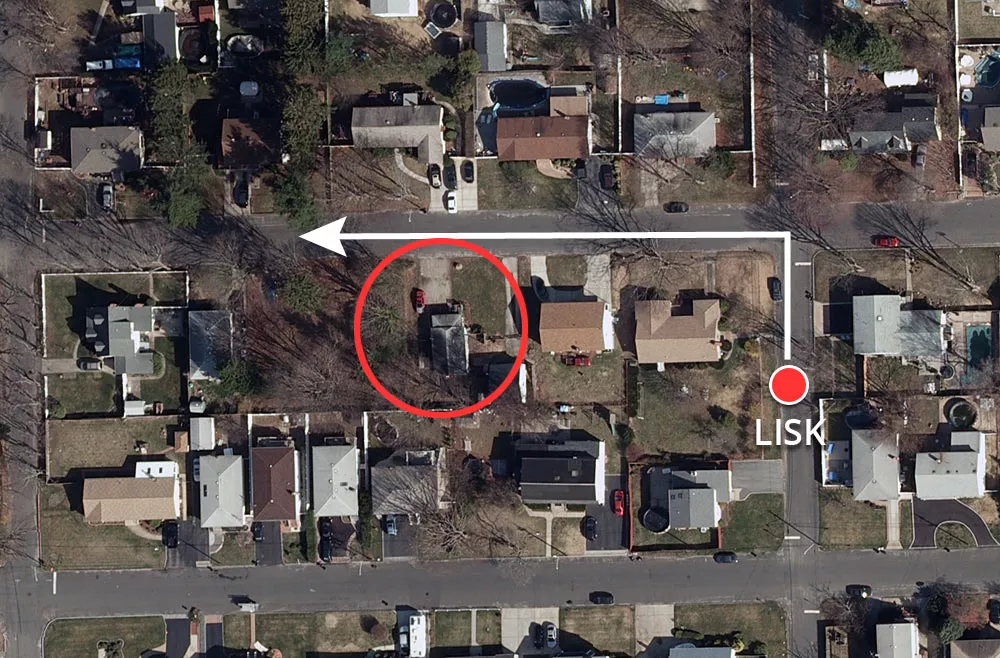 This aerial photograph of America Avenue was taken on April 1st, 2010, which was roughly five months before Costello disappeared.
We have circled the house in red.
Schaller said that his roommate walked east along America Avenue until she came to the crossroads. At that point, she looked up and down Hampton Road before turning right.
Evidently, LISK wasn't as cautious as originally thought, as he seemingly drove past the residence in his dark-colored truck moments later.
Hampton Road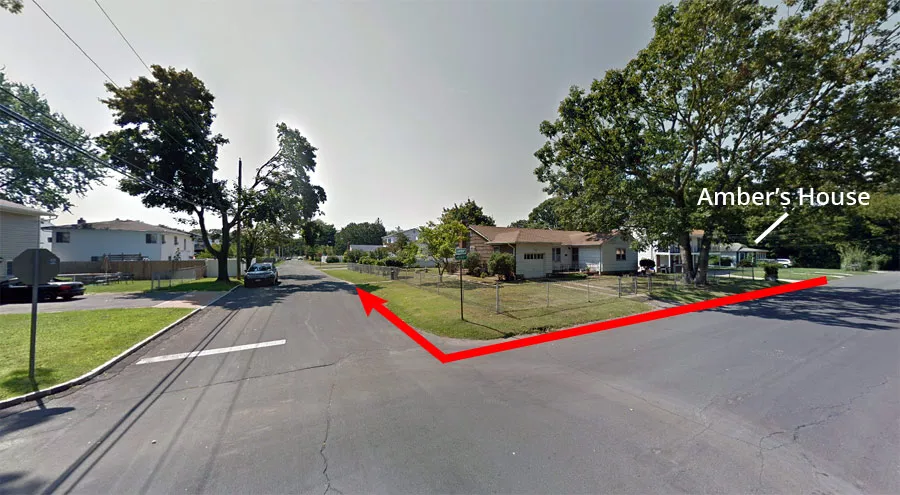 This is a Google Street View image of Hampton Road.
Dave Schaller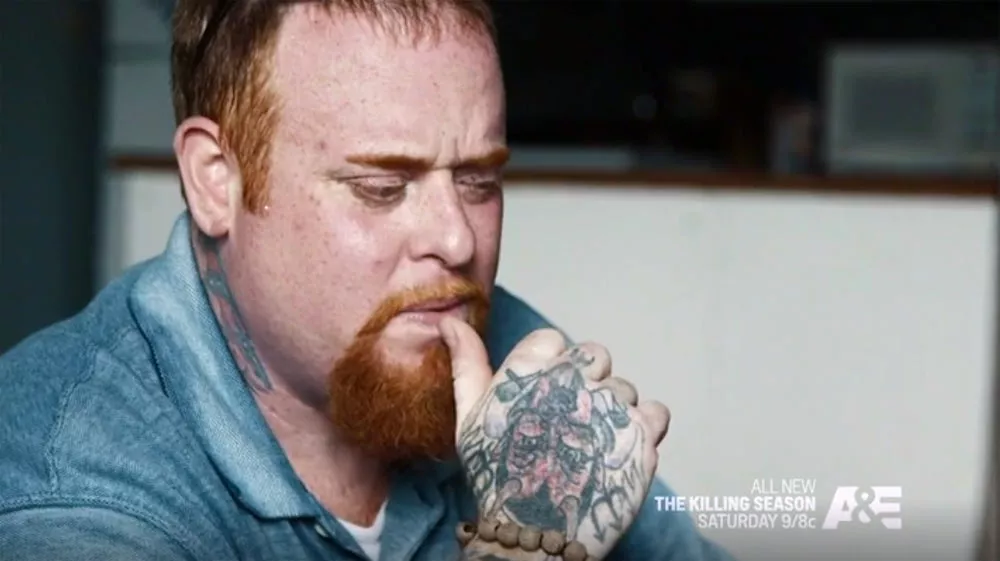 Image source: The Killing Season
Schaller was Costello's roommate. He spent more than a decade blaming himself for her death.
During an interview for the TV series The Killing Season (2016), he recalled the night in question:
This one guy kept calling, and she said he wanted her for the night. I said, "Did he throw money at you?" "Yea, $1,500." You know, it just sounded like too much money. 1,500 bucks. The guy called, and I walked to the edge of the property. She gave me a hug. She bounced. She took off. And all I had to do was walk another ten feet, and I would have seen the guy's f**kin' car. Like ten more feet. Ten feet... I could have seen a license plate or something. Ten feet killed that girl.
At the beginning of 2022, a new task force was created to reinvigorate the Gilgo Beach investigation.
During a review of the case files, they came across Schaller's description of the "ogre" and his dark-green Chevrolet Avalanche.
This tip proved to be the lead that finally cracked the case, as it eventually led to the arrest of Rex Heuermann.
It is unclear why this piece of information was brushed aside during the initial investigation.
It is possible that it wasn't deemed credible or that the detectives at the time were focused on other leads that they believed were more promising.
Another plausible explanation is that they overestimated LISK. In other words, they may have presumed that a killer who utilized burner phones was far too cautious to visit the same house twice in such a short period of time.
Chevrolet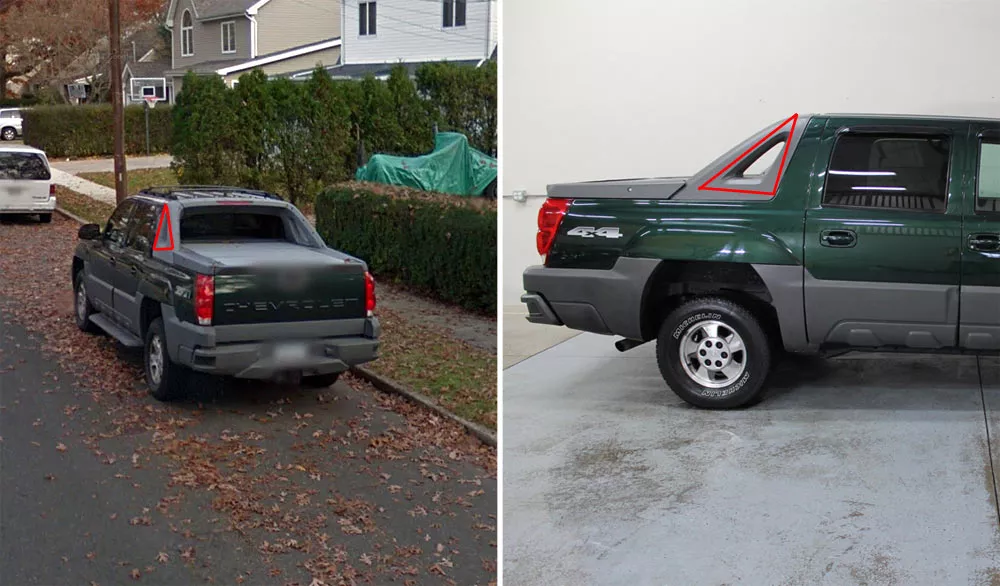 Although Schaller was unable to recall the make and model of the truck, he did remember that it had a triangular brace at the back.
The Google Street View image on the left was taken outside of Heuermann's house in Massapequa Park in 2011. The vehicle on the right is a 2002 Chevrolet Avalanche that was listed on an auto sales website.
As you can see, this model has a triangular brace between the bed and cab.
Costello's remains were found near Gilgo Beach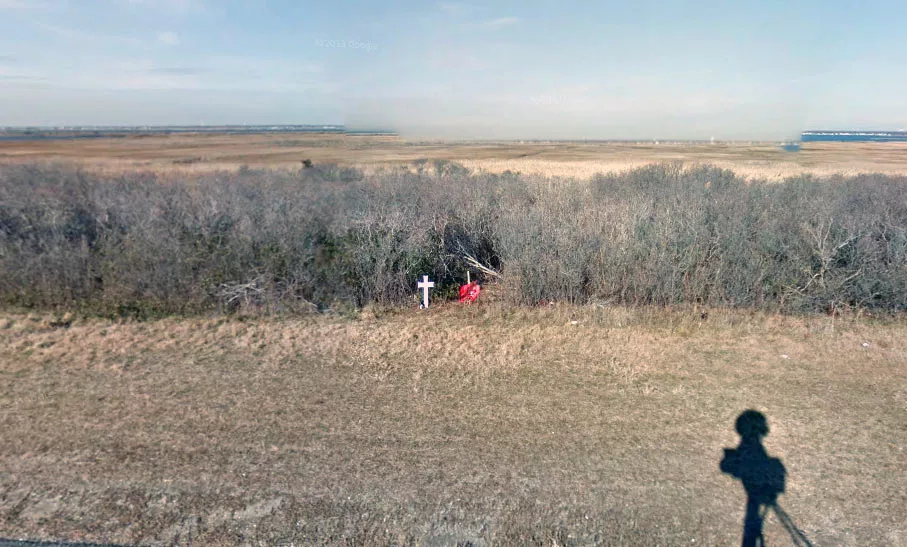 In December 2010, Amber Costello's remains were found inside the thicket at this section of Ocean Parkway.
By that stage, she had been missing for about three months.
She had been bound with three pieces of white or clear duct tape and wrapped in duck-blind camouflage burlap.
One of these pieces of tape contained a single female hair, which was later determined to belong to the same mitochondrial haplogroup as Rex Heuermann's wife, Asa Ellerup.
The authorities believe that the tape may have picked up the hair from inside Heuermann's residence, as cell phone data showed that Ellerup was in New Jersey at the time of the murder.
Costello was not reported missing because her sister, Kimberly Overstreet, presumed that she was off getting high somewhere.
Overstreet had previously worked in the industry herself. Consequently, she was also aware that the police were reluctant to file missing person reports about sex workers.
Sadly, she was correct.
Relatives of some of the other victims would later recall that they received pushback when they attempted to report their loved ones missing, as sex workers are usually transient in nature.
It wasn't until all of their remains turned up in the same spot on Gilgo Beach that the authorities realized they had a serial killer case on their hands.
Coordinates: 40.624084, -73.377395
Map Viewer
There is more than one location associated with this entry. To view all of these places on the same map, you can use the following feature:
Closest Locations
Other locations that are relatively close to this address: Roughly 5 miles away.
Crime Location in North Bay Shore, New York Roughly 6 miles away.
Crime Location in Melville, New York Roughly 8 miles away.
Crime Location in Gilgo Beach, New York