Larry Bright's house
Serial Killer House
3418 W Starr Ct, Peoria, IL 61605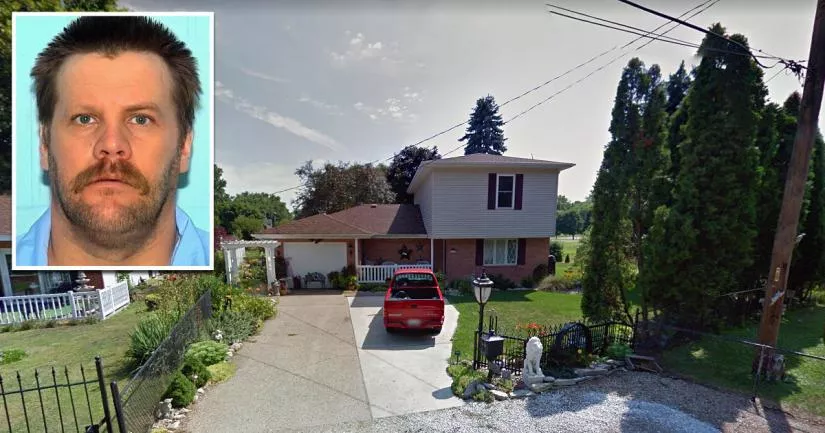 This is Larry Bright's former house.
It is located at 3418 West Starr Court in Peoria, Illinois.
Bright is a serial killer who murdered at least eight women between July 2003 and October 2004.
He was nicknamed "The Bonecrusher" because he burned four of his victims' remains in his backyard and then crushed their bones with a hammer.
Growing up, the concrete worker reportedly developed a sexual fascination with black women.
In 2000, he suffered a back injury that put him out of work. During this period, he underwent three surgeries and became addicted to painkillers.
Unemployed and depressed, he also began abusing alcohol and picking sex workers, most of whom were African Americans.
Although this was the beginning of his "downward spiral," another three years passed before he started murdering women.
His killings began on July 25th, 2003, when he strangled 30-year-old Sabrina Payne to death and dumped her body near a cornfield in Tazewell County. Bright claimed that he "lost control" because he believed that Payne was ripping him off.
From that point on, a switch had been flipped, and he began to actively hunt for new victims.
Bright would cruise around Peoria and offer sex workers money and crack cocaine if they agreed to go back to his place. Once there, he would hold them at knifepoint, beat them, and then rape them.
In some cases, he would kill them while they slept.
Most of the women were strangled to death. However, on one occasion, he gave his victim so much cocaine that she died from an overdose.
After murdering his victims, Bright would often burn their bodies in his backyard, break their bones down with a hammer, and then dump the remaining fragments in rural areas.
In October 2004, the Peoria Police Department formed a task force to investigate the murders and disappearances of ten local women. Shortly afterwards, Bright came to their attention after a woman claimed that he had attacked her and attempted to rape her at knifepoint.
During their investigation, they discovered that he had a violent reputation among sex workers.
The 38-year-old was arrested on January 20th, 2005, after a forensic team discovered human bone fragments during a search of his backyard on West Starr Court.
Following his arrest, he quickly confessed to murdering eight women between 2003 and 2004.
On May 30th, 2006, he pleaded guilty to seven counts of first-degree murder and one count of drug-induced homicide. He also waived all rights to appeal.
In exchange for his guilty plea, he was spared the death penalty and sentenced to life in prison without the possibility of parole.
He is currently incarcerated at the Shawnee Correctional Center in Vienna.

Further information is available in the "Photos" section below.
Larry Bright's house address
Below, you will find the address and the GPS coordinates for this location.
Address
3418 W Starr Ct, Peoria, Illinois, IL 61605, USA
Map
To view directions on how to get there, you can use the Google Maps shortcut below:
GPS coordinates
The latitude and longitude coordinates for the house are:
40.673749, -89.648286
Directions
Bright's former home is situated at the end of a small cul-de-sac in the west of Peoria. It lies to the south of the Lutheran Cemetery.
Details about the general area
Peoria is a city in central Illinois. It is about 100 miles southwest of Chicago.
Private Property Warning
This is a private property. It is not a public place. Therefore, you should be respectful and not step foot on the property without permission.
Photos
Photos of the house and other related images.
---
3418 West Starr Court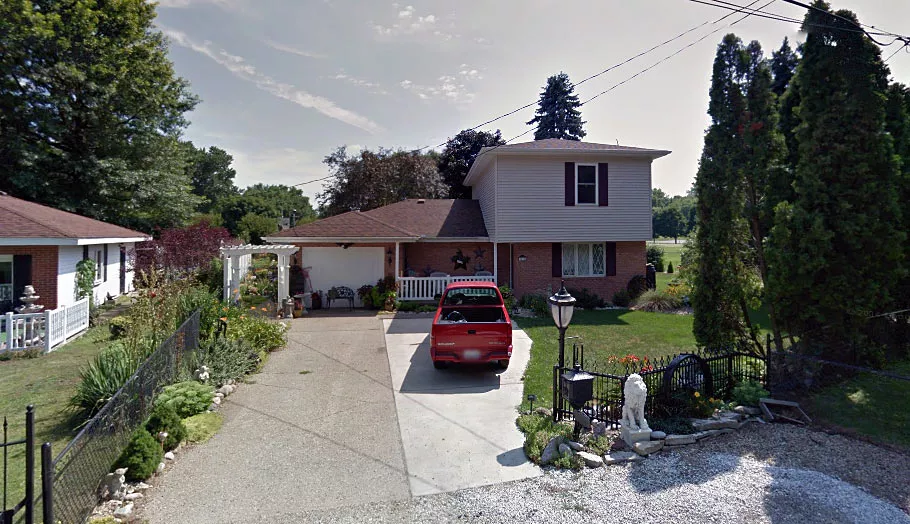 This Google Street View image of 3418 West Starr Court was taken in July 2011—roughly six years after Bright's arrest.
The house was built in 1970 and is roughly 1,700 square feet in size.
His mother, Shirley Bright, purchased the property for $70,000 in August 2003. Her son committed most of the murders while she was out of town visiting her boyfriend.
The backyard gave him the privacy he needed to burn his victims' remains, as it was walled off by a 6-foot fence on either side.
Although he had access to the main house, he actually lived in an outhouse at the back of the property. Relatives have said that Bright's mother was not allowed to enter the outhouse.
Outhouse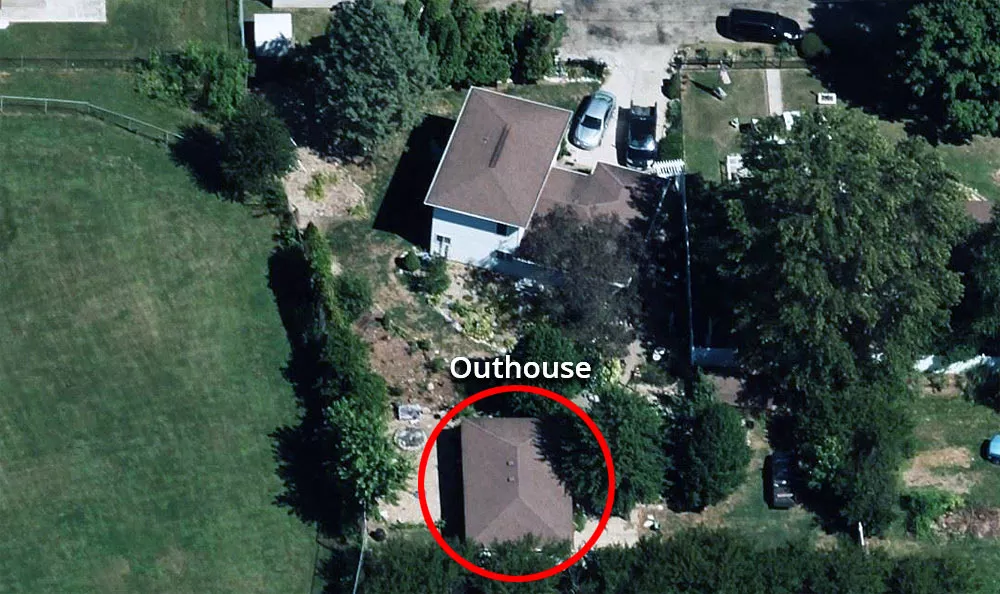 This is an aerial image of the property. We have circled Bright's outhouse in red.
The backyard was walled off.
Neighbors said that he was constantly hauling dirt around the yard. However, they presumed that he was just landscaping (which, in many cases, he was).
When the police arrived with a search warrant, they noticed several sections of the yard where the soil had been recently disturbed.
Bright's mother explained that she and her son had recently removed a number of raspberry bushes. However, when the police dug the areas up, they found ashes and fragments of charred bones.
In July 2004, Bright picked up a sex worker named Vickie Bomar and brought her to his outhouse, where he held her at knifepoint and attempted to rape her.
Although Bomar managed to escape, she chose not to go to the police about the incident because there was a warrant out for her arrest. She was also unaware of the fact that a serial killer was on the loose in Peoria.
A few months later, Bomar was arrested and sent to county jail. By that stage, she had learned about the police manhunt for the killer.
After being taken into custody, she told investigators about her encounter with Bright.
Larry Bright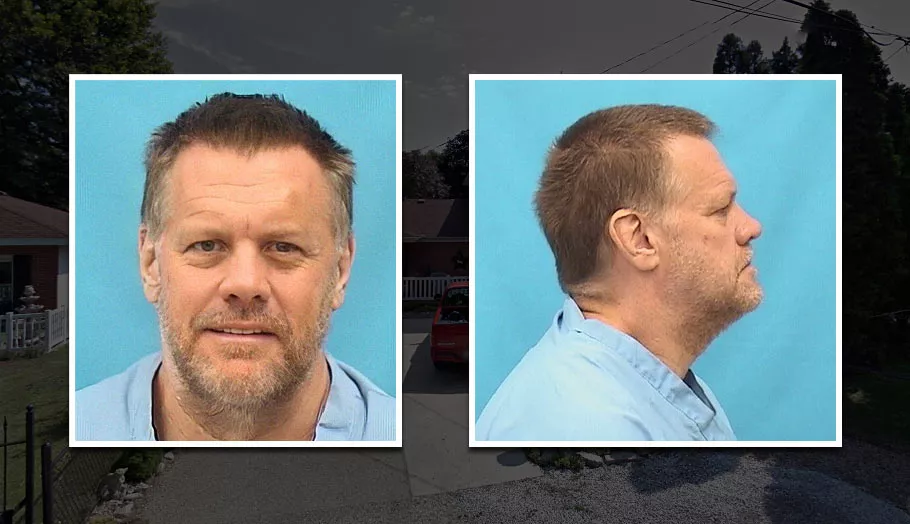 Larry Bright was born in Peoria County, Illinois, on July 8th, 1966.
Although his parents divorced when he was young, he maintained a relationship with his father, Garry Bright, up until his death in 1998.
In 1982, he was convicted of two counts of burglary and sentenced to three years in prison. Family members recalled how he "changed" while he was on the inside.
Following his release, he began drinking heavily and abusing cocaine.
His substance abuse issues reportedly worsened after he suffered a back injury that put him out of work.
Victims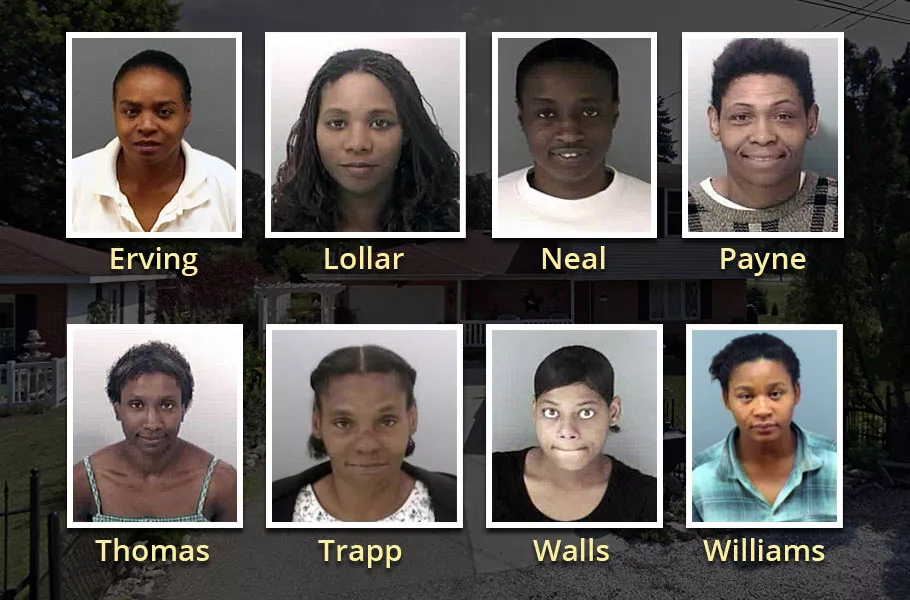 Bright's victims were Brenda Erving (41), Laura Lollar (33), Linda Neal (40), Sabrina Payne (36), Shaconda Thomas (32), Shirley Ann Trapp (45), Tamara Walls (29), and Barbara Williams (36).
Lollar, Thomas, Trapp, and Walls were all burned in Bright's backyard. The other victims were dumped in rural locations.
He had reportedly planned on burning Neal's remains as well. However, he couldn't do so because his mother was home at the time.
The victims were all sex workers, most of whom had drug abuse problems.
Bright burned the remains by digging a hole and starting a coal fire. After leaving the bodies to burn for a few hours, he shoveled the ashes and bone fragments into a bucket and disposed of them someplace else. Afterwards, he would remove evidence from the shovel with a scrub brush.
On one occasion, he dumped his victim's ashes in the backyard of his grandmother's home, which was located at 630 South Anna Avenue in Bellevue.
Following his arrest, he pointed out all of the locations where he had dumped his victims.
Closest Locations
Other locations that are relatively close to this address: Roughly 131 miles away.
Crime Location in Delmar, Iowa Roughly 144 miles away.
Grave Site in Enos, Indiana Roughly 145 miles away.
Crime Location in Iowa City, Iowa