The Amityville Horror House
Crime Scene Location in Amityville, New York, United States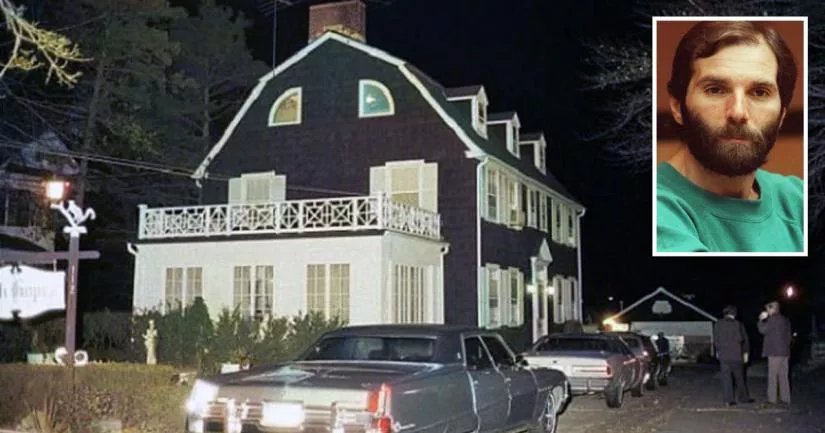 This is the Amityville Horror House.
It is situated at 108 Ocean Avenue in Amityville, New York.
The location gained notoriety after a man named Ronald "Butch" DeFeo Jr. killed six of his family members at the residence.
Originally, the address was 112 Ocean Avenue. However, it was renumbered following the murders.
In the early hours of November 13th, 1974, Ronald grabbed a rifle and proceeded to shoot his parents and four siblings. Later that day, he ran into a local bar and frantically shouted that he had discovered his parents' bodies.
When the police arrived at the house, they found the six victims lying face down in their beds. They had been shot in cold blood while they slept.
During questioning, Ronald told detectives that a mobster named Louis Falini may have been responsible. He explained that Falini had previously lived with his family for a period of time, but that the relationship between them had turned sour due to a personal disagreement.
At first, investigators believed that the theory was plausible, as it was common knowledge that the DeFeos had relatives in the Genovese crime family. However, it soon became clear that they were being deceived.
While they were inspecting Ronald's room, they discovered two cardboard boxes underneath his bed. The labels on one of these boxes suggested that it had come with a .35 Marlin rifle—the same type of caliber weapon that had been used in the murders.
Falini was also ruled out as a suspect, as he was nowhere near Long Island on the date of the murders.
As time wore on, more and more inconsistencies began to appear in Ronald's story. At one point, he claimed that the murders must have occurred after 1 p.m., as that was when he had left for work. However, he was forced to revise this timeline after one of the detectives pointed out that his family had been found lying face down in their beds wearing their bedclothes.
When physical evidence from the crime scene proved that he was home at the time of the murders, he began to spin a tale about how Falini and another man had woken him up, put a revolver to his head, and forced him to watch as they murdered each of his family members.
He also described how he had helped clean up some of the evidence.
The moment of truth finally came when one of the detectives bluntly said, "It didn't happen that way, did it, Butch? They were never there, were they? Falini and the other guy were never there."
Realizing that his story was crumbling, Ronald put his head in his hands and replied, "No. It all started so fast. Once I started, I just couldn't stop. It went so fast."
During his trial, Ronald attempted to mount an insanity defense by claiming that a voice in his head had directed him to kill his family. However, the jury came to the conclusion that he was aware of what he had done.
Consequently, they found him guilty of six counts of second-degree murder.
Ronald DeFeo Jr. was given 25 years to life for each killing.
On March 12th, 2021, he died in prison at the age of 69.

Further information is available in the "Photos" section below.
Amityville Horror House location
Below, you will find the address and the GPS coordinates for this location.
GPS coordinates
The latitude and longitude coordinates for the house are:
40.666545, -73.414840
Map
To view directions on how to get there, you can use the Google Maps shortcut below:
Address
The full address for this location is:
108 Ocean Avenue
Amityville
New York
NY 11701
United States
Directions
The Amityville Horror House is situated 470 yards (430 meters) south of the intersection between Merrick Road and Ocean Avenue. It sits across from the eastern entrance to South Ireland Place.
Details about the general area
Amityville is a village on Long Island. It is close to the Town of Babylon in Suffolk County, New York.
Private Property Warning
This is a private property. It is not a public place. Therefore, you should be respectful and not step foot on the property without permission.
Photos
Photos of the house and other related images.
---
112 Ocean Avenue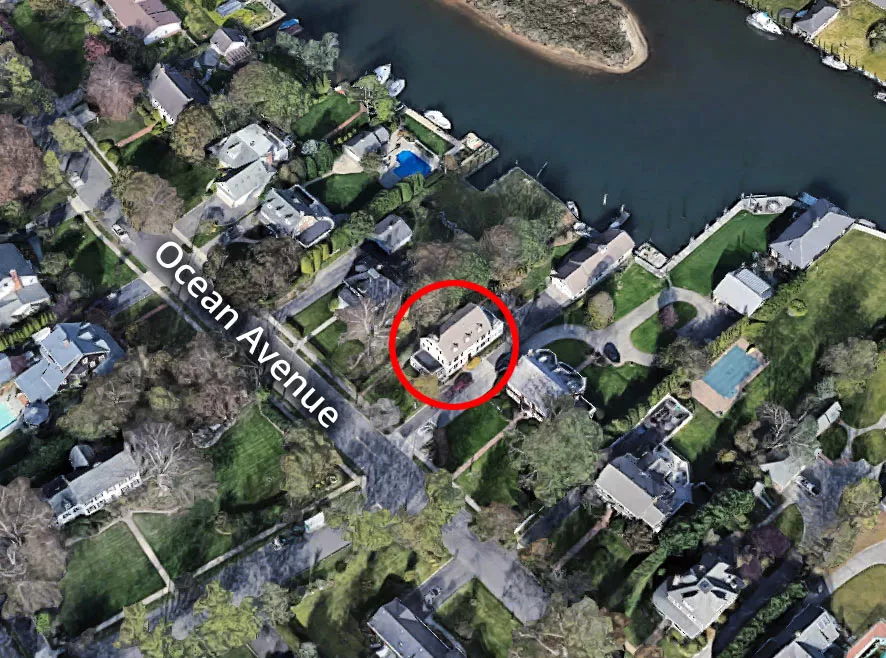 Image source: Google Maps
This is an aerial image of Ocean Avenue. We have circled the DeFeo family's former home in red.
Originally, the address was 112 Ocean Avenue. However, it was changed to 108 Ocean Avenue after the murders.
Notably, the owners have blurred the residence on Google Street View.
The house was built in 1927. It has five bedrooms and is 3,600 square feet in size.
According to public records, it was last sold for $605,000 in March of 2017. This seems to have been at a knockdown price, as one neighboring property sold for $980,000 around the same time. Furthermore, it had been listed at $850,000, which means that the owners eventually accepted an offer that was 30% lower than their original asking price.
The owners in question had previously purchased the house for $950,000 in 2010.
George and Kathy Lutz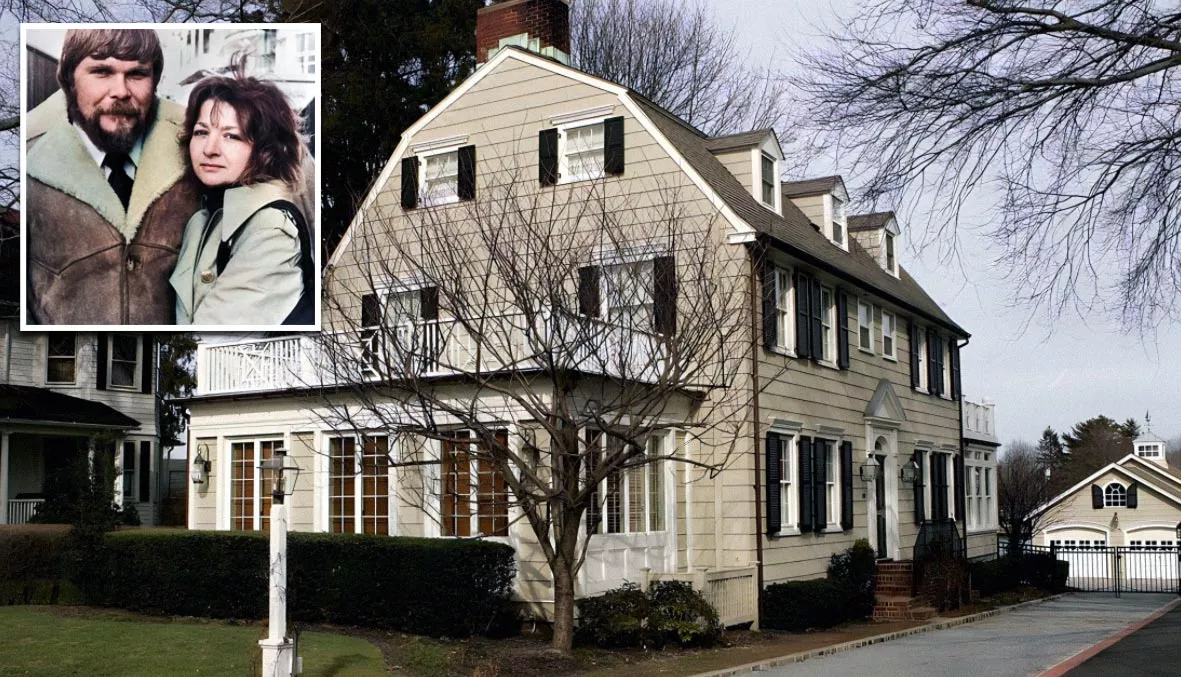 The Amityville Horror House is one of the most famous "haunted" houses in the United States.
Roughly one year after the homicides, a couple called George and Kathy Lutz (top left) purchased the property for $80,000.
The Lutz family was aware of its horrible past. However, they believed that everything would be fine as long as it was blessed by a priest.
Shortly after moving in, they reportedly began smelling strange odors. They also claimed that the front door would slam in the middle of the night.
George said that at some points, his wife Kathy would suddenly transform into an elderly woman. He also claimed that on one occasion, he woke up at night and saw her levitating above the bed.
The Lutzes seemingly fled their new home in fear after 28 days.
In the years that followed, questions were raised about the accuracy of the couple's story. There were also accusations that the entire haunting was a hoax.
For example, a book about their experience claimed that they saw cloven hoof prints (devil's footprints) in the snow on New Year's Day in 1976. Historical weather data indicates that this didn't happen, as there was no snowfall at that time.
The Lutzes said that a number of items had been physically damaged by an unseen spirit. However, the couple that purchased the house from them in 1977 disputed this claim. From what they could see, the items in question were perfectly fine and had not been repaired.
Suggestions that the house may have been built on an ancient Indian burial ground are also without merit.
Notably, none of the new owners have ever witnessed any paranormal activity.
Ed and Lorraine Warren were among the paranormal investigators who visited the house. According to Warrens, the haunting was not a hoax.
However, in 1979, Ronald DeFeo Jr.'s lawyer, William Weber, told People magazine that he met with the Lutzes and that they had all concocted the story over a few bottles of wine.
The Amityville Horror (1979)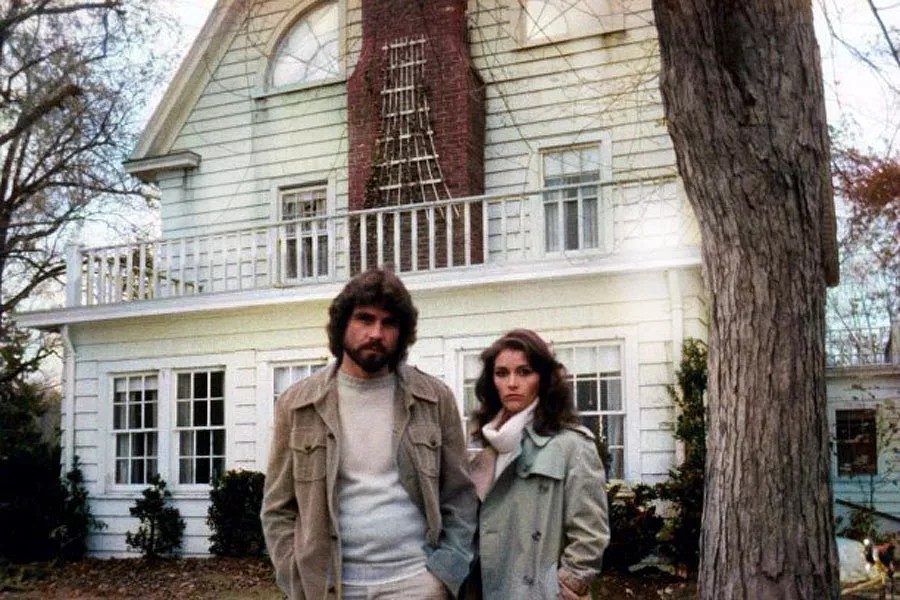 The 1979 film "The Amityville Horror" is based on the alleged experiences of the Lutzes family.
Actor James Brolin portrayed George Lutz, while Kathy was played by Margot Kidder.
Since then, there have been multiple sequels and spinoffs about the supposed haunting.
Ronald DeFeo Jr.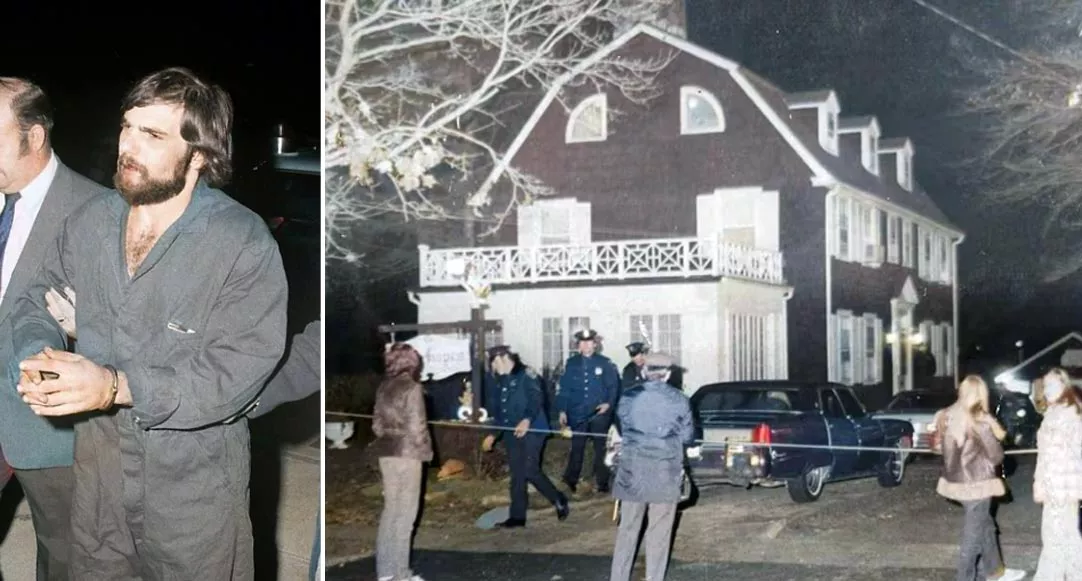 The image on the right shows the police cordoning off the house.
Following his conviction, Ronald "Butch" DeFeo Jr. repeatedly changed his story about the murders.
On one occasion, he claimed that his sister Dawn had killed his father with a rifle and that his mother was so overcome with grief that she took the gun and proceeded to shoot everyone.
Four years later, he said that Dawn and an unidentified assailant had committed the crime.
Then, in 2000, he reportedly told author Ric Osuna that he and his sister had shot their parents because they were plotting to kill him. During the interview with Osuna, he alleged that Dawn had killed their siblings because she didn't want to leave any witnesses behind.
The prosecution argued the motive behind the murders was money, as Ronald was listed as a beneficiary in his father's $200,000 insurance policy. Furthermore, he had inquired about the policy shortly after the killings.
During his initial confession, he said that he drugged his family with barbiturates so that they wouldn't wake up during the shooting. Because the medical examiner saw no trace of needle puncture marks, he opined that the drugs must have been crushed up and added to their dinner.
Once DeFeo was confident that his family was in a deep sleep, he picked up his Marlin rifle and then methodically went into each room, shooting them one by one.
Closest Locations
Other locations that are relatively close to this address: Roughly 3 miles away.
Place of Interest in Massapequa Park, New York, United States Roughly 4 miles away.
Crime Location in Gilgo Beach, New York, United States Roughly 4 miles away.
Crime Location in Gilgo Beach, New York, United States Roughly 4 miles away.
Crime Location in Gilgo Beach, New York, United States Roughly 5 miles away.
Crime Location in Massapequa, New York, United States