The steakhouse where Paul Castellano was killed
Crime Scene Location in Manhattan, New York, United States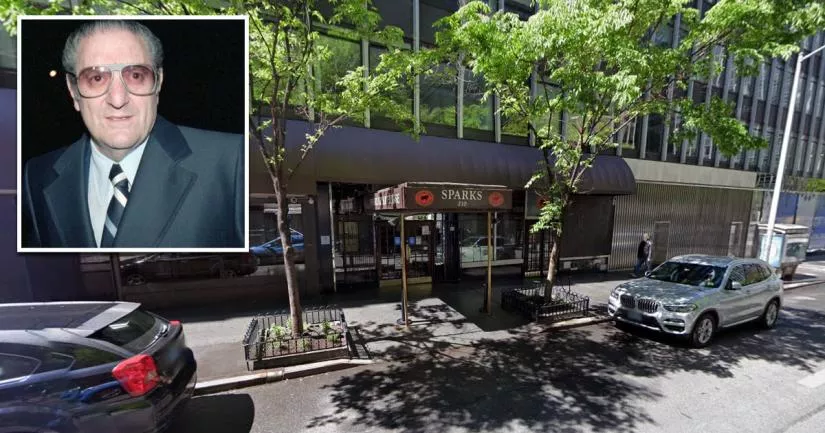 This is the location where Gambino crime boss Paul Castellano was killed.
It is situated at 210 East 46th Street in Manhattan, New York.
On December 16th, 1985, the mob boss arrived at Sparks Steak House for a scheduled meeting. However, he never made it inside.
While he was getting out of his vehicle, three hitmen ambushed him and shot him multiple times.
Castellano's killers were part of a "hit squad" that had been assembled by Gambino capo John Gotti.
Over the years, Gotti and other members of the family had grown tired of Castellano's leadership.
In their eyes, he was an out-of-touch boss who lorded over them from his large mansion on Staten Island. While they were working on the street, "Big Paul" was walking around his 10,000-square-foot home in his silk dressing gown.
To make matters even worse, he had forbidden them from getting involved in the lucrative drug business.
However, Castellano's subordinates did not respect him. As a result, they ignored his orders and continued to sell drugs.
When their involvement in the heroin trade became public knowledge, they began to worry that their boss might retaliate or break up their crew.
At that stage, they realized that they needed to make the first move.
Consequently, Gotti and his associates decided to murder Castellano and take control of the family.
When "Big Paul" and his bodyguard, Thomas Bilotti, pulled up outside of Sparks Steak House, three hitmen wearing trench coats and fur hats were waiting at the door of the restaurant.
As Castellano and Bilotti were exiting the vehicle, the gunmen ran up to them and shot them both dead.
While the hit was taking place, Gotti sat in his car and watched.

Further information is available in the "Photos" section below.
Paul Castellano's death location
Below, you will find the address and the GPS coordinates for this location.
GPS coordinates
The latitude and longitude coordinates for the steakhouse are:
40.753036, -73.971998
Map
To view directions on how to get there, you can use the Google Maps shortcut below:
Address
The full address for this location is:
Sparks Steak House
210 East 46th Street
Manhattan
New York
NY 10017
United States
Directions
The restaurant is situated in Midtown East in Manhattan. It is 50 yards east of the intersection between 3rd Avenue and East 46th Street. Castellano was shot dead beside the lamp post on the right side of the steak house, opposite the metal door.
Photos
Photos of the steakhouse and other related images.
---
Sparks Steak House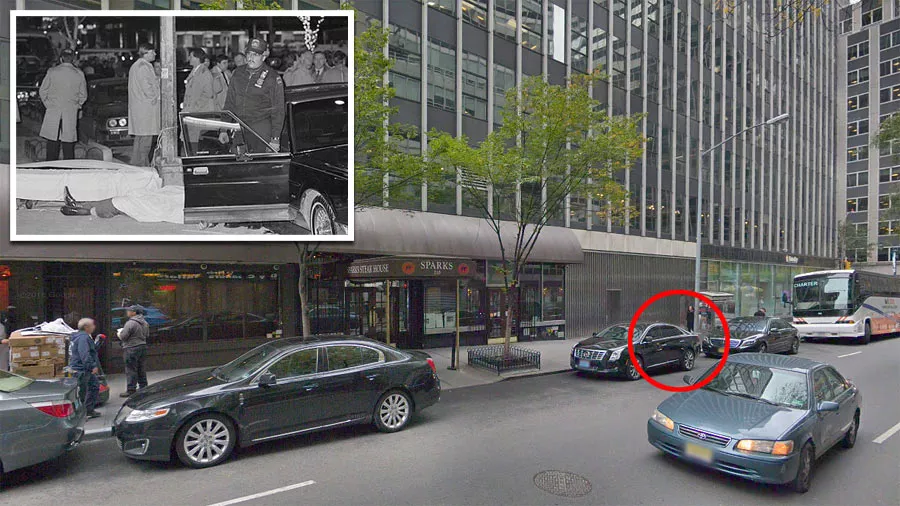 This is a Google Street View image of Sparks Steak House on East 46th Street in Manhattan. The red circle highlights the exact area where Paul Castellano was shot dead.
The inset photograph on the left shows police at the crime scene. Castellano exited the vehicle from the passenger side. His body was slumped on the pavement, close to the streetlight.
Then and now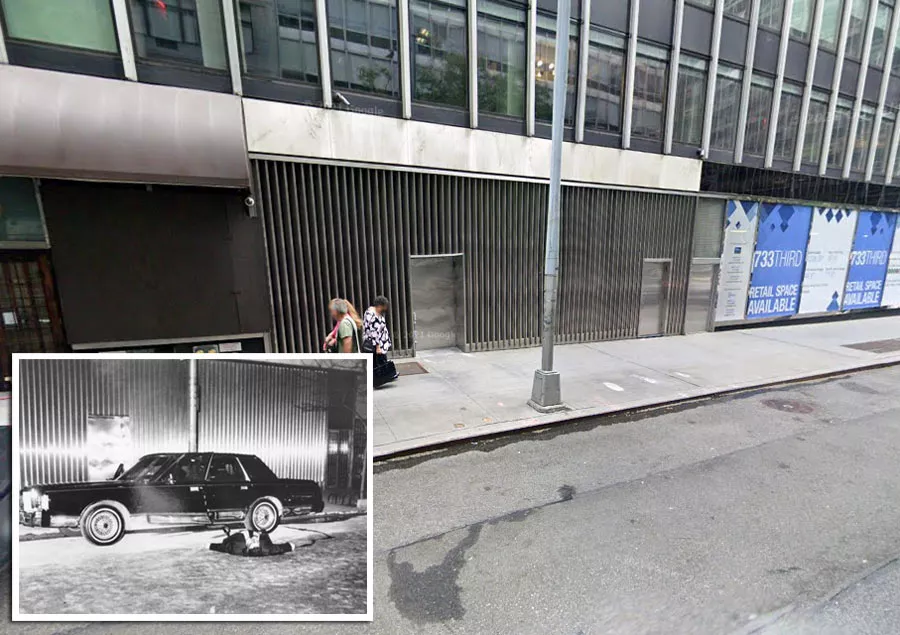 As you can see, this location looks very similar to how it did back in 1985.
In the inset photograph, you can see Castellano's underboss and bodyguard, Thomas Bilotti. He was shot dead after he exited the driver's door.
Castellano, Bilotti and Gotti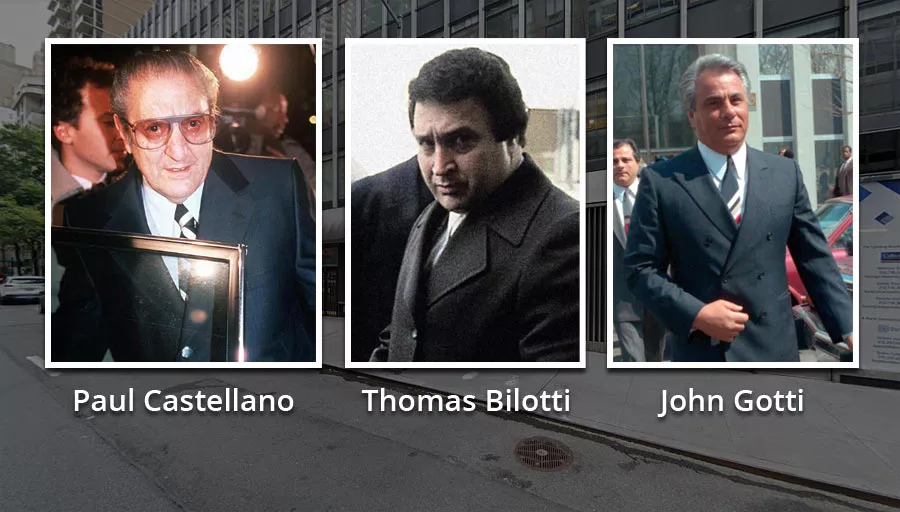 In 1985, Castellano promoted his bodyguard and friend, Thomas Bilotti, to underboss. This angered members of the family, as Bilotti was a violent thug who lacked the skills for such a position.
Around the same time, Castellano failed to show up at the wake of John Gotti's mentor, Aniello Dellacroce.
This infuriated Gotti and many of Dellacroce's followers. In their eyes, his decision to not attend the wake was a blatant act of disrespect.
These two events exacerbated tensions between the two sides.
When Gotti learned that "Big Paul" and Bilotti had plans to "dismantle" his crew, he decided that it was time to act.
At that stage, Gotti and other capos in the Gambino family started making plans to "whack" their boss and his loyal bodyguard.
Shortly afterwards, Gotti received a tip-off that the two men were due to attend a meeting at Sparks Steak House in Manhattan.
Sensing that is was the perfect opportunity to strike, he immediately set up a "hit squad" of six men.
That evening, three of the men stood at the door of the restaurant wearing disgusises. The other three waited further down the street.
At around 5.25 p.m., Castellano and Bilotti pulled up outside in a Lincoln Continental. However, as soon as they opened their doors, the three hitmen at the front of the steakhouse ran towards them and opened fire.
Hitmen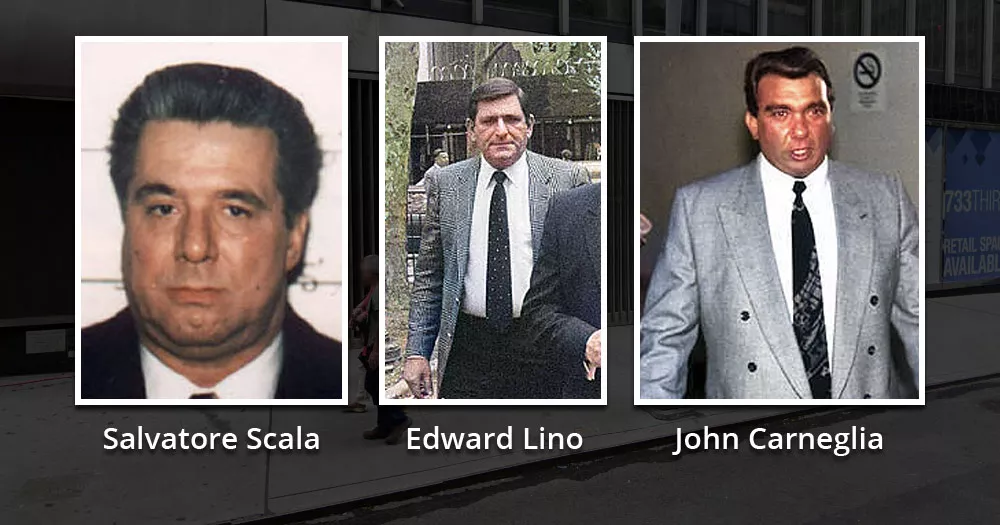 The hit squad consisted of Salvatore Scala, Edward Lino and John Carneglia. That evening, the three men waited for Castellano at the entrance of the steakhouse. They were wearing trench coats and fur hats as a disguise.
2022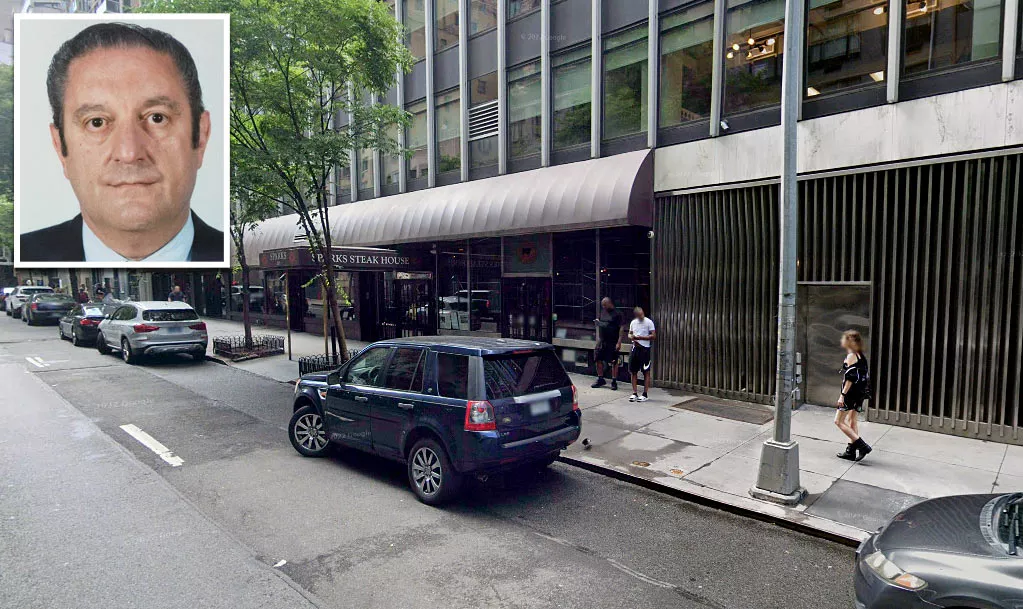 Image source: Google Maps
This Google Street View image of the restaurant was taken in June of 2022.
Closest Locations
Other locations that are relatively close to this address: Less than a mile away.
Crime Location in Manhattan, New York, United States Roughly one mile away.
Place of Interest in Manhattan, New York, United States Roughly one mile away.
Crime Location in Manhattan, New York, United States Roughly one mile away.
Crime Location in Manhattan, New York, United States Roughly one mile away.
Crime Location in Manhattan, New York, United States