Quad Studios: Tupac Shakur's 1994 shooting location
Crime Scene Location in Manhattan, New York, United States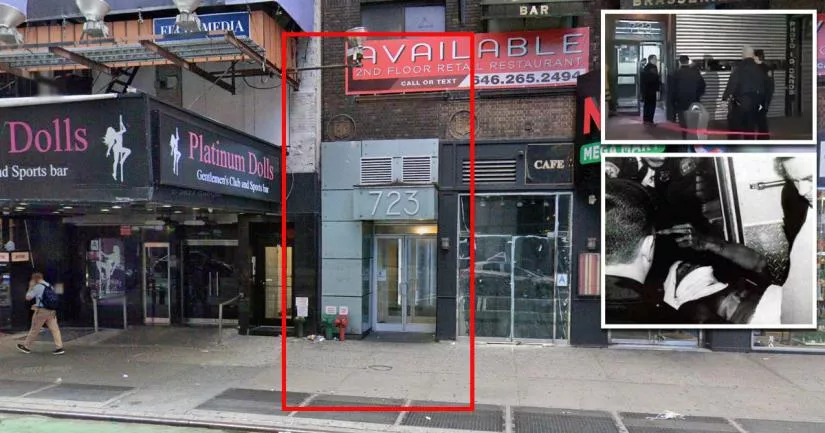 This is the location of Quad Studios.
It is situated on the 10th floor of 723 7th Avenue in Manhattan, New York.
On November 30th, 1994, rap star Tupac Shakur was beaten, shot, and robbed by three armed men in the downstairs lobby of the recording studio.
Although the rapper survived the attack, he was left with bullet wounds in his thigh, scrotum, and hand. One of the bullets also grazed his head.
The incident occurred shortly after midnight when Shakur entered the lobby to take part in a recording session. Earlier that day, a record executive named James "Jimmy Henchman" Rosemond had offered him $7,000 to feature on one of his clients' songs.
At the time, Shakur was facing a costly sexual assault case. Consequently, he decided to take Henchman up on his offer.
When the rapper and two of his friends entered the Quad Studios lobby, they were set upon by three armed men wearing camo fatigues.
The gunmen pointed revolvers at the group and ordered them to get down on the floor. However, Shakur refused to give in to their demands and began wasting time.
This led to a physical confrontation, during which Shakur was shot multiple times and then kicked while he lay on the ground. After beating the rapper into submission, the armed man snatched his expensive jewelry and fled the lobby.
Following the shooting, Shakur immediately began to suspect that he had been set up.
While the attack unfolded, rap star Biggie Smalls, Bad Boy Records owner Puff Daddy, Junior M.A.F.I.A., and other east coast hip-hop artists were upstairs.
According to Shakur, none of the men would look him in the eye after he was carried into the studio and placed on a couch.
Shortly afterwards, he was photographed sticking up his middle finger while paramedics wheeled him out to an ambulance.
Although many people presumed that the finger was aimed at the media, a member of Junior M.A.F.I.A. later claimed that it was actually pointed at himself and Biggie Smalls. However, at the time, they believed that he was just confused and emotional.
The 1994 Quad Studios shooting was the spark that ignited the infamous East Coast–West Coast hip-hop rivalry.
In February of 1995, Shakur was sent to prison after being convicted of sexual abuse. For the next eight months, he sat in his cell and stewed over the attack, replaying it over and over in his head and analyzing everyone's behavior.
By the time he was released, he had thoroughly convinced himself that he had been set up by Jimmy Henchman, Biggie Smalls, Puff Daddy, his friend Stretch, and other New York rappers.
After joining forces with Death Row CEO Suge Knight in Los Angeles, he proceeded to launch a furious verbal attack against his former friends on the east coast.
This included releasing the vicious diss track Hit 'Em Up, which was aimed at Biggie, Puff Daddy, and Mobb Deep.
The feud came to an end after Shakur and Biggie were both murdered in separate drive-by shootings.
In September of 1996, Tupac Shakur was gunned down in Las Vegas following a Mike Tyson fight.
Then, roughly six months later, Biggie Smalls was shot dead as he was leaving an after-party in Los Angeles.

Further information is available in the "Photos" section below.
Quad Studios location
Below, you will find the address and the GPS coordinates for this location.
GPS coordinates
The latitude and longitude coordinates for the recording studio are:
40.759998, -73.983876
Map
To view directions on how to get there, you can use the Google Maps shortcut below:
Address
The full address for this location is:
10th floor
723 7th Avenue
Manhattan
New York
NY 10019
United States
Directions
Quad Studios is situated in the Theater District of Manhattan. The entrance to the lobby is roughly 90 feet north of the intersection between 7th Avenue and West 48th Street.
Private Property Warning
This is a private property. It is not a public place. Therefore, you should be respectful and not step foot on the property without permission.
Photos
Photos of the recording studio and other related images.
---
1994 shooting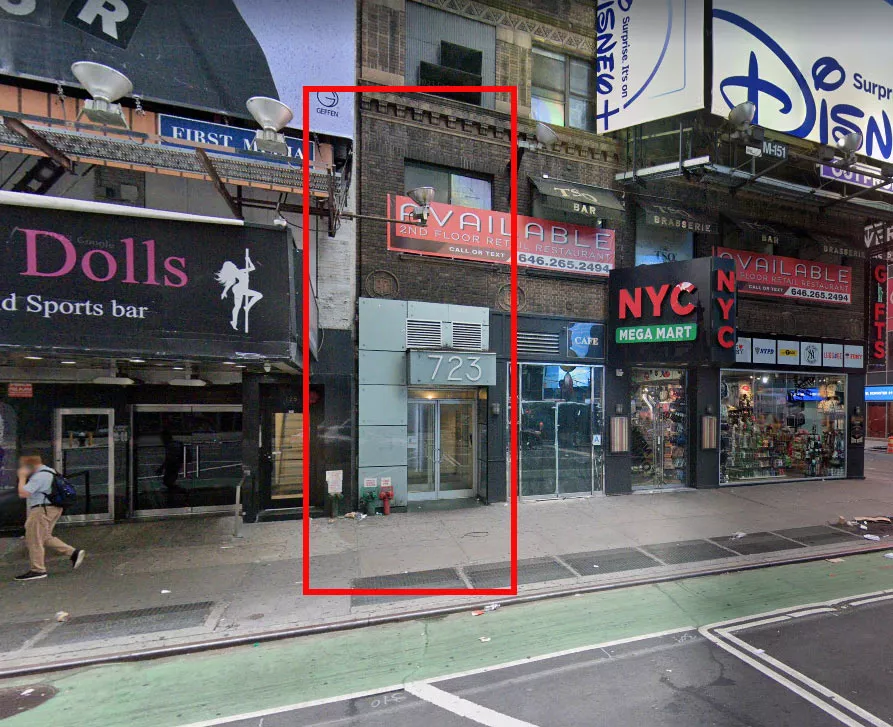 The 1994 shooting of Tupac Shakur occurred in the lobby of 723 7th Avenue in Manhattan.
The Google Street View image above was captured in August of 2022. We have highlighted the nondescript entrance with a red rectangle.
When 2Pac, Stretch (Randy Walker), and another man entered the building shortly after midnight, they were surprised to find three gunmen dressed in army fatigues standing in the lobby.
When the men in question ordered the group to get down on the floor, Stretch and the other man complied.
However, Shakur did not.
Jimmy Henchman and Dexter Isaac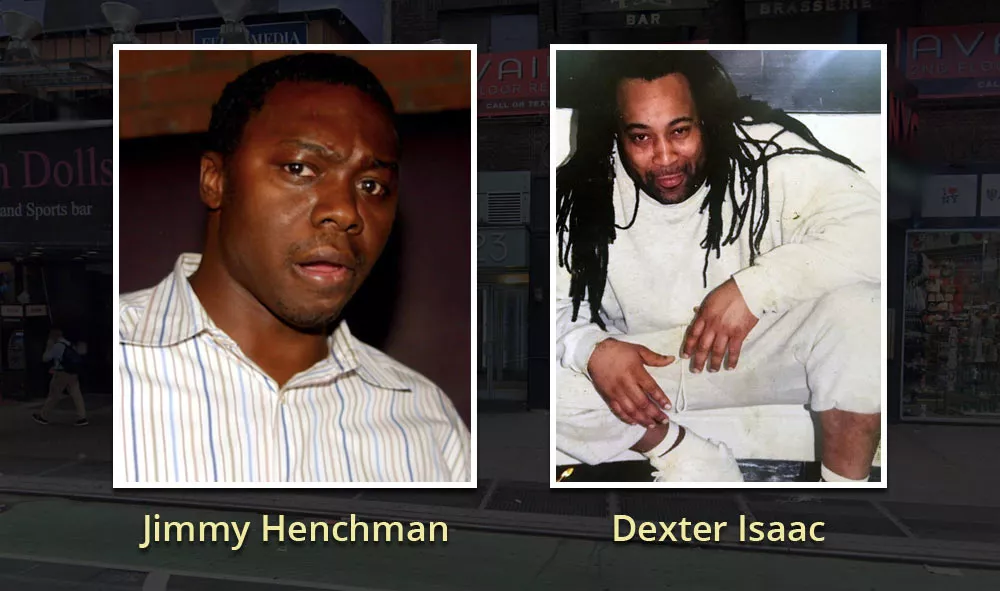 In November of 1994, music manager James "Jimmy Henchman" Rosemond called Shakur and asked him to rap a verse for his client, Little Shawn.
At the time, Henchman, who had a reputation for robbery and drug dealing, was trying to make inroads into the music industry.
When Shakur demanded $7,000 for appearing on Little Shawn's track, Henchman hung up the phone. However, he later called back and agreed to the price.
Following the shooting, Shakur was adamant that the music manager had set him up.
For nearly two decades, Henchman denied having any involvement in the incident. However, all of that changed after Henchman was charged with drug trafficking in June of 2010.
The following summer, a man named Dexter Isaac publicly confessed to being one of the armed men who had robbed Shakur. In his statement, he claimed that Henchman had hired him in exchange for $2,500 and some of the rapper's jewelry. He also said that he still had the rapper's gold chain as proof.
In May of 2012, it emerged that Henchman had secretly admitted his involvement in the Quad Studios robbery during a "proffer session" with prosecutors (these sessions give criminals the opportunity to reduce their sentences and avoid prosecution for crimes that they haven't been linked to yet).
The prosecutor mentioned the "proffer confession" during Henchman's drug trafficking trial.
When Henchman's attorney denounced an LA Times article that connected his client to the 1994 shooting of Tupac Shakur, the prosecutor responded with the following:
"If he is going to argue that this was a fabricated article, it is the government's position that we can put in the defendant's own admission about that particular shooting. In saying it is not true—when in fact it is true—the government should be able to rebut that argument that he is making. That the defendant actually admitted to this 1994 shooting."
James "Jimmy Henchman" Rosemond is currently serving life sentences for drug trafficking and murder.
Quad Studios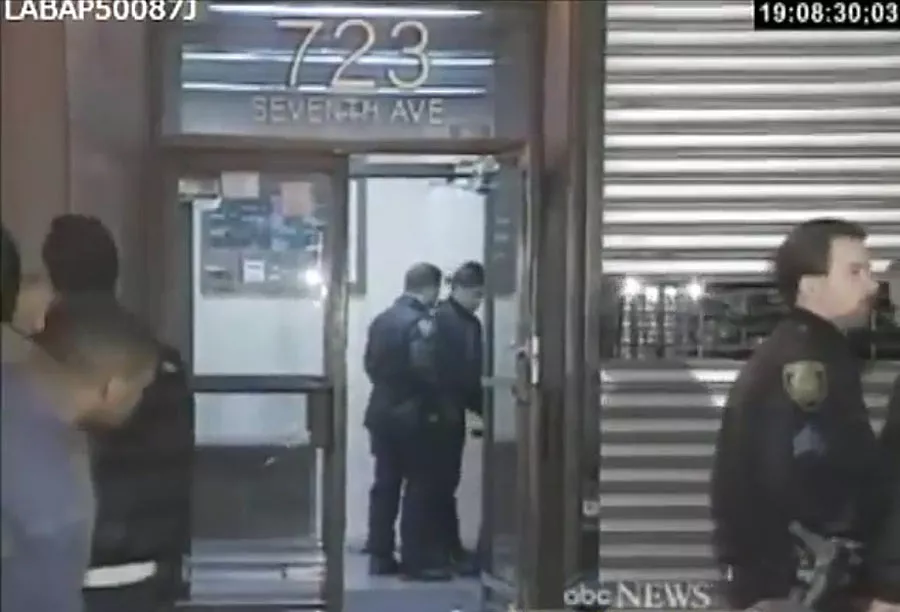 Craig McKernan was one of the first police officers to respond to the scene at Quad Studios.
When he entered the lobby, he saw a blood-stained blue bandana. He also noticed blood on the floor, wall, and elevator.
After going upstairs, he found Shakur lying on a couch in the studio. The rapper was bleeding from his thigh and groin area. A bullet had also grazed the top of his head.
Shortly afterwards, the paramedics arrived and strapped him to a gurney. However, the elevator was so small that they reportedly had to prop him upright while they were descending back down into the lobby.
When Shakur demanded to know if he was going to die or not, one of the paramedics replied, "I think you're going to be OK."
At that point, the rapper was placed in the back of an ambulance and transferred to Bellevue Hospital, where he underwent surgery for a damaged blood vessel.
However, Shakur was reportedly worried that his attackers might visit the hospital to finish the job. Consequently, he checked himself out the following day against his doctor's wishes.
Closest Locations
Other locations that are relatively close to this address: Less than a mile away.
Crime Location in Manhattan, New York, United States Less than a mile away.
Crime Location in Manhattan, New York, United States Roughly one mile away.
Crime Location in Manhattan, New York, United States Roughly one mile away.
Place of Interest in Manhattan, New York, United States Roughly one mile away.
Crime Location in Manhattan, New York, United States