The location where rapper Stretch was shot dead
Crime Scene Location in Queens, New York, United States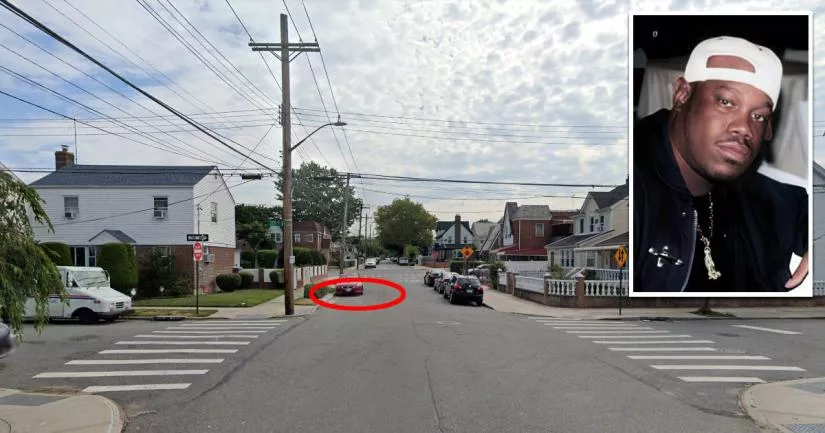 This is the location where rapper Stretch was shot dead.
It is situated at the corner of 112th Avenue and 209th Street in Queens, New York.
The "Live Squad" member, whose real name was Randy Walker, was killed during a high-speed car chase that ended after he was shot multiple times at this intersection.
When the police arrived at the scene, they found the 27-year-old dead inside his overturned minivan.
In the early hours of November 30th, 1995, Stretch dropped his older brother, Majesty, off at his house in Queens Village. He then continued towards his home on Witthoff Avenue.
As he was driving through Queens, three people inside a passing black Nissan Altima opened fire on his vehicle.
This led to a short chase through the neighborhood, during which Stretch was shot four times in the back with an AK-47.
After being fatally wounded, he lost control of his minivan, crashed into a tree, and overturned.
He was later pronounced dead at the scene.
Although it has been widely speculated that Stretch's murder was somehow related to his public feud with rap star Tupac Shakur, sources familiar with the incident have indicated that the 27-year-old was actually the target of a drug hit.
At some point in 1995, the rapper allegedly stole 10 kilograms of cocaine from a local drug dealer. When Stretch refused to give it back, the dealer in question retaliated by putting a hit out on his head.
This theory is supported by his older brother, Majesty, who told an interviewer in 2022 that his brother was killed because he "got caught up" in "some hood sh*t." During the interview, he scoffed at suggestions that Shakur was involved and stated that "everybody from the hood knows what it is."
To this day, nobody has been charged with the crime.

Further information is available in the "Photos" section below.
Where was Stretch Walker shot?
Below, you will find the address and the GPS coordinates for this location.
GPS coordinates
The latitude and longitude coordinates for the corner are:
40.705059, -73.746985
Map
To view directions on how to get there, you can use the Google Maps shortcut below:
Address
The full address for this location is:
112th Avenue
Queens
New York
NY 11429
United States
Directions
The corner is situated in a neighborhood called Queens Village. It is roughly 800 feet east of the intersection between Francis Lewis Boulevard and 112th Avenue.
Photos
Photos of the corner and other related images.
---
Murder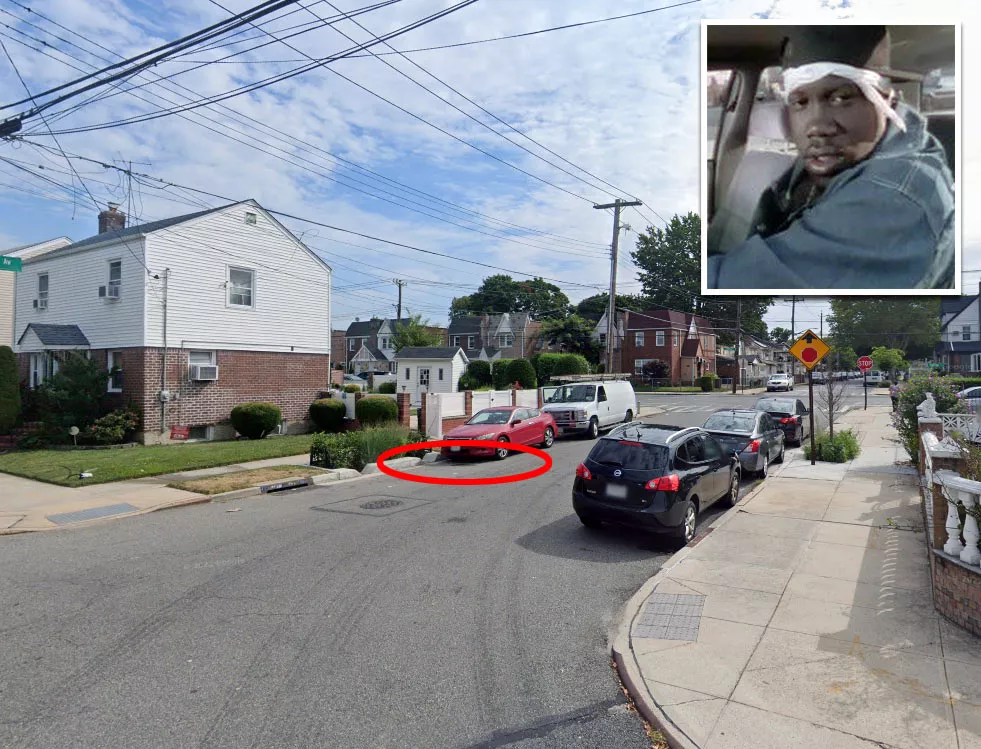 Walker's minivan overturned on the eastern side of the intersection between 112th Avenue and 209th Street (near the red ellipse in the image above).
After being shot four times in the back, the rapper lost control of his vehicle before crashing into a tree and a parked car.
The 27-year-old was later pronounced dead at the scene.
Crash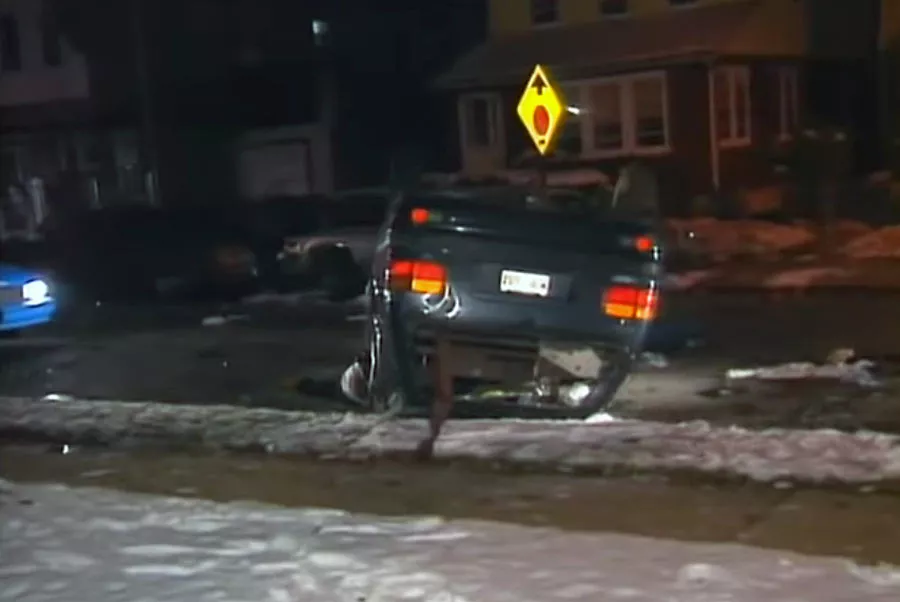 Image source: FOX 5 New York
This image was taken from news footage that was captured on the night of the murder. The vehicle overturned near the "Stop Ahead" road sign for Colfax Street.
Records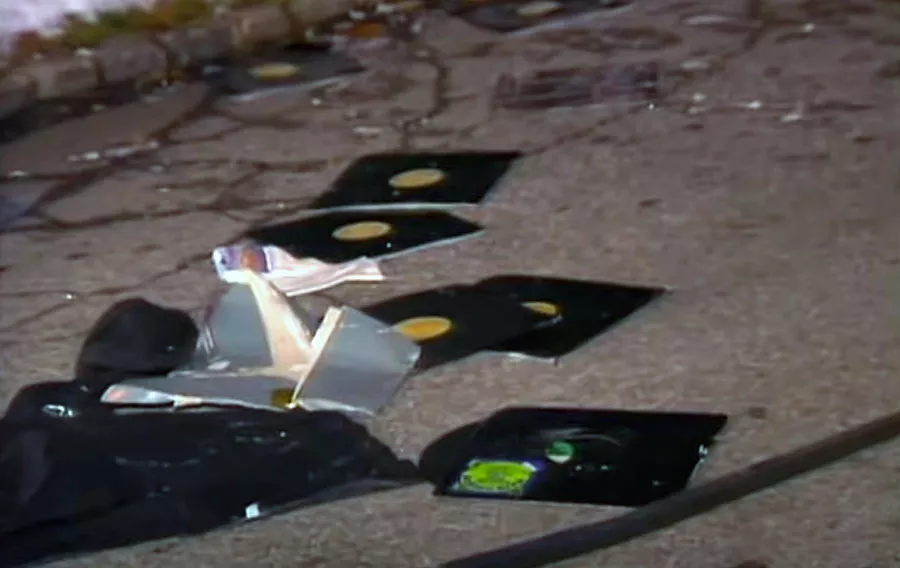 Stretch's vinyl records were tossed from the minivan when it flipped over.
Then and now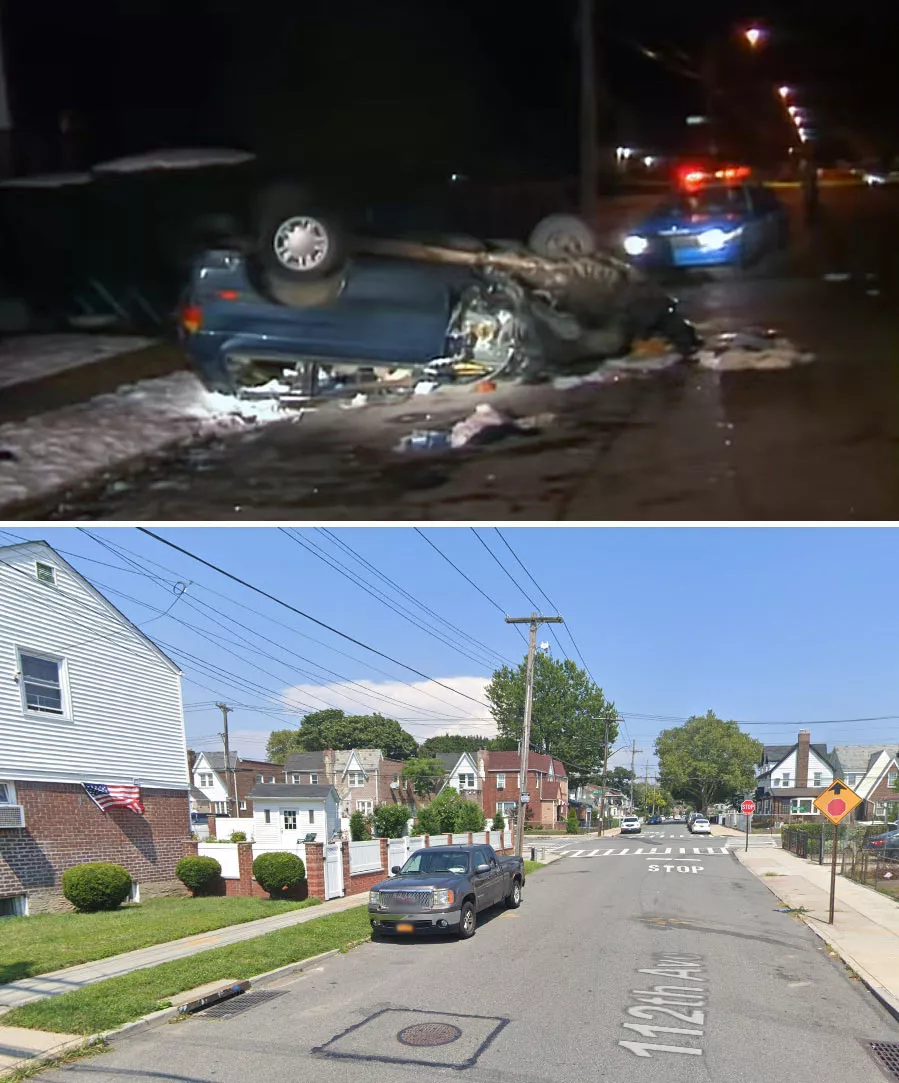 This is a "then and now" image of the street.
The Google Street View image at the bottom was captured in July of 2019. Stretch's minivan crashed close to where the pickup truck is parked.
Stretch and Tupac Shakur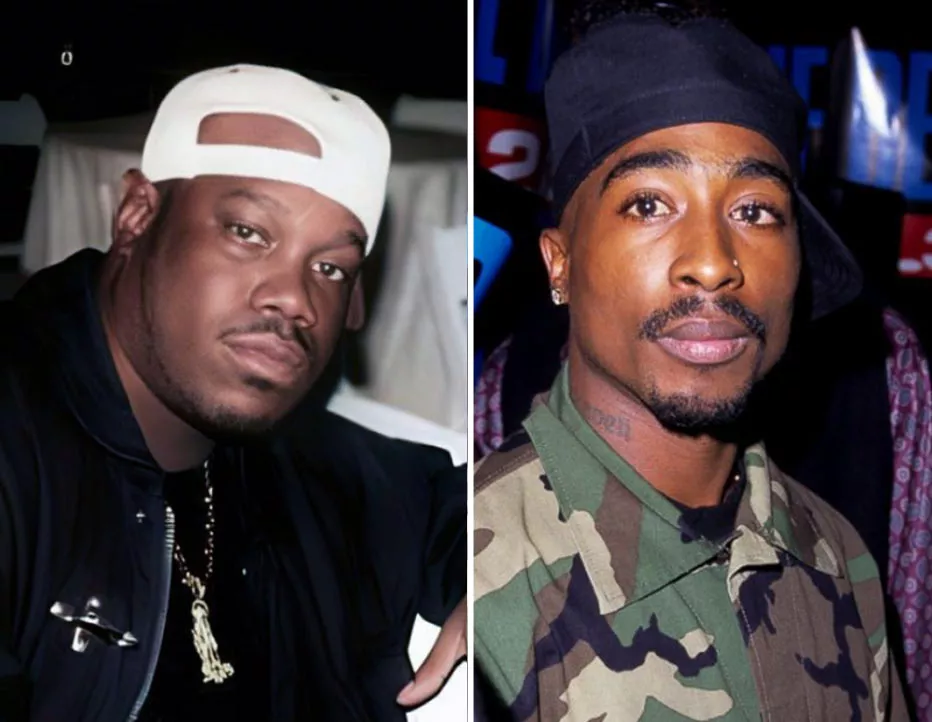 Stretch became friends with up-and-coming rap star Tupac Shakur after the pair met during filming of the 1992 movie Juice.
Afterwards, they collaborated on Shakur's first two albums. They also performed together on the song "Pain", which was featured in the soundtrack for Jeff Pollack's sports drama Above the Rim (1994).
However, their relationship soured after three men shot and robbed Shakur at the Quad Studios in Times Square on November 30th, 1994.
Shakur heavily criticized Stretch for not coming to his defense during the attack. In his mind, he should have fought, as he was 6 feet 8 inches tall and reportedly "towered above" the gunmen.
Stretch responded to this by pointing out that his height didn't give him an advantage over bullets. He also claimed that Shakur was only shot once by the men and that the other injuries occurred when the rapper accidentally shot himself while reaching for his own weapon.
Following the shooting, Shakur became convinced that he had been set up by Biggie Smalls, Stretch, and other hip-hop figures on the east coast.
During one interview, he questioned why the gunmen didn't deal with Walker first:
"From what I know about the criminal element, if ni**as come to rob you, they always hit the big ni**a first. But they didn't touch Stretch. They came straight to me."
Stretch's murder occurred exactly one year after the shooting at the Quad Studios. This, combined with Shakur's scathing lyrics about his former friend, has led to speculation that the rapper orchestrated his death.
However, sources familiar with the matter have stated that the shooting was actually drug-related, as the "Live Squad" member had been "greenlit" by a local dealer.
Notably, federal prosecutors believe that one of Randy Walker's killers was a man named Ronald "Tenad" Washington, who was recently indicted for the 2002 murder of Run-DMC member Jam Master Jay.
Ten months after the shooting, Shakur was also gunned down during a drive-by shooting in Las Vegas.
Closest Locations
Other locations that are relatively close to this address: Roughly 3 miles away.
Crime Location in Queens, New York, United States Roughly 4 miles away.
Crime Location in Queens, New York, United States Roughly 4 miles away.
Crime Location in Queens, New York, United States Roughly 6 miles away.
Place of Interest in Queens, New York, United States Roughly 6 miles away.
Crime Location in Queens, New York, United States