The location where Tupac Shakur was shot
Crime Scene Location in Las Vegas, Nevada, United States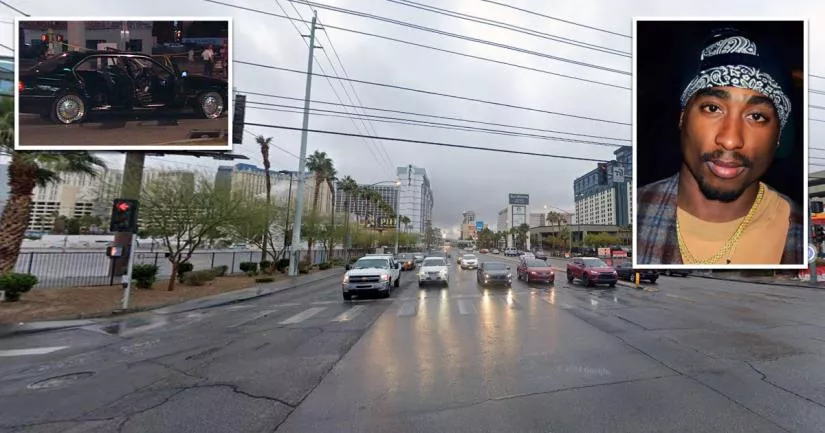 This is the location where rap star Tupac Shakur (aka 2Pac) was shot dead.
It is situated at the corner of East Flamingo Road and Koval Lane in Las Vegas, Nevada.
On the night of September 7th, 1996, Shakur and his entourage watched Mike Tyson defeat Bruce Seldon at the MGM Grand Garden Arena.
After the bout ended and fans spilled out into the lobby, the group spotted Orlando Anderson, a known Crips gang member who had reportedly assaulted and robbed one of their associates four months prior.
Shakur, who was undoubtedly hyped up from watching the fight, decided to charge at Anderson and punch him. Moments later, other members of the entourage joined in and began kicking the Crips member while he lay on the ground.
Following the attack, the group hurriedly left the MGM Grand.
Although security guards arrived at the scene of the fight and spoke to Anderson, he refused to name his attackers or press any charges.
Later that evening, Shakur, Death Row CEO Suge Knight, and the rest of the entourage jumped in their vehicles and began their journey to Club 662, where Tyson's post-fight party was due to take place.
While they were driving towards the nightclub, they came to a stop at the traffic lights at this intersection on Flamingo Road.
Seconds later, a white Cadillac pulled up on the driver's side of their black BMW and opened fire.
Shakur was shot four times as he attempted to dive into the back seat.
Two bullets struck him in the chest. Knight, on the other hand, was hit by a piece of shrapnel.
Following the shooting, Knight pulled a U-turn and attempted to drive to a hospital. However, the vehicle was eventually pulled over by police at the intersection of Las Vegas Boulevard and Harmon Avenue.
At that point, the wounded rapper was transferred to the University Medical Center of Southern Nevada, where he was later placed into a medically induced coma.
Six days later, on September 13th, 1996, Tupac Shakur passed away due to respiratory failure.
He was only 25 years old.

Further information is available in the "Photos" section below.
Tupac Shakur shooting location
Below, you will find the address and the GPS coordinates for this location.
GPS coordinates
The latitude and longitude coordinates for the intersection are:
36.114387, -115.164320
Map
To view directions on how to get there, you can use the Google Maps shortcut below:
Address
The full address for this location is:
East Flamingo Road
Las Vegas
Nevada
NV 89109
United States
Directions
The traffic lights are at the intersection between Flamingo Road and Koval Lane.
Photos
Photos of the intersection and other related images.
---
Shooting location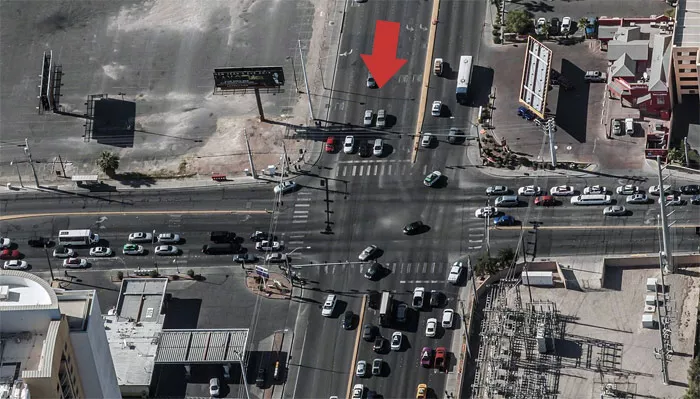 This is an aerial photograph of the intersection between East Flamingo Road and Koval Lane. The red arrow indicates the direction that 2Pac and his entourage were driving when they stopped at the traffic lights.
Orlando Anderson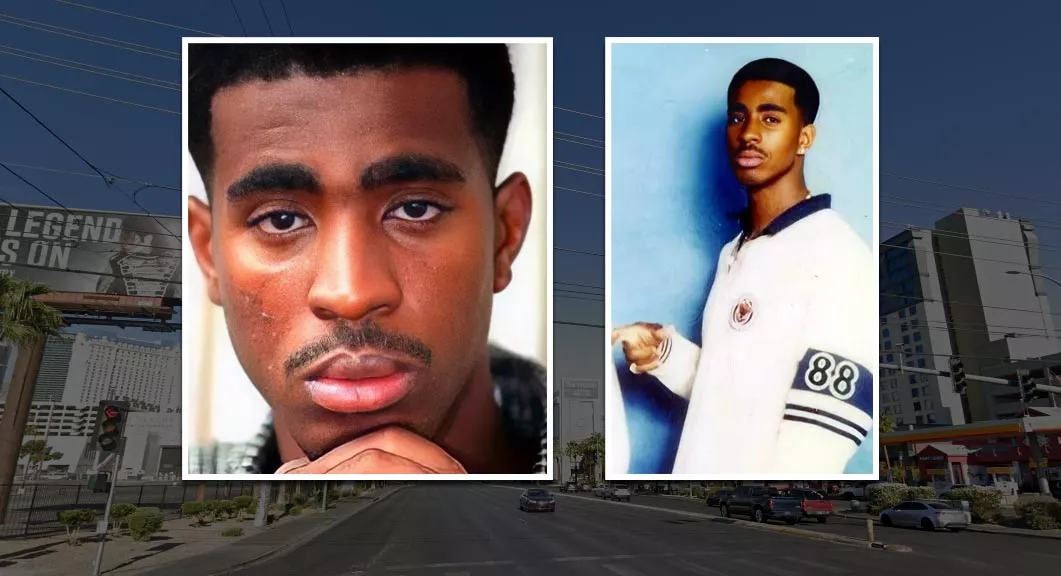 A Compton gang member named Orlando Anderson is the prime suspect behind the shooting of Tupac Shakur.
In May of 1996, Anderson and some of his associates allegedly assaulted a member of Shakur's entourage at a Foot Locker store. They also reportedly stole a gold medallion from him.
It is believed that this robbery sparked the assault at the MGM Grand.
In May of 1998, Anderson was shot dead during a gang shootout at a carwash in Compton, Los Angeles. Two other men were also killed in the shooting, which started over a dispute about money.
2Pac's last photo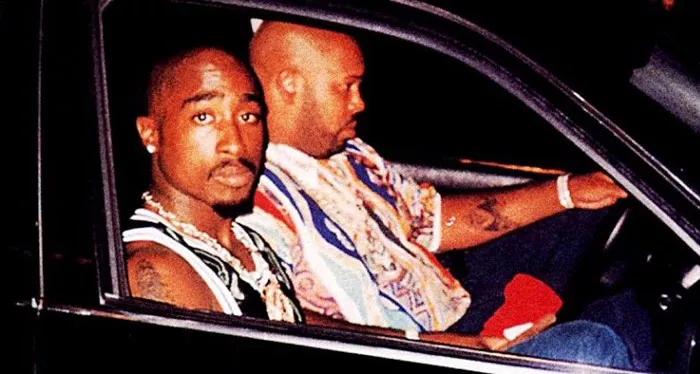 This was the last photograph of Shakur.
It was taken by a man named Leonard Jefferson just moments before the shooting took place. According to Jefferson, he snapped this photo at the intersection between Las Vegas Boulevard and East Harmon Avenue.
After the traffic lights turned green, the entourage continued north on Las Vegas Boulevard before turning right onto East Flamingo Road.
In the photo, you can see that Shakur is wearing a green satin basketball jersey. After hearing about the assault at the MGM Grand, his girlfriend, Kidada Jones, implored him to wear a bulletproof vest. However, he refused to do so because it was too warm.
Had he taken her advice, it is likely that he would have survived.
Coordinates: 36.107912, -115.172798
Club 662 location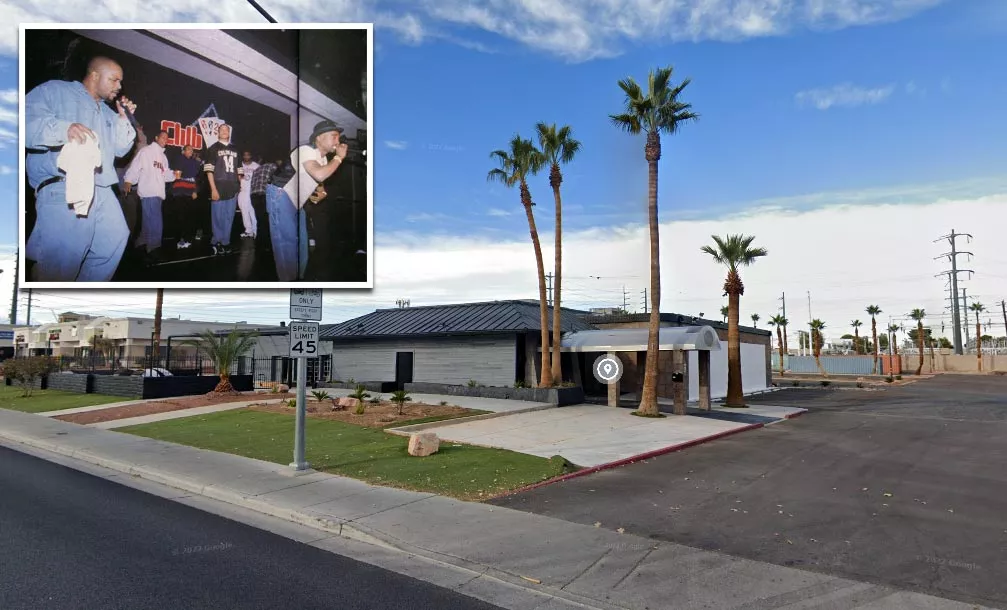 The entourage was traveling to Club 662 at 1700 East Flamingo Road when the shooting occurred.
At the time, the nightclub was owned by Suge Knight. An after-fight party had been planned for the evening, and 2Pac was due to perform at midnight.
Coordinates: 36.115026, -115.130121
The route Tupac took in Vegas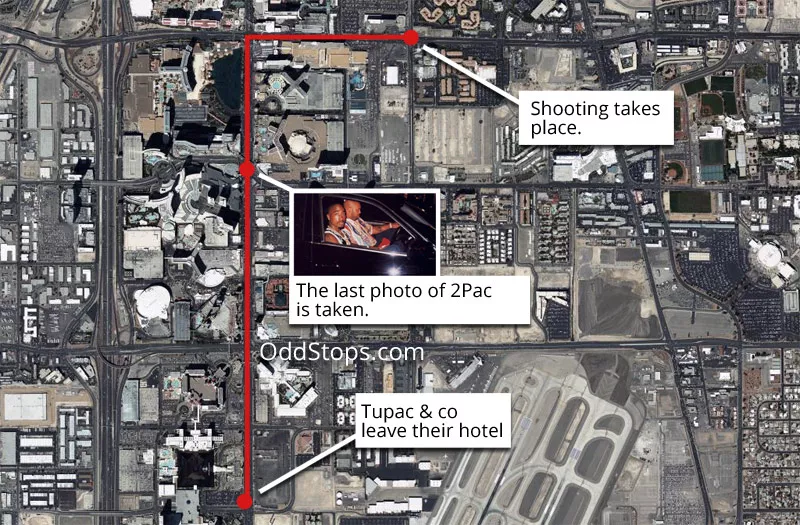 This is the route that Shakur and his entourage took that night.
Shortly before 11 p.m., they left the Luxor Hotel and headed north on Las Vegas Boulevard. They then turned right onto East Flamingo Road.
After traveling east along Flamingo Road for about half a mile, they stopped at the traffic lights by Koval Lane. It was at this point that a white Cadillac pulled up beside them and opened fire.
In total, the route is only 2.3 miles long. This means that the shooting occurred relatively soon after Tupac and Suge left the Luxor Hotel.
It is possible that his assailants were scoping out the hotel beforehand and waiting for the entourage to leave.
Traffic was very heavy that night, so the gunmen may have had to queue up and follow Suge Knight's black BMW for a while until they finally spotted an opening.
Their destination that night was also common knowledge.
Knight owned Club 662, and Shakur performed there on a number of occasions. In other words, it didn't take a genius to figure out which route they were going to take.
Koval Lane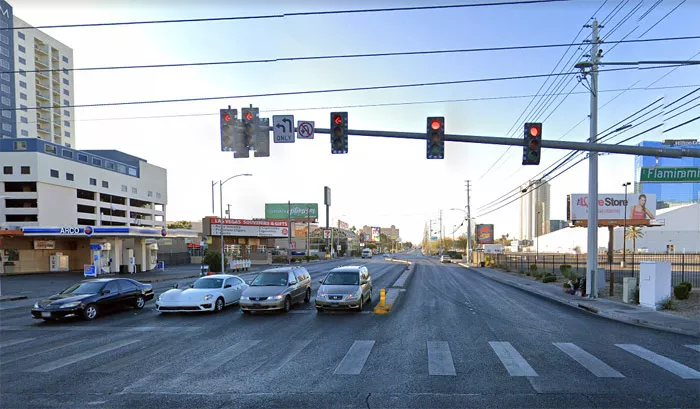 Following the shooting, the white Cadillac fled south on Koval Lane towards Tropicana Avenue.
Harmon Avenue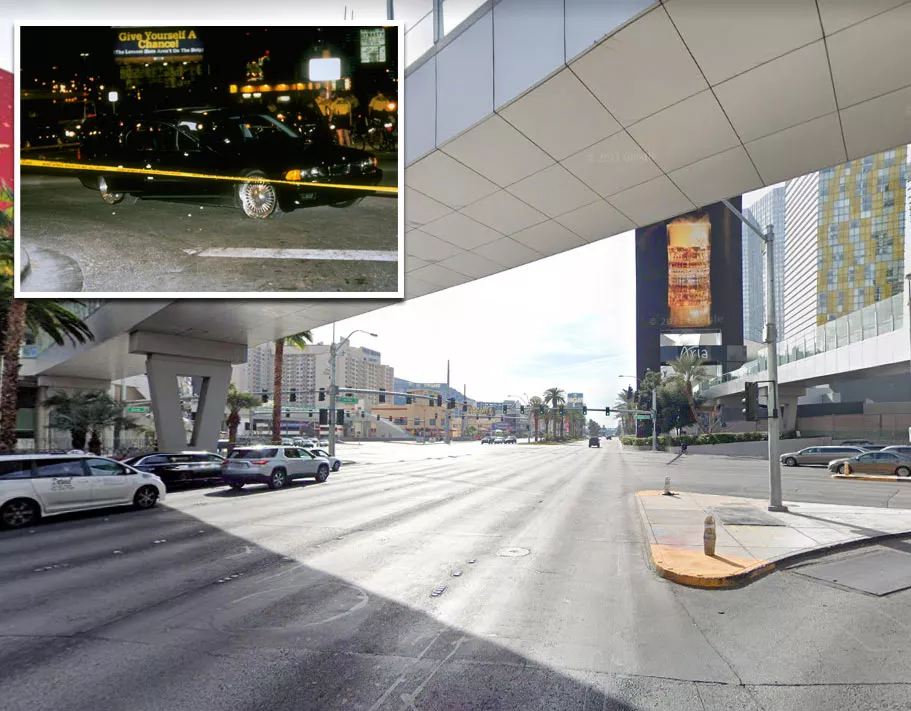 Despite suffering a head wound from a ricochet bullet, Knight was still able to drive. Immediately after the shooting, he did a U-turn on Flamingo Road and drove back in the direction that they originally came from.
The car was then pulled over by police at the intersection between Las Vegas Boulevard and Harmon Avenue.
It is worth pointing out that all of the photographs of Shakur's BMW were taken at this location, not the intersection where he was shot.
Coordinates: 36.109021, -115.173168
University Medical Center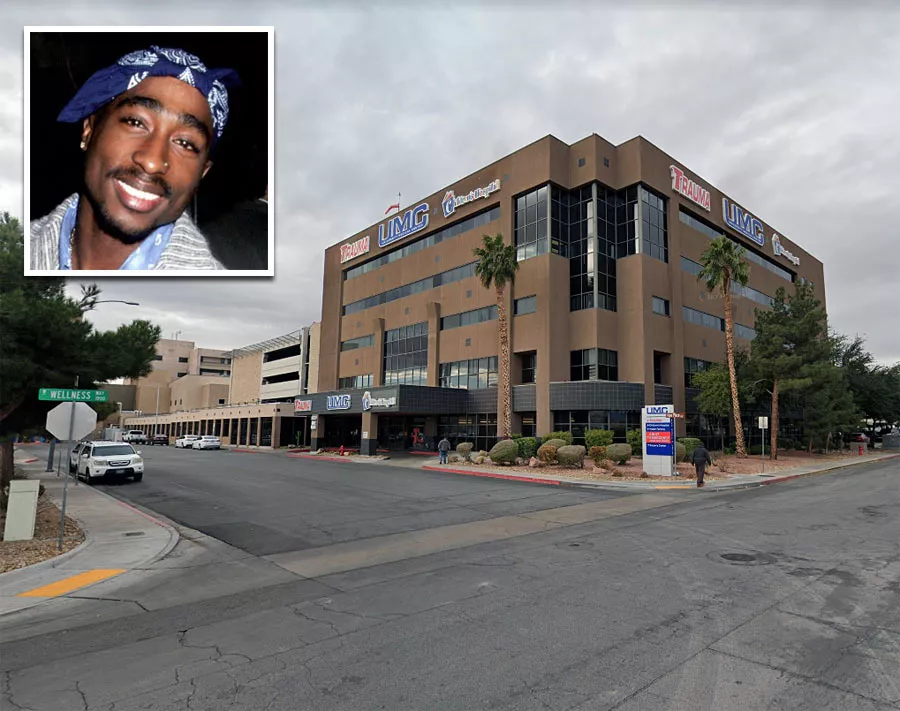 Shakur was rushed to the University Medical Center on Wellness Way.
According to a hospital spokesperson, his injuries were "very severe" and "very traumatic."
The medical team at UMC was forced to sedate the rapper and place him in a medically induced coma after he repeatedly attempted to get out of his hospital bed.
While he was fighting for his life, TV crews and fans stood outside the hospital. Members of his entourage also maintained a presence in case his attackers attempted to return and "finish the job."
On September 9th, Shakur underwent a series of operations to remove his right lung. Four days later, on September 13th, he went into cardiac arrest due to respiratory failure.
Although doctors attempted to revive him, they were unable to put a stop to his internal bleeding. Consequently, his mother, Afeni Shakur, decided to cease medical treatment.
Tupac Shakur was pronounced dead at exactly 4.03 p.m.
The rapper's death came as a huge shock to many.
In 1994, he had survived being shot five times at the Quad Studios in New York. Consequently, most people expected him to pull through again.
However, in this case, the bullet wound to his lung proved to be far too devastating.
Coordinates: 36.161611, -115.167785
Shooting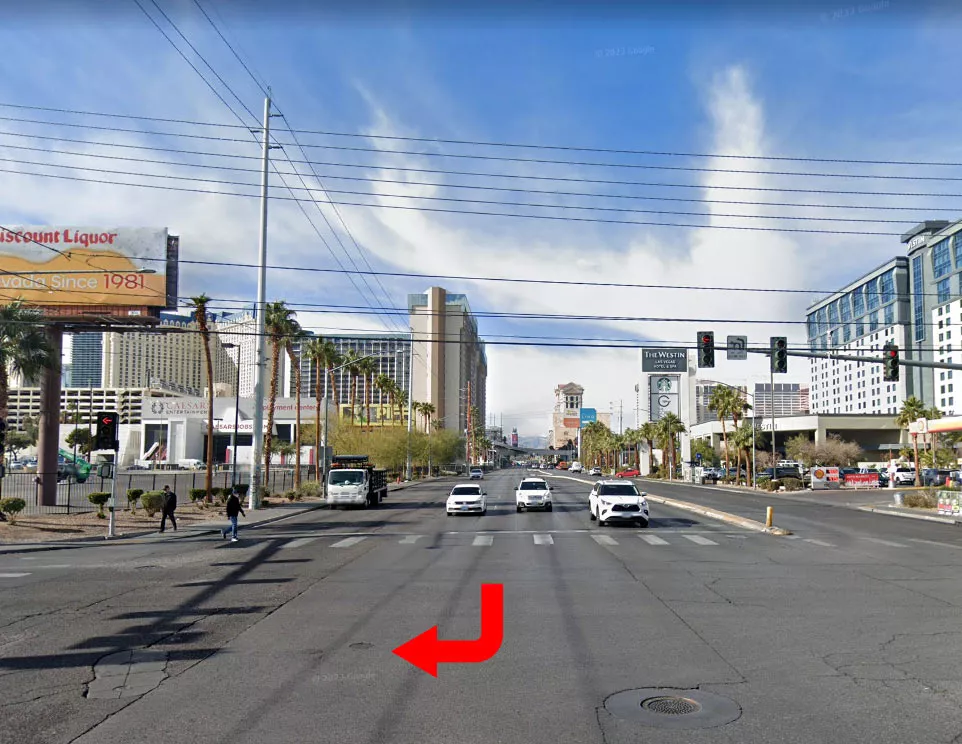 Image source: Google Maps
This Google Street View image of the traffic lights at Flamingo Road was taken in December of 2022.
The shooter pulled up on the left side of the BMW, opened fire, and then drove south along Koval Lane (red arrow).
One of the bullets struck Shakur in the lung.
2Pac memorial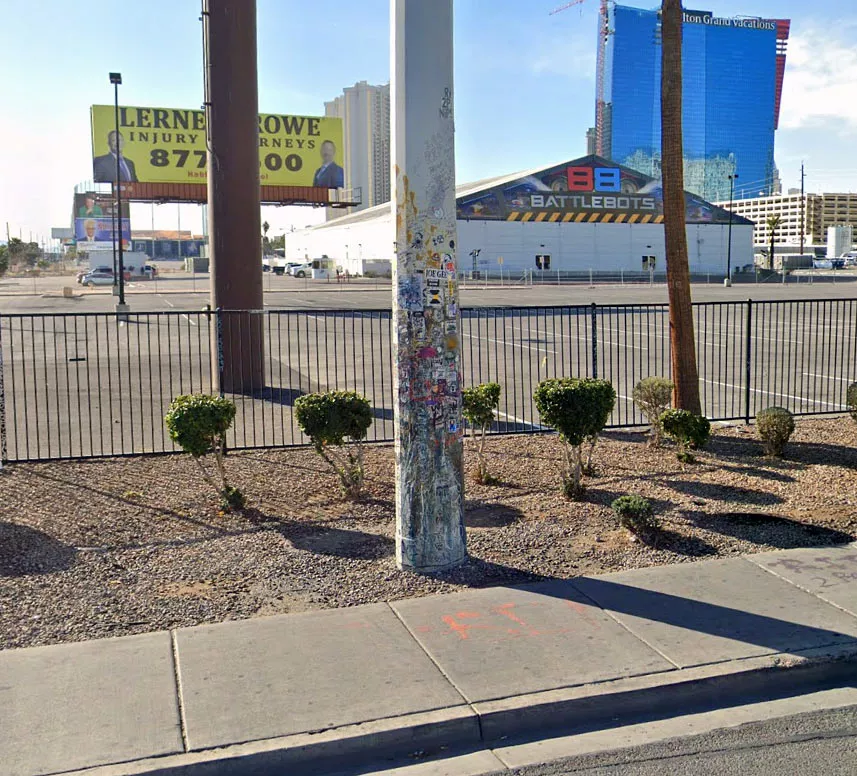 A utility pole at the intersection has been turned into a makeshift memorial for 2Pac.
It is situated beside the billboard on the southern side of Flamingo Road.
Recently, there have been calls for the city to create an official memorial for the slain rapper.
Visualize
There is more than one location associated with this entry. To view all of these places on the same map, you can use the following feature:
Closest Locations
Other locations that are relatively close to this address: Roughly one mile away.
Crime Location in Las Vegas, Nevada, United States