The location where the Notorious B.I.G. was killed.
Crime Scene Location in Los Angeles, California, United States.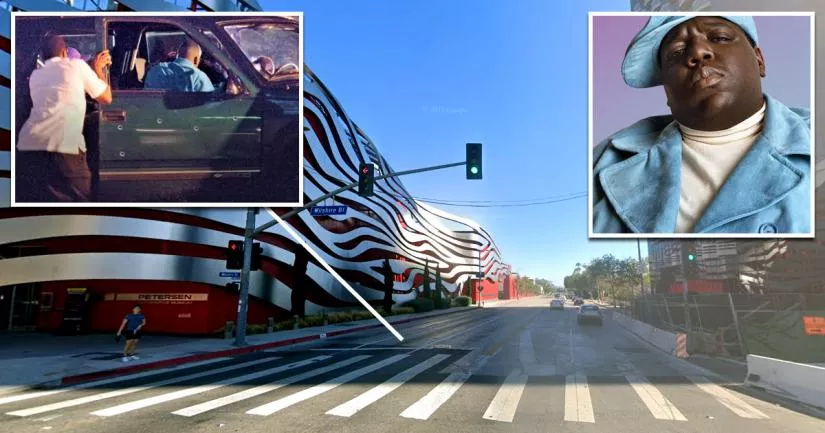 This is the intersection where rap legend "The Notorious B.I.G." (Christopher Wallace) was killed in March of 1997.
At around 12:30 a.m. on March 9th, 1997, Biggie Smalls and his entourage left an after-party at the Petersen Automotive Museum on South Fairfax Avenue (the large red and silver building on the left).
After pulling out of the museum's parking garage, the group came to a stop at the traffic lights by this intersection on Wilshire Boulevard.
While Biggie and his entourage were waiting for the traffic lights to turn green, a gunman in a dark-colored Chevrolet Impala SS pulled up on the passenger side of their vehicle and opened fire with a 9mm pistol.
Biggie was hit four times. One of the bullets proved to be fatal after it struck several vital organs.
Although Wallace's entourage rushed him to the Cedars-Sinai Medical Center in Beverly Boulevard, doctors were unable to save his life.
At 1:15 a.m., one of the greatest hip hop artists of all time was pronounced dead.
He was only 24 years old.
The Notorious B.I.G.'s murder took place roughly six months after rival West Coast rapper Tupac Shakur was gunned down in Las Vegas. The violent deaths of Shakur and Wallace served as a tragic reminder of what can happen when hip hop rivalries spiral out of control.
Both crimes remain unsolved to this day.
Where was Biggie Smalls shot?
Below, you will find the address and the GPS coordinates for this location.
GPS Coordinates.
The GPS coordinates for the intersection are as follows.
Latitude: 34.062898
Longitude: -118.361453
Map.
Open 34.062898, -118.361453 in Google Maps to view directions on how to get there.
Address.
The full address for this location is:
South Fairfax Avenue
Los Angeles
California
CA 90036
United States
Directions.
This location is just a block away from the Los Angeles County Museum of Art. It is situated in a neighborhood called Carthay Circle, which is in the Mid-City West region of Central LA.
Photos.
Photos of the intersection and other related images.
---
Aerial map.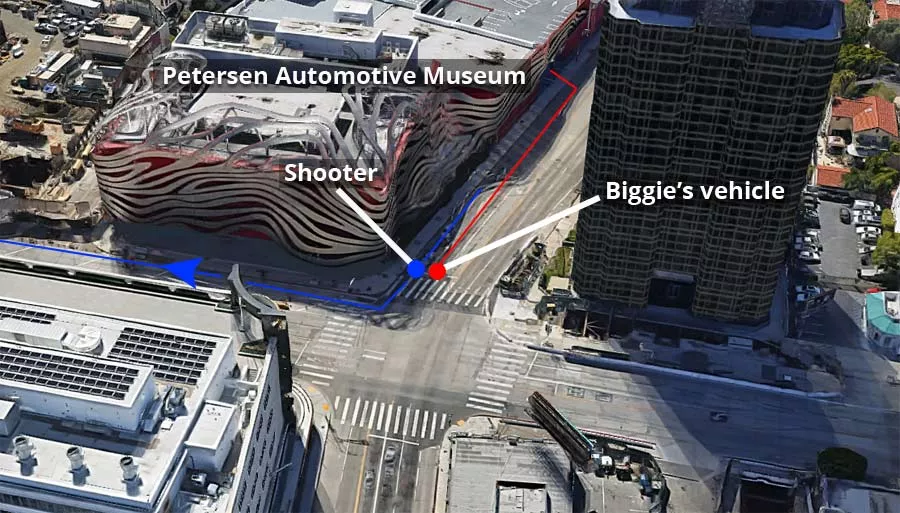 This aerial map shows the exact location where Biggie's vehicle was parked when a gunman pulled up beside him in a Chevrolet Impala SS and opened fire.
Following the shooting, the Impala fled east along Wilshire Boulevard. Meanwhile, members of Biggie's shocked entourage frantically rushed to his aid.
At the time, the street was packed with people who had just left Vibe magazine's after-party at the museum.
Understandably, there was a lot of fear and confusion when the gunfire broke out.
Some onlookers believed that Bad Boy Records owner Sean Combs (Puff Daddy) had been shot. This is because Combs was also driving in a Chevrolet Suburban, just ahead of Wallace.
However, the vehicle that Puff Daddy was riding in made it through the intersection moments before the lights turned red.
Intersection.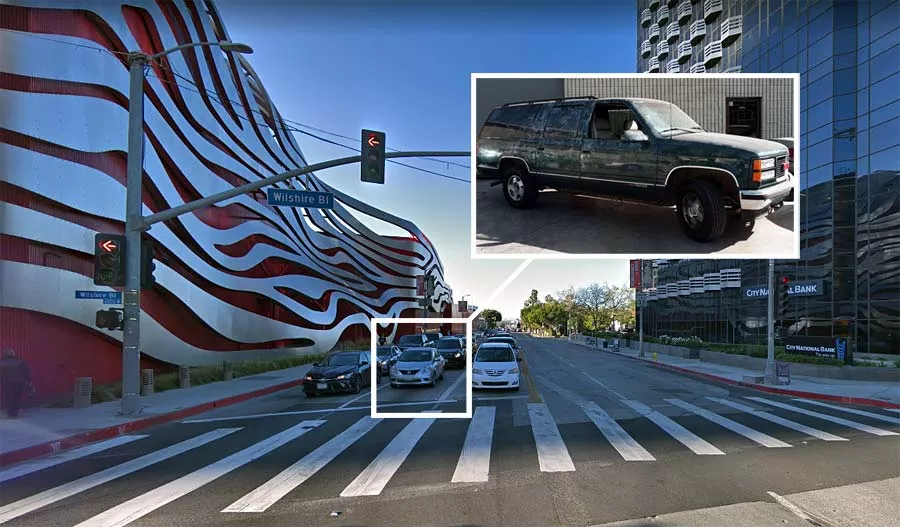 A Google Street View image of the intersection between South Fairfax Avenue and Wilshire Boulevard. This was taken in March of 2018. The red and "wavy" building on the left is the museum where the after-party was being held.
Inset is a photograph of Biggie's dark green Chevrolet Suburban SUV. In 2018, it was reported that a "morbid memorabilia" curator was attempting to sell the vehicle for $750,000.
The parking garage that Biggie exited shortly before he was shot.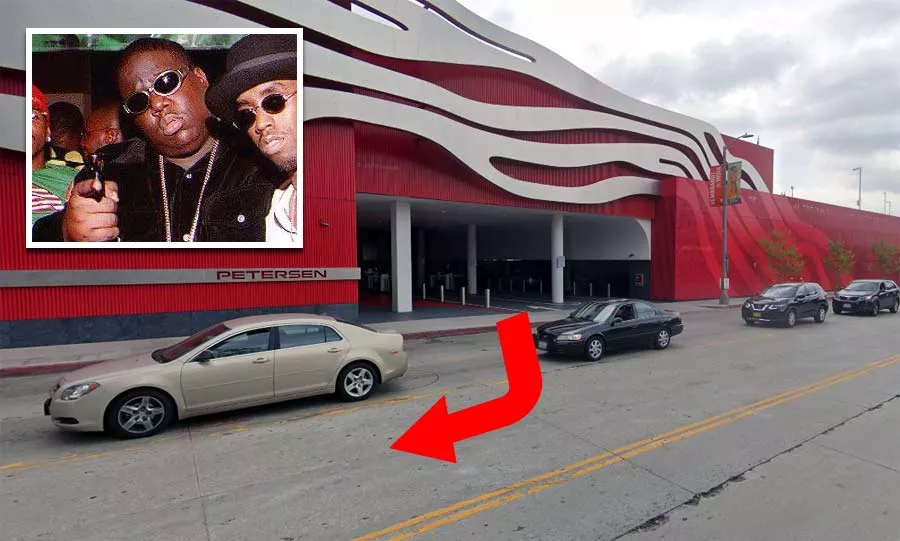 This is the parking garage that Biggie's vehicle exited shortly before he was killed.
Shortly after midnight, the Vibe magazine party at the Petersen Automotive Museum was shut down by the fire department because of loud music and smoking violations. As a result, attendees flocked out of the building and crowded the street outside.
After Wallace and his entourage exited this garage, they turned right onto South Fairfax Avenue. That night, they planned on attending another after-party at a house in the Hollywood Hills.
However, they never made it that far, as the shooting took place only 150 feet away.
It is likely that Biggie's assailant waited outside of the event. Then, when he spotted his opportunity, he pulled up beside the vehicle and opened fire.
According to witness statements, Wallace's killer was an African-American man who was wearing a suit and a bow tie.
Sketch of the suspect.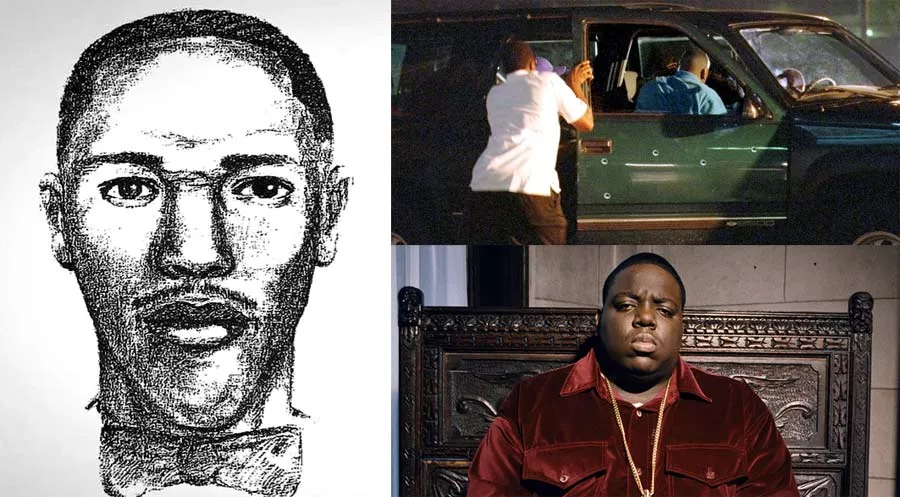 The gunman was an African-American male in his twenties who had a mustache. He wore a bow tie and a dark navy suit.
Although the bow tie has led some people to speculate that the killer might have been a member of the Nation of Islam, this isn't necessarily the case. That night, many of the guests were wearing suits and evening party dresses. Therefore, it stands to reason that he might have been trying to fit in.
Top right: A photograph of the crime scene. Here, you can see members of Biggie's entourage rushing to his aid in the aftermath of the shooting. Five bullet holes are visible in the passenger door.
Bottom right: A photograph of the Notorious B.I.G. At the time of his murder, he was only 24 years old.
Closest locations.
Other locations that are relatively close to this place. Less than a mile away.
Place of Interest in Los Angeles, California, United States Roughly one mile away.
Place of Interest in Los Angeles, California, United States Roughly 3 miles away.
Place of Interest in West Hollywood, California, United States Roughly 4 miles away.
Place of Interest in Los Angeles, California, United States Roughly 6 miles away.
Place of Interest in Studio City, California, United States