Dominique Dunne's house
Crime Scene Location in West Hollywood, California, United States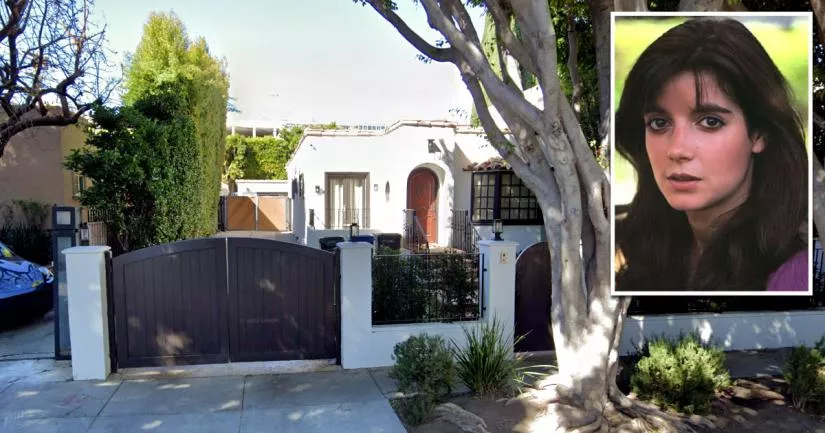 This is the house where actress Dominique Dunne was murdered.
It is situated at 8723 Rangely Avenue in the West Hollywood neighborhood of Los Angeles, California.
Dunne is best known for her roles in TV shows such as CHiPs, Family, and Breaking Away. She also starred in the movies Poltergeist (1982) and The Shadow Riders (1982).
Relationship with John Thomas Sweeney
In 1981, the young actress began a tumultuous relationship with a man named John Thomas Sweeney.
After dating for a couple of weeks, the couple started living together at this small house on Rangely Avenue.
Sweeney had a history of being jealous, controlling, and physically abusive. According to one of his ex-girlfriends, he assaulted her nearly a dozen times, inflicting injuries such as a broken nose and a collapsed lung.
Sadly, it did not take long for him to continue this behavior with Dunne.
Violence
During an argument in August of 1982, he reportedly pulled lumps of hair out of her head. Following the attack, the 22-year-old fled to her mother's house. However, she decided to return to Sweeney a couple of days later.
One month later, the couple had another fight. On that occasion, Sweeney threw the young actress to the bedroom floor and started strangling her. When one of their friends heard the fracas and intervened, Dunne took the opportunity to climb out of the bathroom window and drive away.
This was the straw that broke the camel's back, as the actress called Sweeney a few days later and informed him that their relationship was over. She also told him that he needed to leave her house in West Hollywood.
Although he eventually packed his bags and left the property, he refused to give up on their "relationship."
The murder of Dominique Dunne
On October 30th, 1982, Dunne and her fellow actor David Packer were rehearsing lines together when Sweeney showed up at the house.
Initially, Dunne refused to open the door. However, after a while, she agreed to go outside and talk to him on the porch. Meanwhile, Packer remained inside.
Shortly afterwards, the pair began to argue with one another. Then, without warning, Sweeney attacked Dunne and knocked her to the ground.
After climbing on top of her, he strangled her for at least three minutes.
Packer, who was terrified that he was going to become Sweeney's next victim, stayed inside and attempted to raise the alarm by calling the police and a friend. He then exited the house through the back door and walked around to the driveway, where he saw Sweeney kneeling over Dominique Dunne's unconscious body.
Sweeney did not act violently when he saw Packer. Instead, he just told him to call 911.
When police officers entered the driveway, Sweeney calmly told them that he had killed his "girlfriend."
Dunne, who was unconscious, was rushed to the hospital. Meanwhile, Sweeney was arrested and charged with attempted murder.
Sadly, the young actress passed away six days later after she was taken off life support. By that stage, it had become clear that she was brain dead.
Trial
Although Sweeney went on trial for murder, the jury concluded that he had "exploded" in rage and that he didn't mean to kill her.
The jury was not allowed to hear about his history of violence toward former girlfriends until after the trial had ended, as the judge ruled it hearsay and prejudicial.
Consequently, he was found guilty of voluntary manslaughter instead of second-degree murder.
The verdict was met with outrage from Dunne's family, victims' rights groups, and the media.
The judge over the trial also stated that the jury had gotten it wrong. In his opinion, the two previous attacks should have been enough to convince them that it was murder.
In the end, Sweeney was sentenced to six years in prison for the crime. However, he was released early after only serving three years and seven months.
Following his release, he reportedly changed his surname to Maura and started a family.

Further information is available in the "Photos" section below.
Where was Dominique Dunne murdered?
Below, you will find the address and the GPS coordinates for this location.
GPS coordinates
The latitude and longitude coordinates for the house are:
34.080622, -118.383546
Map
To view directions on how to get there, you can use the Google Maps shortcut below:
Address
The full address for this location is:
8723 Rangely Avenue
West Hollywood
California
CA 90048
United States
Directions
Rangely Avenue lies to the south of the intersection between Melrose Avenue and North San Vicente Boulevard.
Private Property Warning
This is a private property. It is not a public place. Therefore, you should be respectful and not step foot on the property without permission.
Photos
Photos of the house and other related images.
---
Dominique Dunne's house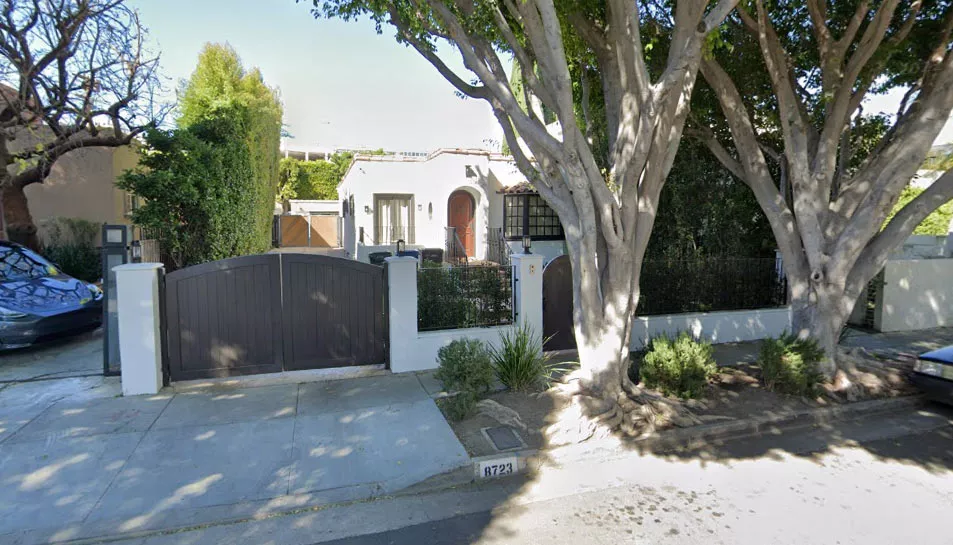 Image source: Google Maps
Dominique Dunne's house was situated at 8723 Rangely Avenue, which is in the residential neighborhood of "West Hollywood West" in Los Angeles.
It was built in 1925.
It is 1,400 square feet in size, and it has two bedrooms.
Murder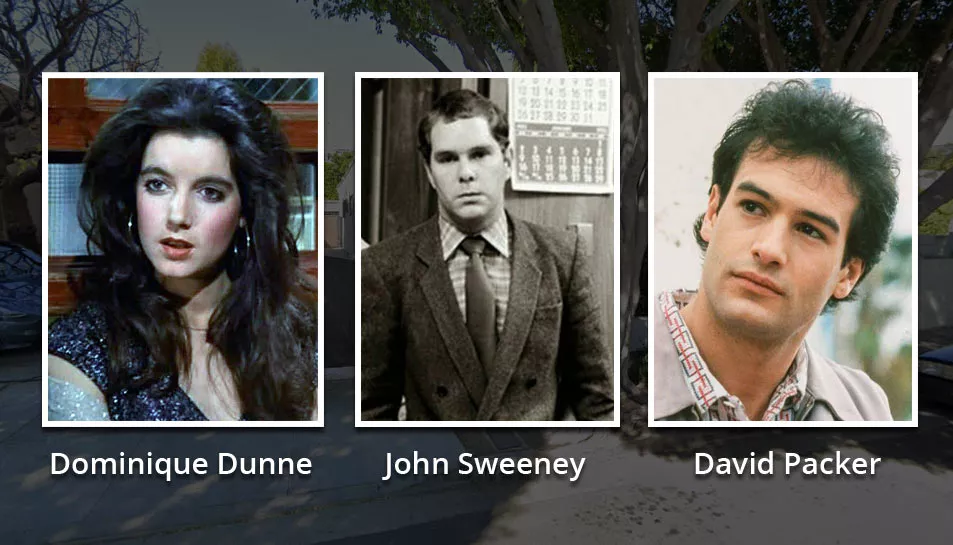 On the day of the murder, Dunne and Packer were rehearsing for her upcoming role in the sci-fi miniseries "V". The pair were not romantically involved.
Packer arrived at the house at about 8 p.m. Sweeney appeared roughly ten minutes later.
Following the attack, Dunne was put on life support. Her hair was shaved off, and a large bolt had to be screwed into her skull to release the pressure on her brain.
Those who visited her said that she stared aimlessly at the ceiling and that her neck was purple and swollen.
Sadly, it was clear from the start that the young actress was unlikely to survive. At the time, doctors noted that she wasn't responding to stimuli—a sign that she was brain dead.
Medical tests later confirmed this.
John Sweeney was charged with murder after Dunne was taken off life support on November 4th, 1982.
Sweeney was a sous chef at Ma Maison, which was a famous restaurant in West Hollywood. Following his release from prison, he reportedly went back to working in the industry.
Closest Locations
Other locations that are relatively close to this address: Roughly one mile away.
Place of Interest in West Hollywood, California, United States Roughly one mile away.
Crime Location in West Hollywood, California, United States Roughly one mile away.
Crime Location in Los Angeles, California, United States Roughly 2 miles away.
Place of Interest in Beverly Hills, California, United States Roughly 2 miles away.
Place of Interest in Beverly Hills, California, United States