Rebecca Schaeffer's apartment
Crime Scene Location in Los Angeles, California, United States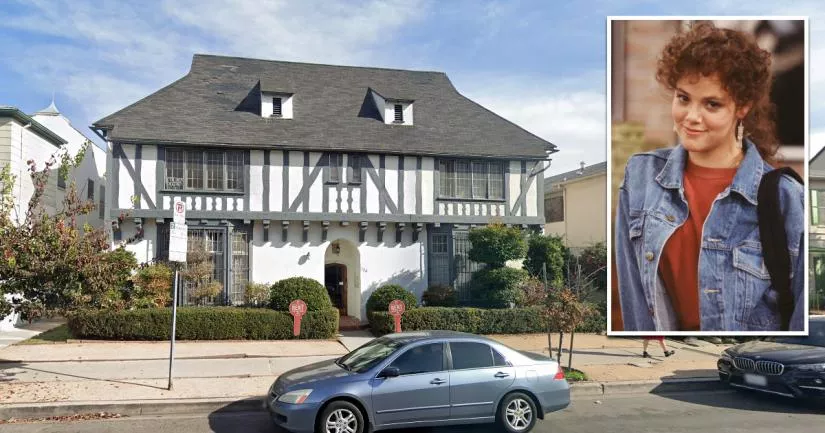 This is Rebecca Schaeffer's former apartment.
It is situated at 120 North Sweetzer Avenue in Los Angeles, California.
Schaeffer was a former teen model and actress who portrayed Patti Russell in the CBS sitcom My Sister Sam. She also appeared in the 1989 black comedy film "Scenes from the Class Struggle in Beverly Hills".
Notably, one of the scenes in the movie proved to be the catalyst for her murder.
The 21-year-old lived in a second-floor apartment at this English Tudor house until July 18th, 1989, when she was shot dead by a stalker named Robert John Bardo.
Bardo was an emotionally disturbed teenager who became obsessed with female celebrities such as Schaeffer, Madonna, Tiffany Darwish, Debbie Gibson, and child peace activist Samantha Smith.
According to one of his former teachers, he was a ticking time bomb.
His "interest" in Schaeffer substantially increased after she responded to one of his fan letters by sending him an autographed publicity photo with a love heart written on it.
During the summer of 1987, he made two unsuccessful attempts to meet her by traveling to the studio where My Sister Sam was being filmed. The first time, he brought flowers and a teddy bear. On the second attempt, he came equipped with a knife.
After being turned away by security on both occasions, he returned to his hometown of Tucson, Arizona, and diverted his obsession to various pop singers.
Two years later, Bardo saw Schaeffer's character, Zandra Lipkin, lying in bed with an actor in the movie "Scenes from the Class Struggle in Beverly Hills". Enraged by her "loss of innocence", he immediately began tracking down her address.
At first, he tried contacting her agent's office. However, they refused to give him any information.
Eventually, Bardo paid a private detective agency in Tucson to find Schaeffer's address. In the request form that he filled out, he claimed that they knew each other personally and that he was planning on mailing her a present.
After receiving the address and sourcing a gun from his older brother, Bardo traveled to Los Angeles, located her neighborhood, and then rang the doorbell at 120 North Sweetzer Avenue.
Schaeffer, who was expecting someone to deliver a script for the upcoming movie The Godfather Part III (1990), walked downstairs and answered the door because her intercom wasn't working.
When she answered, Bardo explained that he was a fan and showed her the signed photograph that she had sent him two years previously. However, Schaeffer was not happy about the fact that a random stranger had turned up unannounced at her home. Consequently, she asked him not to return.
Initially, Bardo complied and walked to a local diner, where he ate breakfast. However, he decided to return to Schaeffer's apartment an hour later and ring the doorbell again.
This time, the actress opened the door with a cold look on her face and accused him of wasting her time. Incensed by this reaction, he pushed open the door, pulled out his handgun, and opened fire.
Schaeffer was shot twice in her hallway at point-blank range. According to Bardo, she screamed, slumped to the floor, and asked, "Why?"
Following the shooting, he ran away from the house and disappeared into a nearby alley.
The actress was rushed to Cedars-Sinai Medical Center after neighbors heard the screams and found her lying unconscious in the hallway. Sadly, there was little the ER team could do, and she was pronounced dead shortly after her arrival.
In October of 1991, Bardo was convicted of Schaeffer's murder and sentenced to life in prison without the possibility of parole. He remains incarcerated to this day.

Further information is available in the "Photos" section below.
Rebecca Schaeffer apartment address
Below, you will find the address and the GPS coordinates for this location.
GPS coordinates
The latitude and longitude coordinates for the house are:
34.075164, -118.369829
Map
To view directions on how to get there, you can use the Google Maps shortcut below:
Address
The full address for this location is:
120 North Sweetzer Avenue
Los Angeles
California
CA 90048
United States
Directions
The apartment is roughly 320 feet south of the intersection between Beverly Boulevard and North Sweetzer Avenue.
Details about the general area
It is situated in the Beverly Grove district of Los Angeles. It lies to the east of Beverly Hills.
Private Property Warning
This is a private property. It is not a public place. Therefore, you should be respectful and not step foot on the property without permission.
Photos
Photos of the house and other related images.
---
120 North Sweetzer Avenue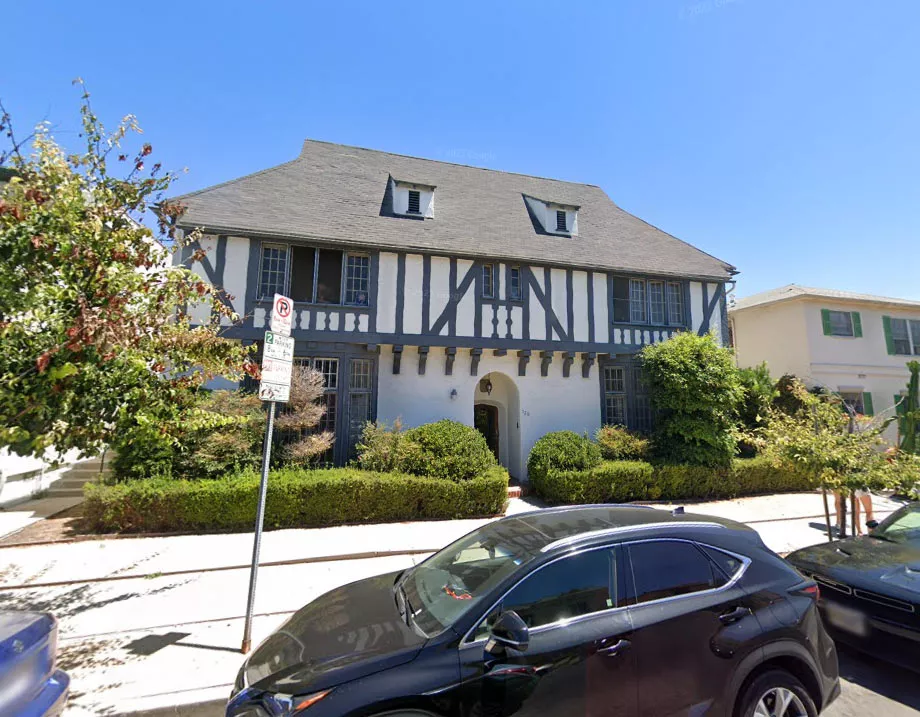 This Google Street View image of 120 North Sweetzer Avenue was taken in August of 2022.
The multi-apartment English Tudor house was built in 1931. It has eight units and is 8,250 square feet in size. According to public records, it was last sold for $68,000 in 1969.
Schaeffer lived on the second floor. When she heard the doorbell ringing, she had to walk downstairs and answer it because the intercom box wasn't working.
Schaeffer's apartment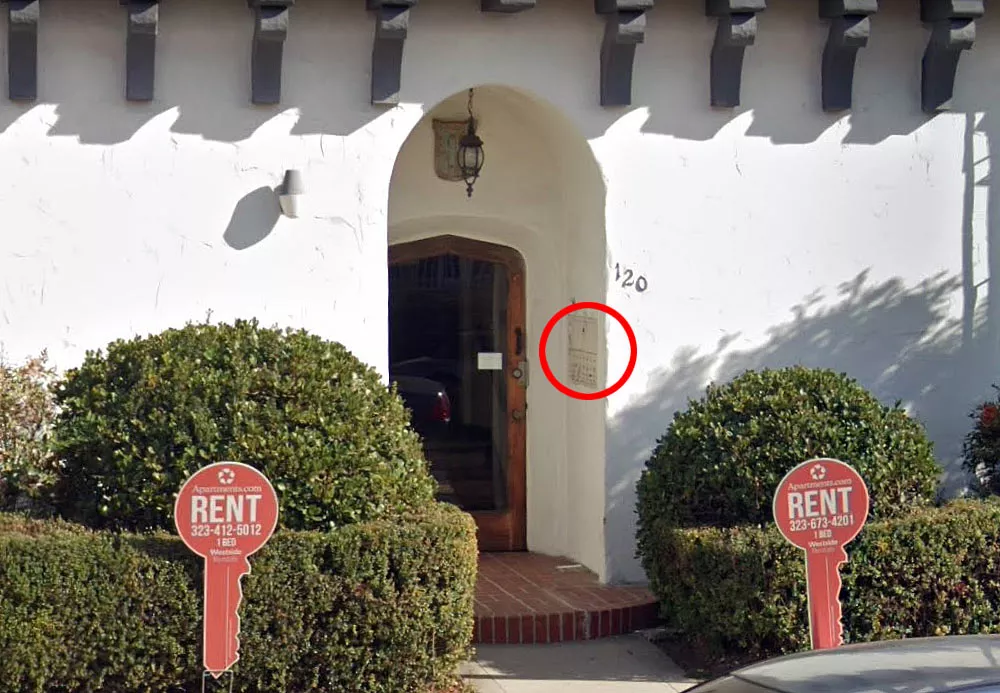 This is a closer view of the doorstep at Schaeffer's former apartment building. We have highlighted the intercom box in red.
Bardo got the inspiration to contact a private detective agency after he read about another stalking case involving actress Theresa Saldana.
In 1982, Saldana was stabbed by a Scottish drifter who had hired a private detective to find her mother's phone number. He then called Saldana's mother and posed as a film assistant to glean information about her daughter's address.
Fortunately, Saldana survived the attack after a passerby intervened.
Bardo ate at Jan's Restaurant before the murder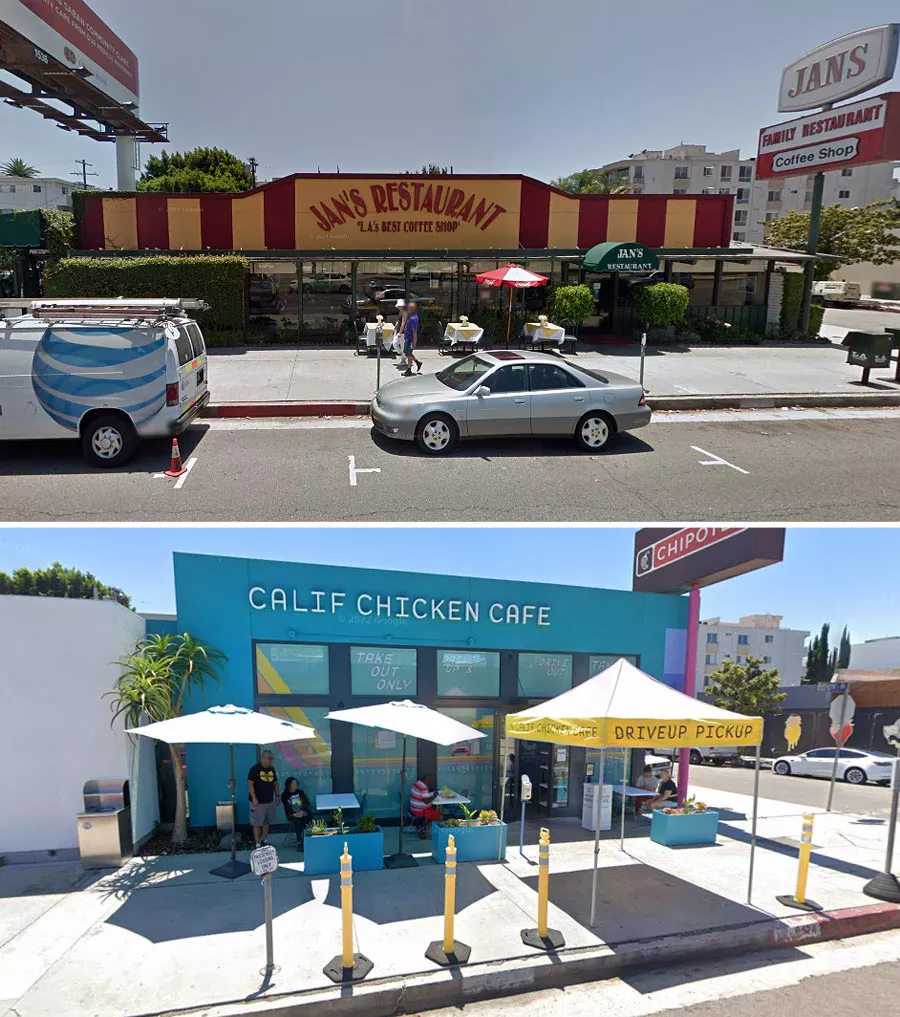 During their first encounter, Schaeffer asked Bardo not to return to her private residence.
At that point, he left and walked to Jan's Restaurant, which was situated at 8424 Beverly Boulevard.
The diner was a three-minute walk from the apartment.
As he sat there eating some onion rings and cheesecake, he made the fateful decision to return to Sweetzer Avenue and ring the doorbell again.
Jan's Restaurant no longer exists. Judging by Google Street View images, it closed in 2015. These days, the unit is home to Calif Chicken Cafe.
Coordinates: 34.075836, -118.374058
Map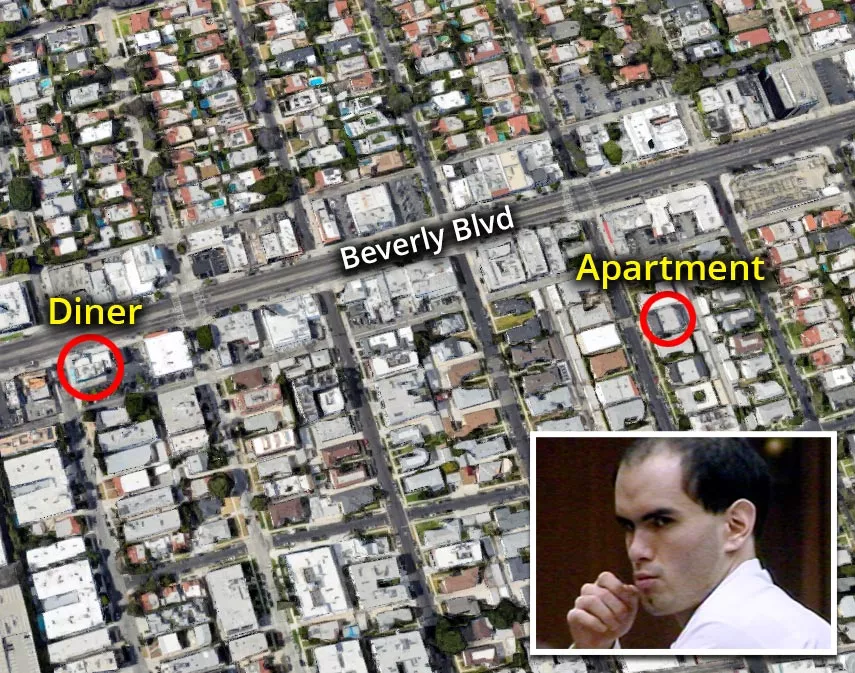 This aerial map highlights the distance between the apartment building and Jan's Restaurant.
Pictured bottom-right is Robert John Bardo during his murder trial.
Scenes from the Class Struggle in Beverly Hills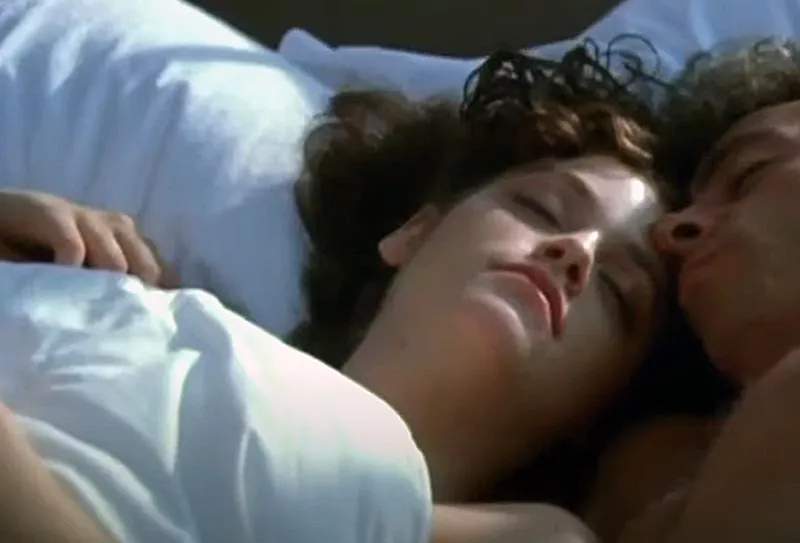 Bardo became enraged when he saw Schaeffer's character in bed with another actor in the 1989 film "Scenes from the Class Struggle in Beverly Hills".
It was this scene that seemingly reignited his obsession with her. After watching it, he began stalking her again.
Robert John Bardo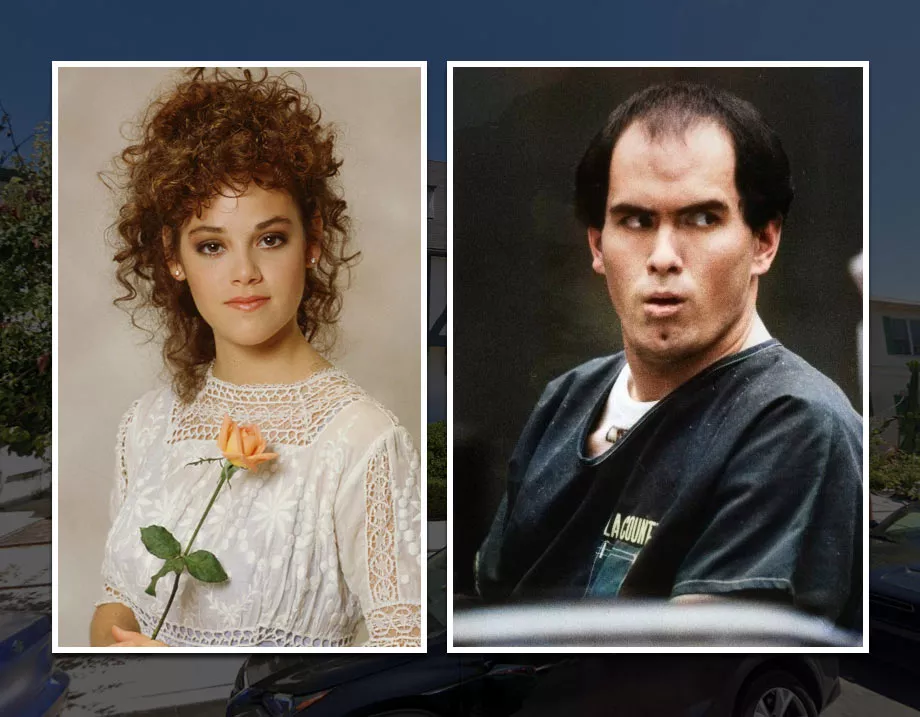 Following the shooting, Bardo returned to Tucson, Arizona.
Eight days later, he was arrested after the police received reports that a man was trying to get hit by traffic on Interstate 10.
Bardo immediately confessed to Schaeffer's murder after he was taken into custody.
By that stage, the Los Angeles Police Department had already narrowed in on him as a suspect, as his sister had tipped them off about his unhealthy obsession with the actress.
Bardo stood trial for the murder after he was extradited back to California.
His defense team argued that he was mentally ill and brought in a psychiatrist to testify that he had schizophrenia.
However, the jury disagreed. In the end, he was found guilty of first-degree murder and sentenced to life in prison without the possibility of parole.
He is currently incarcerated at Avenal State Prison in Kings County, California.
Visualize
There is more than one location associated with this entry. To view all of these places on the same map, you can use the following feature:
Closest Locations
Other locations that are relatively close to this address: Roughly one mile away.
Crime Location in West Hollywood, California, United States Roughly one mile away.
Crime Location in Los Angeles, California, United States Roughly one mile away.
Crime Location in West Hollywood, California, United States Roughly one mile away.
Place of Interest in West Hollywood, California, United States Roughly one mile away.
Place of Interest in Los Angeles, California, United States