Sal Mineo's apartment
Crime Scene Location in West Hollywood, California, United States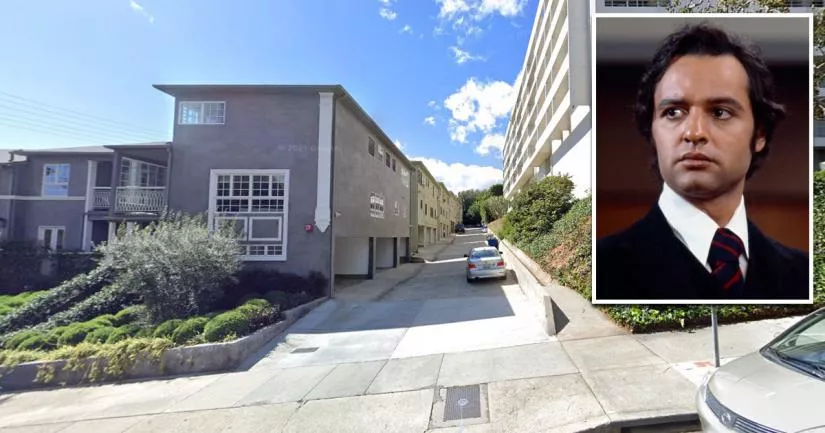 This is the apartment building where actor Sal Mineo was murdered.
It is situated at 8563 Holloway Drive in the West Hollywood neighborhood of Los Angeles, California.
Mineo is best known for starring in movies such as Rebel Without a Cause (1955), Exodus (1960), and Escape from the Planet of the Apes (1971).
He also made appearances on TV shows such as Studio One, Hawaii Five-O, and Columbo.
On the night of February 12th, 1976, Mineo was stabbed in the heart by a mugger after he parked his vehicle in the carport at the back of his apartment building.
Sadly, the actor was in the wrong place at the wrong time.
After getting out of his car, the 37-year-old was approached by a man named Lionel Ray Williams, who had been hanging around the parking alley looking for someone to rob.
When Mineo saw Williams charging towards him with a knife, he started to call out for help. At that point, Williams seemingly panicked and stabbed him in the chest.
"Freaked out" by what he had just done, Williams fled the crime scene without taking any money or valuables.
Following the killing, Williams admitted to several people (including his wife) that he had murdered Mineo. While he was serving time in a Michigan jail for check fraud, a deputy overheard him bragging about the crime to another inmate.
In January of 1978, he was charged with the murder of Sal Mineo.
Although he was found guilty of second-degree murder and sentenced to 57 years in prison, his sentence was later "recomputed" to 14 years under California's fixed-sentencing laws.
In 1990, Williams was released on parole after serving only 12 years.

Further information is available in the "Photos" section below.
Where did Sal Mineo die?
Below, you will find the address and the GPS coordinates for this location.
GPS coordinates
The latitude and longitude coordinates for the apartment are:
34.091170, -118.378721
Map
To view directions on how to get there, you can use the Google Maps shortcut below:
Address
The full address for this location is:
8563 Holloway Drive
West Hollywood
California
CA 90069
United States
Directions
The apartment complex is 0.3 miles east of the intersection between Sunset Boulevard and Holloway Drive. The parking alley where Mineo was found dead is accessible via Alta Loma Road. It is only a five-minute walk from the nightclub where actor River Phoenix died from an overdose.
Photos
Photos of the apartment and other related images.
---
Mineo's apartment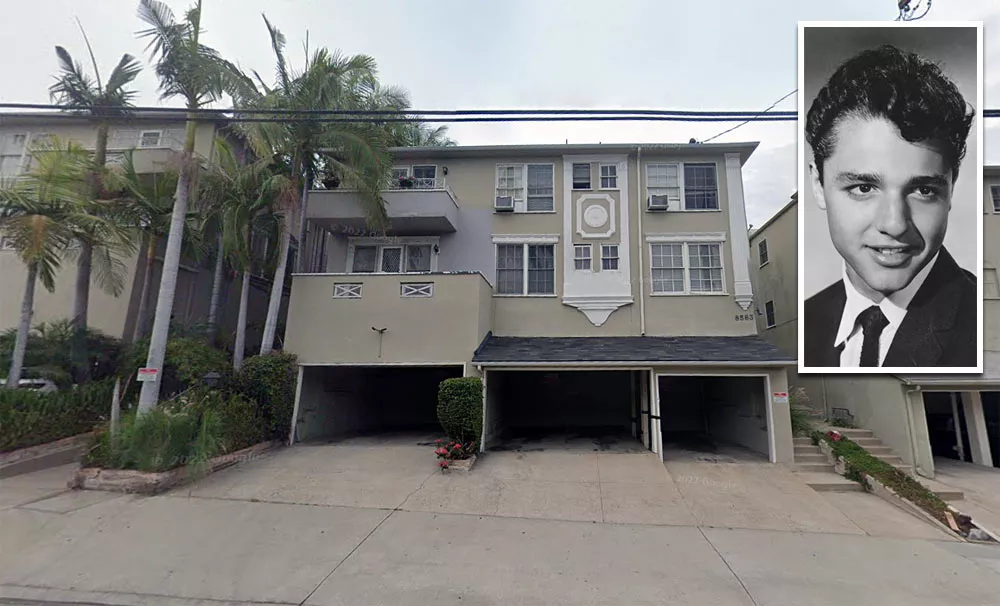 Image source: Google Maps
Sal Mineo's apartment was located at 8563 Holloway Drive in West Hollywood. He started living here by himself in 1973.
The murder took place in a parking alley at the back of the complex.
Crime scene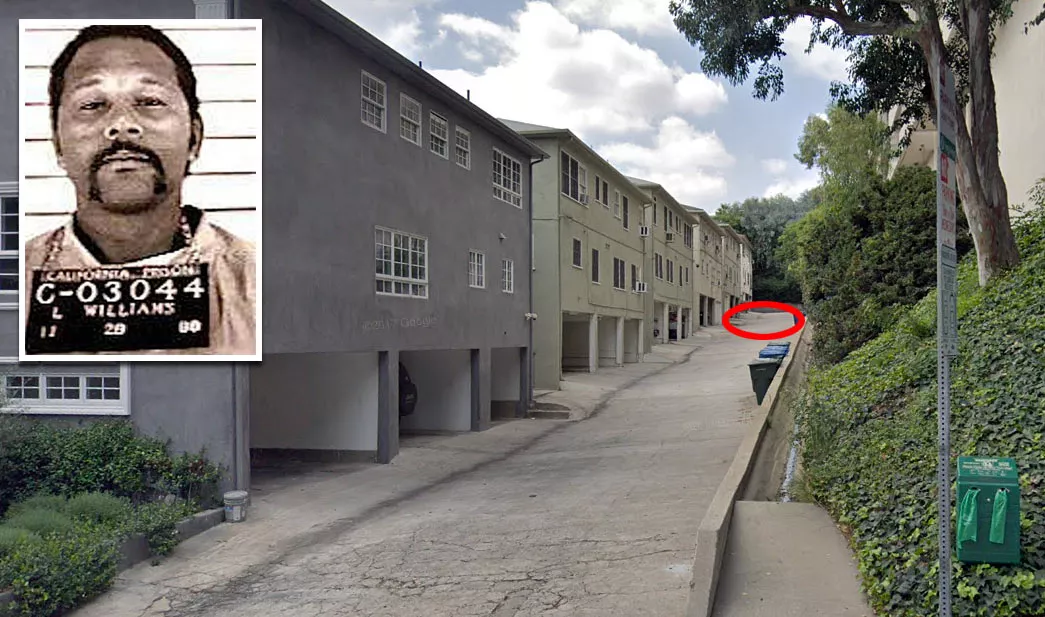 This Google Street View image of the parking alley was taken in August of 2022. It is accessible via Alta Loma Road. We have circled the crime scene in red.
On the night of February 12th, 1976, Lionel Ray Williams (pictured left) was hanging around the complex with a knife.
It is likely that he chose this alley because it was somewhat secluded and he knew that someone would eventually use one of the carports.
When he saw Mineo's car pulling in, he decided to seize the opportunity to rob him.
However, he seemingly panicked when the actor began to yell out for help.
After being promised immunity, one of Williams' friends confessed that he had witnessed the stabbing.
That night, the pair had been drinking and "cruising" around Los Angeles looking for women. However, at one point, Williams decided to drive into Hollywood and park near the apartment complex on Holloway Drive.
The friend, who remained in the car, claimed that he saw Williams talking to a man and then stabbing him.
Aerial image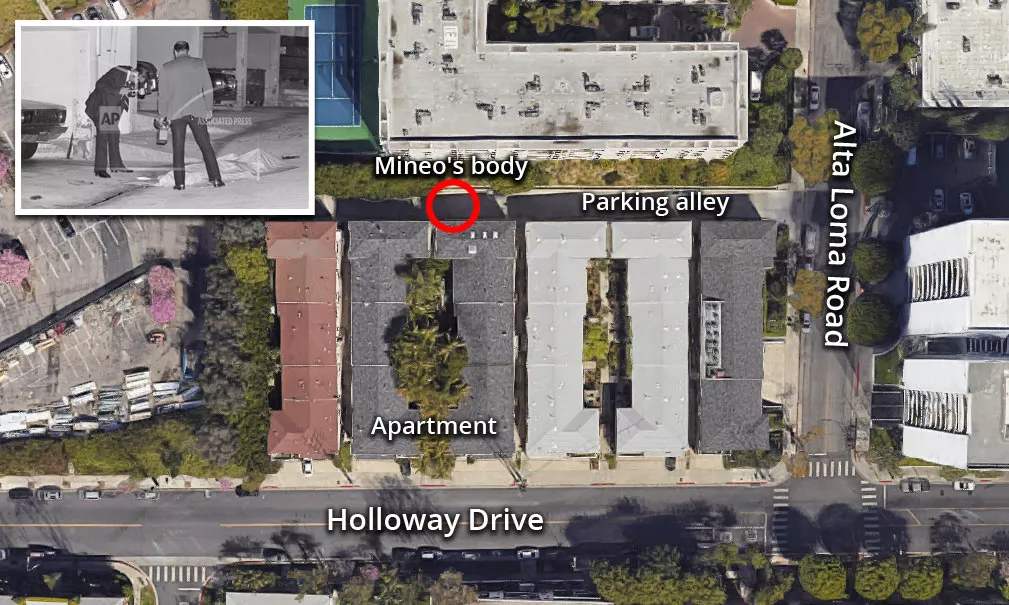 This aerial image highlights the various points of interest.
Sal Mineo's body was found at the back of the complex.
The murder investigation was hindered because the detectives on the case stubbornly clung to the wrong motive.
Four years earlier, the actor had publicly confirmed that he was bisexual. As a result, investigators theorized that the stabbing was a sex crime.
At the time, the robbery motive didn't make sense to them, as no money or valuables were missing.
However, the case was turned on its head when Lionel Williams' wife, Teresa Collins, came forward and told the police that it was a botched robbery.
Teresa was reportedly terrified of her husband. Consequently, when he was extradited to Michigan for writing bad checks, she saw it as the perfect opportunity to turn him in.
In her statement, she said that Lionel came home on the night of February 12th, 1976, and confessed to killing "a dude." She also admitted that she had given him the money to purchase the knife.
Afterwards, Teresa was able to pick out the exact type of knife that had been used in the attack.
Another witness named La Sonya Armstrong also told the police that Williams had claimed responsibility for the crime. Shortly after Mineo's murder, he reportedly told her that he had killed a "famous person." When she expressed doubts, he showed her bloodstained clothes and a knife.
Screams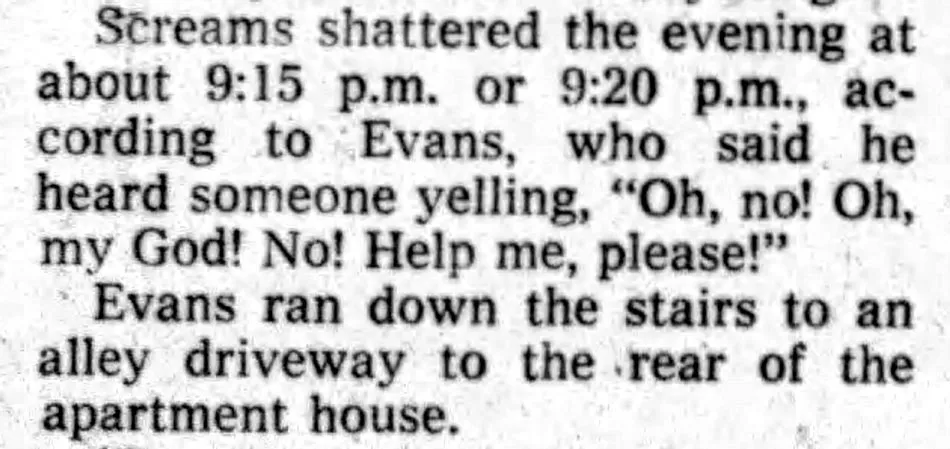 This newspaper clipping is from an article that appeared in the Miami Herald on February 14th, 1976.
The crime took place at around 9.15 p.m.
A fellow tenant named Ray Evans heard the actor shouting, "Oh, no! Oh, my God! No! Help me, please!"
Evans found Mineo lying on his side. At the time, he appeared to be semi-conscious. When he rolled him over, he could see that his chest was covered in blood.
The 37-year-old died shortly afterwards due to a stab wound that had penetrated his heart and caused massive hemorrhaging.
Murder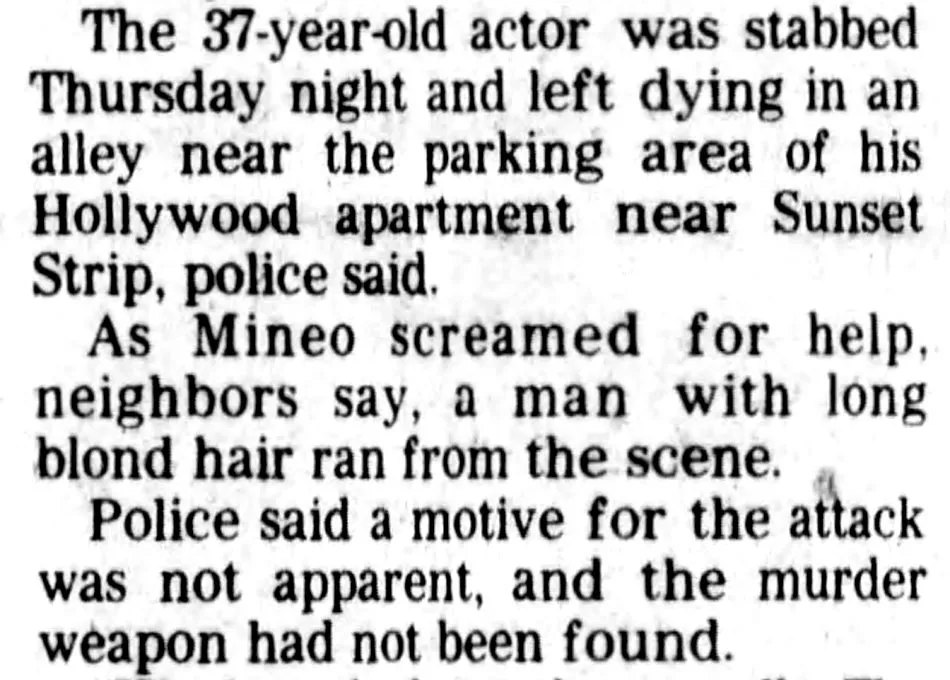 Shortly after the murder, newspapers reported that a witness had seen a man with long blond hair running away from the crime scene.
However, witness reports are notoriously unreliable.
For example, a security guard said that he saw a yellow Toyota fleeing the area soon after Mineo was killed.
On the day of the attack, Lionel Williams rented out a yellow Dodge Colt from a dealership on Crenshaw Boulevard. During the investigation, it was determined that the Dodge Colt looked very similar to a Toyota.
Closest Locations
Other locations that are relatively close to this address: Less than a mile away.
Place of Interest in West Hollywood, California, United States Roughly one mile away.
Crime Location in West Hollywood, California, United States Roughly one mile away.
Crime Location in Los Angeles, California, United States Roughly one mile away.
Crime Location in Los Angeles, California, United States Roughly one mile away.
Place of Interest in Beverly Hills, California, United States