The location where Judy Placido and Sal Lupo were shot
Crime Scene Location in Queens, New York, United States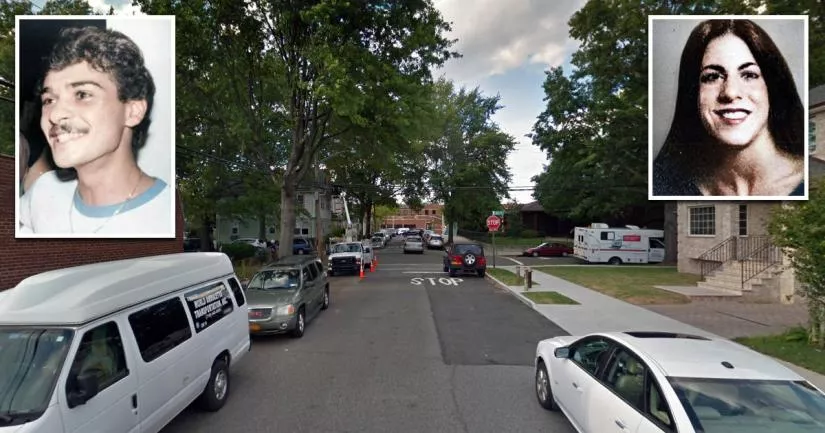 This is the location where Judy Placido and Sal Lupo were shot by the Son of Sam, David Berkowitz.
It is situated near the corner of 211th Street and 45th Road in the Bayside neighborhood of Queens, New York.
In the early hours of June 26th, 1977, Placido (17) and Lupo (20) left Elephas disco on Northern Boulevard and then walked to a parked car in this residential neighborhood.
Some reports state that it was Lupo's vehicle, while others have said that the 1972 Cadillac belonged to a bouncer who had agreed to drive them home.
Ironically, the pair talked about the Son of Sam case at one point, as the media had recently gone into overdrive about the random slayings. Only two months previously, Alexander Esau and Valentina Suriani had been murdered in cold blood while they sat in a lovers' lane in the Bronx. The killer had also left a taunting letter at the crime scene in which he promised to strike again.
On the night of the shooting, Elephas disco was mostly empty, as many young people were terrified about the possibility of being targeted by the unidentified gunman.
Placido and Lupo, however, decided to risk it.
Queens and the Bronx are very large boroughs. From their perspective, the odds of becoming the killer's next target were extremely low.
Furthermore, unlike the other victims, Placido and Lupo weren't a couple.
On the night of June 25th, they had both gone to Elephas with their own separate friend groups.
However, during the disco, a guy started bothering Placido while she was dancing with her friends. When Lupo saw the young girl being pestered, he interjected and pretended to be her boyfriend.
Later that night, at around 3.10 a.m., Placido and Lupo were having a cigarette in the parked car on 211th Street when Berkowitz suddenly walked up to the passenger side and opened fire.
When the window smashed into pieces, they initially believed that someone was throwing rocks at the vehicle. Although they had both been shot, it took some time before they gathered their thoughts and noticed their injuries.
Lupo suffered a wound to his right forearm. Placido's injuries were far more serious, as she was hit in the temple, neck, and shoulder.
When Lupo ran back to Elephas to get help, Placido stumbled out of the car and attempted to follow him. However, she collapsed in the middle of the street moments later.
Remarkably, the 17-year-old managed to survive the attack, as the bullet that struck her in the back of the neck had passed through Lupo's forearm and lost some of its velocity. It also narrowly missed her spine by a few millimeters.
Following the shooting, Berkowitz reportedly ran south along 211th Street before turning west on 45th Drive, where he jumped into his car and sped away. According to two witnesses, he was wearing a beige leisure suit.
Although one of the witnesses caught a glimpse of Berkowitz's vehicle, they were only able to recall three characters from his license plate.

Further information is available in the "Photos" section below.
Judy Placido and Sal Lupo crime scene location
Below, you will find the address and the GPS coordinates for this location.
GPS coordinates
The latitude and longitude coordinates for the street are:
40.758825, -73.771442
Map
To view directions on how to get there, you can use the Google Maps shortcut below:
Address
The full address for this location is:
211th Street
Queens
New York
NY 11361
United States
Directions
The Placido-Lupo shooting took place roughly 310 feet south of the intersection between Northern Boulevard and 211th Street.
Details about the general area
It is situated in the Bayside area of Queens.
Photos
Photos of the street and other related images.
---
Bayside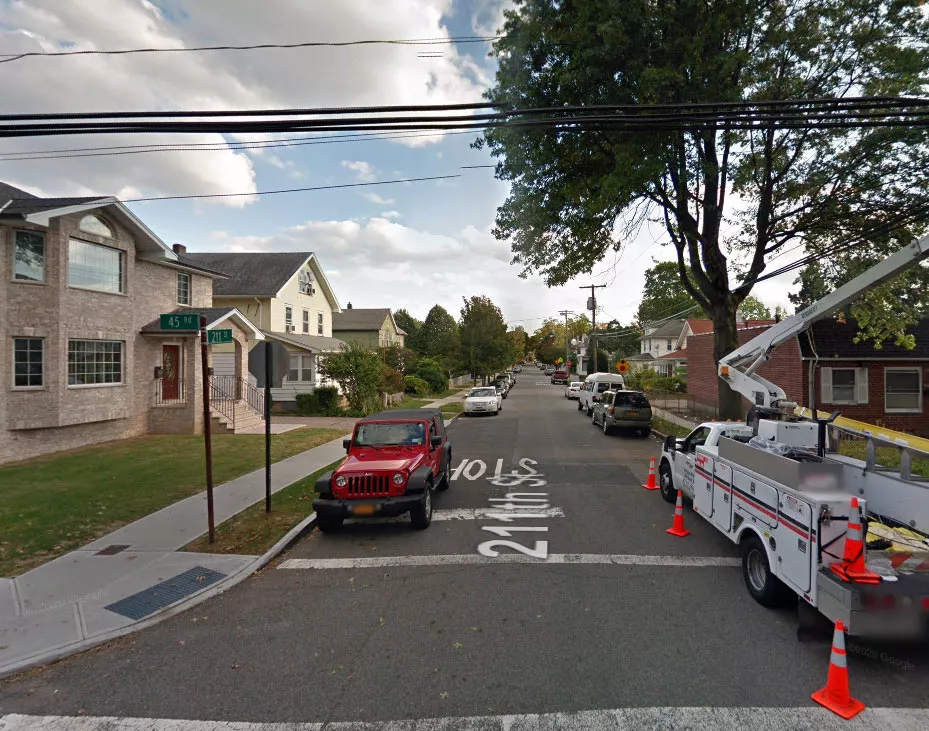 Image source: Google Maps
This Google Street View image of 211th Street was taken in October of 2014.
The shooting took place on the right.
Shooting
After shooting Judy Placido and Sal Lupo, Berkowitz ran south along 211st Street before turning west onto 45th Drive.
One witness reportedly saw him getting into a parked vehicle and driving away. However, they were unable to memorize his full license plate.
Crime scene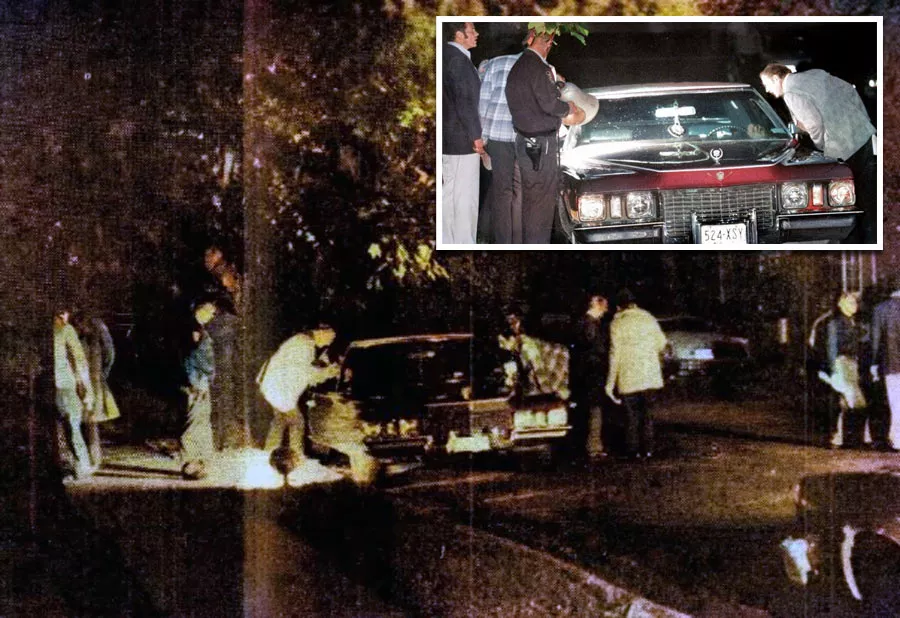 These are photographs of the crime scene.
The car, which reportedly belonged to a bouncer at Elephas disco, was parked underneath a tree opposite 45–39 211th Street.
45th Drive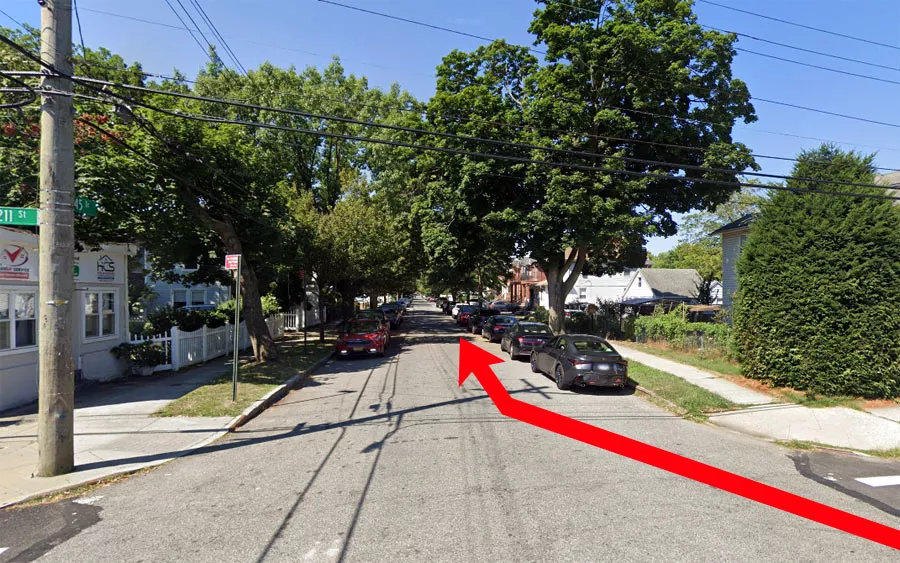 If the witness wasn't mistaken, then Berkowitz parked his 1970 Ford Galaxie somewhere on 45th Drive.
This would square up with his M.O. in previous attacks.
After spotting a potential target, he would often park around the corner and then return on foot.
Keeping his Galaxie out of sight lowered the possibility of someone taking down his license plate. However, he also couldn't park it too far away, as he needed to be able to make a quick getaway.
That night, Berkowitz was most likely cruising the streets around North Boulevard when he saw Placido and Lupo sitting in their car. Realizing his opportunity, he continued south and then turned right onto 45th Drive before pulling over.
At that point, he grabbed his .44 caliber revolver and walked back to the scene on foot. Placido and Lupo obviously didn't see him walking up the sidewalk towards them. Notably, crime scene photographs show that the lighting on 211st Street was so poor that the police had to use their own lamps.
Elephas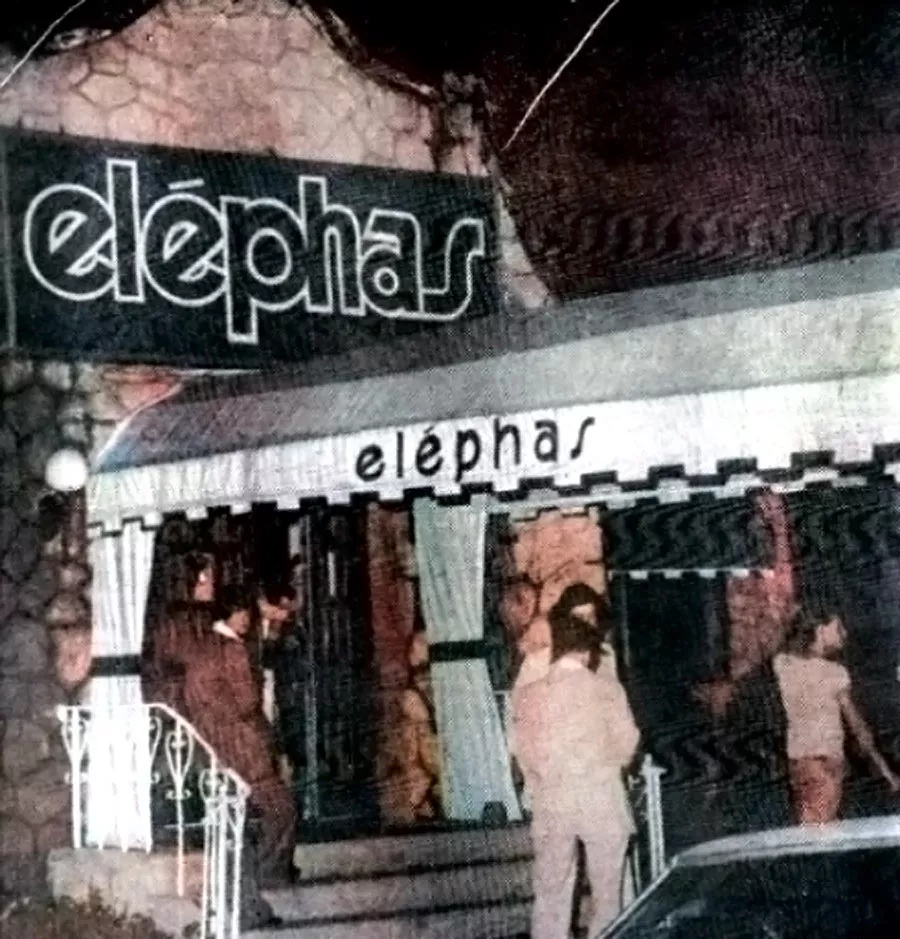 Elephas disco was situated at 210-22 Northern Boulevard in Bayside, Queens. During the 1970s, it was one of the most popular discos in the area.
This may have influenced Berkowitz's decision to hunt in that particular location.
Judy Placido went to the disco to celebrate her recent graduation from St. Catharine Academy, an all-girls' Catholic high school in the Bronx.
However, Elephas was relatively empty that Saturday, as many young couples were too worried about the shootings to venture out together at night.
Following the attack, a police officer at the Northern Boulevard station claimed that they had recently received a phone call from a man identifying himself as the Son of Sam.
During the short call, which was made one week prior to the shooting, the man reportedly said, "This is the Son of Sam. Next week, I'm going to hit Bayside."
When asked about this call, one supervisor said that they had increased patrols around the precinct. However, he admitted that they were unable to cover all of the discos and bars.
Closest Locations
Other locations that are relatively close to this address: Roughly 2 miles away.
Crime Location in Queens, New York, United States Roughly 4 miles away.
Crime Location in Queens, New York, United States Roughly 4 miles away.
Crime Location in Queens, New York, United States Roughly 6 miles away.
Crime Location in Queens, New York, United States Roughly 6 miles away.
Crime Location in Queens, New York, United States