The barber shop where Albert Anastasia was shot dead
Crime Scene Location in Manhattan, New York, United States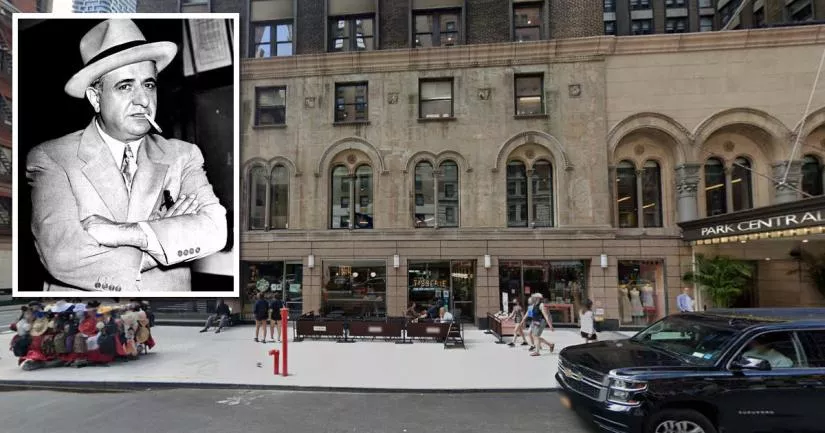 This is the location where mafia crime boss Albert Anastasia was shot dead.
It is situated on 7th Avenue in Manhattan, just south of Central Park.
At the time of the shooting, it was the barber shop of the Park Sheraton Hotel. However, these days, it is a Starbucks outlet.
Anastasia's rise to the top
Albert "The Mad Hatter" Anastasia was one of the most fearsome figures in mob history.
At one point, he was the boss of an organized criminal gang called Murder, Inc., which is believed to have orchestrated as many as 1,000 contract killings between 1921 and 1941.
Following the demise of Murder, Inc., he became the underboss of the Mangano crime family, serving under Vincent Mangano.
However, on April 19th, 1951, Vincent Mangano suddenly disappeared.
On the same day, his brother, Philip, was found dead in a marshland area in Jamaica Bay. He had been shot twice in the face and once in the neck.
It is believed that Anastasia had the two brothers killed so that he could take control of the family.
This plan worked, as shortly after Mangano's disappearance, the Commission appointed him as the new boss. At that point, it became known as the "Anastasia family."
Frank Costello aided Anastasia's ascension
Anastasia's promotion to the top spot was backed by the boss of the Luciano family, Frank Costello, who viewed him as a much-needed ally.
At the time, Costello had concerns that an influential mobster named Vito Genovese was planning a coup against him.
Aware that a potential threat was looming, he reasoned that having an ally such as Albert Anastasia on the Commission might help to strengthen his position.
Costello was worried about Vito Genovese
Vito Genovese was the former acting boss of the Luciano family. However, he had vacated the role in 1937 after he fled to Italy to avoid a murder charge.
In 1946, the case against Genovese was dropped after two vital witnesses in the case were murdered.
After being released from custody, he immediately returned to the mob world.
Although the ambitious gangster attempted to regain his position as the acting boss of the family, Costello refused to move aside and relinquish his title.
Sensing that he needed to bide his time, Genovese reluctantly agreed to return to his original role as the capo of the Greenwich Village Crew in Manhattan.
By the mid-1950s, it seems as though he finally felt confident enough to make a move against Costello.
However, from his perspective, there was just one problem. For the coup to be successful, he would need to neutralize his boss's powerful ally, Albert Anastasia.
Vito starts conspiring with one of Anastasia's capos
Consequently, he started conspiring with Anastasia's capo, Carlo Gambino. In exchange for turning against his own boss, Gambino would be allowed to step up and replace him.
Essentially, the two men conspired to take over their respective crime families. Genovese would replace Frank Costello as the boss of the Luciano family, and Carlo Gambino would become the new leader of the Anastasia family.
Costello steps down
On May 2nd, 1957, Frank Costello narrowly survived an attempt on his life. Spooked by his close call with death, he finally agreed to retire and hand the reins over to Genovese.
However, a few months after Genovese took charge, he heard reports that Costello had been secretly making plans with Anastasia to regain power.
At that point, he realized that he needed to get rid of Anastasia.
The murder of Albert Anastasia
On the morning of October 25th, 1957, Anastasia entered the barber shop of the Park Sheraton Hotel and sat down in a chair. Shortly afterwards, gunmen with scarves wrapped around their faces entered the premises and opened fire on him, hitting him multiple times until he slumped to the floor.
Although no one was charged for the murder, it is believed that an up-and-coming mobster called Joe Gallo was one of the shooters, and that he was aided by members of the Gambino crew.
From that point on, the Luciano family became known as the Genovese family, and the Anastasia family was renamed as the Gambino family.
Vito Genovese's reign as the new boss did not last long, however, as he was sentenced to 15 years in prison for narcotics trafficking in 1959.
Carlo Gambino, on the other hand, had a long spell at the top, remaining in charge until he died from a heart attack in 1976. Shortly before his death, he appointed Paul Castellano as his successor.

Further information is available in the "Photos" section below.
Where was Albert Anastasia shot?
Below, you will find the address and the GPS coordinates for this location.
GPS coordinates
The latitude and longitude coordinates for the shop are:
40.764454, -73.981053
Map
To view directions on how to get there, you can use the Google Maps shortcut below:
Address
The full address for this location is:
Starbucks
870 7th Avenue
Manhattan
New York
NY 10019
United States
Directions
The Park Central Hotel is situated at the corner of 7th Avenue and West 55th Street. It is about 330 yards away from the West Drive entrance to Central Park.
Photos
Photos of the shop and other related images.
---
870 7th Avenue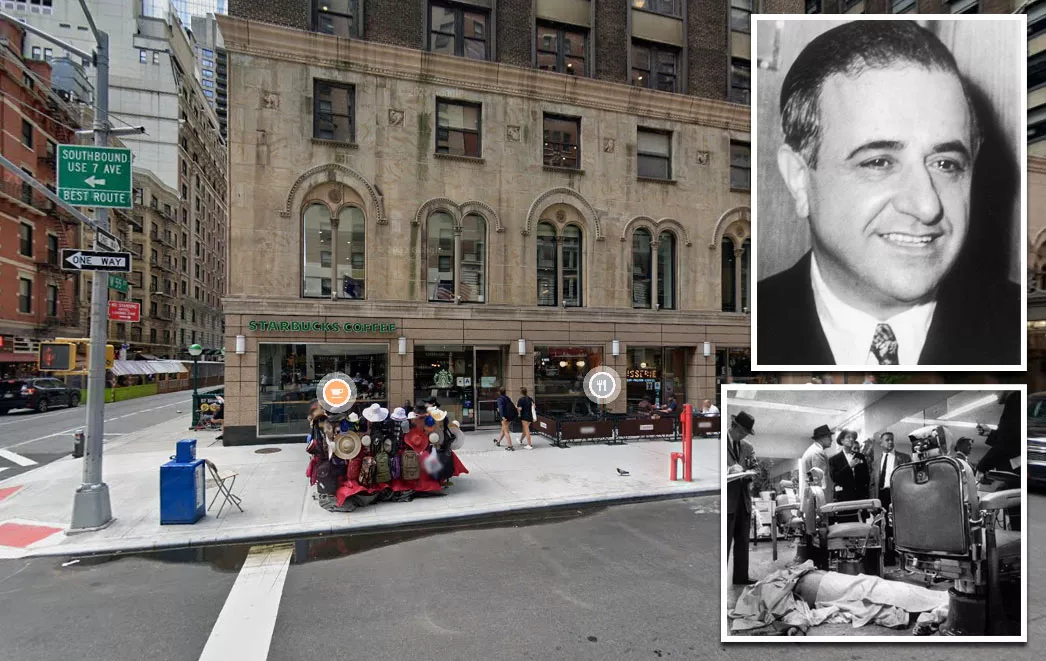 This Google Street View image of 870 7th Avenue was taken in August of 2021. At the time of the shooting, the building was home to Arthur Grasso's barber shop.
During the attack, Anastasia attempted to fight back against his assailants. However, amidst the chaos, he reportedly became confused by the mirrors and tried to attack the gunmen's reflections instead.
Two of the bullets proved to be fatal. One struck him in the head, while another penetrated his lung, kidney, and spleen.
Anthony Coppola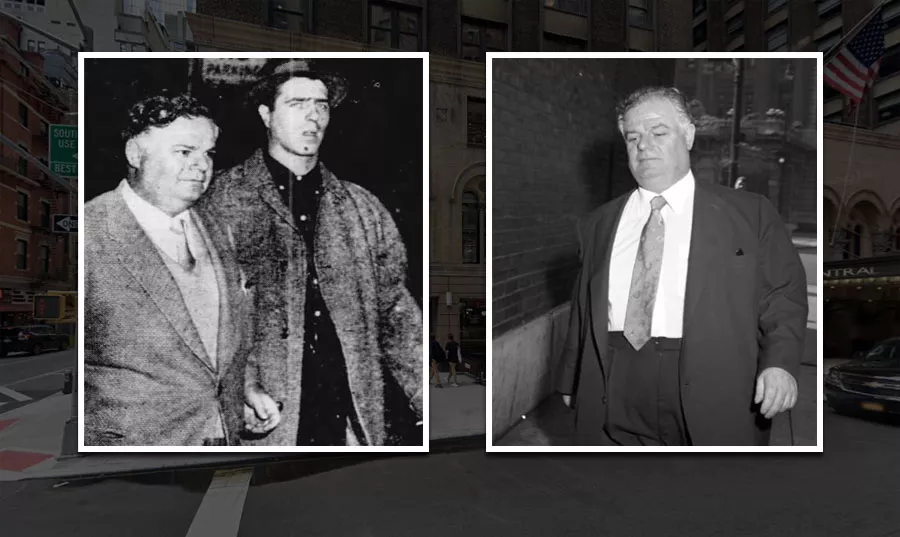 Albert Anastasia's driver and bodyguard, Anthony Coppola, was conspicuously absent during the shooting.
After parking the car in an underground lot, he decided to walk outside of the hotel, leaving his boss unprotected.
Albert Anastasia and Frank Costello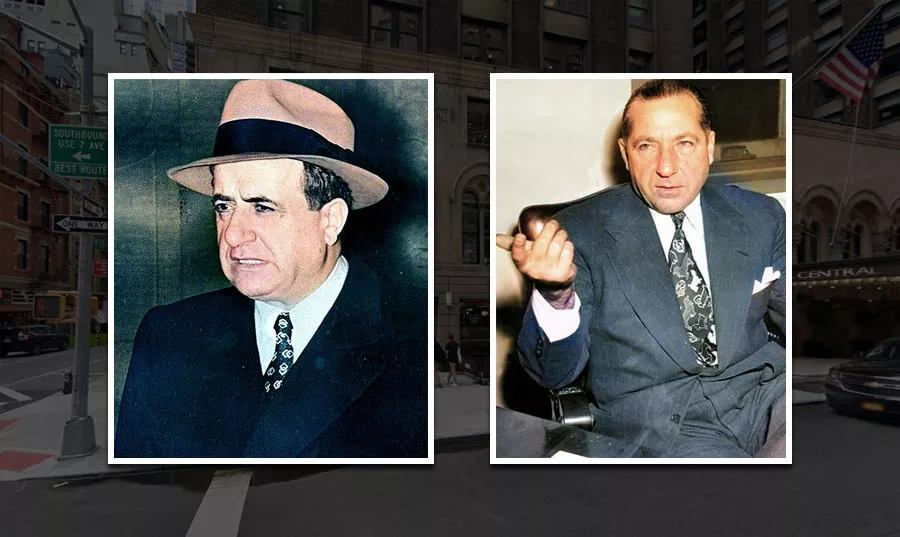 Albert Anastasia and Frank Costello were allies.
When Anastasia murdered his own boss in 1951, it was Costello who persuaded the Commission to let him take over.
Vito Genovese and Carlo Gambino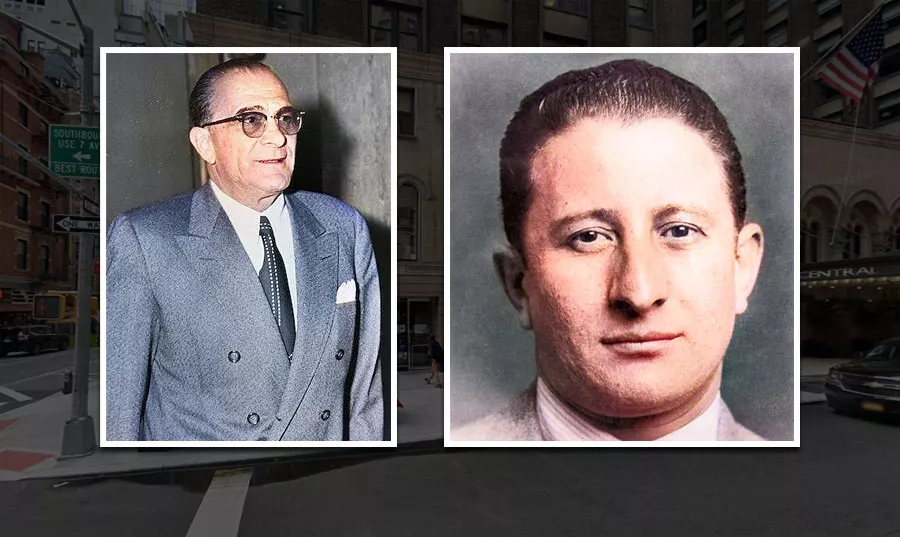 Vito Genovese and Carlo Gambino conspired together to replace their respective bosses.
Funeral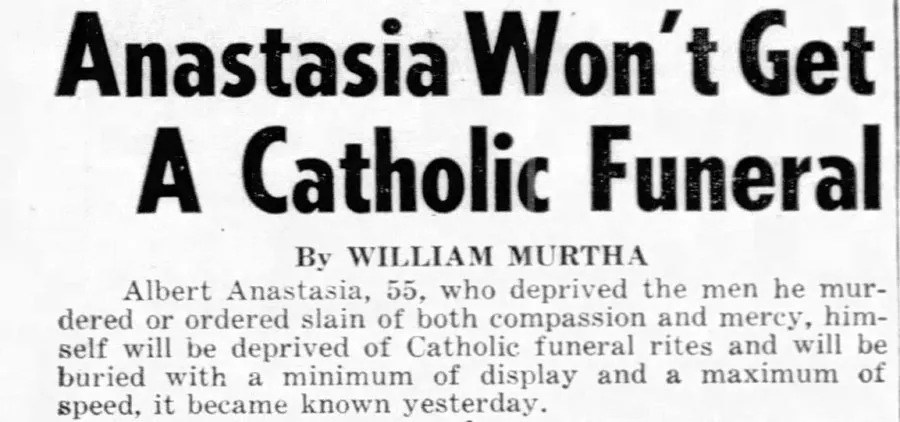 Because of his misdeeds, Anastasia was not allowed to have a Catholic funeral. Instead, he was buried at Green-Wood cemetery in Brooklyn, which is non-denominational.
Crime scene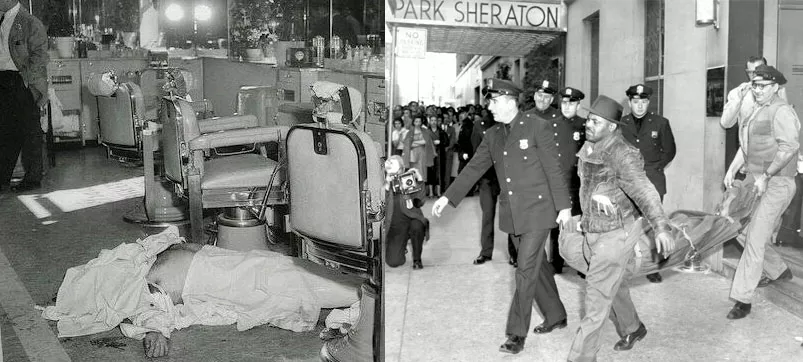 On the left, you can see Anastasia's body on the floor of the barber shop. On the right, you can see a photograph of his body being carried out to the coroner's van.
Closest Locations
Other locations that are relatively close to this address: Less than a mile away.
Crime Location in Manhattan, New York, United States Less than a mile away.
Crime Location in Manhattan, New York, United States Less than a mile away.
Filming Location in Manhattan, New York, United States Roughly one mile away.
Crime Location in Manhattan, New York, United States Roughly one mile away.
Crime Location in Manhattan, New York, United States