The hotel where Megan Waterman was last seen
Crime Scene Location in Hauppauge, New York, United States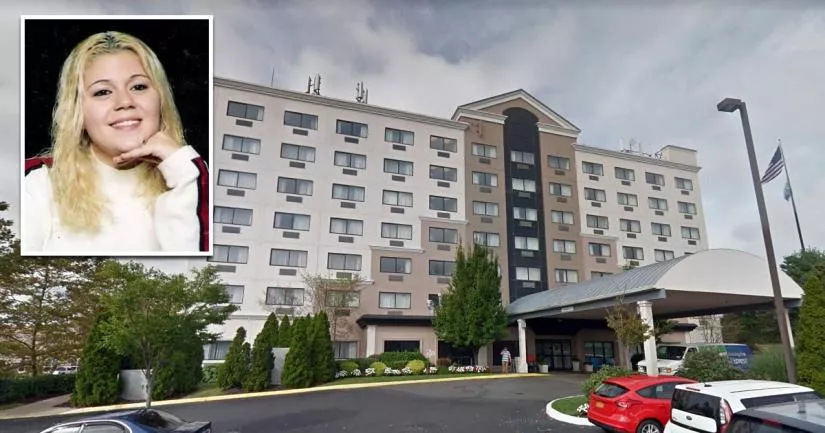 This is the hotel where Megan Waterman was last seen.
It is situated at 2050 Express Drive South in Hauppauge, New York.
Waterman is believed to be a victim of the Long Island serial killer (LISK).
In the early hours of June 6th, 2010, the 22-year-old sex worker left the Holiday Inn Express in Hauppauge to meet a client for an outcall.
That was the last time anyone saw her alive.
Six months later, her body was discovered beside three other LISK victims on Gilgo Beach. Their killer had wrapped their remains in burlap and then placed them in the thicket beside Ocean Parkway.
The four women had been asphyxiated. There were also signs that they had been "kept for a while" and tortured.
At the time of her disappearance, Waterman was being sex trafficked from Maine to New York by her pimp and boyfriend, Akeem Cruz.
Cruz had convinced her to become a sex worker by telling her that they could use the money to buy a house and start a family together.
LISK contacted Waterman after he came across her escort profile on Craigslist. One advertisement from the date of her disappearance shows that she was operating under the pseudonym Lexi.
After narrowing in on "Lexi", the killer proceeded to schedule an outcall with her using a disposable burner phone.
The authorities believe that the Long Island serial killer was a regular "john" who frequently picked up girls over the years. In other words, he only killed when the circumstances were right and he felt confident that he would get away with it. Otherwise, he played it safe and used their services as normal.
On the night in question, the 22-year-old was at the Holiday Inn Express by herself, as Cruz was in Brooklyn.
Surveillance footage showed Waterman walking out of the lobby and turning right, towards a dark and deserted industrial area on the southern side of the hotel.
It is likely that LISK strategically chose this spot as the pickup point because it lowered his chances of being spotted by a random bystander or a surveillance camera.
When it comes to outcalls, working girls are often accompanied to the client's vehicle for safety reasons. This precautionary measure warns the "john" that both he and his license plates have been duly noted.
However, in this case, Waterman was all alone.
When the killer saw "Lexi" strolling towards his vehicle by herself, it would have quickly dawned on him that there was nothing to link them together.
The pickup was taking place in a dark area with no witnesses around. Furthermore, all of his calls had been made from a prepaid phone that was registered under a fake name.
From his perspective, he was in the clear. If the police did investigate Waterman's disappearance, they'd quickly realize that, for all intents and purposes, she had been picked up by a ghost.
Megan Waterman's last location
Below, you will find the address and the GPS coordinates for this location.
GPS coordinates
The latitude and longitude coordinates for the hotel are:
40.807799, -73.221353
Map
To view directions on how to get there, you can use the Google Maps shortcut below:
Address
The full address for this location is:
Holiday Inn Express
2050 Express Drive South
Hauppauge
New York
NY 11788
United States
Directions
The hotel is situated in the south of Hauppauge, close to the Long Island Expressway.
Photos
Photos of the hotel and other related images.
---
Holiday Inn Express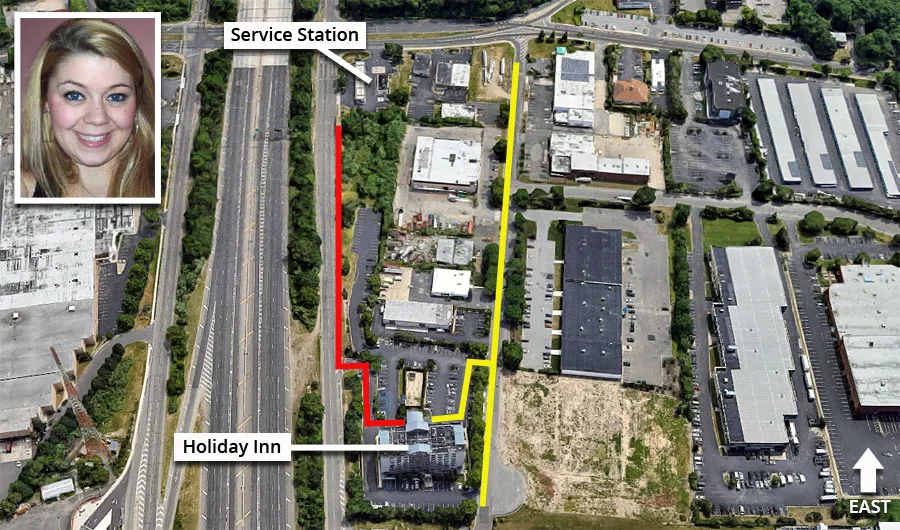 This is an east-facing aerial image of the Holiday Inn Express hotel in Hauppauge.
A number of sources state that Megan Waterman was last seen walking along the service road towards the gas station (the red route). However, this appears to be an unreliable piece of information that has been gradually accepted as fact.
Although one website claims that an employee saw her walking along the service road, this is incorrect. In reality, that statement came from Waterman's pimp and boyfriend, Akeem Cruz.
Notably, Cruz did not actually see her walking along this route. At the time, he was in Brooklyn. In his statement to the police, he claimed that Waterman called him and said that she was going to a convenience store.
The problem with Cruz's statement is that he had an extremely good reason to lie about the nature of their phone call. If he had told investigators that Waterman left the hotel to meet a client, then he would have been implicating himself as a pimp and sex trafficker.
On April 13th, 2022, the Suffolk County Police Department released surveillance footage of Waterman in the hotel lobby.
In the final clip, she calmly walked out of the hotel and turned right.
This contradicts claims that she was seen walking along the red route. Instead, it suggests that her killer picked her up in the parking lot or on Central Avenue (the yellow route).
Megan Waterman turned right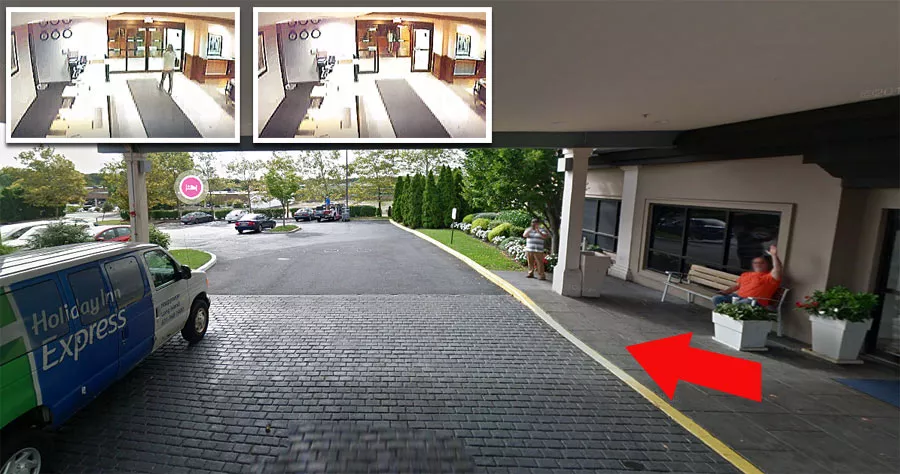 The last surveillance clip of Waterman shows her exiting the lobby and turning right.
At the time, the Holiday Inn Express had no outdoor surveillance cameras.
This suggests that she was picked up on the southern side of the hotel, away from the main entrance.
Central Avenue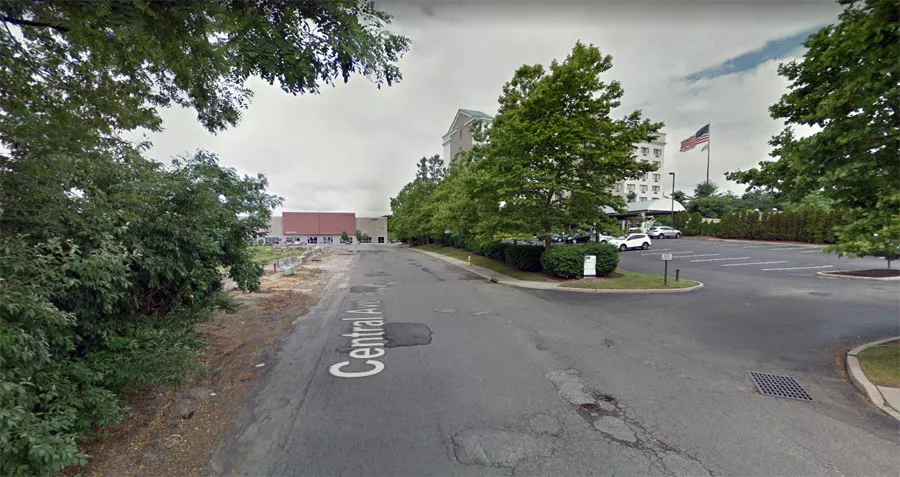 It is difficult to overlook Central Avenue as a potential pickup point. This small road lies to the south of the hotel and is easily accessible via the parking lot.
According to locals, this area is pretty quiet, especially after normal business hours. If the Long Island serial killer is as cautious as the authorities believe he is, then it stands to reason that he would have selected this spot instead of the busier service road to the north.
When Waterman exited the hotel lobby at 1.30 a.m., this street would have been completely dark and empty.
Notably, there were no streetlights along Central Avenue at the time.
The streetlights at the eastern end of the road weren't added until around 2017.
Possible pick-up spot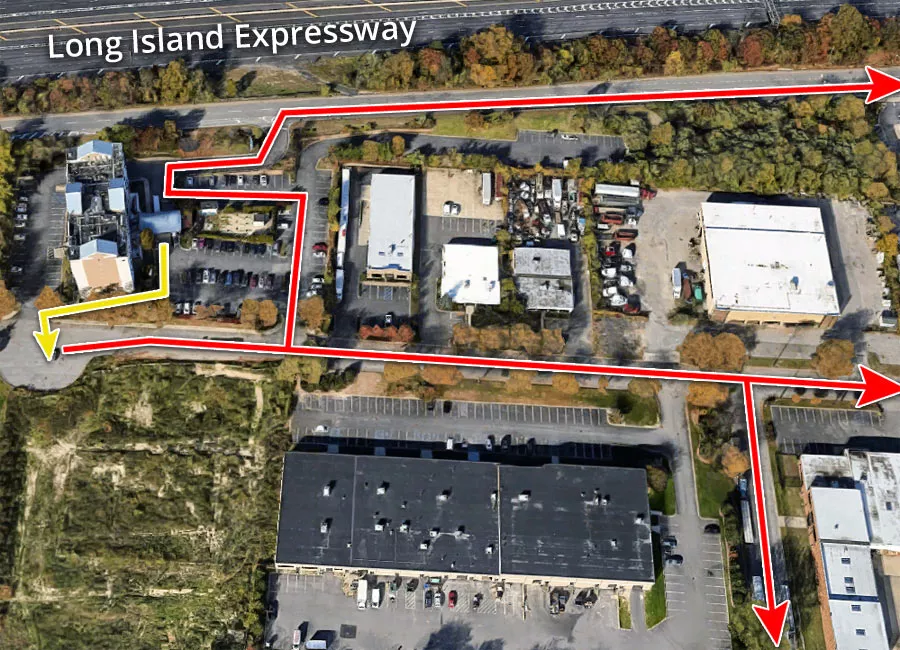 LISK may have concealed his vehicle by parking behind the tree line on Central Avenue. This would have prevented hotel guests and employees from witnessing the pickup.
He may have also parked closer to the cul-de-sac circle on the left. Notably, the circle in question is in a blind spot, as there are no rooms or cameras on the southern side of the hotel.
Once he had picked a suitable spot, the killer picked up his burner phone and contacted Waterman to let her know that he was outside.
After picking up his victim, it is likely that he drove eastward along Central Avenue. From there, he would have been able to join the Long Island Expressway or head south along Joshua's Path.
During the 2000s, the Holiday Inn Express was a popular place for sex workers to conduct business, as the employees usually turned a blind eye to their activities.
If LISK was a Long Island resident who regularly picked up girls, then it is possible that he had visited the hotel before and knew exactly where to park.
Express Drive South
A number of sources claim that Waterman was last seen walking along this service road. However, the surveillance footage from the lobby contradicts this.
Picking up a woman on the shoulder of a relatively busy road in the early hours of the morning would draw the attention of other motorists.
In other words, he would have been making himself extremely visible at a time when he didn't want to be.
2010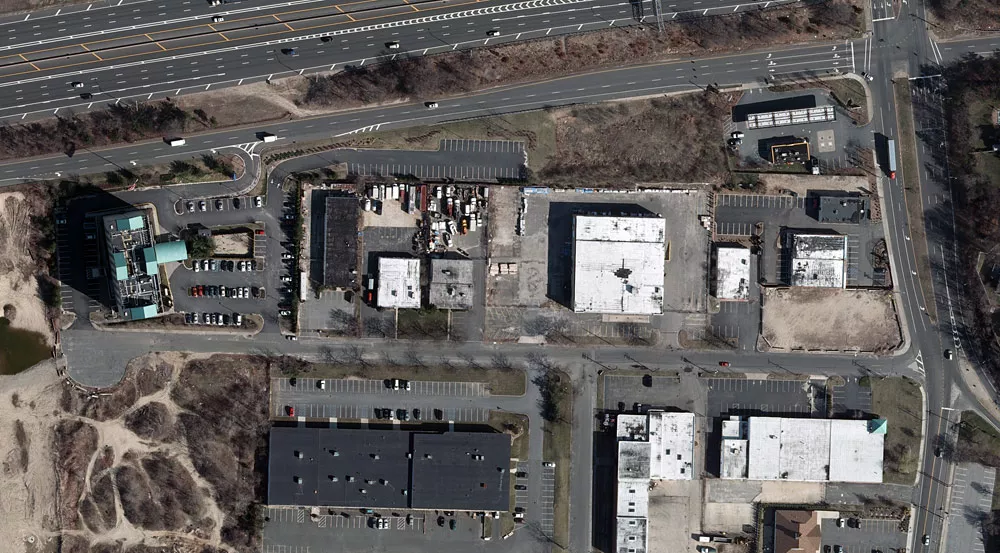 This aerial image was taken on April 1st, 2010—roughly two months before Waterman vanished.
As you can see, Central Avenue was very quiet, even during the day.
The side of the hotel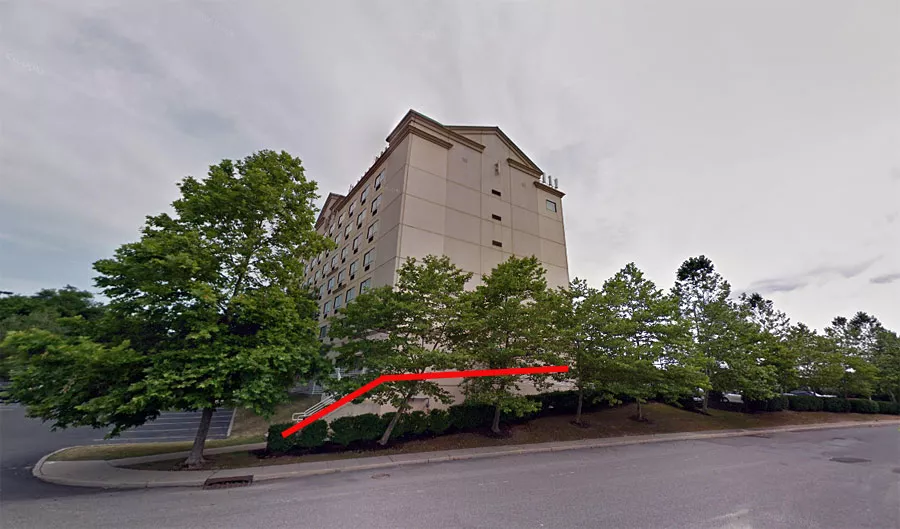 The Google Street View image above was taken two years after Waterman's murder.
The southern side of the Holiday Inn Express consists of a plain exterior wall with one small window. The hotel rooms do not overlook this area. Furthermore, it is very obvious to the casual observer that there are no cameras.
The red line highlights a small pathway that leads from the front of the hotel down to the rear parking lot.
If the Long Island serial killer parked near this pathway, then it means that he was in a blind spot.
Waterman's remains were discovered near Gilgo Beach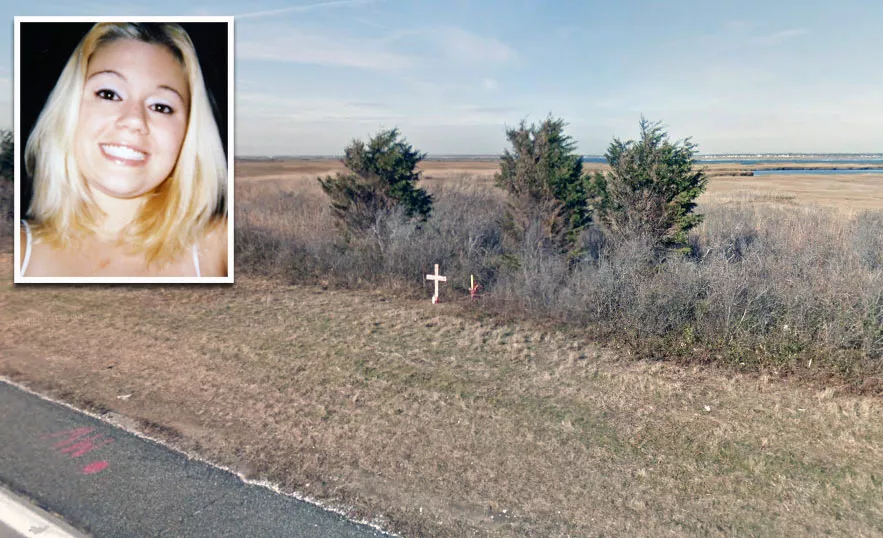 Waterman's remains were discovered at this section of Ocean Parkway near Gilgo Beach in December of 2010.
By that stage, she had been missing for six months.
Her body lay among the bodies of three murdered sex workers.
Due to their location and their close proximity to each other, the four victims have been nicknamed the Gilgo Four.
Coordinates: 40.624999, -73.374454
Surveillance footage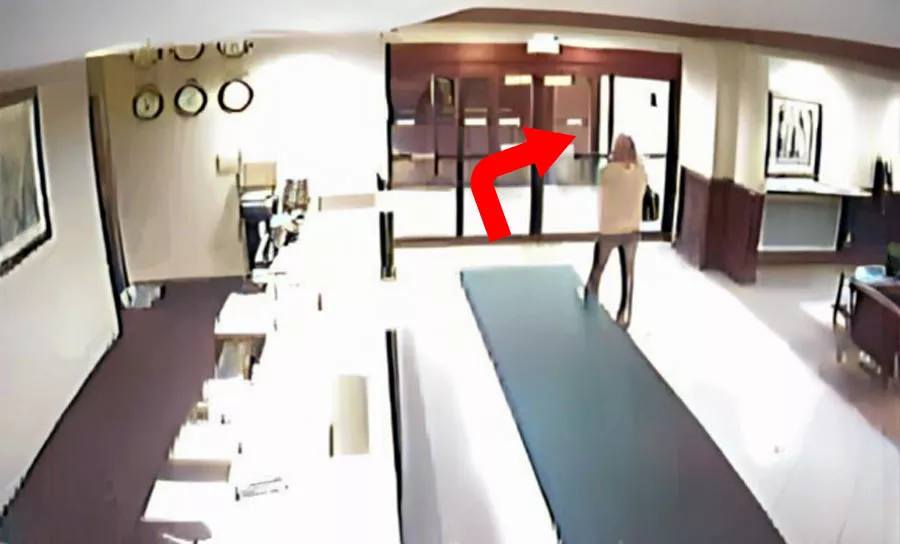 The last clip in the released surveillance footage shows Waterman walking out of the lobby and turning right.
Hotel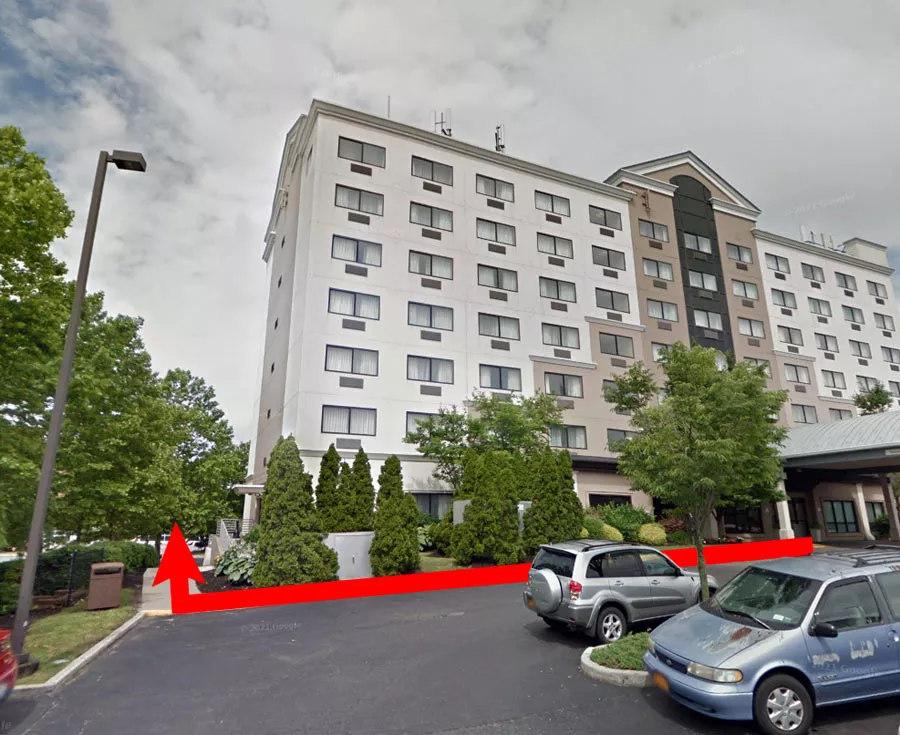 After turning to her right, it is likely that the 22-year-old walked down the small pathway on the southern side of the hotel.
Sadly, she had no idea that she was being lured to her death.
Closest Locations
Other locations that are relatively close to this place. Roughly 6 miles away.
Crime Location in North Bay Shore, New York, United States Roughly 11 miles away.
Crime Location in West Babylon, New York, United States Roughly 14 miles away.
Place of Interest in Babylon, New York, United States Roughly 17 miles away.
Crime Location in East Patchogue, New York, United States Roughly 17 miles away.
Crime Location in Fire Island, New York, United States