The site where Rita Tangredi's body was discovered
Crime Scene Location in East Patchogue, New York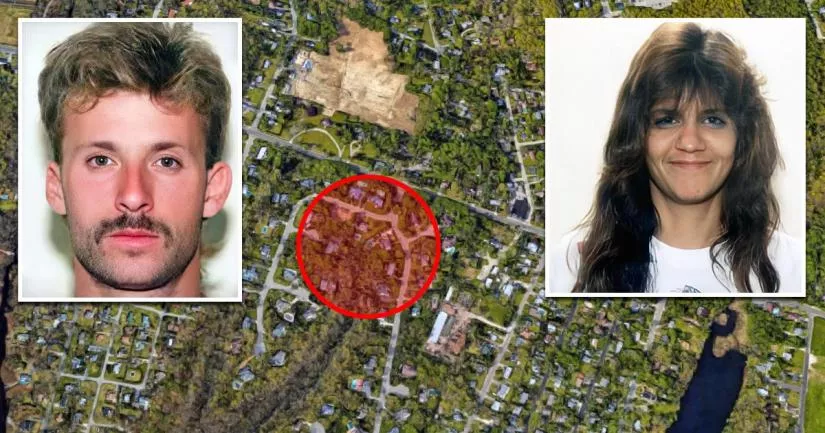 This is the location where Rita Tangredi's body was discovered.
On November 2nd, 1993, Tangredi's naked remains were discovered half-buried in a wooded area at Esplanade Drive in East Patchogue.
The 31-year-old sex worker had been strangled and beaten to death.
Tangredi's killer strangled her, shattered her skull, spread her legs apart, and then positioned both of her arms above her head.
It also appears as though he took her left shoe and underwear as a trophy.
Although there was alcohol in her stomach, the levels in her bloodstream were negligible. This led the medical examiner to conclude that she had consumed it very shortly before she was killed.
At the time, Esplanade Drive was a popular place for sex workers to bring their clients, as it was a secluded wooded area that contained an abandoned housing development.
The houses that are present today were not built until the late 1990s and early 2000s.
Detectives believe that Tangredi was murdered at this location, as parts of the ground were soaked in blood.
On the day of her disappearance, the 31-year-old was last seen walking along the Montauk Highway in East Patchogue, which is only two miles away.
More than two decades after her body was discovered, a familial DNA match linked 48-year-old Long Island resident John Bittrolff to the crime.
DNA evidence also linked him to the 1994 murder of Colleen McNamee.
Forensic scientist Thomas Zaveski said that tiny particles resembling wood chips were found on the victim's body. The chips, which were no longer than a millimeter, looked like "specks" to the human eye.
This piece of evidence was particularly damaging to Bittrolff, as he had worked as a carpenter throughout his adult life.
During the trial, forensic scientist Robert Baumann testified that DNA samples found in Tangredi's fingernail clippings were a partial match with the accused. In his estimation, the profile was so similar that there was only a 1 in 608 quadrillion chance that it had come from someone else.
In addition to this, semen found on the victim's body was also found to be a match with Bittrolff.
On July 5th, 2017, Bittrolff was found guilty of both murders. Two months later, he received two consecutive 25-year-to-life sentences.

Further information is available in the "Photos" section below.
Rita Tangredi crime scene location
Below, you will find the address and the GPS coordinates for this location.
Address
Esplanade Drive, East Patchogue, New York, NY 11772, USA
Map
To view directions on how to get there, you can use the Google Maps shortcut below:
GPS coordinates
The latitude and longitude coordinates for the site are:
40.758018, -72.968802
Directions
The entrance can be found on South Country Road, half-way between Orchard Road and Furman Avenue.
Photos
Photos of the site and other related images.
---
Newspaper report from May 27th, 1994

The victim was also known as Rita Tangredi-Beinlich. Newspapers reported that she was of "no known address."
The 31-year-old had been arrested for prostitution at the beginning of 1993.
At the time of her death, she had an 11-year-old son called Anthony Beller.
The police quickly realized that the murders of Tangredi and McNamee were connected. This is because the two sex workers had been murdered and then "posed" in an extremely similar fashion.
They were also missing their underwear and a left shoe—a sign that the killer may have taken them as trophies.
Detective John Gierasch expressed his belief that the killer might be responsible for the murder of Sandra Costilla. Costilla was found murdered and posed in a wooded area in North Sea, Southampton, in November 1993.
Tangredi was last seen on Montauk Highway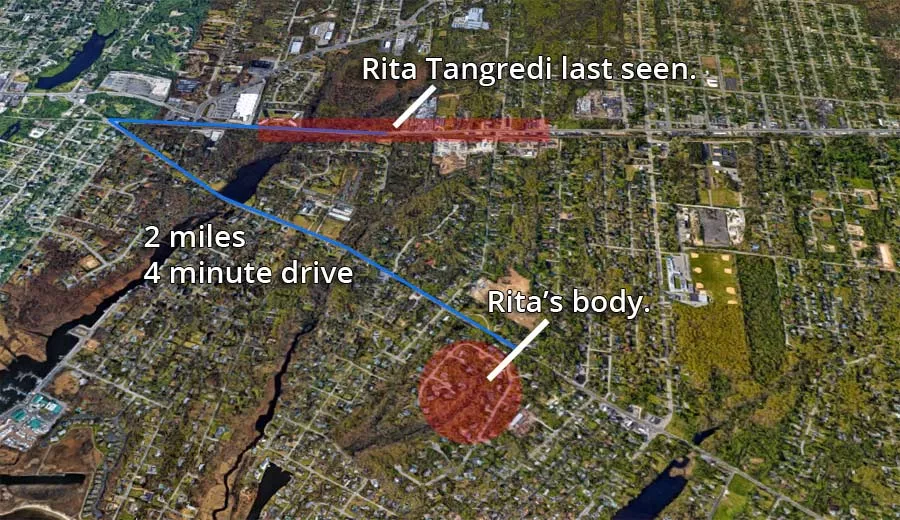 Tangredi was last seen walking on Montauk Highway, which is just two miles from the location where her body was discovered.
It is likely that Bittrolff picked her up at this location and then immediately drove to Esplanade Drive, as it was a popular spot for sex workers and johns to "conduct business."
The stretch of road that she was last seen on is east of the intersection between Montauk Highway and East Patchogue Yaphank Road (Country Road 101).
Coordinates: 40.767487, -72.980177
Esplanade Drive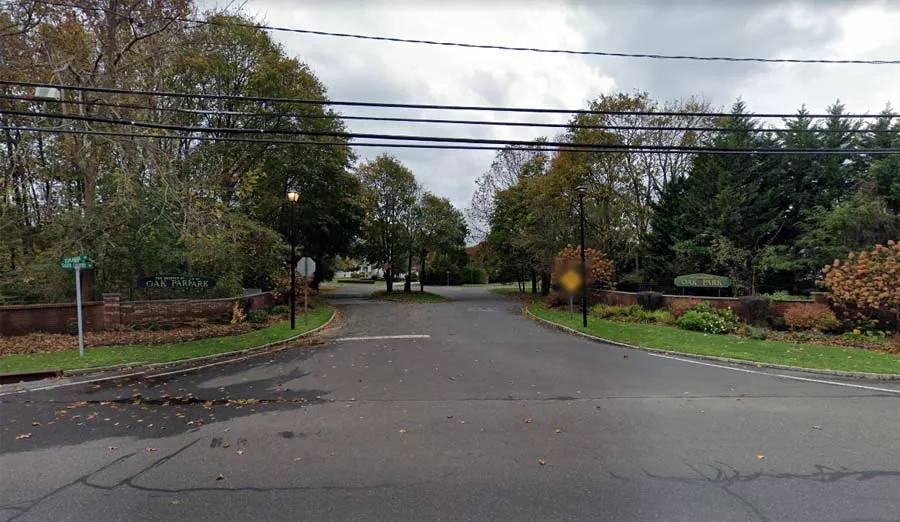 This Google Street View image of the entrance to Esplanade Drive was taken in November 2019.
The driver of an all-terrain vehicle discovered Tangredi's body.
These days, the area looks significantly different, as more than 50 houses have been built here since the late 1990s.
1980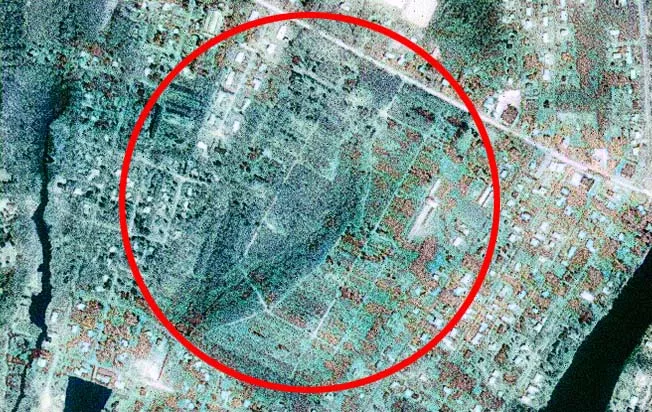 This aerial photograph from 1980 gives us an idea of what the wooded area looked like before it was developed. Newspaper reports indicate that locals used the pathways to cut between Country Road and Summit Street.
Map Viewer
There is more than one location associated with this entry. To view all of these places on the same map, you can use the following feature:
This location belongs to the following categories:
Crime Scenes
Closest Locations
Other locations that are relatively close to this address: Roughly 8 miles away.
Crime Location in Fire Island, New York Roughly 9 miles away.
Crime Location in Shirley, New York Roughly 16 miles away.
Crime Location in Manorville, New York