The woods where Sandra Costilla was found murdered
Crime Scene Location in Southampton, New York, United States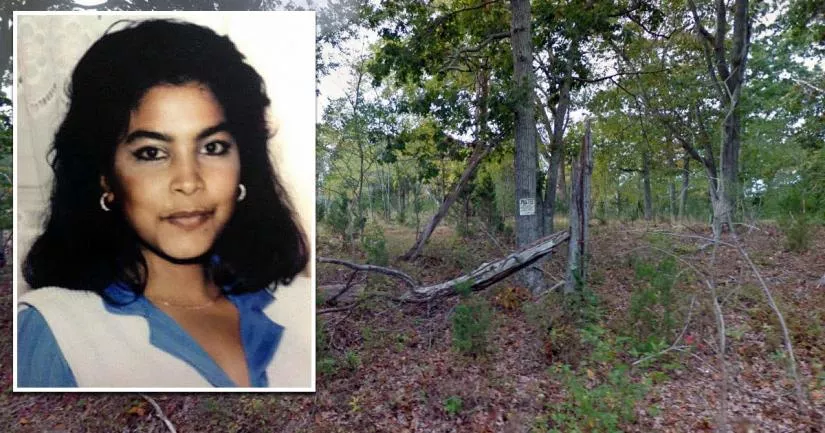 On November 21st, 1993, two hunters discovered the remains of Sandra Costilla at this location in North Sea, Southampton.
The 28-year-old had been strangled to death and left partially clothed in these residential woods near Fish Cove.
At the time, the police stated that the victim "might have been raped."
Costilla's remains had been lying in the woods for several days before they were discovered. The authorities were able to identify them by using her fingerprints.
In 1992, she had been arrested for jumping over a subway turnstile. As a result, the police had a record of her fingerprints on file.
The 28-year-old's last known address was on Gates Avenue in Ridgewood, Queens. However, it is believed that she wasn't living there at the time of her death.
According to the police, she was a "drifter" who sometimes used the surname Cutello.
Costilla's murder is believed to be linked to the killings of two sex workers called Rita Tangredi and Colleen McNamee. Although she had no arrests for prostitution, the police stated that she lived a lifestyle that was "substantially similar."
In 2017, Manorville resident John Bittrolff was convicted of killing Tangredi and McNamee. He is also believed to be the prime suspect in the murder of Costilla.
Where was Sandra Costilla found?
Below, you will find the address and the GPS coordinates for this location.
GPS coordinates
The latitude and longitude coordinates for the site are:
40.935658, -72.407290
Map
To view directions on how to get there, you can use the Google Maps shortcut below:
Address
The full address for this location is:
50 Fish Cove Road
Southampton
New York
NY 11968
United States
Directions
The woods lie to the east of Noyack Road in Southampton.
Photos
Photos of the site and other related images.
---
50 Fish Cove Road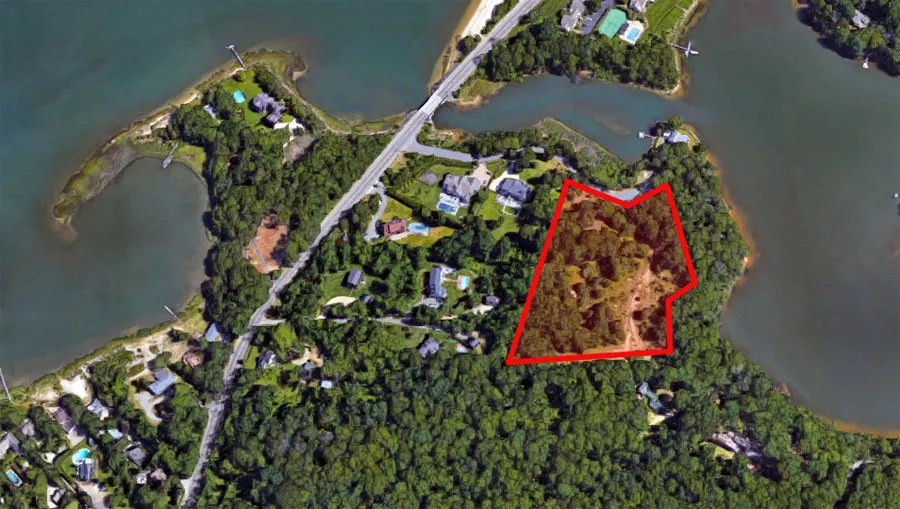 This is an aerial image of 50 Fish Cove Road in Southampton.
We have highlighted the property boundaries in red.
Two hunters discovered Sandra Costilla's body in the woods on this 7.22-acre lot.
John Bittrolff is a suspect in the murder of Sandra Costilla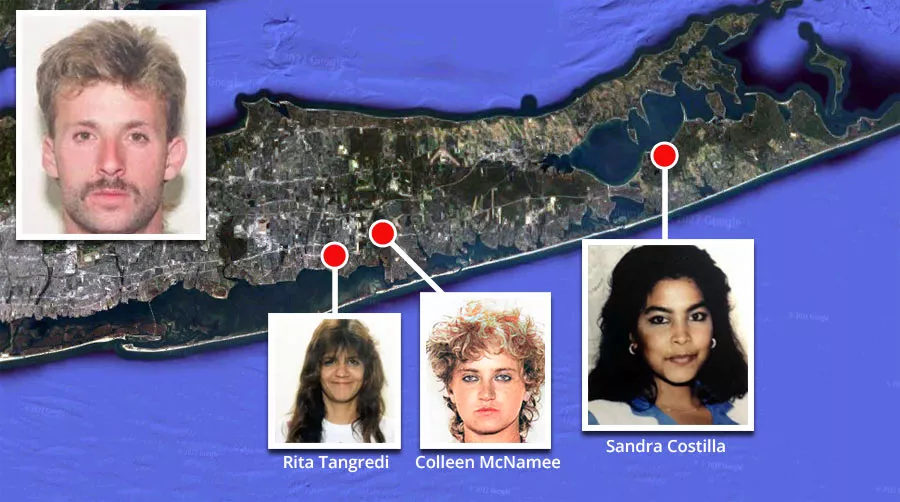 In July of 2014, a local carpenter named John Bittrolff was charged with the murders of Colleen McNamee and Rita Tangredi. Three years later, he was found guilty of the crimes and given two consecutive 25-years-to-life sentences.
Following his arrest, Bittrolff was publicly named as the prime suspect in the murder of Sandra Costilla.
According to Suffolk County District Attorney Thomas Spota, the murder of Costilla was very similar to the killings of Tangredi and McNamee.
The three victims were small and slight, standing at around five feet tall. They were all strangled to death over a three-month period and then posed in similar ways. Furthermore, their bodies were all found naked in wooded areas.
According to Spota, trace evidence at Costilla's crime scene also pointed towards a connection. However, he did not elaborate.
This is not the only unsolved murder that the Manorville native is suspected of committing. In 2017, Bittrolff was named a prime suspect in the Long Island serial killer (LISK) case.
Newspaper clipping from 1994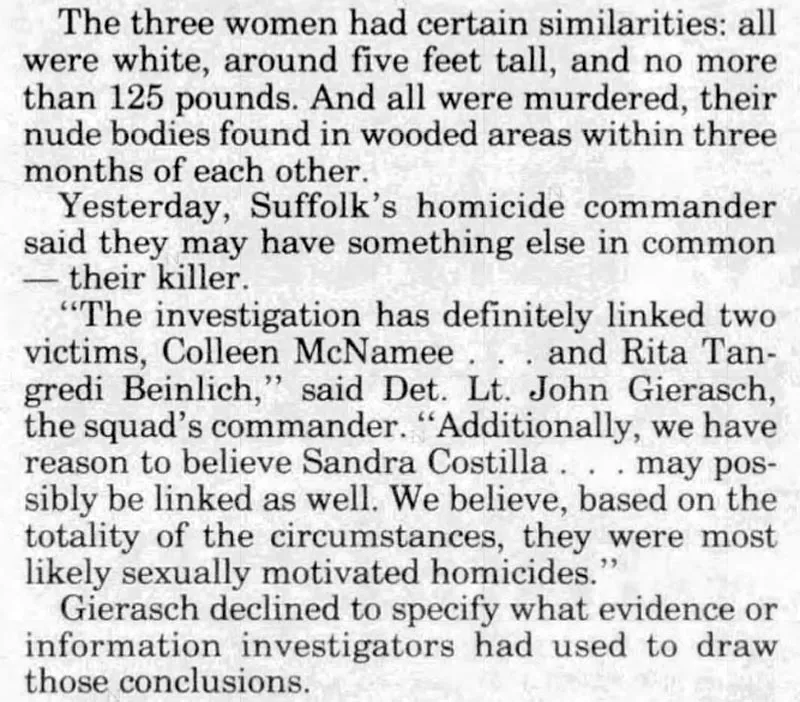 In the aftermath of McNamee's murder, the Suffolk County Police Department publicly admitted that there might be a connection between the three crimes.
The police ask for help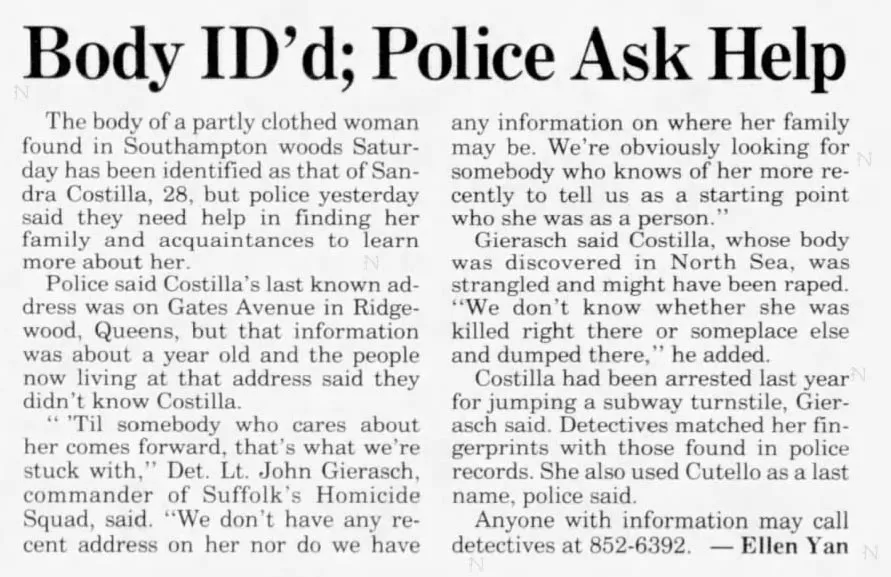 This newspaper article was published in November of 1993, shortly after Costilla was identified.
According to the police, she also went by the name of Sandra Cutello.
Aerial image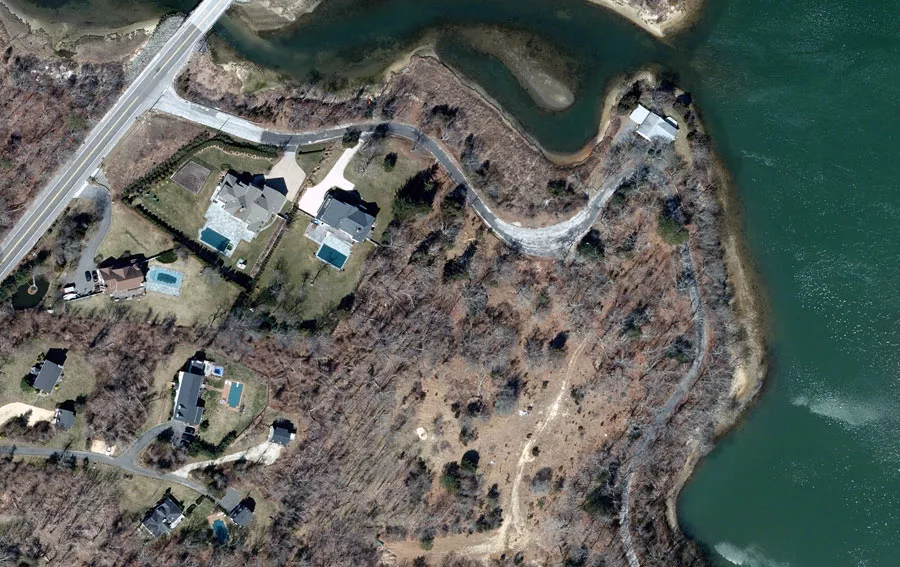 This aerial image of the location was taken in 2013. The houses on the left did not exist at the time of the murder.
Sandra Costilla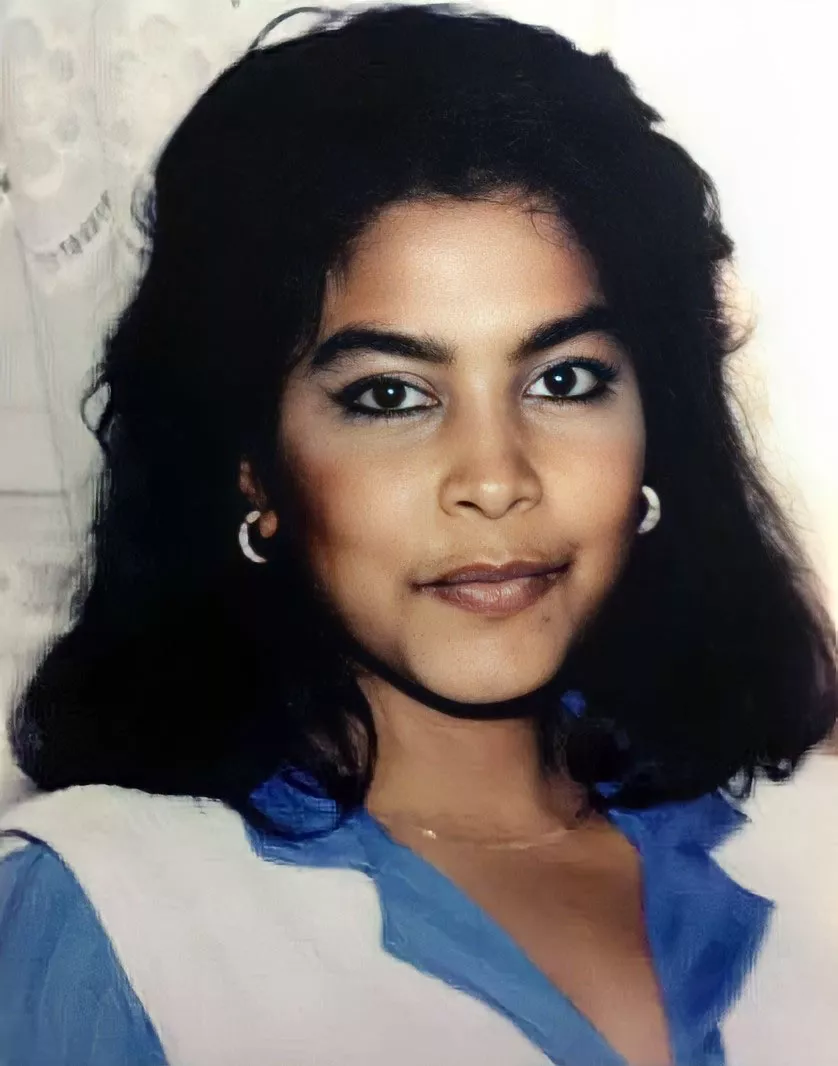 This is a digitally enhanced image of Sandra Costilla.
Closest Locations
Other locations that are relatively close to this place. Roughly 25 miles away.
Crime Location in Manorville, New York, United States Roughly 26 miles away.
Crime Location in Manorville, New York, United States Roughly 27 miles away.
Serial Killer House in Manorville, New York, United States Roughly 30 miles away.
Place of Interest in Mastic Beach, New York, United States Roughly 32 miles away.
Crime Location in Shirley, New York, United States