The site where Valerie Mack was found
Crime Scene Location in Manorville, New York, United States
This is the site where Valerie Mack was found.
It is situated in a wooded area near Halsey Manor Road in Manorville, New York.
Mack is believed to be a victim of the Long Island serial killer (LISK).
On the morning of November 19th, 2000, three pheasant hunters were walking along a trail in the area when their dog ventured into the bushes and located Mack's dismembered torso.
The remains of the 24-year-old sex worker had been wrapped in several layers of garbage bags and then dumped in the thicket beside an access road.
Her killer had dismembered her corpse in an attempt to hinder her identification. By removing her head and hands, he was able to prevent the authorities from cross-referencing her dental records or fingerprints.
This strategy largely worked, as she remained unidentified for more than two decades.
During this period, she was referred to as "Manorville Jane Doe."
The rest of her remains are discovered at Gilgo Beach
On April 4th, 2011, the police discovered a female's skull, right foot, and hands near Gilgo Beach.
The woman was nicknamed "Jane Doe No. 6" until DNA tests confirmed that the remains belonged to the same woman whose torso had been found in Manorville in 2000.
Due to her proximity to the other victims at Gilgo Beach, it immediately became clear that she was a victim of the Long Island serial killer.
In this case, LISK had dismembered his victim's remains and then dumped them at two different locations that were 45 miles apart.
Sadly, despite finding her skull at Gilgo Beach, another decade would pass before the authorities were finally able to give Manorville Jane Doe back her name.
Manorville Jane Doe is identified as Valerie Mack
On May 29th, 2020, it was announced that Manorville Jane Doe had been identified as Valerie Mack, a missing 24-year-old from Port Republic, New Jersey.
Investigators uncovered her identity using genetic genealogy testing, which enabled them to track down her son, Benjamin. Benjamin's DNA had been entered into the system after he was incarcerated for an unstated crime.
Mack was an escort who lost contact with her family during the fall of 2000.
She was born on June 2nd, 1976, as Valerie Lyn Fulton.
Her mother, Patricia Fulton, had a substance abuse problem. As a result, she spent most of her childhood in the foster system, moving from home to home.
The Mack family adopted Valerie when she was nine years old.
At first, everything was great, and the young girl fit in well with her new surroundings. However, as she grew older, she started hanging around with the wrong people and doing drugs.
As time wore on, Mack developed an addiction and started to become involved in the sex trade.
The last thing her family heard was that she was going to New York "with a guy."
Although they attempted to report her missing, the police at the time were under the impression that the young sex worker had left on her own accord.
At the time of her disappearance, Mack's last known address was in Philadelphia. However, she may have drifted toward New York.
When the identification was made, her family was shocked to discover that her torso had been discovered 170 miles away at a remote site in Manorville.
Where was Valerie Mack found?
Below, you will find the address and the GPS coordinates for this location.
GPS coordinates
The latitude and longitude coordinates for the site are:
40.880891, -72.791292
Map
To view directions on how to get there, you can use the Google Maps shortcut below:
Address
The full address for this location is:
Halsey Manor Road
Manorville
New York
NY 11949
United States
Directions
The entrance is about 0.2 miles north of the intersection between Halsey Manor Road and Mill Road. The site is 0.5 miles west of Halsey Manor Road.
Photos
Photos of the site and other related images.
---
The Manorville site where Valerie Mack was found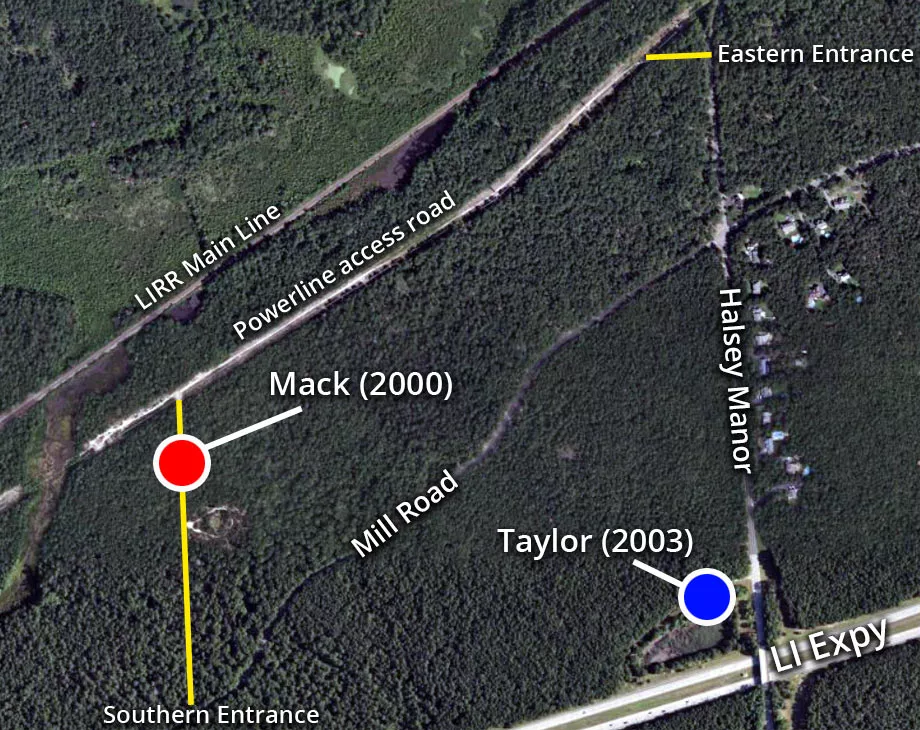 This aerial image shows the general location where three hunters discovered Valerie Mack's torso. It is approximately 0.6 miles west of Halsey Manor Road.
The site in question is close to a powerline access road that runs alongside the Peconic River and a railway line. On maps such as Bing, this access road is called Hertz Avenue.
Other online maps erroneously place Mack's remains near the intersection between Mill Road and Halsey Manor Road. However, this is inaccurate, as she was actually found much closer to the railroad.
Notably, accessing this wooded area does not seem to be a straightforward endeavor. Judging by Google Street View, the main access point for vehicles is an obscured entrance that leads through a narrow trail.
This suggests that the Long Island serial killer has an intimate knowledge of the woods around Manorville.
This theory is further strengthened by the fact that he decided to reuse Halsey Manor Road as a dump site following the murder of Jessica Taylor in 2003.
Entrance
This "Birds Eye" view shows the western access point to Hertz Avenue in Manorville.
Google Street View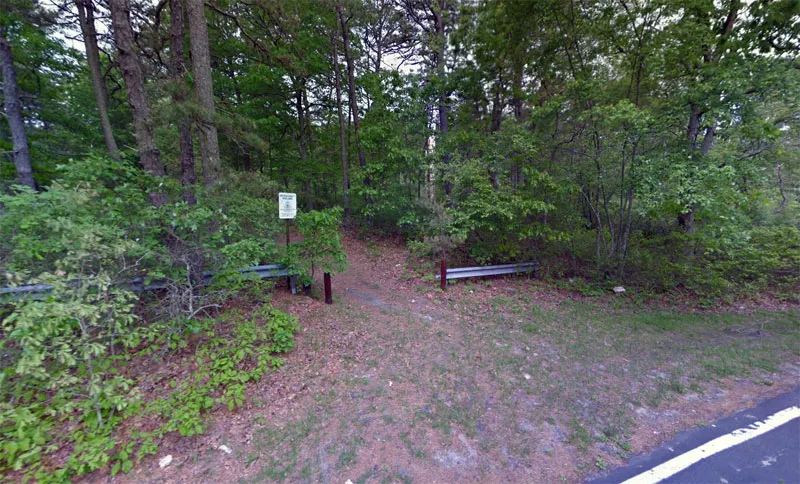 This Google Street View image of the entrance on Halsey Manor Road was taken in May of 2012.
As you can see, it is relatively obscure and off the beaten path.
It is difficult to imagine someone choosing to drive through this narrow, wooded pathway with Mack's dismembered remains in their vehicle unless they knew exactly where it led. Especially if it was dark out.
Notably, Google Street View shows that there are no street lights along this stretch of road.
We know from previous cases that serial killers prefer to operate in places where they feel comfortable. This is because operating in "unknown territory" can be risky and unpredictable.
All of this suggests that the Long Island serial killer is someone who is familiar with this particular area of Manorville.
Judging by the terrain involved, it also stands to reason that he was driving a truck or another 4x4 vehicle. Although the road is accessible by car, it doesn't seem like the best place to drive one.
This is backed up by comments from locals, who told us that most people who drive into this area tend to use trucks, vans, dirt bikes, and other off-road vehicles.
Coordinates: 40.886349, -72.782052
Mack's remains were discovered at two different sites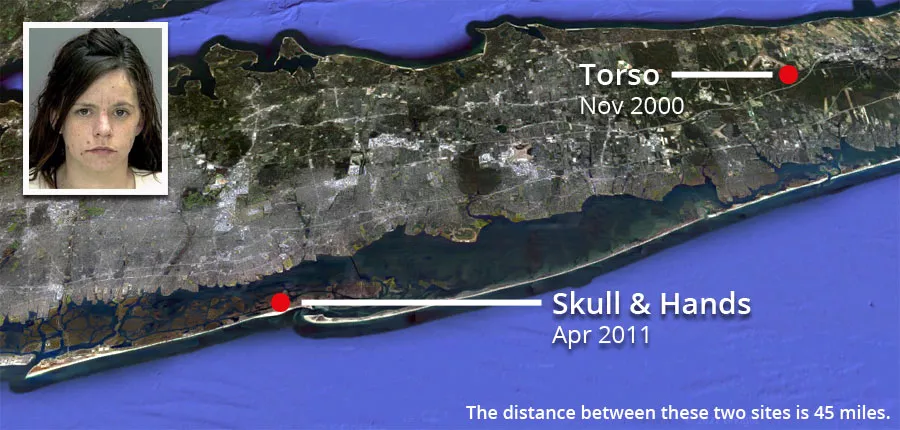 Mack's remains were discovered at two different sites that were 45 miles apart.
Although her torso was discovered in November of 2000, it wasn't until April of 2011 that her skull, hands, and foot were uncovered at Gilgo Beach.
The police speculated that the killer removed her foot because it may have had a tattoo or another identifying mark on it.
Woods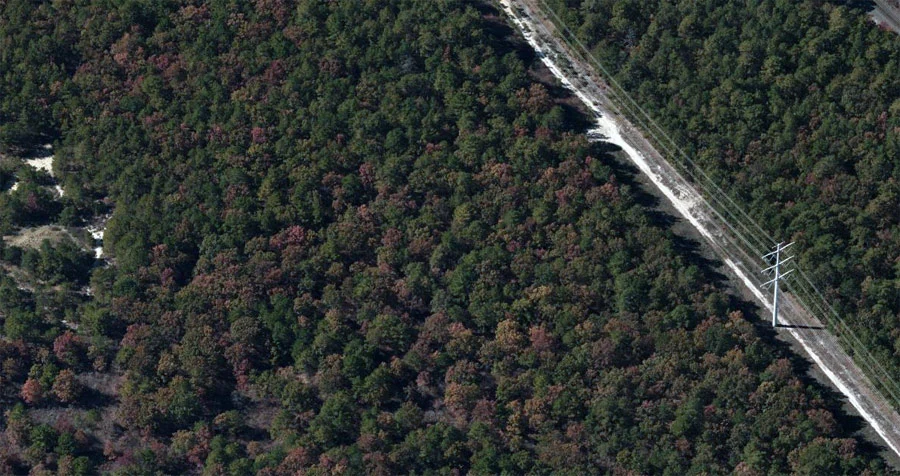 This is an aerial "Birds Eye" view of the woods at Manorville. The killer dumped Mack's remains in the thicket beside the powerline access road.
The area has a number of interconnected trails that are used by hunters, hikers, nature lovers, and dirt bike riders.
It is also frequently used as an illegal dumping ground for household waste.
Newspaper article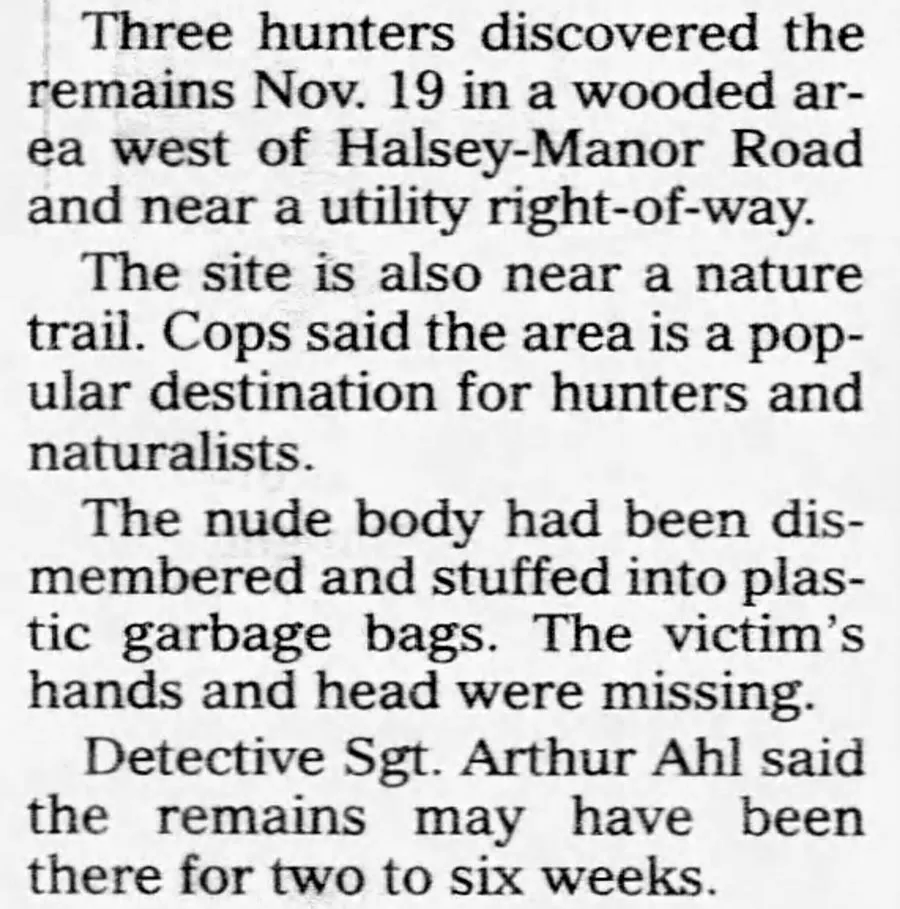 This newspaper clipping is from an article that was published in the Daily News on November 29th, 2000.
According to the police, the area is a popular destination for hunters and naturalists.
Detective Athur Ahl postulated that Mack's remains were dumped in the area at some point between October 8th and November 5th. The autopsy estimated that she was killed between late August and early November.
2001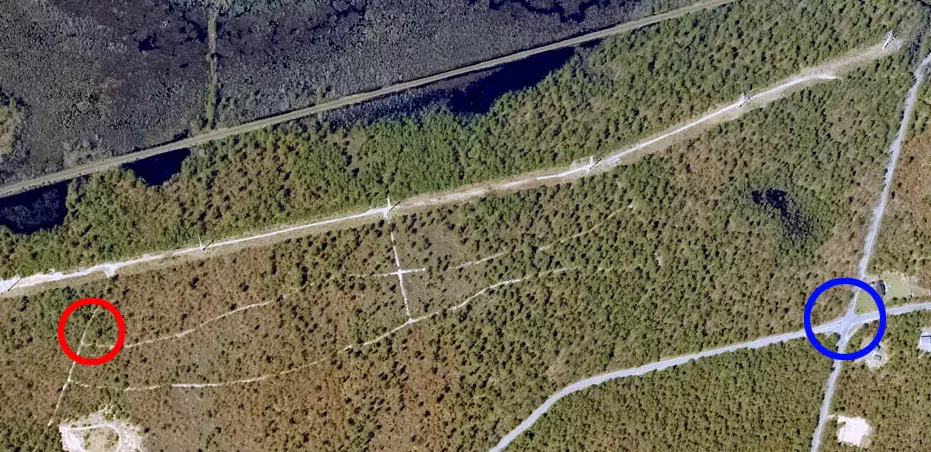 This aerial image from 2001 shows the access road and the various trails that connect to it.
Although most newspapers reported that she was found near Mill Road and Halsey Manor (blue circle), this is inaccurate. In reality, the Long Island serial killer dumped her torso much further in (red circle).
Crime scene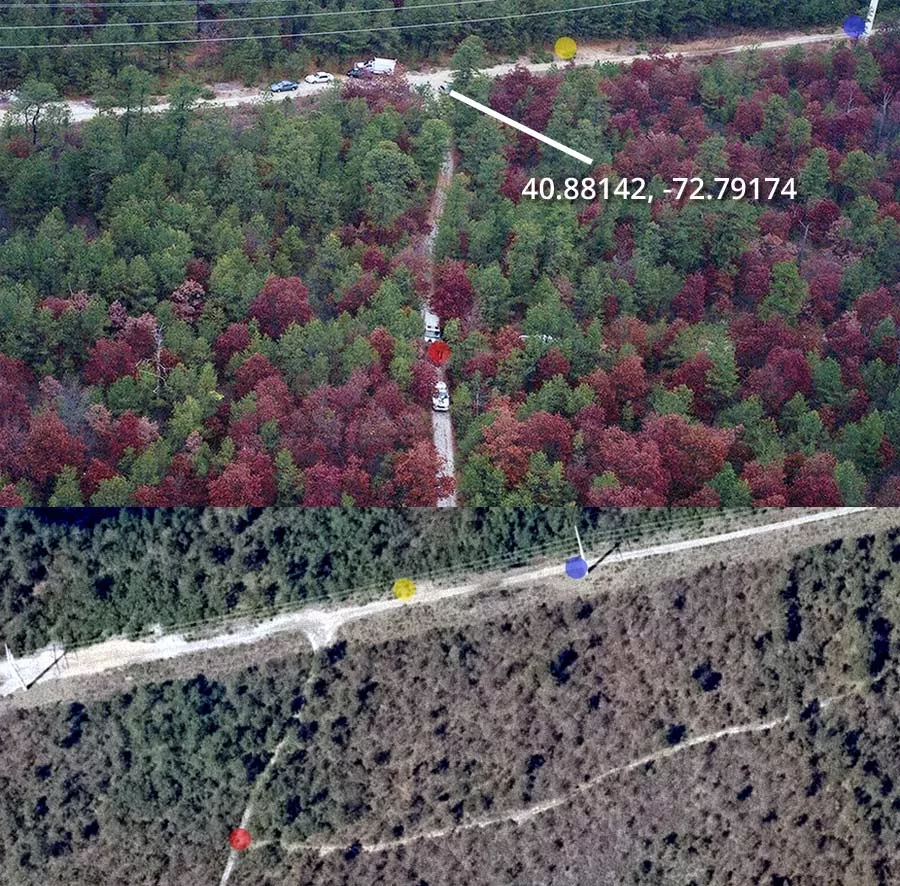 In this comparison image, we've matched a crime scene photograph of the site with a satellite image from 2001. We also highlighted certain points by adding color-coded dots.
Note that the southbound trail is not visible in modern-day aerial images. It is likely that the path has become overgrown or obscured by trees.
Coordinates: 40.881435, -72.791769
Gilgo Beach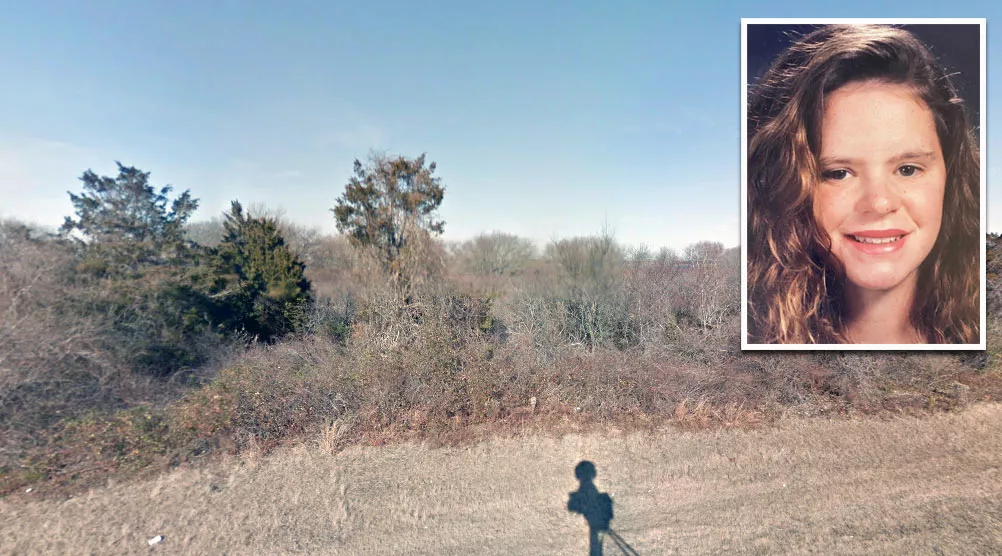 On April 4th, 2011, a search team discovered Mack's skull, hands, and foot at this section of Ocean Parkway near Gilgo Beach.
By that stage, she had been missing for 11 years.
Her remains were found 250 feet away from the body of "Baby Doe," who was the infant daughter of an unidentified victim called Peaches.
It would have taken the killer 45 minutes to drive from Manorville to this site.
Coordinates: 40.637333, -73.333855
Trails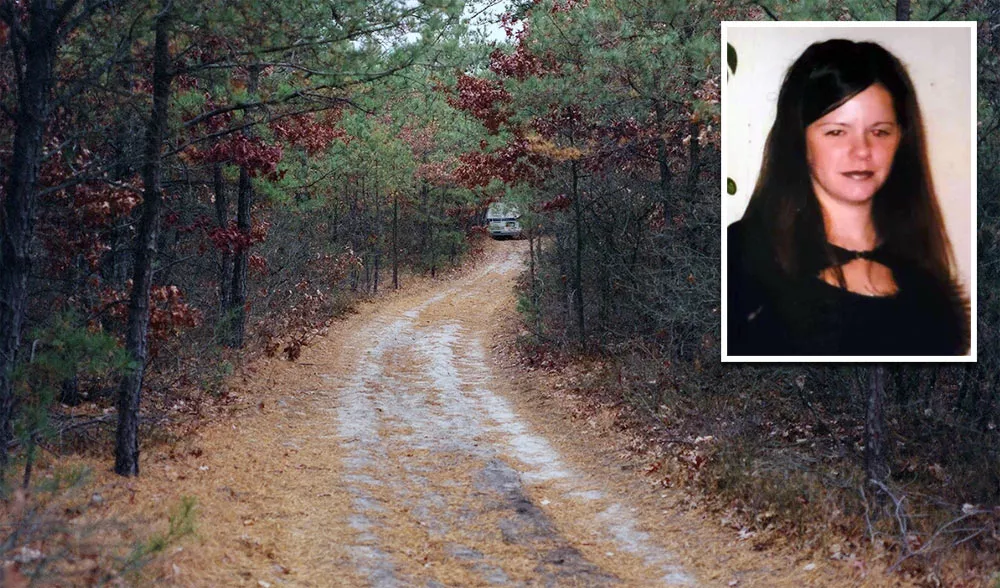 This is a crime scene photograph of the wooded trail where her torso was found.
According to locals, this is not the kind of place that a stranger to Manorville would venture into. Furthermore, most people who enter this area tend to use 4x4s and other off-road vehicles.
Recovery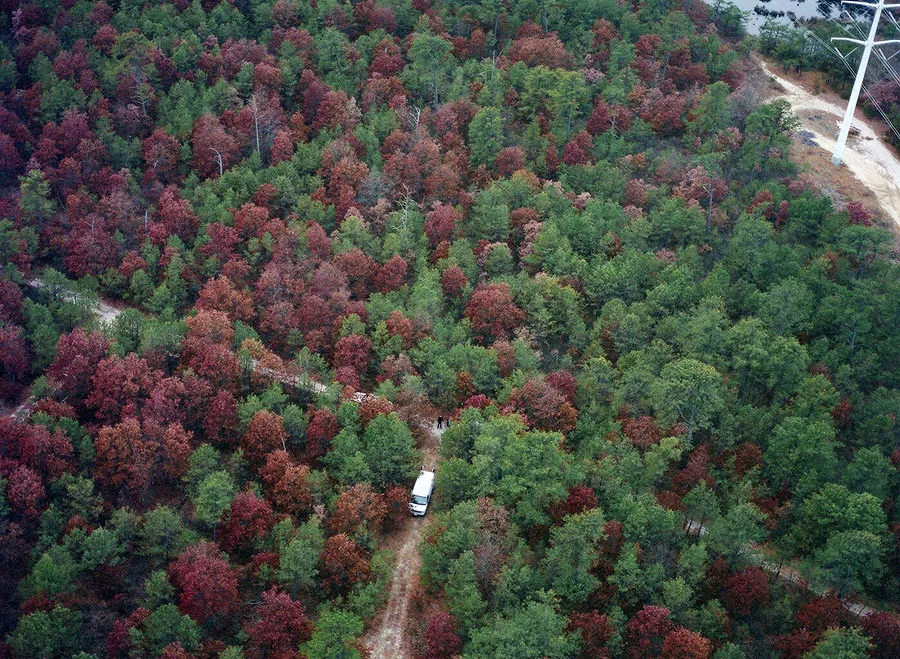 This aerial photograph shows police vehicles at the crime scene.
The killer removed her clothes and cut off her head, hands, and foot. He then wrapped her torso in plastic garbage bags and placed it beside this trail.
Afterwards, he drove down to Gilgo Beach and tossed the rest of her remains into the thicket beside Ocean Parkway.
Closest Locations
Other locations that are relatively close to this place. Less than a mile away.
Crime Location in Manorville, New York, United States Roughly 3 miles away.
Serial Killer House in Manorville, New York, United States Roughly 6 miles away.
Crime Location in Shirley, New York, United States Roughly 9 miles away.
Place of Interest in Mastic Beach, New York, United States Roughly 16 miles away.
Crime Location in East Patchogue, New York, United States