The site where Peaches' body was dumped.
Crime Scene Location in Lakeview, New York, United States.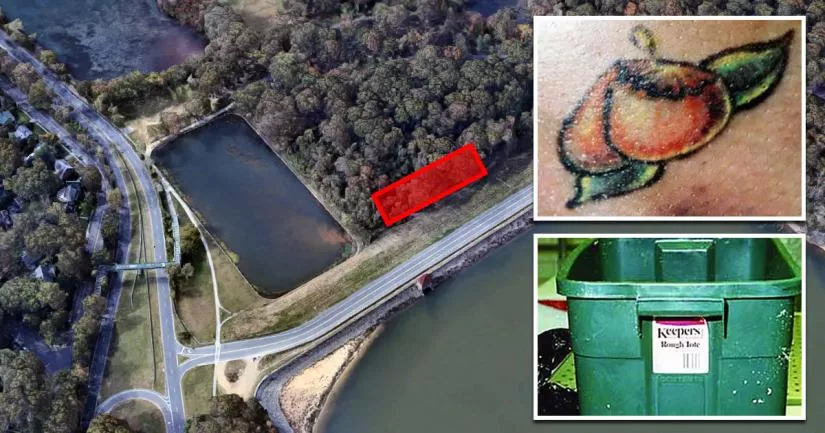 On June 28th, 1997, the torso of an unidentified woman called "Peaches" (Jane Doe No. 3) was discovered at this section of Hempstead Lake State Park in Lakeview, New York.
Her killer put her remains into a green Rubbermaid "rough tote" container and partially covered it with a black plastic bag. He then pulled over to the side of Lake Drive and dumped the container in this wooded area.
Long Island serial killer.
The unidentified woman is believed to be a victim of the Long Island serial killer (LISK).
She was nicknamed "Peaches" because she had a tattoo of a peach on her left breast.
The authorities estimated that the victim was an African-American or mixed-race woman who was between the ages of 16 and 30.
She had a 6 inch scar on her abdomen that may have been caused by a C-section or another surgical procedure.
Peaches also had a young child.
In December of 2010, the authorities discovered the remains of four sex workers at Gilgo Beach.
This shocking find led to a large-scale search of the surrounding area.
On April 4th, 2011, the body of a young girl was discovered near Overlook Beach. The toddler, who remains unidentified to this day, was given the nickname "Baby Doe."
Seven days after Baby Doe was found, Peaches' arms and legs were discovered inside of a plastic bag near Jones Beach State Park.
The two sites are just eight miles away from each other.
DNA testing linked the arms and legs to the torso that had been dumped at Hempstead Lake State Park in 1997. It also proved that Peaches was the mother of Baby Doe.
He went to great lengths to hide her identity.
The Long Island serial killer went to great lengths to obscure Peaches' identity.
Not only did he dismember her body and dump it at two different sites that were 14 miles apart, he also went out of his way to separate the young mother from her child's remains.
Furthermore, the victim's skull is still missing. This means that "LISK" dumped it at a third, unknown location.
Sex worker.
The police believe that Peaches may have been a sex worker who brought her young toddler with her while she was meeting clients.
In one interview, former Suffolk County Police Commissioner Richard Dormer stated that they spoke to many escorts—most of whom agreed that the practice was very common.
If she did bring her toddler with her, then it suggests that she was desperate and living by herself, with no partner or family to help her. For example, she might have been estranged from her family or living far away from home.
If this is true, then her relatives might be completely unaware that she gave birth to a child.
This would explain how a young woman and her daughter were able to vanish without anyone reporting them missing.
Relatives of some of the other victims recalled how the police were very hesitant to file a missing person report. This was most likely due to the fact that sex workers have a tendency to drift from one city to the next.
If one of Peaches' relatives did attempt to report her missing, then it is possible that they were also met with foot-dragging and assurances that she would eventually show up again.
Peaches might have relatives in Alabama.
On October 7th, 2022, the FBI made a public appeal in which they included a photograph of Peaches' tattoo and asked relatives of a man named Elijah "Lige" Howard to come forward.
"His relatives may be able to assist in the case of a woman and child found in another state."
Elijah used the surnames "Howell" and "Howard". He was born on June 13th, 1927, in Frankville, Alabama. However, it seems as though he spent most of his adult life in Prichard, Alabama.
In 1950, he was living with his wife, Carrie, in the Whistler neighborhood of Prichard. During the 1960s, he lived at 616 Garrison Avenue.
When he passed away in 1963, he was in the company of a neighbor named Lillie Mae Packer (nee Wiggins), who lived at 624 Garrison Avenue.
Elijah and Lillie Mae died on October 31st, 1963. Their bodies were found in a car off Highway 45, near Atmore Street in Mobile. The pair died from the combined effects of ethanol alcohol and carbon monoxide poisoning.
At the time of his death, Elijah was working as a construction worker for Sullivan Concrete Company.
According to ancestry records, his mother, Lueanna, and his brother, Sid Howell, lived in Millry, Alabama.
Anyone with information about Elijah "Lige" is being asked to call 1-800-call-FBI or visit the FBI's tip website.
Where was Peaches found?
Below, you will find the address and the GPS coordinates for this location.
GPS coordinates.
The latitude and longitude coordinates for the site are:
40.672704, -73.647794
Map.
To view directions on how to get there, you can use the Google Maps shortcut below:
Address.
The full address for this location is:
Hempstead Lake State Park
Lake Drive
Lakeview
New York
NY 11552
United States
Directions.
The site is known as Hempstead Lake State Park. The torso was dumped in a wooded area that is 200 feet north of McDonald Pond.
Photos.
Photos of the site and other related images.
---
Peaches crime scene.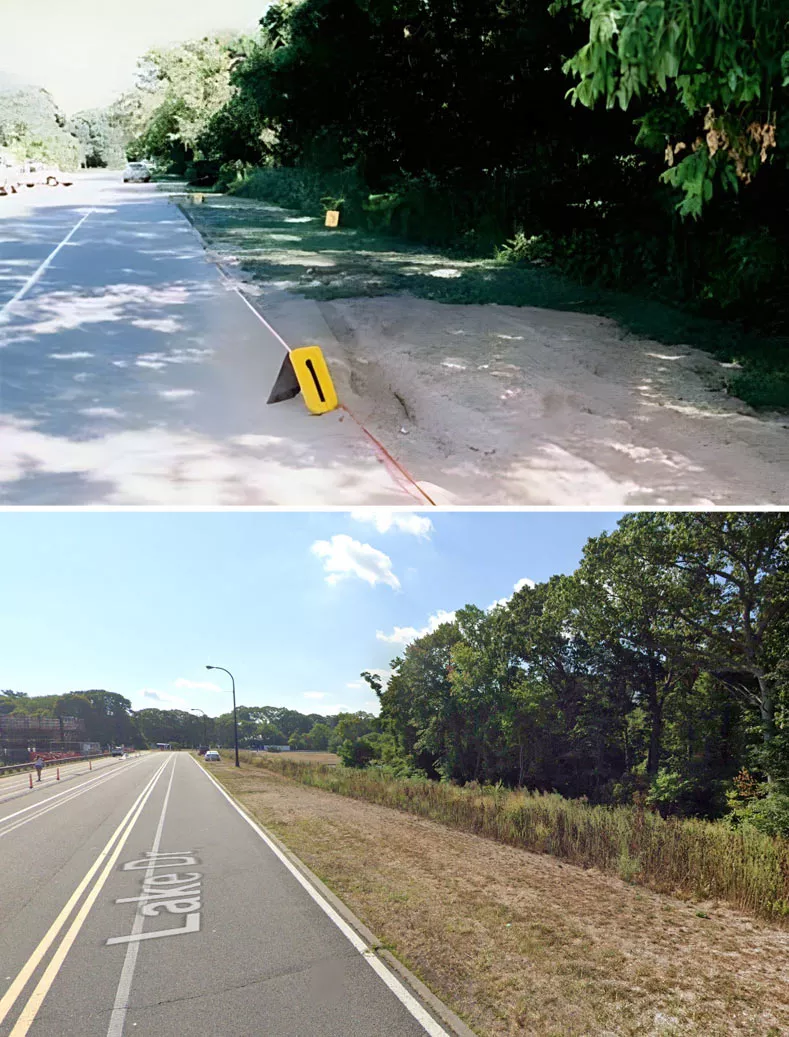 This is a police photograph of the crime scene from 1997. The photographer was standing on Lake Drive, facing south towards Peninsula Boulevard.
The Google Street View image on the right was taken in September of 2018. The street lights that are present today did not exist back in 1997. This means that this particular stretch of road would have been pretty dark at night.
It is unknown whether or not the tire tracks in the crime scene photo belong to LISK.
Hempstead Lake State Park.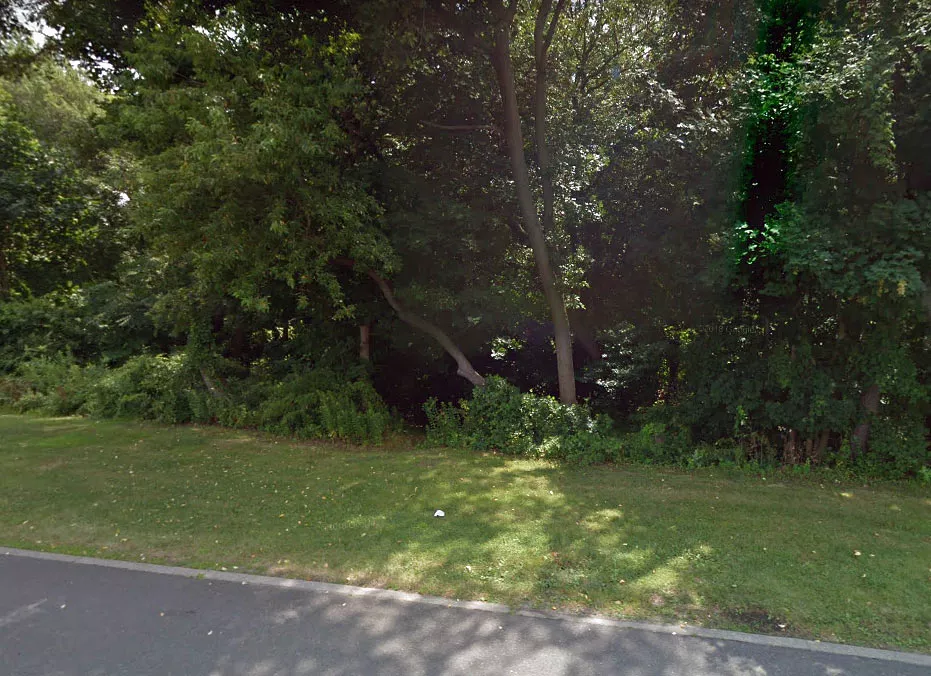 LISK dumped the container in a wooded area that was 35 feet to the west of Lake Drive and roughly 200 yards north of Peninsula Boulevard.
Using Street View and the Google Maps measurement tool, we were able to narrow down the dump site to this general area.
In the bottom right-hand corner, you can see a photograph of two detectives at the crime scene. This was taken by a photographer who was standing outside of the police perimeter.
The authorities believe that Peaches was murdered less than three days before her body was discovered. This means that she probably went missing at some point between June 25th (Wednesday) and June 27th, 1997 (Friday).
Aerial image.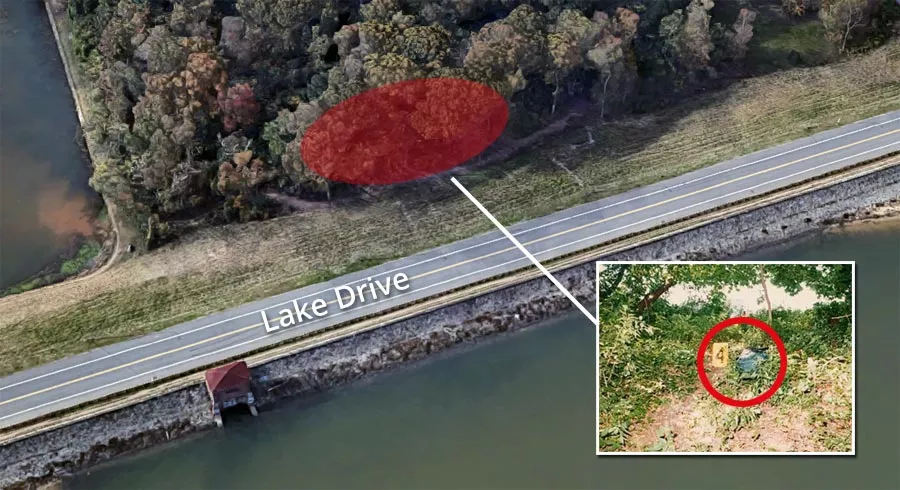 This is an aerial image of the wooded area at Hempstead Lake State Park. The body of water in the top left-hand corner is called "McDonald Pond".
Inset is a crime scene photo of the green container that Peaches' torso was dumped in.
On June 28th, 1997, a local Lynbrook resident named Shel Basch was fishing at this pond with his daughter, a family friend and the friend's kids. That Saturday, the Department of Environmental Conservation was holding a fishing clinic for children at McDonald Pond.
After some time passed by and they failed to catch anything, the kids started to become bored and restless.
At around 1 p.m, the group decided to wander off and walk northbound along one of the park trails. As they were walking along the trail, Basch smelled a rotten odor coming from the wooded area beside them.
After venturing off the trail to investigate, he spotted a green "recycling can" that was partially covered by a black plastic bag. According to Basch, the area was swarming with flies.
Upon realizing that it probably contained something that was dead, he went back to McDonald Pond to fetch one of the DEC officers from the fishing clinic.
When they returned to the scene, the DEC officer ripped a section of the plastic bag and saw the left side of a bloated human torso.
Map.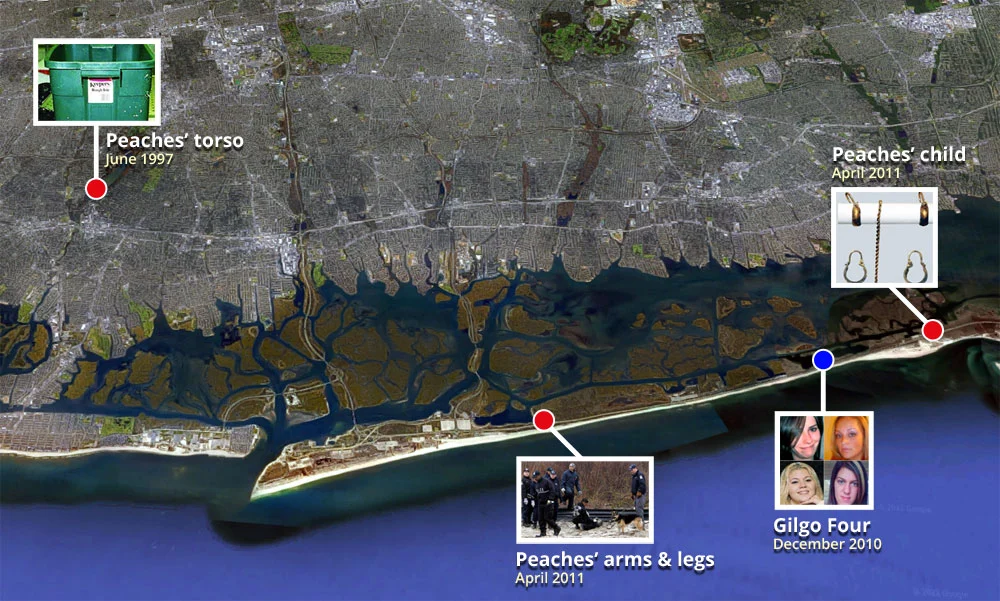 This map shows the various locations where the Long Island serial killer dumped the remains of Peaches and her child. We have also included the Gilgo Four as a reference.
Baby Doe's jewelry.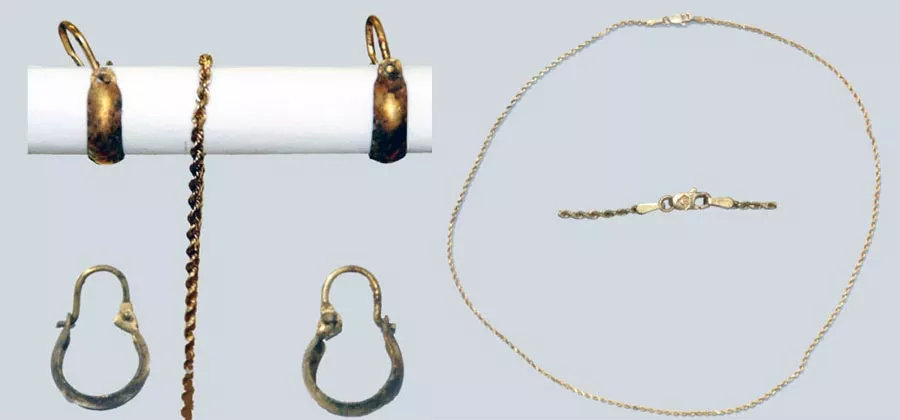 Photographs of the gold jewelry that was discovered on Baby Doe's body.
Pictured are two hoop earrings and one 16-inch chain.
Peaches' jewelry.

These gold bracelets were found on Peaches' legs and arms.
Bracelet.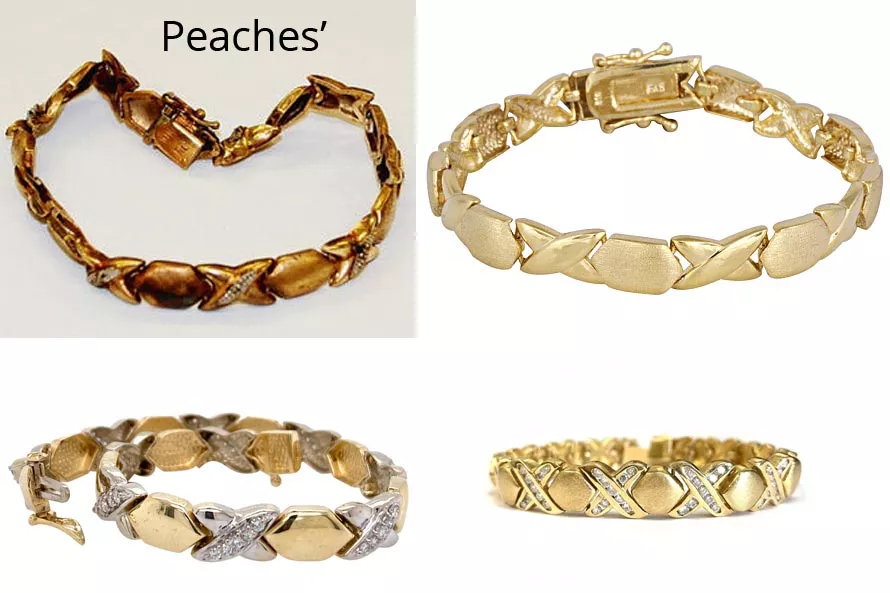 Peaches' bracelet was a gold "XO" link bracelet (top-left corner).
Judging by similar bracelets that we found on other jewelry websites, this X and O design seems to have been particularly popular during the 1990s.
According to former Suffolk County Police Commissioner Richard Dormer, this kind of jewelry was sold in so many places that it was impossible to track down.
Evidence photos.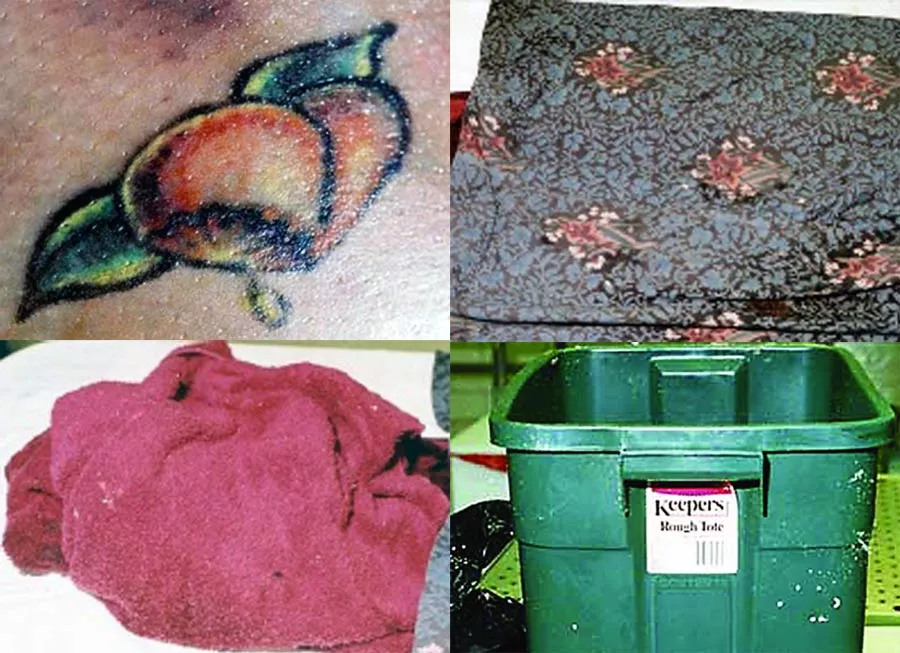 Top left: A photograph of Peaches' tattoo. The peach is heart-shaped and it looks as though a bite has been taken out of it. Two green leaves can be seen on either side.
Top right: A pillow case that was found with the victim's body. The design looks similar to a vintage Wamsutta "Supercale Coordinates" "80s pattern" fabric.
Bottom left: A red towel that was also found inside of the container.
Bottom right: The green Rubbermaid container that her torso was placed in. On the front label, it reads "Keepers" "Rough Tote".
Jones Beach State Park.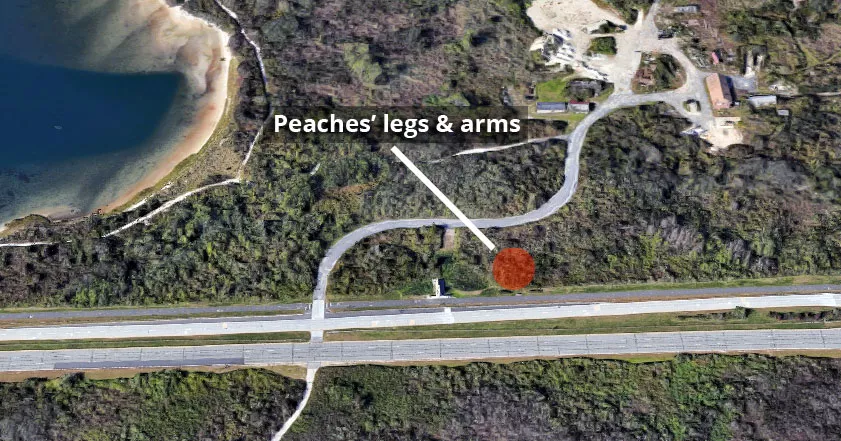 On April 11th, 2011, a search team discovered Peaches' legs and arms inside of a plastic bag at this roadside in Jones Beach State Park. The bag was found 1.5 miles east of the Jones Beach tower. It was less than 30 feet away from Ocean Parkway.
Note that the Ocean Parkway Coastal greenway did not exist back in 1997.
Coordinates: 40.600665, -73.478311
Baby Doe.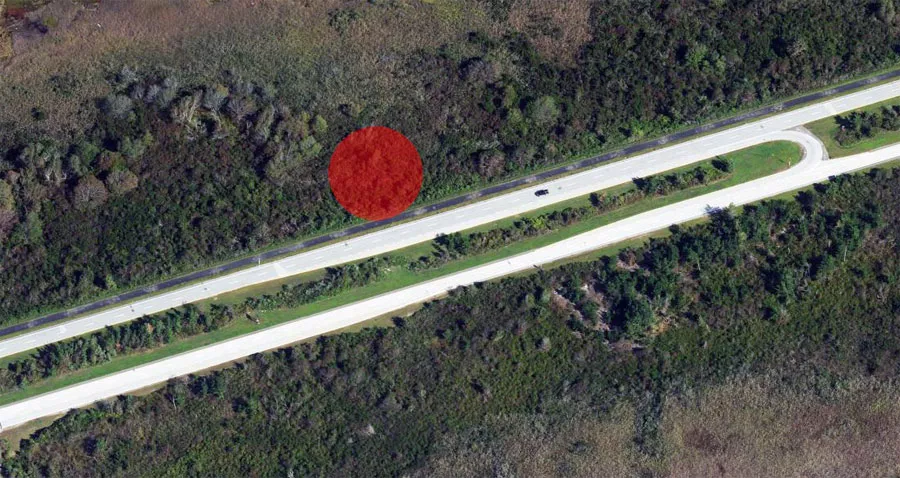 The remains of Baby Doe were discovered at a site that is roughly 575 feet (175 meters) east of the entrance to Overlook Beach. The young girl's body was wrapped in a blanket. There were no visible signs of trauma.
Baby Doe was found only 250 feet away from the remains of a sex worker called Valerie Mack. The Long Island serial killer dumped their remains in the same general area—roughly three years apart.
Coordinates: 40.637552, -73.332874
Closest locations.
Other locations that are relatively close to this place. Roughly 6 miles away.
Serial Killer House in East Meadow, New York, United States Roughly 8 miles away.
Crime Location in Queens, New York, United States Roughly 13 miles away.
Crime Location in Hempstead, New York, United States Roughly 13 miles away.
Place of Interest in Queens, New York, United States Roughly 13 miles away.
Crime Location in Queens, New York, United States