The site where Colleen McNamee's body was discovered
Crime Scene Location in Shirley, New York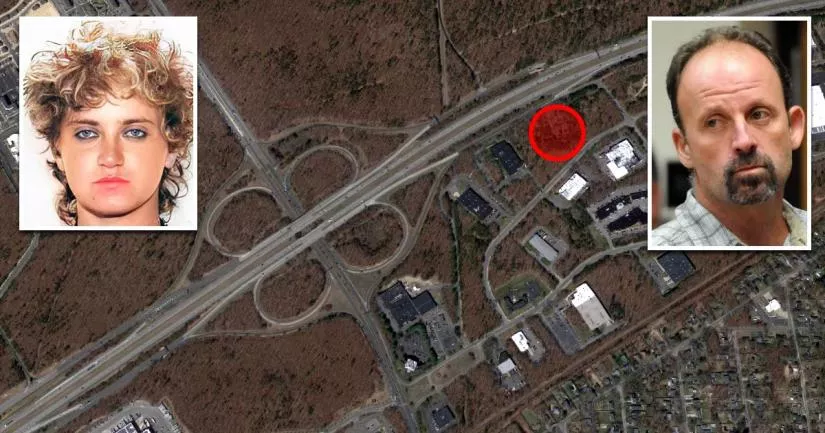 On January 30th, 1994, the body of missing woman Colleen McNamee was discovered at this location in Shirley, Long Island.
The 20-year-old sex worker had been sexually assaulted, strangled, and beaten to death. Following the attack, her killer left her naked body in this wooded area beside the Long Island Expressway.
Twenty years later, a local carpenter named John Bittrolff was charged with McNamee's murder after a familial DNA match linked him to the crime. In 2017, he was found guilty of her murder and sentenced to 25 years to life.
During the trial, the court heard that most of the victim's facial bones were broken and that her skull had been crushed "like an eggshell." Cigarette burns on her right hand also indicated that she may have been tortured.
All in all, it seems as though she met an extremely violent end.
McNamee was reported missing by her parents on January 6th, 1994—one day after she was last seen. At the time of her disappearance, she was a sex worker who frequently visited an area in East Patchogue that was known for prostitution.
According to her mother, she was bipolar and struggling with a drug addiction. On the morning of January 5th, she left her parents' house to attend a drug rehabilitation program.
At around 10 a.m., McNamee left the treatment center with another outpatient. Shortly afterwards, she was spotted getting into a small blue car outside of the Blue Dawn Diner in Islandia.
That was the last time that anyone reported seeing her alive.

Further information is available in the "Photos" section below.
Colleen McNamee crime scene location
Below, you will find the address and the GPS coordinates for this location.
Address
Long Island Expressway, Shirley, New York, NY 11967, USA
Map
To view directions on how to get there, you can use the Google Maps shortcut below:
GPS coordinates
The latitude and longitude coordinates for the site are:
40.846404, -72.882850
Directions
The site is close to the intersection between the Long Island Expressway and William Floyd Parkway in Shirley.
Photos
Photos of the site and other related images.
---
Crime scene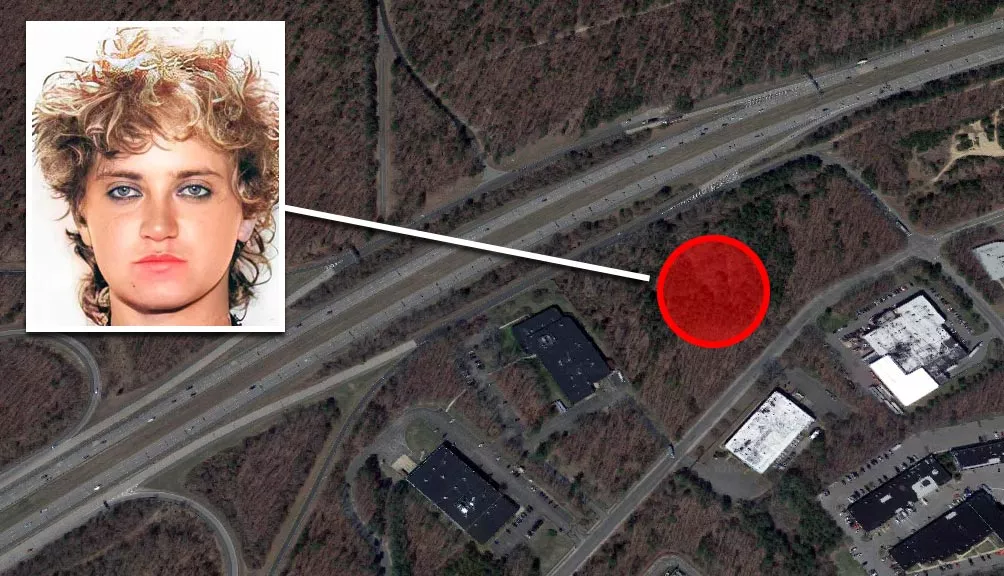 McNamee's body was discovered in a wooded area that was east of Exit 68 on the Long Island Expressway in North Shirley. Newspaper articles stated that the dump site was 200 feet off the eastbound service road.
When detectives arrived at the site, they noticed that a sneaker, a blue jacket, black jeans, and other pieces of clothing had been scattered across the ground.
Further up, they discovered McNamee's body. She was naked, and her skull had been crushed. Her attacker left her lying on her back with her legs spread apart. He also positioned one of her arms over her head.
The nature of McNamee's death and the "pose" that she was left in caught the attention of investigators. Three months earlier, another murdered sex worker called Rita Tangredi was found strangled, beaten, and sprawled out in a similar pose.
Furthermore, both McNamee and Tangredi were missing a single sneaker. This led detectives to suspect that the killer had taken his victims' shoes as trophies.
Notably, there were no blood stains on the ground beside McNamee's body. This suggests that Bittrolff murdered her elsewhere and then placed her body at the scene.
If this is true, then it means that he spent a considerable amount of time posing the body.
Anonymous caller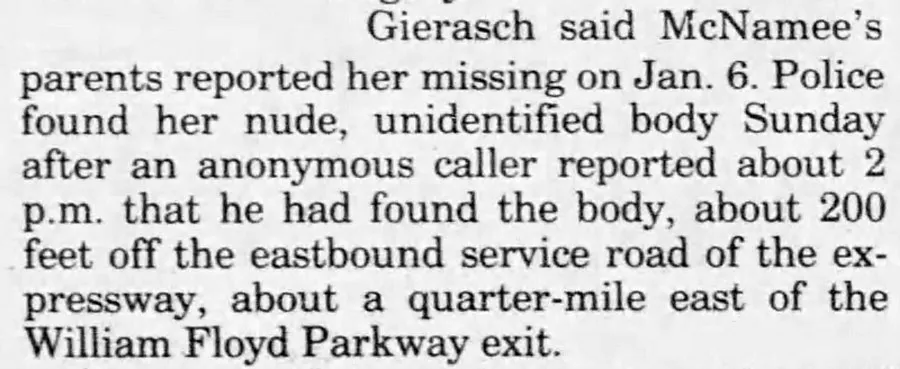 At around 2 p.m. on January 30th, 1994, an anonymous male caller contacted the police and told them that he had found a body at the site.
Sex worker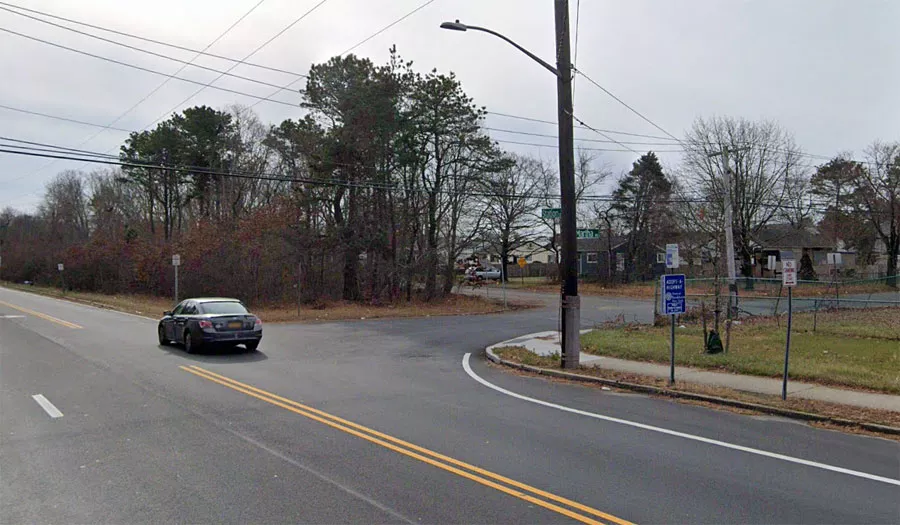 McNamee was arrested for prostitution on July 23rd, 1993, after she allegedly propositioned a man at the corner of Station Road and Martha Avenue in Bellport.
Coordinates: 40.786360, -72.946750
Blue Dawn Diner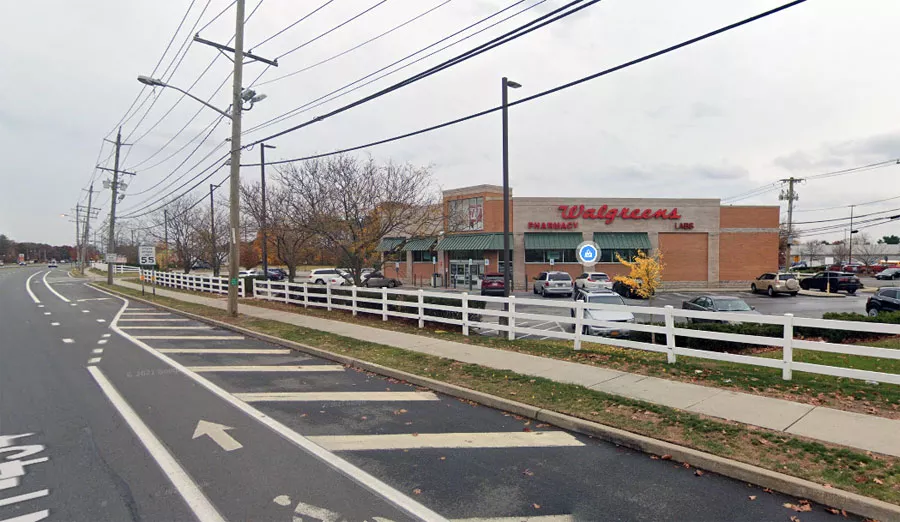 She was last seen getting into a small blue car outside of the Blue Dawn Diner in Islandia.
The diner was located at 1860 Veterans Highway in Islandia, New York. Nowadays, the building is home to a Walgreens pharmacy store.
When McNamee entered the vehicle, the driver proceeded to travel east along Veterans Highway.
Coordinates: 40.802185, -73.176849
1994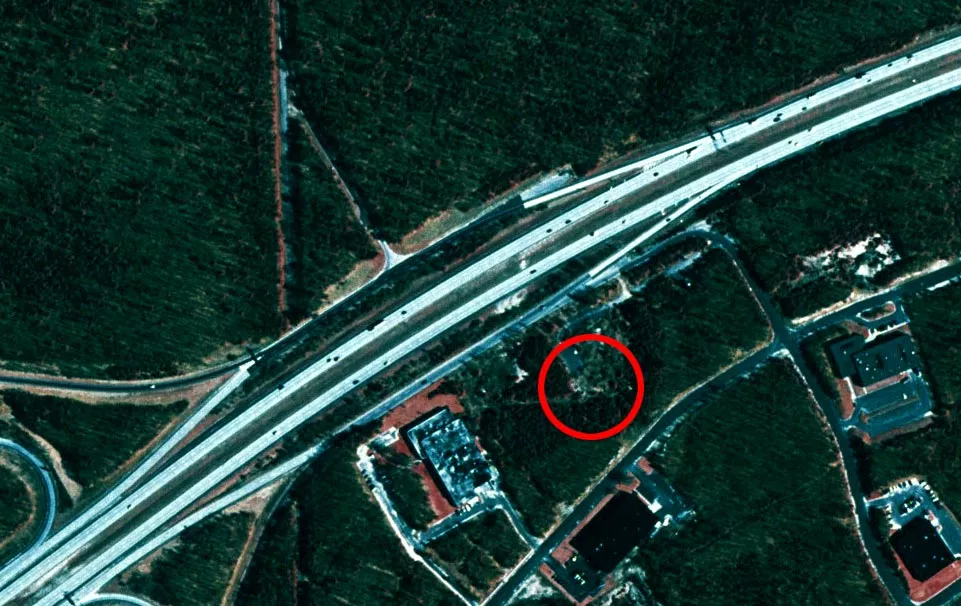 This aerial image of the site was taken in 1994.
As you can see, it wasn't always fully covered in trees. Older aerial photographs show that the lot was once home to some kind of industrial property. However, it had become disused and overgrown by the 1990s.
Entrance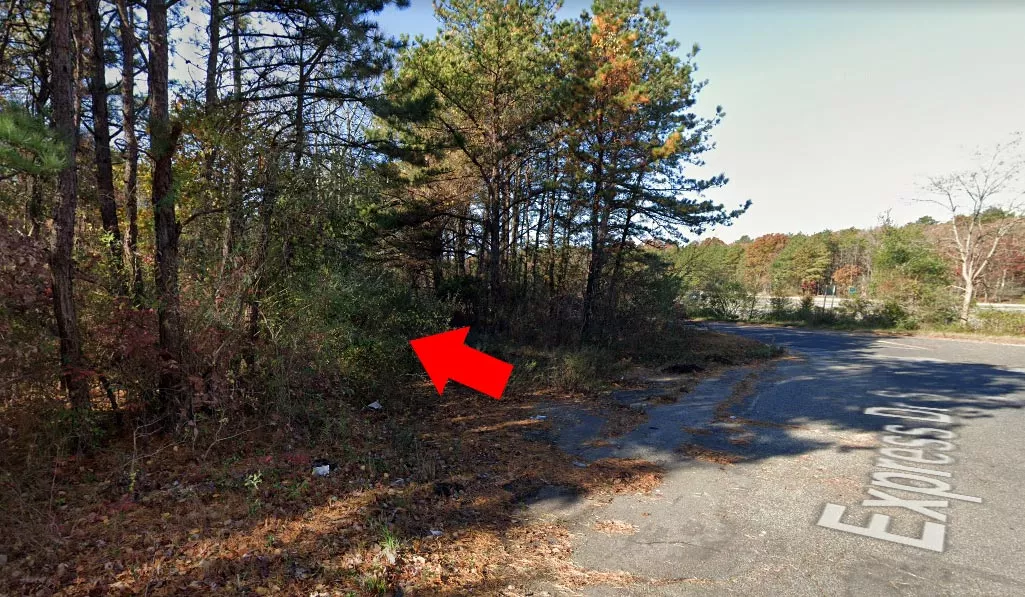 The remnants of the eastern entrance are still visible today.
Coordinates: 40.847727, -72.881069
Map Viewer
There is more than one location associated with this entry. To view all of these places on the same map, you can use the following feature:
This location belongs to the following categories:
Crime Scenes
Closest Locations
Other locations that are relatively close to this address: Roughly 6 miles away.
Crime Location in Manorville, New York Roughly 7 miles away.
Crime Location in Manorville, New York Roughly 9 miles away.
Crime Location in East Patchogue, New York