John Bittrolff's house
Serial Killer House in Manorville, New York, United States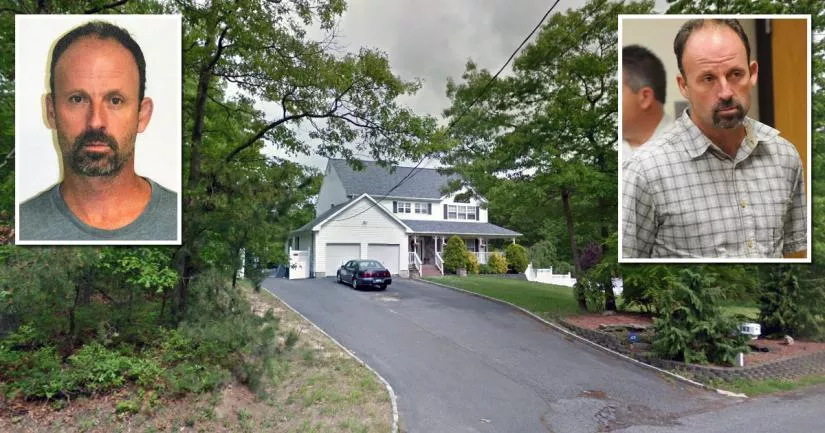 This is the former home of murderer and suspected serial killer John Bittrolff. The house sits on Silas Carter Road in Manorville, New York.
Bittrolff and his wife purchased the property for $198,500 in 1997. He continued to live here until 2014, when he was charged with the murders of two sex workers called Rita Tangredi and Colleen McNamee.
In July of 2017, he was convicted of the crimes. Two months later, the District Attorney's office prosecutor named him as a potential suspect in the Long Island serial killer case.
In addition to the LISK case, Bittrolff is also the prime suspect in the murder of Sandra Costilla. In November of 1993, Costilla's body was discovered near Old Fish Cove Road in Southampton, New York.
Bittrolff became a suspect in the murders of Tangredi and McNamee after a swab from one of his brothers proved to be a familial DNA match with semen that was collected from the victims' bodies.
Both of the victims had been beaten, raped, and similarly posed in wooded areas. Their left shoes and underwear were missing from the crime scenes.
Although the authorities initially claimed that there was nothing linking him to the Gilgo Beach victims, their public stance changed after he was found guilty and sentenced to two consecutive 25-years-to-life sentences.
Following his arrest, he claimed that he didn't know the two women. However, he became noticeably unsettled when the police told him that they had found his DNA on their bodies. At that point, he stopped talking and asked for a lawyer.
Hours after the interrogation had ended, Bittrolff reportedly asked Detective John McLeer how they had collected his DNA. When McLeer explained that his brother's DNA had been entered into the system, Bittrolff allegedly responded, "I f**cking knew it. I f**cking knew it."
Where did John Bittrolff live?
Below, you will find the address and the GPS coordinates for this location.
GPS coordinates
The latitude and longitude coordinates for the house are:
40.841316, -72.805887
Map
To view directions on how to get there, you can use the Google Maps shortcut below:
Address
The full address for this location is:
167 Silas Carter Road
Manorville
New York
NY 11949
United States
Directions
The house is situated half-way down Silas Carter Road.
Private Property Warning
This is a private property. It is not a public place. Therefore, you should be respectful and not step foot on the property without permission.
Photos
Photos of the house and other related images.
---
John Bittrolff's house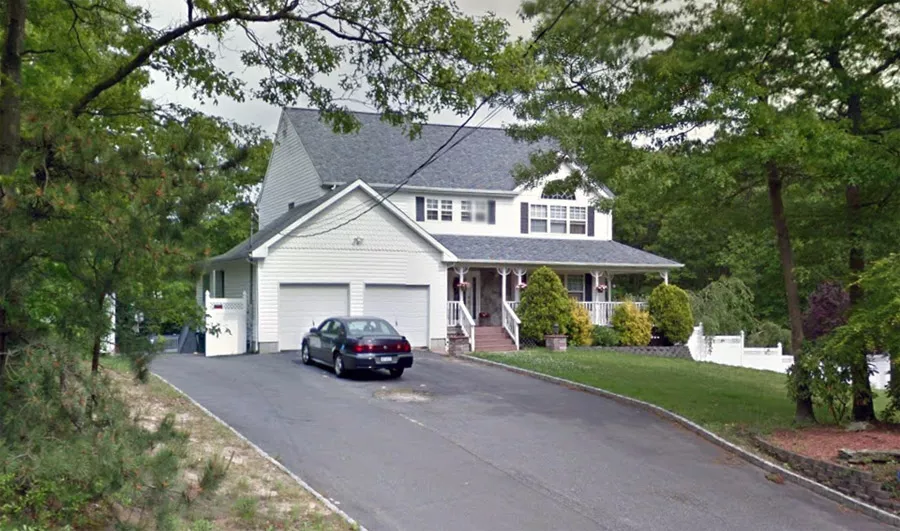 This is a Google Street View image of John Bittrolff's house.
It was taken in August of 2012, which was roughly two years before he was charged with the murders of Colleen McNamee (20) and Rita Tangredi (31).
If you have ever researched Bittrolff, then you will know that there are almost no personal details about him on the Internet.
Despite this, we were able to piece together his background and childhood by using online records, criminal record searches, and personal accounts from people who knew him.
John Bittrolff was born on July 1st, 1966, to John Frederick Bittrolff and Lynne F. Bittrolff (nee Norwick). He has two younger brothers called Timothy and Kevin.
His parents separated when he was just a child. Around the same time, his father's brother, Kenneth Bittrolff (Uncle Kenny), started living with his mother.
John grew up at 40 Shore Drive in Mastic Beach, New York, with his mother, Lynne, his uncle, Kenneth, and his two brothers.
According to one source, his mother was domineering and often absent. However, she treated John like the golden child. In her eyes, he could do no wrong.
As a teenager, he randomly provoked fights, broke into people's houses, stole things, vandalized property, and picked on younger kids. On one occasion, he reportedly forced a kid to eat a black snake firework. On another occasion, he fired a tipless arrow at someone's leg.
One person described John as "fearless" and said that there were a number of times when he would just walk up to someone without saying a word and "start swinging."
Another neighbor claimed that he killed his family's pet cat.
These reports are backed up by remarks from Detective Sgt. Charles Leser of the Suffolk County Police Department. During a 2017 interview with The Daily Beast, Lesser stated that John tortured animals as a youngster and that he was nicknamed Crazy Johnny B.
Bittrolff attended William Floyd High School. Although one "classmate reunion" website states that he graduated in 1984, this seems to be incorrect (this information was added by members of the public, one of whom mispelled his surname).
Notably, his photo is not present in the 1984 William Floyd High School yearbook. Furthermore, one source told us that he was held back in 1984 and that he was actually expelled the following year after he drove a dirt bike through the school grounds and knocked over an assistant principal who attempted to stop him. Although John fled the scene on his bike, he was identified after an onlooker recognized him from an earlier incident.
Bittrolff has worked as a self-employed carpenter throughout most of his adult life. Judging by public records, he owned at least two contracting companies. These were called "Coastal Construction" and "My 2 Boyz Contracting", both of which were registered by his wife.
On March 22nd, 1987, he was arrested and charged with fourth-degree grand larceny. He pleaded guilty in July of 1987 and was sentenced to 60 days in jail and five years' probation.
One person who lived in Bittrolff's old neighborhood remarked that he had a reputation for stealing: "If someone robbed your house, it was probably John."
On October 8th, 1990, he was charged with third-degree assault after he beat up someone with a baseball bat (he reportedly did this as a favor for someone else).
In February of 1994, he pleaded guilty to the crime and received a one-year conditional discharge. This would have required him to stay out of trouble for a year. There may have also been other conditions attached.
In 1994, he also pleaded guilty to driving under the influence. However, it is unclear when the incident occurred.
He started dating Patricia Asero in the mid-1980s. By 1993, they were engaged and living together.
The couple got married in 1995. Patty gave birth to their first son in July of 1996. Their youngest son was born circa 2001–2003.
His father, with whom he reportedly had a strained relationship, passed away in 1998.
Before moving to Manorville, he lived on Concord Road in Shirley and Orchard Neck Road in Center Moriches.
When he was arrested for the murders of McNamee and Tangredi, shocked neighbors described him as a "regular guy" who was helpful and pleasant. They also said that he liked to hunt deer. However, one neighbor later recalled how he mentioned the murders of Jessica Taylor and Valerie Mack on the first day that they met.
Although his name did not appear on the deeds to 167 Silas Carter Road until 2003, this was most likely due to mortgage-related reasons. For example, there may have been issues with his criminal record, self-employment income, or tax records. Notably, one source told us that he may have filed for bankruptcy at some point during the mid-1990s.
Given the timeline above, it is highly likely that he started living here with his wife in 1997. This presumption is strengthened by a record in the "United States Public Records, 1970–2009" database on FamilySearch, which indicates that he took up residence in Manorville in November of 1997.
In addition to this, one neighbor told Newsday that Bittrolff personally built his own home. This means that he would have spent a lot of time at the site from 1997 onward.
Interestingly, Bittrolff was not new to Manorville, as he had an intimate knowledge of the area long before he moved to Silas Carter Road. According to one source, he frequently rode his dirt bike in Manorville and knew all of the trails "like the back of his hand."
Aerial image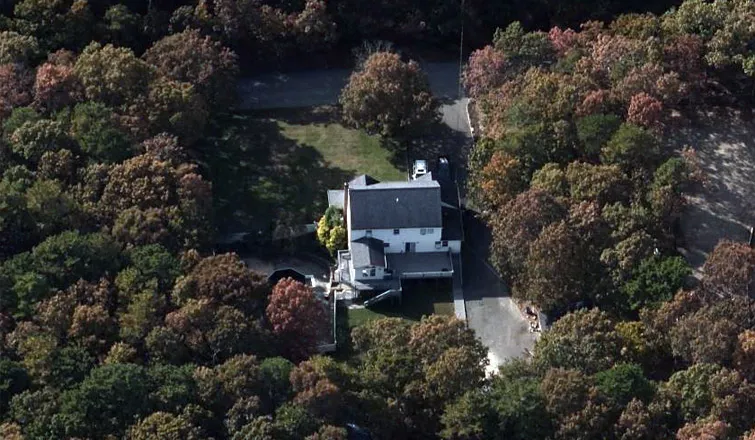 This is an aerial image of the back of the property at 167 Silas Carter Road.
Satellite image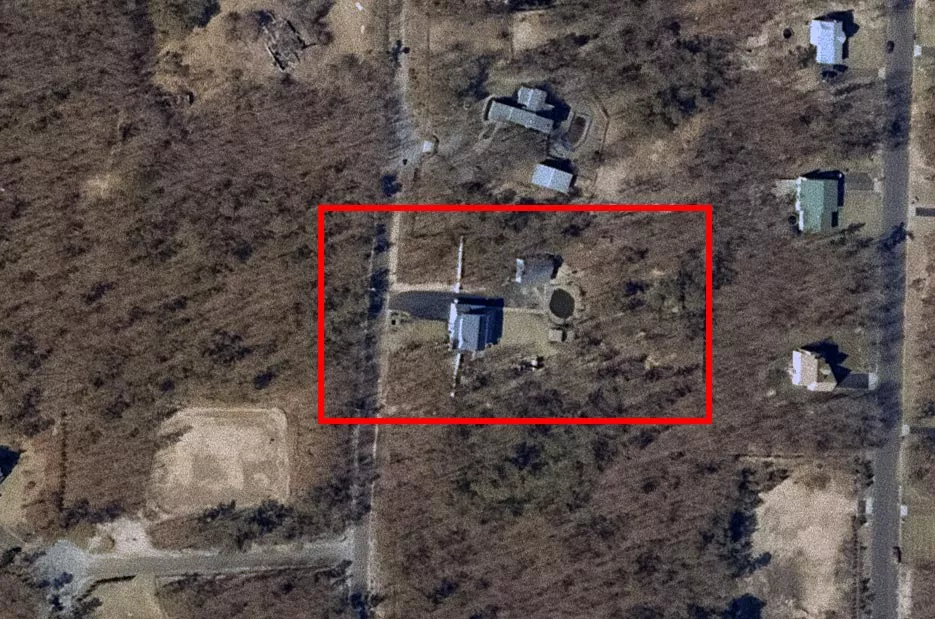 This satellite image was taken on April 5th, 2001.
Rita Tangredi and Colleen McNamee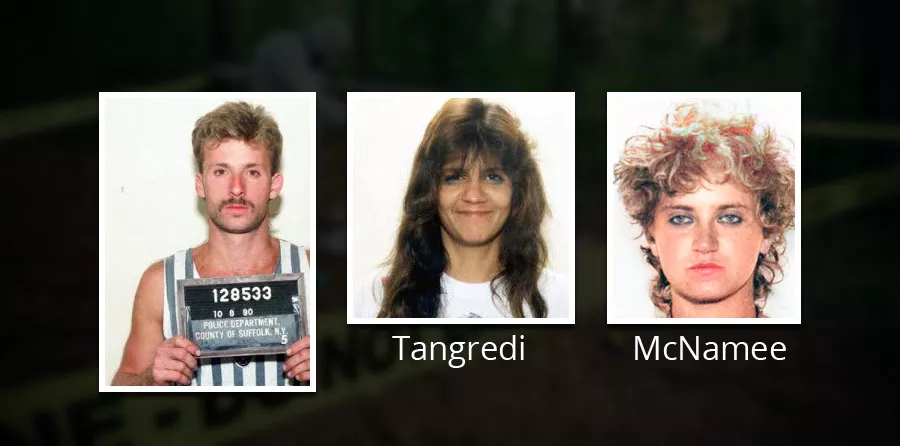 On July 5th, 2017, John Bittrolff was convicted of the murders of Rita Tangredi and Colleen McNamee.
The naked body of Tangredi was found in a wooded area in East Patchogue on November 2nd, 1993. The killer had bludgeoned the 31-year-old sex worker and strangled her to death.
Three months later, on January 30th, 1994, the remains of McNamee were discovered in a forested area near William Floyd Parkway in Shirley. Like Tangredi, the 20-year-old had been beaten and strangled to death.
Both of these women were sex workers who were killed in a similar fashion. Their bodies were found nude and "posed" in wooded areas that were less than 10 miles apart. Furthermore, both victims were missing their underwear and left shoes.
For more than 20 years, their murders remained unsolved.
Then, in 2013, Bittrolff's brother, Timothy, was arrested for an unrelated crime. As a result, he was forced to submit a DNA sample. Not long after, Timothy's sample proved to be a familial match with the DNA evidence that was collected from the bodies of Tangredi and McNamee.
This DNA match proved that Timothy was closely related to the killer. As a result, his older brother quickly became the prime suspect in the murders.
At that stage, investigators started using a fake plumber's van to keep Bittrolff under surveillance. Their goal was to follow the carpenter until he eventually discarded an item with his DNA on it.
However, Bittrolff immediately saw through this facade and realized that he was being followed by the police. At one point, he even pulled an evasive driving maneuver in an attempt to lose them.
When the lab tested items from the family's garbage, they found a sample that matched the DNA found on Tangredi and McNamee.
At that point, the police decided to pull him over and bring him in for questioning. During the interrogation, he drank from a cup that they offered him. This cup gave investigators a sample of his DNA, which also proved to be a match.
2010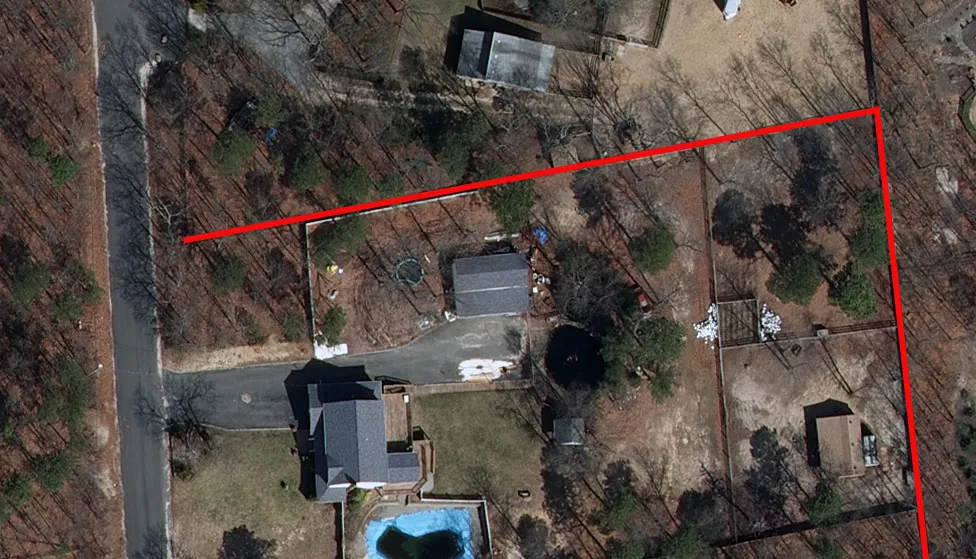 This hi-res aerial image was taken on April 1st, 2010. Bittrolff's property is inside the red line.
2014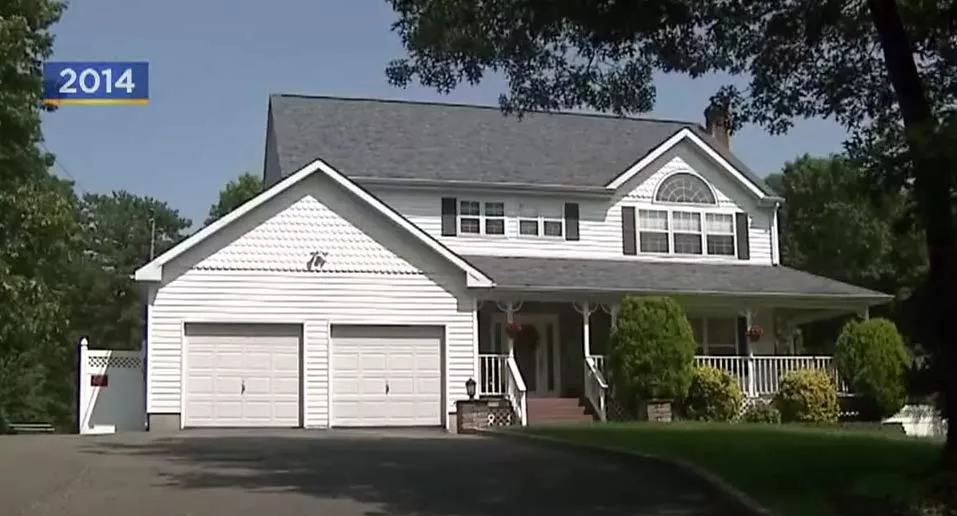 The video still above was captured by CBS New York shortly after he was charged with murder.
Is John Bittrolff the Long Island serial killer?
Bittrolff is a strong suspect in the case.
In 2000, the Long Island serial killer dumped the torso of Valerie Mack in a wooded area near Halsey Manor Road in Manorville. Two and a half years later, he also left Jessica Taylor's torso on a pile of wood scraps off Halsey Manor Road.
The two dump sites were just half a mile apart.
Both of the women were sex workers whose dismembered remains were found in an area that is only 3–4 miles away from Bittrolff's house on Silas Carter Road.
Furthermore, one of these dump sites was on an isolated access road that is off the beaten track. This suggests that the killer has an intimate knowledge of the Manorville area.
In 2011, the police uncovered Taylor and Mack's skulls on Ocean Parkway—close to where the killer dumped the Gilgo Four.
This discovery proved that the Long Island serial killer had been operating in both Gilgo Beach and Manorville.
Notably, Bittrolff knew both of these areas pretty well. He rode dirt bikes along the trails of Manorville, and he worked on a number of properties near Gilgo Beach.
Following his conviction for the murders of Tangredi and McNamee, the Suffolk County District Attorney publicly announced that he was a suspect in the LISK case.
Bittrolff and the Long Island serial killer both targeted petite sex workers. The details of their crimes indicate that they may have both derived pleasure from torture.
In September of 2017, the mother of Melissa Barthelemy stated that her daughter "had a lot of calls to Manorville" on her phone.
Finally, the fact that he quickly spotted the undercover officers suggests that he was mindful of the possibility that he might be put under surveillance.
It is difficult to attribute this level of vigilance to two murders that occurred 24 years earlier. Instead, it seems likely that he was on edge about something much more recent.
The Manorville Butcher
Up until 2010, the killings of Mack and Taylor were attributed to an unidentified killer called the Manorville Butcher. However, it became obvious that LISK and the Manorville Butcher were the same individual after the police discovered Mack and Taylor's identifiable remains at Gilgo Beach.
Many people remain unconvinced about Bittrolff's involvement in the Long Island serial killer murders. In their opinion, the modus operandi (M.O.) doesn't match.
However, this argument is based on the common misconception that a killer's M.O. will never change.
Other cases have repeatedly shown us that a serial killer's M.O. can evolve so quickly and remarkably that law enforcement will sometimes struggle to connect their crimes.
For example, Ted Bundy started off by breaking into women's houses and attacking them while they were sleeping. In January of 1974, he brutally assaulted Karen Sparks. Not long after, he abducted college student Lynda Ann Healy from her house in the University District of Seattle.
Following these first two attacks, Bundy drastically changed his M.O. Instead of breaking and entering, he started approaching his victims in public places and luring them back to his car by using various ruses.
The murders of Tangredi and McNamee took place in 1993 and 1994, while the first known LISK killing occurred in 1996. This means that there was plenty of time for Bittrolff's M.O. to evolve.
For example, at some point, he may have decided that he needed to lower his risk of being caught by putting more effort into concealing his victims' identities.
Notably, his wife would have been pregnant with their first child when Fire Island Jane Doe's remains washed ashore in April of 1996.
This might explain why he decided to go through the effort of dismembering his victims and dumping their body parts in different locations.
Closest Locations
Other locations that are relatively close to this place. Roughly 3 miles away.
Crime Location in Manorville, New York, United States Roughly 3 miles away.
Crime Location in Manorville, New York, United States Roughly 5 miles away.
Crime Location in Shirley, New York, United States Roughly 6 miles away.
Place of Interest in Mastic Beach, New York, United States Roughly 13 miles away.
Crime Location in East Patchogue, New York, United States