The Ravenite Social Club
Place of Interest in Manhattan, New York, United States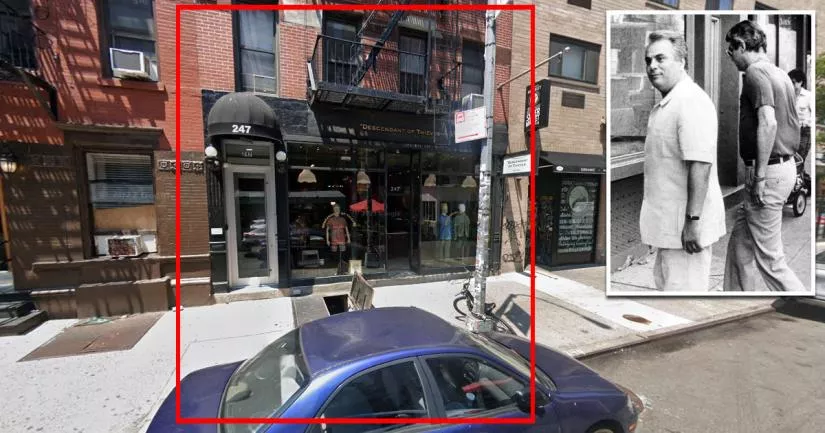 This is the former location of the Ravenite Social Club.
It is situated at 247 Mulberry Street in Little Italy, New York.
During the 1970s and 1980s, the club was used as a headquarters by the Gambino crime family. At the time, it was common to see mobsters such as John Gotti hanging around outside the building and chatting with one another.
Gotti took over the Gambino family in 1985 after he orchestrated the murder of his boss, Paul Castellano. From that point on, he became one of the FBI's biggest targets.
The authorities were aware that the Ravenite Social Club served as a command post for Gotti and his crew. As a result, they put it under heavy surveillance.
In February of 1988, the FBI set up a video camera with a telephoto lens and pointed it at the front door. By doing this, they were able to capture photographs of mob figures and union officials coming and going.
Around the same time, agents managed to bug the inside of the club. However, the recordings proved to be worthless, as the Gambinos were so paranoid about being recorded that they kept the radio volume up at all times.
In July of 1988, members of Gotti's crew discovered a listening device at one of their other hangouts. Realizing that the FBI may have done something similar to the Ravenite, they decided to install a white noise machine inside the club.
As the investigation wore on, the surveillance team started to become suspicious about the fact that no important conversations were taking place. They also noticed that Gotti kept disappearing for periods of time.
After questioning their informants about these unexplained absences, they eventually learned that he was using a side door to sneak up to apartment 10, which was on the third floor.
The apartment was being rented by the widow of a former Gambino associate named Michael Cirelli, who had passed away earlier that year.
Sensing that they had struck gold, the FBI bugged the apartment.
The operation proved to be a huge success, as "The Teflon Don" was recorded talking about a litany of crimes, including murder and extortion.
During one conversation, he was heard speaking to "Sammy the Bull" Gravano about the assassination of Paul Castellano. In another, he spoke about the killing of an associate named Robert DiBernardo:
"I was in jail when I whacked him. I knew why it was being done. I done it anyway. I allowed it to be done anyway. I took Sammy's word that he talked behind my back."
On December 11th, 1990, the FBI raided the club and arrested Gotti, Gravano, and Frank "Frankie Loc" LoCascio.
While they were in prison awaiting trial together, Gotti forbade Gravano from listening to the tapes.
This set off alarm bells in Gravano's head, as he was Gotti's consigliere and right-hand man. Immediately, he began to suspect that his boss had said something extremely negative about him.
When the FBI offered Gravano a chance to listen to a portion of the recordings, he eagerly picked up the headphones. At that point, the agents played a conversation in which Gotti made a series of bitter remarks about him.
The comments were so negative that Gravano quickly realized that his boss had been laying the groundwork for his murder.
This was a key moment in the case, as it convinced Gravano to turn state witness and testify against Gotti.
During the trial, "Sammy the Bull" implicated his former boss in four murders.
In April of 1992, Gotti was found guilty of conspiracy to commit murder and racketeering. Two months later, he was sentenced to life in prison without the possibility of parole.
In 2002, "The Teflon Don" died from throat cancer at the age of 61.
Ravenite Social Club location
Below, you will find the address and the GPS coordinates for this location.
GPS coordinates
The latitude and longitude coordinates for the club are:
40.723059, -73.995939
Map
To view directions on how to get there, you can use the Google Maps shortcut below:
Address
The full address for this location is:
247 Mulberry Street
Manhattan
New York
NY 10012
United States
Directions
It is about 120 feet south of the corner of Mulberry Street and Prince Street.
Photos
Photos of the club and other related images.
---
247 Mulberry Street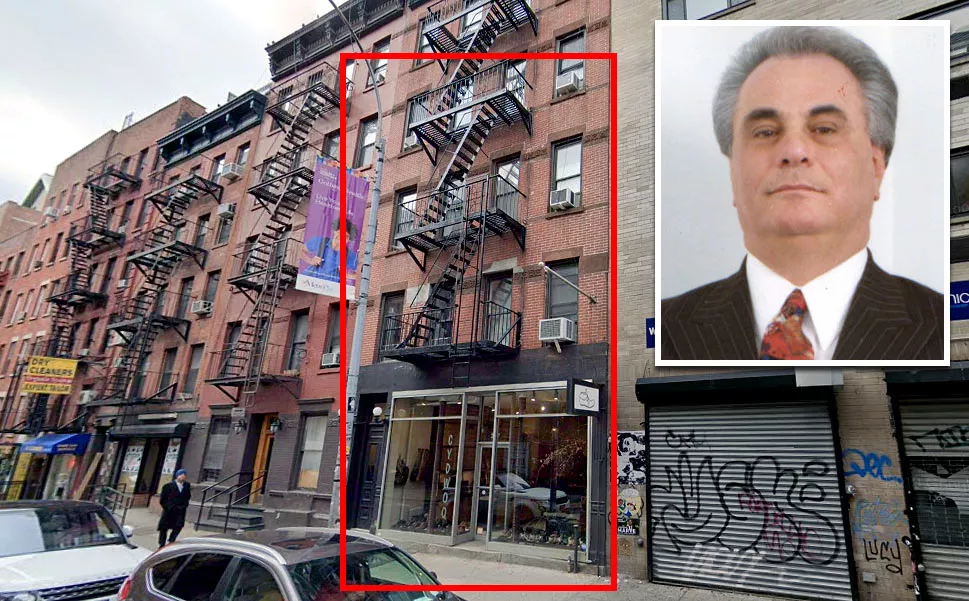 This Google Street View image of 247 Mulberry Street was taken in November of 2017.
The Ravenite Social Club closed its doors in 1997. By that stage, the mob's influence had been decimated by the FBI.
Since then, the outlet has been used by various shoe and clothing companies.
At the time of writing, it was home to an indie menswear store called Descendant of Thieves.
Although the club is usually associated with John Gotti (pictured right) and his downfall, its history stretches back much further than that.
Since the 1950s, the Ravenite has been the headquarters of famous mob figures such as Albert Anastasia, Carlo Gambino, and Aniello Dellacroce. Gotti didn't take over until 1985, after Dellacroce died from cancer and Paul Castellano was assassinated.
A number of sources state that it was originally founded as the Alto Knights Social Club in 1926. However, this seems to be a mix-up. According to old newspaper reports, the Alto Knights Social Club was actually two blocks south of this location. Furthermore, that club was run by the Genovese family, not the Gambinos.
The Wikipedia article on the topic claims that Carlo Gambino renamed it the Ravenite after he rose to power in 1957. Unfortunately, this is also incorrect, as newspaper reports from 1956 show that the name was already in place.
The Ravenite

A popular story is that Carlo Gambino renamed it the Ravenite after he orchestrated the murder of Albert Anastasia in 1957.
However, this is false.
The newspaper article above appeared in Newsday on September 1st, 1956, which was 13 months before Anastasia's death.
Salvatore "Sammy the Bull" Gravano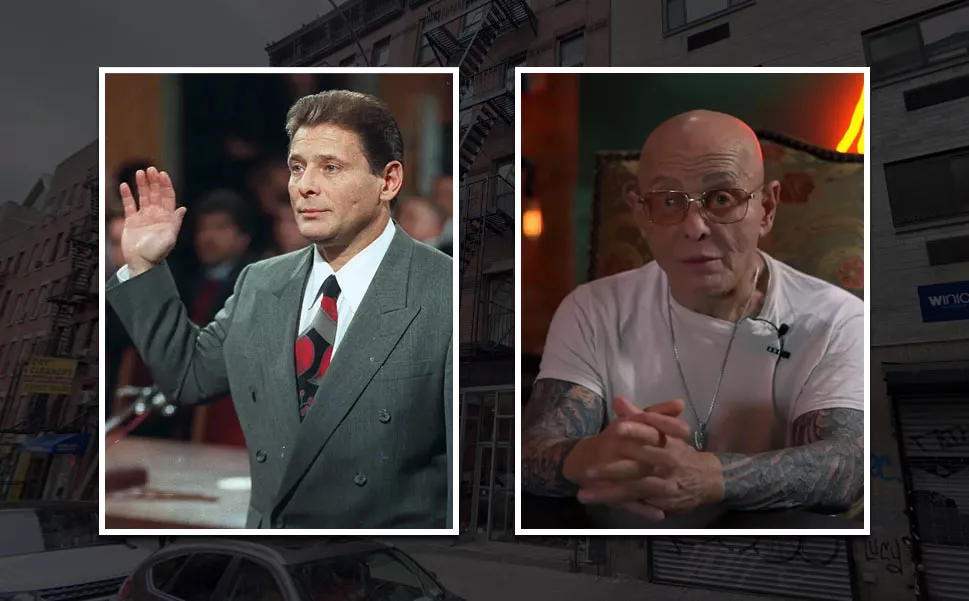 Salvatore "Sammy the Bull" Gravano decided to turn on Gotti and the Gambino family after he heard the tapes and realized that his boss was gearing up to have him killed.
During the trial, Gravano confessed to 19 murders. However, he was only sentenced to five years in prison because of his testimony.
Although he entered the Witness Protection Program and moved to Arizona after his release, he left the program shortly afterwards because he didn't like the rules that it placed upon him.
A few years later, he became involved in criminal activity again.
In 2002, Gravano was sentenced to twenty years in prison after he was found guilty of trafficking ecstasy.
In September of 2017, he was released from the ADX Florence supermax prison in Colorado.
Nowadays, he runs a YouTube channel called "Our Thing." According to family members, he remains in Arizona because New York is still too dangerous for him.
Then and now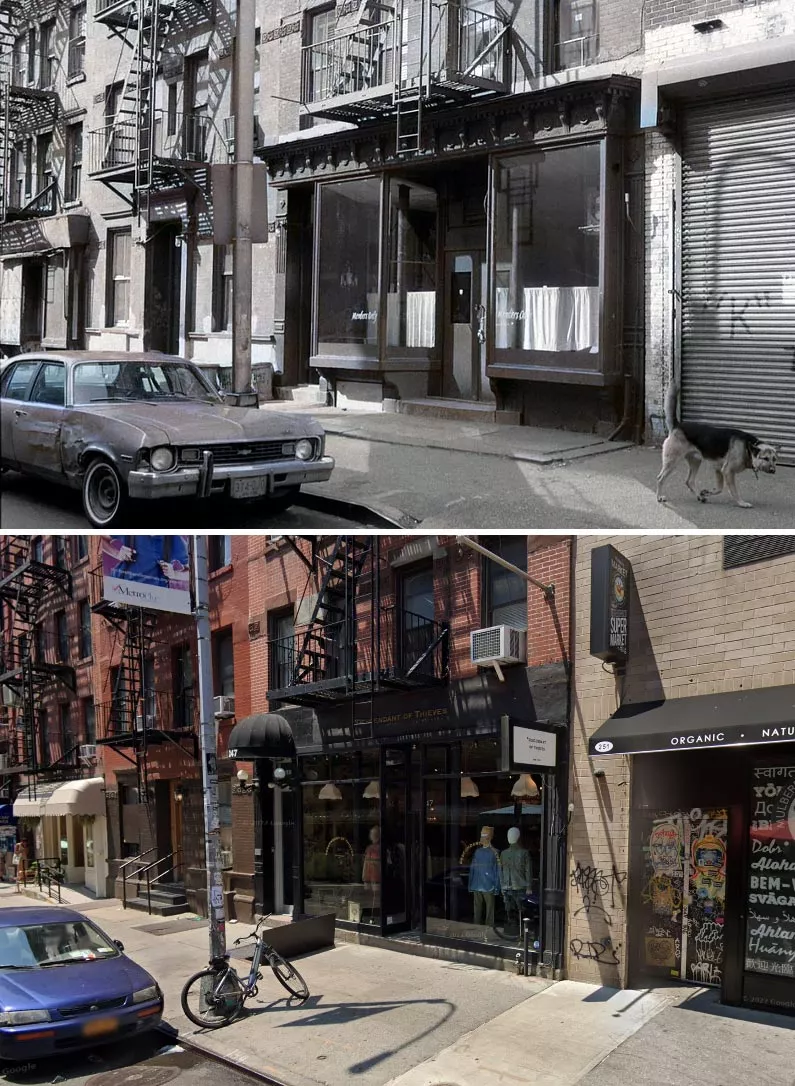 This is a "then and now" image of the club.
The writing in the windows read "Members only."
Closest Locations
Other locations that are relatively close to this place. Less than a mile away.
Place of Interest in Manhattan, New York, United States Less than a mile away.
Filming Location in Manhattan, New York, United States Less than a mile away.
Crime Location in Manhattan, New York, United States Less than a mile away.
Crime Location in Manhattan, New York, United States Less than a mile away.
Filming Location in Manhattan, New York, United States