The location where Robert DiBernardo was murdered
Crime Scene Location in Brooklyn, New York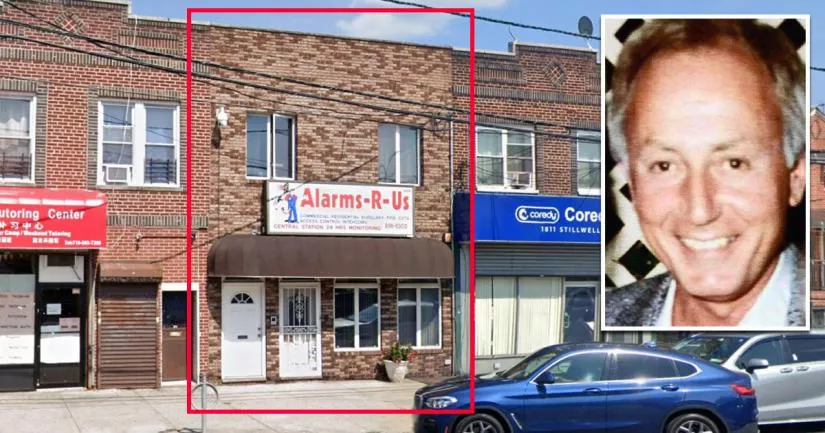 This is the location where Robert "DiB" DiBernardo was murdered.
It is situated at 1809 Stillwell Avenue in Brooklyn, New York.
At the time of the murder, this outlet was being used as a front by "Sammy the Bull" Gravano, who was a high-ranking member of the Gambino crime family. These days, it belongs to a security company called Alarms-R-Us.
Gambino family
DiBernardo was a mobster and a major player in the adult film industry.
Although he was a senior member of the Gambino family, he did not run his own crew or get involved in violence. Instead, he was mostly a lone operator who focused on publishing adult films and magazines.
Besides the adult industry, DiBernardo was also involved in a number of labor unions and legitimate businesses.
It is believed that he used his mob connections to intimidate his competitors into either joining his growing network or going out of business.
This strategy largely worked, as he became a huge earner for the Gambino family.
Due to his success, he received special status and was allowed to report directly to the boss, Paul Castellano.
DiBernardo's name received national media attention after it emerged that he had rented a property from the husband of Geraldine Ferraro, who was the Democratic Party's vice presidential nominee for the 1984 election.
In the decade that followed, insinuations about Ferraro's connections to "DiB" continued to plague her political career, causing her to narrowly lose the Democratic primary for the 1992 United States Senate election in New York.
In 1985, Gambino capo John Gotti took control of the family after he orchestrated the assassination of Paul Castellano at Sparks Steak House.
Although DiBernardo remained a senior member due to his ability to make money, the fact that he didn't have his own crew left him vulnerable to others.
Whenever a meeting was called, he would always show up by himself, without any loyal soldiers by his side.
Angelo Ruggiero
Following Castellano's death, there were calls to promote "DiB" to the position of capo. However, Gotti stubbornly resisted these requests for reasons that remain unknown.
When Gotti was held in prison for an upcoming trial, he appointed an unpredictable psychopath named Angelo Ruggiero to act as his eyes and ears on the ground.
Ruggiero was a big-mouthed brute who lacked the intelligence and organizational skills to hold a top position in the mob world.
In the past, DiBernardo had told Ruggiero that he wasn't smart enough to be the second-in-command of the family—a remark that caused tensions between the pair.
By the summer of 1986, Ruggiero also reportedly owed "DiB" roughly $250,000.
Sammy the Bull
In June 1986, Ruggiero approached "Sammy the Bull" Gravano and told him that Gotti had ordered DiBernardo's murder from behind bars.
During their conversation, he claimed that the businessman was "talking sh*t" behind the boss's back and possibly gearing up for a power play.
Gravano was hesitant to act on this order, as he wanted to hear it from Gotti himself, not some psychopath who owed "DiB" money. At the time, he was acutely aware that Ruggiero may have been engineering DiBernardo's death by misrepresenting the truth to Gotti.
The suggestion that "DiB" was somehow planning a coup also didn't make any sense, as he didn't even have his own crew. In Gravano's opinion, you needed a significant amount of muscle to topple a boss and take control:
"He had no crew. He wasn't a shooter. He was no threat."
However, Ruggiero remained adamant that Gotti wanted DiBernardo dead. He also stated that the boss was becoming increasingly irate about the delay.
By that point, Gravano started to believe that Gotti had personal issues with DiBernardo, as he had previously resisted calls to promote the businessman to the role of capo. He also began to doubt that Ruggiero was bold enough to fabricate such an order.
Consequently, "Sammy the Bull" relented and agreed to carry out the hit.
DiBernardo's murder
On June 5th, 1986, he lured the businessman to this location on Stillwell Avenue under the pretense that he wanted to hold a short meeting. At the time, the outlet belonged to a drywall company, which served as a front for Gravano's crew.
Although DiBernardo said that his schedule was pretty full that day, he agreed to drop by and have a quick chat over coffee.
At around 5.50 p.m., he arrived alone at 1809 Stillwell Avenue and joined Gravano in the basement office.
Also present that evening were Thomas "Huck" Carbonaro and Joseph "Old Man" Paruta, two soldiers in Gravano's crew.
When the "meeting" began, Gravano directed Paruta to go and get "DiB" a coffee. Paruta then walked to the back, took a silenced pistol out of a cabinet, and shot DiBernardo twice in the back of the head.
Following the murder, a cleanup crew wrapped the body up and placed it in the trunk of a car.
What happened next remains a mystery, as DiBernardo's body has never been found.

Further information is available in the "Photos" section below.
Robert DiBernardo death location
Below, you will find the address and the GPS coordinates for this location.
Address
1809 Stillwell Avenue, Brooklyn, New York, NY 11223, USA
Map
To view directions on how to get there, you can use the Google Maps shortcut below:
GPS coordinates
The latitude and longitude coordinates for the building are:
40.602377, -73.986097
Directions
The building is situated in the Gravesend neighborhood of Brooklyn. It is close to the corner of Stillwell Avenue and Highlawn Avenue.
Private Property Warning
This is a private property. It is not a public place. Therefore, you should be respectful and not step foot on the property without permission.
Photos
Photos of the building and other related images.
---
1809 Stillwell Avenue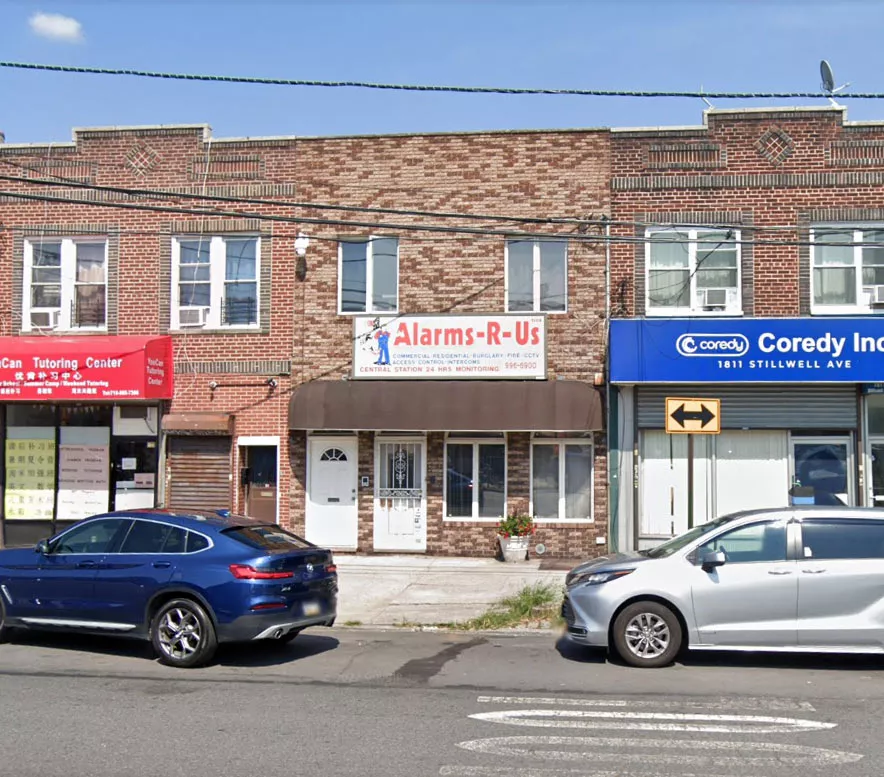 This Google Street View image of 1809 Stillwell Avenue was captured in July 2022.
Robert DiBernardo was shot in the back of the head while he was sitting in the basement office. Afterwards, his body was thrown into the trunk of a car.
These days, the location is home to a security company that sells burglar alarms and surveillance systems.
Note that the current owners have no ties to the mafia, as public records show that the property was sold for $215,000 in 1996—ten years after the murder took place.
Robert DiBernardo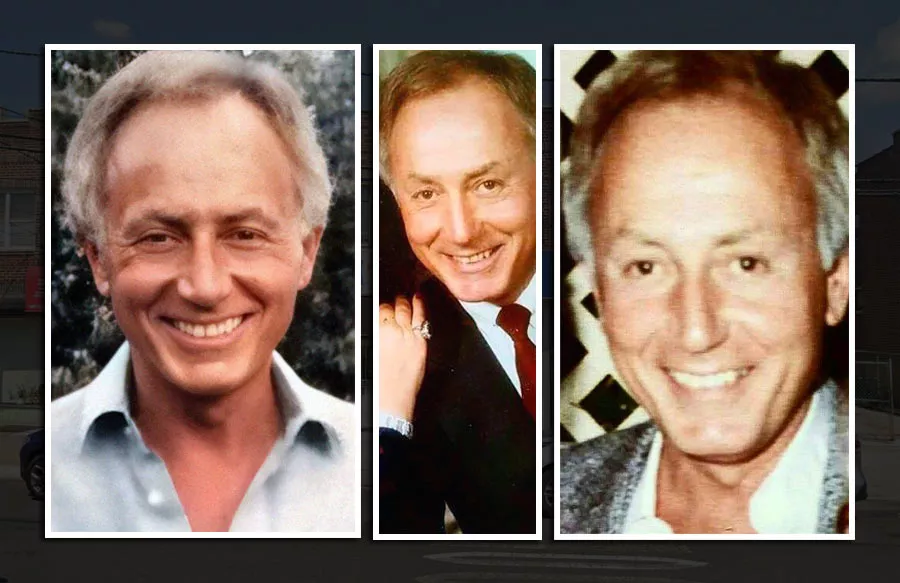 DiBernardo wasn't an innocent, straight-shooting businessman.
Although it is rumored that he became a "made man" without murdering anyone, there is evidence to suggest that he played an active role in other heinous crimes.
For example, the FBI believed that his adult film empire was actively exploiting children. At the time of his death, he was awaiting trial on child pornography charges.
On the evening of his murder, he left his office, got into his brand new 1986 Mercedes Benz, and then called his family to discuss a dinner date that they had planned.
That was the last time they heard from him.
It seems as though his fate was sealed after he openly voiced his opinion that Salvatore "Sammy the Bull" Gravano would be better suited to the role of underboss than Angelo Ruggiero.
Following this comment, Ruggiero began to work behind the scenes to engineer his murder.
Closest Locations
Other locations that are relatively close to this address: Roughly one mile away.
Crime Location in Brooklyn, New York Roughly one mile away.
Crime Location in Brooklyn, New York